Featured

News

By Harvey Kubernik   April 2023 marks the 50th anniversary of the release of David Bowie's Aladdin Sane, which was released only ten months after his breakthrough album The Rise and Fall of Ziggy

Featured

Articles

By Harvey Kubernik   During 1969, Jimmy Cliff's "Wonderful World, Beautiful People," "The Israelites" from Desmond Dekker & the Aces, and a hit single from Johnny Nash, "Hold Me Ti
It is with deep sorrow and incredible sadness that we learned of the death of our dear friend George Gallacher, lead vocalist and founder member of the Poets, who died suddenly from a heart attack while driving home from watching his favorite football team, Partick Thistle, on Saturday August 25, 2012. On the day "The Jags", as Thistle are known by their fans, won 3-0 against Dumbarton at their home ground Firhill, in Glasgow, so George would've been pretty ecstatic. He was such an avid supporter that, unusually, the club held a half-time tribute to him on the day of his funeral, playing Poets songs, while former Scotland player Alan Rough read out tributes.
George was born in the Garngad (later Royston) area of Glasgow and would've celebrated his sixty-ninth birthday on 21 October.
In 1964, The Poets were quickly signed to Decca by Rolling Stones manager Andrew Loog Oldham, who produced for them a brace of highly-innovative singles, all co-written by Gallacher, and guitarists Hume Paton and Tony Myles. Forever etched in the minds of beat fans is the group's scorching February 1965 single, "That's The Way It's Got To Be," and its sublime, truly haunting counterpart, "I'll Cry With The Moon." This showcased both the tough and romantic sides of the young Gallacher's talent, across intense, creative, and thoroughly mesmerizing material. The weird baroque-beat stomp of "Now We're Thru," their debut from late the previous year, would give them their only Top 30 placing. The Poets followed manager Oldham into his new Immediate label venture, cutting two singles there including the spellbinding "Some Things I Can't Forget," the group's preferred choice for the topside. This was over-ruled by ALO in favor of "Call Again"—"depressing stuff… and we were depressed that it was going to be our single," recalled Gallacher in 2011.
In early '66 after "Baby Don't You Do It," Gallacher left the Poets, disillusioned by lack of direction and momentum within the group, and the mess of ongoing management wrangles. He stayed in London until the end of the '60s singing back-up on sessions for such as Keith Relf and Spencer Davis, doing A&R work, writing and recording for labels including United Artists, Fontana and Major Minor. Gallacher also taped some excellent songs of his own with backing by the pre-White Trash group, the Pathfinders, who included former Poets guitarist (and by then Gallacher's brother-in-law) Fraser Watson. At least four titles exist on acetate only including "The Tailor," "A Weathercock's View Of Life," and the more well-known "Dawn (A Portrait)." A little-known fact, however, is that in 1968 Gallacher also supplied lead vocals for an album project by a group called the Illusive Dream which remains unreleased to this day.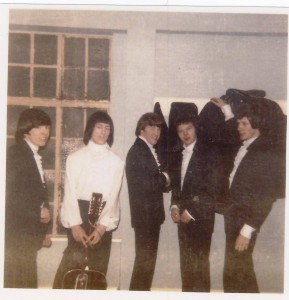 When George returned to Glasgow, married with children, much of his free time was spent playing junior league football. As early as 1963, before the Poets broke out, George's prowess on the football park had already been noted and he signed up for trials with Leicester City's youth team alongside England's future goalkeeping hero Gordon Banks.
But music was in Gallacher's soul, and after a brief stint playing with old pal Alex Harvey, he and Watson formed the hard rocking, politically aware Dead Loss Band, also the Dansettes, The Blues Poets and, more recently, the Nearly Men. His friend, award-winning author James Kelman, had also cast him as the leading role in his acclaimed 1994 play One Two Hey!, the story of a struggling blues group, mirroring that of the Poets.
Gallacher also returned to education, gaining degrees in both English and Philosophy at the University of Strathclyde, before becoming a teacher, and mentoring to asylum seekers, many from war-torn Kosovo.
A unique vocalist until the very end, George was blessed with a thoroughly commanding stage presence, as evidenced by those in attendance at recent concerts given by the reconstituted Poets line-up where George and Fraser were backed by longtime friends and fans, the Thanes, in Glasgow, London, and at what would turn out to be their last ever appearance, at Festival Beat in Italy on 30 June, playing almost all of the group's '60s repertoire before jubilant, receptive audiences.
On a very personal note, as one of George's and his family's friends for the last twenty five years, I'd like to say that life has been richer by far having known him. George Gallacher was a very generous, gracious, wryly funny, heart-thinking individual, an extraordinary spirit with an astonishing musical gift. He will be dearly missed by all who knew him. He journeys on leaving behind his dear wife Anne, and their two sons, Craig and Fraser. RIP George, you were some man. (Lenny Helsing)
---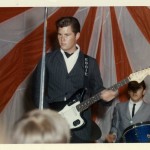 Surf guitar pioneer Eddie Bertrand has passed away from cancer at the age of 67. Bertrand formed the Belairs with his high school classmate Paul Johnson in 196o, going on to unleash the classic "Mr. Moto" and several other excellent surf instrumentals. He left the Belairs in pursuit of a harder-edged sound, which he found with Eddie & the Showmen, a popular live attraction in the surf-crazy South Bay area of his native Southern California. His heavily picked, driving leads during the Showmen era revealed a big Dick Dale influence. Eddie Bertrand's special brand of guitar artistry puts him in the top echelon of surf guitarists and his recordings deserve an exalted place in any music collection. (Dave Gnerre)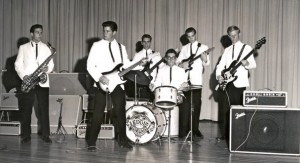 ---
Don Grady nee Don Agrati (June 8, 1944 – June 27, 2012), known as Luke R Yoo in his helium-dosed days was the behatted, dark glasses wearing, blonde-wigged boyish brute of the Yellow Balloon (lucky devil in disguise from his teenage heartthrob day gig); as he didn't want his celebrity to influence a taste for the sunshine-soul epics he was party to. Grady was the phantom limb of buoyant pop majesty, who laid hand in creating some of the greatest Boys-ploitation fried-era Wilson-bred pop ever waxed, pre-overdub-mania, with the group he served as drummer/vocalist for, the Yellow Balloon. He made nice to millions of homes on My Three Sons for many 365's and blazed the same path as fellow movin' Mouseketeer rockers Dick Dodd and Mickey Rooney Jr (there's sumthin' about them rockin' meices!). But before the Balloon was blown and explown he waxed some fine solo sides as well, and in the early '70s cut a neglected solo LP under his given name, which carries a migh-tee Rundgren/Nilsson wallop. Any fan of pop on throughout the years owes themselves a deep delve into Grady waters, a wide-open sea of heartbreak and hope.
Below, Greg Prevost and Collin Makamson give two distinct testimonials on how the man's hands touched them individually. A YouTube playlist follows with some highlights for the uninitiated. Dig in!
(Jeremy Cargill aka jeremy nobody, esq)
Don Grady, best remembered as 'Robbie Douglas' on the long-running TV sitcom My Three Sons, died at the age of 68 in his home in Thousand Oaks, California, the cause being cancer.
Grady, a multi-talented musician began his career in 1957 as a Mousketeer on Walt Disney's Mickey Mouse Club. He related to me in 1998, "I started playing a bunch of different musical instruments when I was a kid. When I was 12, I went out and auditioned for Walt Disney because they were looking for new Mouseketeers. I played like eight different instruments for the audition."
He soon moved on to dramatic roles, starring in countless westerns such as The Restless Gun (his first dramatic role), The Rifleman, Wichita Town, Wagon Train and Have Gun Will Travel to name a few. Grady recalled in '98, "After The Restless Gun I started to do every western that was around in those days. This was '58 and '59. I was always playing the part of a kid whose father was a drunk, or whose father had left him and his mother."
In 1960, he was called up for a major role in the then popular western Laramie, only to be ousted by Bobby Crawford, Johnny Crawford's (of The Rifleman fame, and teen-idol/recording star) kid brother. Though it was a major disappointment, it was actually the turning point in his career. He explained, "I was so disappointed and heartbroken, but shortly after that, I got the call to do My Three Sons. I was actually a replacement because the original 'Robbie' didn't work out." He played the role for the duration of the show, from 1960 through 1972 appearing in 300 plus episodes.
On the show, like Ricky Nelson on The Adventures of Ozzie & Harriet, Don would break out with the occasional musical number, one time with his first band the Greefs. During his stay on the show he harnessed a recording contract with Capitol (cutting some sides in the process), recorded a single with the Palace Guard ("Little People"), and cut some solo sides and an album (some of it) with the Yellow Balloon on the Canterbury label.
He explained the evolution of the Yellow Balloon to me in 1998, "What happened with that was that I was the teenage chairman for National Cerebral Palsy. On the weekends I would go around to different parts of the country and I would do the telethons. During a break I'd go out and try to hear a rock group. I started keeping a list of what I thought were really exceptional musicians with the thought in mind that someday it would be great fun to put a band together having these great musicians involved. At that time I was on Canterbury Records and I had recorded "The Children of St Monica." I was a solo act, and I think it was one of the first records on the label and it started to take off. Anyways, this guy Gary Zekley came in with this great tune called "Yellow Balloon", which Jan & Dean had just recorded, but he really didn't like their version and wanted to get his own version out. Ken Handler, the president of Canterbury gave him a budget and he got some studio musicians together, went into the studio for a couple of hours and put "Yellow Balloon" (the song) together. They then released it, and within a week it took off. I had just gotten back from being on the road with one of the telethons. Ken Handler said we had to get a group together [to tour behind the single]. I piped in that I'd always wanted to put a group together. He said 'Great, go for it.' I started calling all these guys whose names I kept. We became the Yellow Balloon."
In the band, Don would always appear onstage and on TV performances incognito.
After My Three Sons came to a conclusion, Don continued with his musical career cutting a solo album, Homegrown, for Elektra under his real name Don Agrati in 1973. Later he composed music for shows on the Discovery Channel, numerous PBS documentaries and worked with the London Symphony Orchestra.
He is survived by his wife, Ginny; his two children, Joey and Tessa; his mother; and sister, Marilou Reichel. I interviewed Don in 1998 for Outasite and stayed in touch with him sporadically through the years. He was always a riot to talk to. A great guy. Bummed he's gone.
-Greg Prevost
It's Like a Fading Yellow Balloon                     
There's something about Gary…that they don't know. Gary. There's just something about Gary.
Zekley that is. The unsung soft-psych 'Superman.' The Terry Reid or Shadow Morton of the sure-shot shoulda-beens. Relegated to REM footnote status now, and that's a crime. Still; enviable fate compared to his former amarillo Balloon-mate Don Agrati, whose tombstone will likely be mouse-ears and dog-cornered 8x10s instead of the constellation/pantheon elevation that his true craft (music) so rightly warranted, both solo and helium-inflated. They'll have plenty of time now to talk though: the two of them, about how they both were robbed and pigeonholed, watching the clouds go by.
FACT: most pop-psych music is garbage! Soft sounds for gentle people with no standards. Round Wonders that make you wonder why they were ever 'rediscovered.' Harpers' Bizarre rejects repackaged as pop-sike (heavy on the 'sike' and spray-on sunshine tan). It is temptingly easy to get lost in this mustachioed orchestra pit—blinded by gold fillings set in fake plastic smiles—but Spanky & Our Gang are not Gary Usher and the Free Design will never be Pet Sounds, or even Andy Kim!
The Yellow Balloon—Don Agrati's group and Zekley's finest production vehicle—will never be Pet Sounds either, but in my estimation they maybe made it closest to those petting-zoo shores. Sadly, Don Agrati is now two months dead, so I felt it only fitting to offer him a libation, as the music of his group—which existed for less than a year—has offered and provided me both succor and a safe harbor in which my psyche has lodged for several earthly revolutions.
Like the best of the genre – the Beach Boys, Bee Gees, Left Banke, Robbs, Scratch in the Sky-era Cryan Shames, the Smoke, Don & the Goodtimes, later period Jan & Dean—the music of the Yellow Balloon sounds and feels like home: the home that is forever flash-frozen in your mind when you were young and felt the most happy and innocent, when the world was newest and unfolding—the home that now mostly exists in flashes, photographs and bi-annual get-togethers (C&E – Christmas & Easter) with aging family and old friends. Not a security blanket or a comfortable set of jeans, but a trigger mechanism set to immediate egress—far away from trouble and strife.
Brian Wilson may be the ultimate, undisputed Nolan Ryan of the '60s pop paradigm, commanding every inch of the melodic strike-zone, but ATTENTION MUST BE PAID to his bull-pen under-studies. And in my opinion, "How Can I Be Down," "Baby Baby It's You" and "Stained Glass Window" by the Yellow Balloon are every bit as inimitable as the highest-quality stuff of Inglewood's winningest ace.
If anyone living requires proof of the exceptional nature of not only mid-to-late-'60s pop music, but also the mid-to-late-'60s pop climate, they need only look to acts like Don Agrati and the Yellow Balloon, who were teen idols and chart successes at the same time as they were sailing at the forefront of progressive studio craft.
And even after the Yellow Balloon settled to Earth, Don didn't stop. His 1973 Elektra-Asylum solo effort, Homegrown, was a minor pop milestone; battered like the Hollywood sign, but soldiering on like Joey Stec, Crabby Appleton and Blue Ash against their times. And time has most certainly shown Don wiser.
Even though the Yellow Balloon, like your tree-house fort or lemonade stand, for whatever reason failed to change history, the work of Don Agrati will continue to occupy prime real-estate in my personal pop scrapbook long after My Three Sons falls off syndication or California falls into the sea. And I know you're feeling it too.
-Collin Makamson

---