Featured

News

By Jay Dobis     Erkin Koray, aka Erkin Baba, the father of Turkish Rock 'n Roll (he put together the first Turkish rock band (Erkin Koray ve Ritmcileri) in 1957 when he was a high school student

Featured

Articles

By Harvey Kubernik   On August 3, 1966, stand-up comedian, social critic, satirist, and philosopher Lenny Bruce was found dead at age 40 inside his Hollywood Hills home from an acute overdose of mor
Ritchie Teeter, man of magnificent meter, held down the pound for the mighty Dictators during their most ferocious and fevered period, displaying a dexterity not common in most straight-ahead rock'n'roll. He also saddled the stool as touring member of Twisted Sister for a time, and did a spell with Tom Verlaine (Television), among others. Most prominently, he continually fostered the efforts of many aspiring noise-makers throughout his years, giving them the necessary tools to realize infamy. Luckily, he also contributed to a migh-tee radical catalog that'll rattle our mortal brains for years to come. Below, Dictators guitarist Scott Kempner delivers a moving tribute to his long-time friend and bandmate. Following the article is a link to another Dictator-penned remembrance by Andy (Adny) Shernoff, info on Ritchie's memorial fund, and a 'Ritchie's Golden Moments' YouTube playlist as chosen by Scott. (jeremy nobody, esq.)
This morning, April 10th, 2012, Ritchie Teeter passed away from complications stemming from his battle with esophageal cancer. The news came down hard and unforgiving. Ritchie was our drummer from 1975–1978. Four years of tour, record, tour, record, etc. These were the peak years of the original band's existence. Although Rich's tenure as a Dictator officially came to an end in 1978, he had come back to do a bunch of "reunion" shows in the '80s. It was again a joy to share a stage with him, and relive his own unmistakable approach to the Big Beat. After that, though, we all seemed to lose touch with Rich, although I would occasionally run into him, the last time being at a Del-Lords show in the late '80s. Then, it was no contact until about eight months ago, when I learned of his illness, I knew enough was enough, and the long estrangement needed to end. I wrote him a letter at the last email address I had for him, and that began a series of great correspondence, rekindled friendship, and a final acknowledgment of the eternal bond we created by our extraordinary shared experiences. I only wish I had reached out earlier. Now this…
This is a dark and terrible day, the first such hit the Dictators family has taken. Forty years after the creation of our little band the first casualty is recorded. And dear God, it hurts. The cold glass of mortality thrown our way is a stark reminder of the inevitability of our fate and time here on God's Golf Ball. What follows are some immediate memories and feelings about our fallen brother. Make no mistake, the Dictators are like the Mob, once you're in, you're in. Forever. DFFD.
---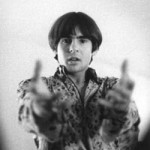 David Thomas "The Manchester Cowboy" Jones' first love was jockeying, a fitting choice for the height-challenged heartthrob, until the stage called him. A later American promo tour for Oliver! fated him with the divinity to appear on the Ed Sullivan Show the monumental date of February 9, 1964. From side-stage a teenaged Jones was bewitched by the Beatles making their American debut and found truly what pie he was a piece of.
Of the Monkees remarked Davy they were a "good garage band," and perhaps that's what endears them to UT readers, even those not hip to poppin' bubblegum. While some of the Prefab Four later divorced themselves from the entity due to its synthetic, machine-made product value, Jones trudged along living and singing the hell out of those hits until he tragically left us. Those inescapable jams of childhood made me a believer, and I shall be to until the day I expire. Godspeed, King of the Wild Tambourine.
Below Michael Lynch pours his Monkee-lovin' heart out, and a playlist to partake in compiled from Michael's references and a few of my own.  (jeremy nobody, esq.)
The short Monkee. The English Monkee. The cute Monkee. The one who got the girls. The one who played tambourine. The one who later called on Marcia Brady. However people remember Davy Jones, the point is, everybody will remember him.
An all-around entertainer, Davy already had racked up some success as an actor before Screen Gems made a Monkee out of him, most notably his Tony-nominated portrayal of the Artful Dodger in the Broadway production of Oliver! The success of Oliver! led him to try milking his teen appeal through American television guest spots (Ben Casey and Farmer's Daughter) and, of course, records. 1965 yielded an album, David Jones, and three singles for Colpix, only one of which ("What Are We Going to Do") charted, and at only #93. His luck changed that autumn when he was chosen as one of the stars of an impending sitcom about "four insane boys."
---
By Eric Colin Reidelberger
Few guitarists are more underappreciated than the big man, Pete Cosey. An incomparable aural trailblazer and avid woodshedder who blew the doors off every entrance he made. As a wide-open player who employed many musical "systems" (as he called them) he preferred bridges to barriers and played with jazz, country, frat rock and blues bands alike, when that practice was purely unheard. He was a session man, manipulator of chord progressions and such a wild experimentalist that Miles Davis once told him that he "…wrote differently than anyone he'd heard." It's with hope that there are more extant sides to arrive from this mountain of a man, both physically and as an institution. Below Sir Eric Colin gives lip service to the man's history and prowess, plus I've included a playlist of some of Cosey's contributions. What's your fave-rave? (jeremy nobody, esq.)
Pete Cosey's name might not have been at the tip of everyone's tongue, but if you owned any records on the Chess label from the late '60s or dug your heels into any of Miles Davis' grand wigouts, then chances are you are probably familiar with his handiwork. A sonic adventurer that boldly went where only a few dare tread, finding the continuity between Jazz, Funk and Psychedelic Rock and trailblazing his own pathway to the nether regions.
Born in Chicago, Illinois, in 1943 and after living his teenage years in Phoenix, Arizona, Pete cut his teeth as a session player in the '60s/early '70s back in Chicago for Chess Records. He played on numerous sessions (often uncredited) by artists such as Etta James, Chuck Berry, Gene Ammons, Sonny Stitt, Rotary Connection and the polarized electric periods of both Howlin' Wolf and Muddy Waters. Adding a surfeit of effects, including a wonderful preponderance of wah-wah/fuzz acrobatics, Pete managed to completely horrify blues purists in one fell swoop, and gather quite an audience of heads who would go on to champion his bold explorations in the years to come.
Cosey was a truly inventive and original player who was obviously influenced by Hendrix's stylings, but taking the proceedings into an almost unhinged free jazz territory akin to similar giant steps taken by fellow traveler Sonny Sharrock. He was an embryonic member of Chicago Afro Funk behemoths The Pharoahs who later became the seeds of Earth, Wind & Fire, as well as exploring some spiritual journeys with Philip Cohran. Pete is best remembered for the four albums he played on under Miles Davis' solid-band leading hand: Get Up With It, Pangea, Agharta and Dark Magus.
It is here and in such stellar company that his creative being was given the proper chance to flourish; often pushing the music (and perhaps) the musicians into fever pitch territory.
After the breakup of the Miles band in 1975, Pete kept a relatively low profile, only rearing his head here and there in the years afterwards, most notably playing on the title track to Herbie Hancock's Future Shock. On May 30, 2012 in Chicago, after complications with surgery, the world lost yet another major musical talent who really wasn't given the proper credit of the true sonic pioneer he was.

From our current issue, Ugly Things #33,  jeremy nobody, esq. reviews one of the grand experiments Cosey contributed to: This Is Howlin' Wolf's New Album: https://ugly-things.com/reviews/albums/
---