Featured

News

By Jay Dobis     Erkin Koray, aka Erkin Baba, the father of Turkish Rock 'n Roll (he put together the first Turkish rock band (Erkin Koray ve Ritmcileri) in 1957 when he was a high school student

Featured

Articles

By Harvey Kubernik   On August 3, 1966, stand-up comedian, social critic, satirist, and philosopher Lenny Bruce was found dead at age 40 inside his Hollywood Hills home from an acute overdose of mor
By Harvey Kubernik
I am so deeply saddened by the death of Gary Stewart, a veteran music and recording executive who had a lifelong devotion of service to the music in any capacity he held, starting out at Rhino Records (later Rhino Entertainment, where he became senior VP of A&R) and later at Apple iTunes.
In 1976 I first met Gary when he was a student at Cal State Northridge. He politely asked to use my name as a reference on his first job resume in 1978 when I was West Coast Director of A&R for MCA Records. In 1982 I recorded him for an album I produced.
One time in the mid-eighties I had a backstage pass for an Elvis Costello show at a theater in Beverly Hills. Gary came up to me in the lobby and said, "I know you can bring any girl or A&R guy in this place backstage to meet Elvis. But can you try and introduce me to him? I've never met Elvis and have a business proposal regarding Rhino Records and his catalog that I want to speak to him about."
I took the laminate off my jacket, and immediately gave it to Gary.
He then asked for Costello's management contact information. Gary had a Mel Torme box set he wanted to send him.
How many box sets over decades did Gary Stewart constantly give to people?
---
By Chris Darrow
I started surfing in high school about 1959, and was stunned by the first Surfer magazine, which came a year later. Started by John Severson, it was a way to finance his early surf films. Surf Fever was the film that started it all for me. It featured Mexican music, a mandolin instrumental played by Pete Seeger called "Woody's Rag" and Henry Mancini's "Peter Gunn Theme" was used for the big wave sequence at Waimea Bay. Surf Music, as such, had not yet been invented.
There had always been instrumental music in rock & roll. Guys like Joe Houston, Link Ray, "Mighty" Jim Balcom, Chuck Higgins, Jimmy Gilmer & the Fireballs and the incomparable Duane Eddy, all set up the arrival of "The King of the Surf Guitar", Dick Dale.
In 1961 he put out a record called "Let's Go Trippin'" and it was all over. The first real guitar god of rock & roll was born with that 45rpm record. His home turf was Newport Beach, California, and he played regularly at the Rendezvous Ballroom out on the Newport Peninsula. Since the forties, Newport Beach and Balboa Island had been the coastal hang out for most of the high school beach kids in Southern California, especially during "Bal Week," Easter vacation. Places like The Jolly Roger restaurant on Balboa Island and Sid's Blue Beet, the Prison of Socrates and the Rendezvous in Newport were popular gathering spots in the late 50's and early sixties.
I saw Dick Dale for the first time in 1962 or '63 at the Rendezvous Ballroom. The Rendezvous was an old wooden building with a mezzanine wrapping around its interior. Dick Dale & the Del-Tones played so loud and hard that the reverberating sound in this giant, wooden, sound box literally made the rafters shake. It was exiting and visceral. Peroxide heads in Pendleton shirts did the Surfer Stomp with their chicks on the big dance floor. Dick, playing his Fender Stratocaster, upside down and backwards, wowed the audience with pyrotechnics and theatrics that the likes of Jimi Hendrix would later absorb into his persona. Had it not been for the Beatles and the English Invasion, I feel that Dick would have been a greater star and even more of a household name.
The next time I saw him was in the late seventies at a club that he owned in Orange County, dubbed the Rendezvous. It was a totally different vibe, with a Vegas-style act in a Vegas-style cub. There were scantily clad girls dancing on the bars and a lounge type group backing him up, featuring his Asian wife, Jeanie, and a big, black, sax player with a shaved head called Mr. Clean. He did popular songs and every once in a while did a "Dick Dale Song." That was probably his lowest period.
I was living in San Clemente at the time and would front a band called the Hula Buckaroos for the Annual Surfer Magazine Awards banquet every year. There were always special guests at the event. One year Dick was introduced out of the audience, and, as we were playing a tune as his intro, he jumped up on stage and proceeded to sit in on almost every instrument, including the drums. I have only seen Sammy Davis Jr. do anything as 'show biz' as that in my life.
It is my opinion that the only, true surf guitar player is Dick Dale… all the others are just pretenders.
© 2019 Chris Darrow
CHRIS DARROW was a founding member of the influential world beat/psychedelic band Kaleidoscope, 1966-1968. He went on to cut a number of acclaimed solo albums, and played as a sideman on albums by James Taylor, John Stewart and Gene Vincent, and toured with Linda Ronstadt 1969-1971. He is one of the architects of SoCal country rock, a pioneer force in Americana, and also very involved with surf music.
---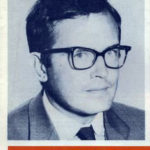 By Harvey Kubernik 
Jack Good, producer of the landmark Shindig! television series passed away on September 24, 2017.  I learned the news from deejay Rodney Bingenheimer. Good also produced a very early TV special Around the Beatles in 1964.
Shindig! was a seminal pop and rock music series that changed the music and frame game. It debuted September 1964 and ran through 1965 and was shot in L.A. at ABC Prospect Avenue Hollywood studios Initially it was a weekly half-hour spot that was extended to two weekly half hour episodes. No Jack Good, no MTV.
I went to live tapings as a teenager. I cited the program in my 2004 book Hollywood Shack Job: Rock Music in Film and On Your Screen. Rodney saw the Animals and the Stones. I have a fond memory of the Four Tops. Live vocal track from Levi and the group over a pre-recorded track by the Shindig! house band. The show might have aired nationally in black and white but what I saw was in living color. The Four Tops were clad in matching iridescent green suits, moving to "I Can't Help Myself (Sugar Pie Honey Bunch)."
Andrew Loog Oldham was the manager/record producer of the Rolling Stones 1963-1967 who booked the Stones on Shindig! in 1965. It's an episode that also featured Howlin' Wolf. In  Hollywood Shack Job, Oldham told me, "The British fashion business was the first pop business. At the same time poor British pop music had its moments, grand magical moments like Jack Good's TV shows, Oh, Boy! and Boy Meets Girl, but the music we had was hardly exportable. All that ever got out and onto the Ed Sullivan TV show and the American airwaves was the one-offs and the freaks—Acker Bilk, Jackie Dennis and Laurie London.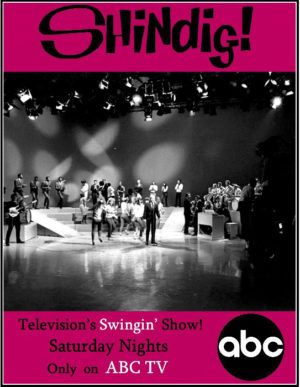 "How vaudeville and World War II begot a middle class trad-jazz which begot skiffle and imitative well-meaning pop and eventually this little cluster of about 300 white kids with a passion for rhythm 'n' blues. How before the Beatles there was a Jack Good, Eddie Cochran, Little Richard, Buddy Holly, Billy Fury, Marty Wilde and Cliff Richard and the Shadows that ran that first all-important mile."
In my book Turn Up the Radio! Rock, Pop, and Roll in Los Angeles 1956–1972, singer/pianist Ian Whitcomb reflected on Shindig! to me. "I had been a guest several times on producer Jack Good's TV series, Shindig!, that was filmed in Hollywood at ABC-TV. Jack had a background in drama at Oxford. When he did the earlier Oh Boy! television music series in England, he had everything organized and synchronized. So Jack saw the dramatic potential of rock 'n' roll. To that point, it hadn't been exploited or explored in this country. You simply had teenage kids dancing with each other on the Dick Clark shows. Jack had this dramatic view. The Shindig! shows were done live, and the backing tracks of the music were done on Melrose Avenue at Nashville West, next to Nickodell Restaurant near Paramount Studios. It took a week to make a Shindig!"
In a 2000 interview I talked about Shindig! with keyboardist/arranger/composer/and producer Jack Nitzsche. "I spent a day with Howlin' Wolf on the set of Shindig! I went down there with the Stones, and Sonny & Cher were there, too.  So Sonny introduced me to Howlin' Wolf and I was speechless.  He was imposing.  There was a sweetness in there you could see.  And anyway, we were sitting there for a long time and he was sitting next to me and he had a friend with him who was a little older, and strange.  He wore a cowboy hat, boots and a bolo tie.  Western attire.  We sat together and I was content just to sit and not even speak.  Just to be in the man's presence, ya know.
"So, after a while, we got to talking and he became more comfortable.  So did I.  He said, 'I didn't introduce you to my friend.  Jack, this is Son House. . .'  I'm sitting with Wolf and Son House.  I saw the Stones sitting around Howlin' Wolf when he performed.
"You should have seen the take they stopped. They made him stop in the midst of a take.  'Cause he was like 300 pounds.  Huge and he had a toy harmonica, a tiny harmonica that he would put in his mouth.  He could hold it between his lips.  Oh man. So, he got up there on stage to do his set and he put that little harmonica in his mouth.  That was the surprise.  The band was playing, and it came time for the instrumental and he was kinda dancin' around when he came up again for air, he was playing harmonica and holding the microphone.  It was theatrical and funny stuff for the fish fry.  I had to use a Wolf track on Blue Collar.
"I met Leon Russell with Jackie DeShannon; she introduced me. Leon at the time was playing piano in a bar in Covina. He was an innovative piano player. He was good. In those days it was real hard to find rock 'n' roll piano players who didn't play too much. Leon talked the same language. You could really hear Leon play in the Shindig! television band. I put him in the TAMI Show band, and he's all over the soundtrack. I knew Leon would emerge as a band leader."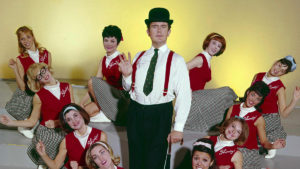 In 1985, I watched a Marvin Hagler and Thomas Hearns boxing match with Jack Nitzsche and Denny Bruce inside Bruce's Bel-Air home. That night Nitzsche touted and endorsed Good's telegenic musical vision but also lamented network executives who couldn't handle race mixed recording artists vocalizing together on camera in their early 1964 Shindig! TV pilot. Our current politically correct climate prohibits me from printing Jack's specific memory statement and exact racist wording of a cautionary remark he heard at the time uttered from a couple of former  ABC programmers and censors. In addition, brass also didn't want Jack's Caucasian wife, Gracia, a studio background singer and a regular member of the Blossoms, Shindig! regulars, to appear on the weekly series with them.
By January '66 Good had his final argument with ABC executives, splitting from Shindig! He went on to produce the locally shot TV special 33 1/3 Revolutions per Monkee that was broadcast on NBC-TV on April 14, 1969. Fats Domino, Little Richard, Jerry Lee Lewis, the Clara Ward Singers, the Buddy Miles Express and Brian Auger, Julie Driscoll and the Trinity were the guests.
Harvey Kubernik is the author of 12 books, including Leonard Cohen, Everybody Knows, and Neil Young, Heart of Gold.  In April 2017, Sterling published Kubernik's 1967 A Complete Rock Music History of the Summer of Love. Kubernik's literary anthology Inside Cave Hollywood: The Harvey Kubernik Music InnerViews and InterViews Collection, Vol 1 will be published during November 2017 by Cave Hollywood.    
---