Featured

News

By Jay Dobis     Erkin Koray, aka Erkin Baba, the father of Turkish Rock 'n Roll (he put together the first Turkish rock band (Erkin Koray ve Ritmcileri) in 1957 when he was a high school student

Featured

Articles

By Harvey Kubernik   To celebrate the 50th anniversary of The Roxy and its enduring relevance, the Grammy Museum announced a new exhibit, The Roxy: 50 Years On The Sunset Strip, which explores the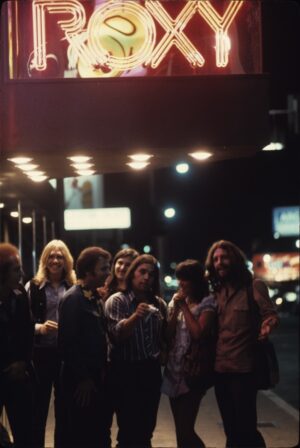 By Harvey Kubernik
To celebrate the 50th anniversary of The Roxy and its enduring relevance, the Grammy Museum announced a new exhibit, The Roxy: 50 Years On The Sunset Strip, which explores the club's origins and rich musical history. The exhibit opened on September 15, 2023 and will run through January 7, 2024.
"The Roxy and the Sunset Strip are deeply embedded in music history, and 50 years later, the Roxy continues to be a club where music's most exciting moments still take place," said Jasen Emmons, Chief Curator and VP of Curatorial Affairs at the Grammy Museum. "This exhibit highlights Lou Adler and the Roxy's ability to tap into the cultural zeitgeist and lets visitors dive into the rich world of one of the most historic and beloved locations in Los Angeles."
[Photo opposite: Linda Ronstadt, Lowell George and friends outside The Roxy, October 18, 1973. (Photo by Henry Diltz / Courtesy Gary Strobl at the Diltz Archive)]
The origin of the Roxy can be traced to a late 1971 rude awakening Adler received at the nearby Doug Weston's Troubadour club when Carole King was making her debut at the West Hollywood nitery. The reliable club manager Robert Marchese, was not present the night when Adler, King's manager, and owner of Ode Records, was informed twice that his name 'wasn't on the list,' and curtly dismissed by a Troubadour doorman.
Lou mentioned the incident to his friend and mentor, Elmer Valentine, founder of the Whisky A Go Go with Mario Maglieri, and they decided that the Sunset Strip needed another venue, a rock club.
"I never went to Chuck Landis' strip club, The Largo, but certainly was aware of Candy Barr and Miss Beverly Hills being up on the marquee," reminisced Adler in a 2008 interview I conducted with him inside his Malibu office. "The only time I went into The Largo was the day that Elmer and I looked at possibly buying it. It became the Roxy Theatre."
On September 20, 1973, Lou Adler and Elmer Valentine, along with Peter Asher, David Geffen, Bill Graham, Chuck Landis, and Elliot Roberts as advisors, opened The Roxy Theatre on the Sunset Strip. Neil Young and the Santa Monica Flyers initiated the club with a three-night stand, playing two shows every evening, and The Roxy quickly became one of the city's premier clubs.
On September 20-21, 2023, Neil Young returned to The Roxy to mark its 50th Anniversary. Both shows benefited charities the Painted Turtle and Bridge School. On September 24th reggae artist Stephen Marley revived the 1976 setlist by his father Bob that was issued as Bob Marley and the Wailers' Live at the Roxy.
Adler has also curated a Live at the Roxy album that features songs recorded from the venue. Tracks by Young, Bruce Springsteen, the Ramones, Brian Wilson, George Benson, Emmylou Harris, and Warren Zevon are included in the compilation.
The Roxy: 50 Years On The Sunset Strip highlights the Los Angeles institution's legacy through artifact displays including Roxy memorabilia from Lou Adler's archives, an original film, and photographs.
For more information regarding ticket reservations for the exhibit, please visit www.grammymuseum.org.
---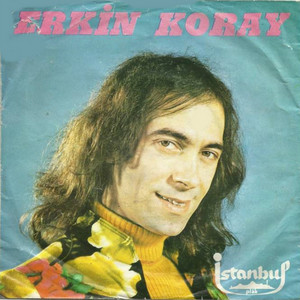 By Jay Dobis
Erkin Koray, aka Erkin Baba, the father of Turkish Rock 'n Roll (he put together the first Turkish rock band (Erkin Koray ve Ritmcileri) in 1957 when he was a high school student in Istanbul, died at the age of 82 on Monday, August 7. He had been living in Toronto, Canada for a while and had been hospitalized due to lung problems.
After a mandatory stint in the army, Erkin started playing out and became a popular live attraction. In 1962, he released his first single: "Bir Eylül Akşamı"/"It's So Long." In 1967, he had his first hit record: "Kızları da Alın Askere" (Let Girls Join the Army), which quickly sold 800,000 copies in a country of only 30 million people (70% lived in rural areas). His next release, "Meçhul/Çiçek Daği" (also in 1968) came after his band finished fourth in Hürriyet newspaper's Altın Mıkrofon contest… In 1969, Erkin Koray & Yeraltı Dörtlüsü (Underground Quartet), released "Sana Bir Şeyler Olmuş," the greatest version of the Cannibal & the Headhunters song "Land of a Thousand Dances." And I mustn't forget his magnificent, crunching track from 1972, "Hor Görme Garibi" (by Erkin Koray ve Ter, which included guitarist Aydın Cakuş (formerly of Grup Bunalim) on sizzling guitar).
Against his objections, in 1973 his label Istanbul Plak, released an album called Erkin Koray, which collected his singles… In 1974, Doğan Plak released Elektronik Türküler, which Erkin considered his first album. It is his masterpiece and is one of the greatest psychedelic albums ever recorded. The core group (Erkin on guitar and bağlama, Ahmet Güvenç on bass, Sedat Avcı on drums) were augmented by Haci Ahmet Tekbilek (who would soon move to Scandinavia to play in Okay Temiz's great Turkish jazz bands of the 1970s on zurna and gaida), Omer Faruk Tekbilek (a future world music star) (bağlama), Eyüp Duran (bongos), and Ayzer Danga (drums) from Moğollar and Mavi Işiklar. The album fully integrates rock with traditional Turkish folk music: great originals; a cover of a traditional folk tune; and a cover of Ürgüplü Refik Başaran's "Cemalin." My two favorite songs on the album are the original "Inat," with searing psychedelic guitar, and "Türkü," a cover of a Nazim Hikmet poem that had originally been set to music by saz player Rui Su. This album cemented Erkin's reputation as an Anadolu Rock legend, blending Turkish classical music, folk tunes, and various Middle Eastern sounds into his psych driven songs. Erkin also claimed to be the inventor of the elektro-saz; he was certainly one of the first and popularized the instrument.
His next album, Erkin Koray 2, released in 1976, was almost as good, putting even more emphasis on Arabic influences, particularly on my favorite song by Erkin, "Şaşkın." Other greats on this album are "Fesuphanallah," "Estarabim," "Arap Sacı," and "Timbıllı." His last excellent album (though he continued to have more great singles) came in 1983: İlla Ki, which shows the influence of the American band The Devil's Anvil. (Knowing that his life was nearing its end, Erkin wrote a letter to music writer Kanat Atkaya, claiming that there was no such influence calling The Devil's Anvil an 'amateur' band, and that he had never heard their album, that he is ERKIN KORAY, and that those who think otherwise should look to ASCAP for clarification. He also discussed his meeting with John Lennon and Yoko Ono at the 1971 Cannes Film Festival.)
In the early and mid '70s, in concert Erkin would typically do two sets. The first would consist of covers of songs by bands such as Deep Purple, Led Zeppelin, and Atomic Rooster. In the second set, he would play his own superior songs… At some point in the early '70s, he planned to record an album of what he described as 'space rock,' but unfortunately his label refused to pay for studio time.
Throughout his career he was known to be a 'different kind of guy,' most probably due to the ill treatment he received from record label owners whom he frequently quarreled with and sued in court. He was even bootlegged in his own country. Over the years I heard many stories about his 'crazy' actions. However, for about 12 years, I was in occasional contact with Erkin: hanging out with him, talking about music, talking on the telephone, having dinner, inviting him to see the band I was managing (ZeN), etc. And he always was very nice and normal.
Even in the US, he had bad luck with record labels. In 1996, an American label was set to release a 3-CD set called Erkin Koray: Turkish Psych Monster. The label had Erkin's permission, and he would have been paid. Extensive liner notes were written and numerous photos were to be included. However, these CDs were never released due to threatened lawsuits by another label that was releasing an Erkin album without his permission. So in America, now you have to settle for the competent but lacking collection on Sublime Frequencies, which doesn't match the quality and number of rarities that would've been available on the Turkish Psych Monster set.
A few years later, a different American label was to release Erkin Koray: Live in Nazilli, which is my all-time favorite live album. On an Aegean tour with his Süper Grup, a power trio with Nihat Örerel on drums (a former member of Grup Bunalim, Nihat also cowrote some of Erkin's greatest songs) and Rauf Ülgün on bass. Nihat recorded every show during the tour on a cheap boom box as a reference tape. So the songs on the album are what was left on the tape after the end of the tour. For the album release, the sound quality was to be cleaned up in a studio, including fixing pitch problems, and excellent liner notes had been written. Unfortunately, a certain miscreant uploaded the concert tape to YouTube, and the album was never released, though it has since been bootlegged.
For a book about Erkin 26 years ago I wrote a short chapter and called him a greater psychedelic musician than Jimi Hendrix, and I still believe this… Although Erkin has died, his eastern modal raga rock lives on.
---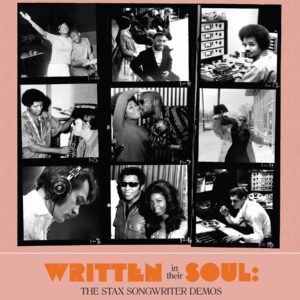 By Harvey Kubernik
In its heyday, Stax Records was synonymous with soul music's biggest stars – from Otis Redding and Carla Thomas to Sam & Dave and the Staple Singers.
Stax Records, now owned by Concord, was founded by Jim Stewart in 1957 in Memphis, Tennessee. It rose from a small, family-operated company to become one of the most influential record labels in the world, helping create "The Memphis Sound" and launching the careers of icons such as Otis Redding, Isaac Hayes, Booker T & the MG's, Steve Cropper, the Staple Singers, Sam & Dave, Eddie Floyd, Rufus and Carla Thomas, the Bar-Kays, and dozens of other artists who helped change popular culture forever. In all, Stax placed 167 hit songs in the Top 100 in Pop and 243 hits in the Top 100 in R&B.
But behind their iconic hits was a talented team of songwriters. Craft Recordings celebrates the work of these unsung heroes with a brand-new collection, Written in Their Soul: The Stax Songwriter Demos. The CD and digital, the 7-disc box set includes 146 demos (140 previously unreleased) from Stax's legendary roster of songwriters, including Bettye Crutcher, Homer Banks, and William Bell. From early sketches of classic '60s and '70s hits to never-before-heard songs with full-blown arrangements, Written in Their Soul offers fans a fascinating glimpse behind the scenes of the storied Memphis label.
The terrific collection was restored/mastered by multiple Grammy-winning engineer Michael Graves. It includes a new essay by Emmy and Grammy-winning writer/producer Robert Gordon and Stax's original Director of Publicity and two-time Emmy winner Deanie Parker, who later served as the founding President and CEO of the Soulsville Foundation, which encompasses the Stax Museum of American Soul Music, among other educational organizations. Ms Parker, who joined the Stax fold in 1962, was also a songwriter at the label.
---