Featured

News

By Jay Dobis     Erkin Koray, aka Erkin Baba, the father of Turkish Rock 'n Roll (he put together the first Turkish rock band (Erkin Koray ve Ritmcileri) in 1957 when he was a high school student

Featured

Articles

By Harvey Kubernik   To celebrate the 50th anniversary of The Roxy and its enduring relevance, the Grammy Museum announced a new exhibit, The Roxy: 50 Years On The Sunset Strip, which explores the
Thomas Mera Gartz 1944-2012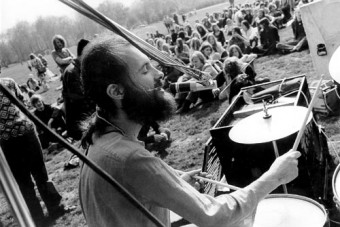 Thomas Mera Gartz blazed a trail through psych/Kraut music for over four decades, displaying a streak of minimalism and brutality, tempered with a natural delicacy; and soldiered through times prosperous and lean as a working musician, while former collaborators shuffled off into the world of 9 to 5's. He first came to public attention as (primarily) drummer for the Mecki Mark Men, before serving as founder member of the "continuous seminar of music" called Parson Sound, a group formed to perform Terry Riley's "In C" (Riley had been flown to Sweden to compose an orchestral work for a Stockholm school and work with students). After that initial burst of free-form manna Parson exploded in slippery tentacles down many winding paths, detailed out by humble scribe Erik Bluhm below. Selections by Senor Bluhm and myself give an iceberg-tippin' look into the world of Gertz with a YouTube playlist which follows this tribute. Of Gartz former bandmate Reine Fiske said: "Thomas's unique commitment to everything that surrounded him created a strong spiritual force, a vibe that very easily rubbed off on you and something that can be heard…" Make that time to hear the spirit of this man N-O-W. (jeremy nobody, esq.)
This year saw the passing of Swedish musician Thomas Mera Gartz, best known as a founding member of both the Mecki Mark Men and the Pärson Sound/Harvester/Träd, Gräs och Stenar family. Throughout his forty-five-year career, Gartz also contributed his considerable skills to other notable Swedish combos like Arbete och Fritid and the Hot Boys.
It all began in 1967 when Gartz, then one of two drummers for the Mecki Mark Men, became more and more interested in experimentation and musical freedom. Already contributing sitar and flute to the Mecki Mark Men's sound, Gartz was primed to go further out. On the side he formed the group Pärson Sound with guitarist Bo Anders Persson and bassist Torbjörn Abelli. Envisioned as an informal collective influenced by Minimalism, free jazz, American rock'n'roll, traditional Swedish folk, and various ethno-sounds, the group was not dissimilar in sound and concept to Japan's Taj Mahal Travelers or Germany's Amön Düül and Siloah. Though Pärson Sound never released an album (their collected recordings were released posthumously in 2001), the group was a great countercultural influence and forged much new ground in the Swedish rock scene.
With a name change and some new members in '68, Pärson Sound became International Harvester and released the album Sov Gott Rose-Marie on the Silence label. The following year they shortened their name to Harvester and released Hemat. Yet another name change in 1970 saw them become Träd, Gräs och Stenar (Trees, Gräss and Stones)—their most remembered incarnation, recording four fantastic albums before disbanding in the early '70s. Sometimes considered the Swedish equivalent of the Grateful Dead due to their non-commercial attitudes, festival appearances, and long, drawn-out performances, instead try imagining something more like "Sister Ray" performed by Get Yer Ya Yas Out-era Stones in a tranquilized Scandinavian-cool chant/drone push-pull.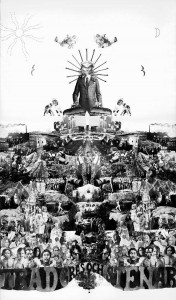 Upon the demise of Träd, Gräs och Stenar, Gartz took no break. He continued in his roles as a painter and self-described philosopher, and kept on recording with other groups. In 1976 Gartz released an incredible solo record, Sänger, consisting of recordings done a couple years earlier with help from his former bandmates. It's a fascinating effort, sung entirely in Swedish; often played on acoustic instruments; and touching on both traditional folk elements, vague ethnicisms, and dark, Velvets-like jamming. The songs spilled from inspiration built over years as the percussive driving force behind Träd, Gräs och Stenar. Explained Gartz, "There were so many words that were not sung, on my part, so I had to write some songs." In the late '90s the Träd, Gräs group got back together and recorded and toured for a whole new audience of younger listeners until Torbjörn Abelli passed away in 2010.
Gartz' style of drumming was forward and quite unique, often utilizing percussive elements from different cultures, floor tom-heavy rhythms, and was yet not afraid of straight-ahead rock'n'roll. To say it was an integral part of the group's sound would be a grave underestimate, and echoes of what he wrought would subliminally echo out into the world's underground—Träd, Gräs och Stenar's sludge-rock version of "Satisfaction" recalls the minimal tribality of Faust's "It's Rainy Day, Sunshine Girl," while Harvester's live take on "Everybody Needs Somebody" goes where Japan's Les Rallizes Denude were about to. In a way Gartz was Sweden's Mo Tucker, instantly recognizable and equally inimitable, bearded and beating behind his kit that he had hand-painted in blue and yellow, "the colors of the sun and the sky."
In a 1967 article in the big Swedish newspaper Dagen Nyheter, just as he was beginning his journey, Gartz describes how the type of music he plays is a reflection of his and his friends' lifestyle. He mentions the influence of Indian music and that an even bigger musical influence comes directly from nature. "The canopy of a tree is a place of fantastic sound," is one memorable quote. Posted less than a year ago on his YouTube channel is a piece called "4 min 43 sec Drone," which is just that—undistinguishable instruments slow-buzzing away the sound of nature, as home-shot video of trees slowly swaying fills the screen. Forty-five years on his inspiration was unshaken.
Erik Bluhm

---