Featured

News

By Jay Dobis     Erkin Koray, aka Erkin Baba, the father of Turkish Rock 'n Roll (he put together the first Turkish rock band (Erkin Koray ve Ritmcileri) in 1957 when he was a high school student

Featured

Articles

By Harvey Kubernik   On August 3, 1966, stand-up comedian, social critic, satirist, and philosopher Lenny Bruce was found dead at age 40 inside his Hollywood Hills home from an acute overdose of mor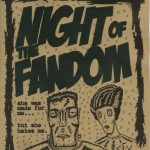 By Dragana Drobnjak
A much shorter version of this interview appeared in Issue #5 of NIGHT OF THE FANDOM fanzine in September 2012. ( lovecrafthouse@gmail.com ) This is the complete transcript.
Mike, how would you describe your experience in the U.K. prior to moving to San Diego in '81?
I was born in Watford, but lived near Manchester, Leicester and finally Leeds before moving to California in November of 1980. I suppose I had a pretty normal childhood. I got hooked on writing at a young age, and then on music too. Rock & roll became an obsession for me, and ultimately became the driving force of my life.
I read that you moved in order to join the Crawdaddys. Is this true? How did you get in touch with the band?
That's true. I heard the Crawdaddys one night in 1979 on John Peel's radio show, and I was blown away. I was already a huge fan of the early Stones, Yardbirds and Pretty Things, and I was blown away that a 'new' band could recreate the sound and excitement of that music so authentically. After picking up a couple of their records, I wrote them a fan letter c/o Bomp Records. I was very surprised when a few weeks later I got a letter back from them asking if I'd like to move to San Diego and become their new bass player. After saving up enough money for a plane ticket, through working at a vacuum cleaner factory, I flew to California to start a new life.
Moving usually brings about a lot of chance, especially when it takes place cross-continentally. Has the experience helped form any ideas or decisions?
Absolutely. The decision to move to the States changed the whole direction of my life. I was just a naïve teenager when I arrived—just out of school, and had never lived away from home. I had to learn very quickly how to get by. It wasn't easy sometimes as I was here illegally with no work permit, and had to find ways around that situation. There were many times when I went hungry, and I was at risk of getting deported back to England at any time. There was a lot of stress and uncertainty. I didn't think about it much at the time, but later I realized how that experience must have hardened me emotionally to some degree, and certainly forced me to face all kinds of different challenges on my own. But somehow I managed to make a life for myself here, and I eventually got a green card and then citizenship.
What initiated the Ugly Things fanzine?
I was the early 1980s, the beginning of the MTV era. I thought 99% of modern music was just dreadful – very synthetic and over-stylized for the most part. I started Ugly Things as an antidote to that. I wanted to turn everyone on to the music I was passionate about—which was the exciting, unfiltered, ugly sounds of '60s garage bands, beat groups, psychedelia and suchlike. I felt that if people heard bands like the Music Machine, the Pretty Things and Q65 they'd never want to listen to Michael Jackson, Van Halen or Flock of Seagulls ever again. Maybe that was a little unrealistic, but I'd like to think I helped a few people see the light.
How would you describe the fanzine?
It's a celebration of rock'n'roll, focusing on the overlooked bands and records of the '50s, '60s and '70s. It's about uncovering the untold stories, and also being something of a consumers' guide to the continuing flood of reissues.
In your opinion, why is it important to preserve and reflect upon cultural history?
Some of the most interesting and creative "art"—for lack of a better word—be it music, literature, film, painting, may go undiscovered for years if not decades. There's always a fear it may be lost forever, especially now amid the avalanche of consumer products, useless information and compulsive 'busy-work' we're bombarded with as part of our daily lives. Like many other people, I feel some kind of responsibility to expose and illuminate those parts of our shared cultural history that may otherwise be forgotten. The 1960s were the cultural high-water mark of the last century—something was lost in the decades that followed—and there's still so much to be learned, shared and enjoyed from that era.
Did the fanzine gather immediate attention and support?
No, it was very much a small underground, grassroots affair, and it always will be. We appeal to a small niche of people, and while the population of that niche continues to grow, it will always be what it is—a niche. Most of the world will never 'get' it, and I don't expect them to.
What was the fanzine culture like during '80s California and nationwide?
If the mid '70s was the first golden age of rock fandom, the mid to late '80s saw a second golden era with zines like Kicks, 99th Floor, Here Tis, Black to Comm, Hartbeat and dozens more around the world, all championing garage bands of the '60s and/or newer bands who had tapped into that source for inspiration. It seemed like every week there was a new issue of a cool fanzine dropping through my mailbox, and it all helped build an international network of like-minded souls—all accomplished through the postal system using pen & paper.
Do you think that fanzines help tie scenes from different localities into a more unified vision?
Yes. I mean, everyone had their own unique vision and perspective on things, but there was a sense of unity in that we completely rejected the modern music mainstream and the blinkered MTV generation mentality in favor of the underground garage/beat/rock'n'roll of the mid-'60s, something we knew to be infinitely more authentic and exciting. Time has shown we are right, because that kind of music is more popular than ever, and once bitten by the big beat bug, most people are stricken for life.
Why do think fanzines are so successful in uniting enthusiasts?
I can only speaking for myself, but when I first discovered fanzines like Bam Balam, Gorilla Beat and Who Put the Bomp in the late '70s, it made me realize I wasn't alone in my rock'n'roll obsession. Fanzines validated what I was already feeling, then magnified it all by opening up a vast new world of music to discover.
In my own amateur fanzine making experience I am led to believing that fanzines have the power of giving voice to the underground culture and to voices usually unheard. What is your take on this?
I agree 100%, though I believe that this has been supplanted to a great extent by the Internet and social media—for better or worse. Nevertheless I think print fanzines will always have a role to play. Blogs are transitory, print is forever.
Zines have created their own niche in our culture. Looking back to when you got started, do you notice any aspects of this culture that have remained the same through the decades?
At its core, fanzine culture is fundamentally the same as it was back then – a means of self-expression for anyone with access to a few basic tools and a copy machine.
Do you think any significant difference exists between the way printed information impacts readers vs. that found online?
As I stated earlier: Blogs are transitory, print is forever. The printed word carries more weight because it brings with it a sense of permanence. Online opinions are dished up and digested in the moment, then they disappear into the ether. But when you set your words down on paper and send them out into the world, you are making a tangible statement that you will have to stand behind.
Do you have a favorite issue to date?
It may sound trite, but my favorite issue is always the next one – the one I'm working on right now, because that's the one I have the most passion invested in. If forced to pick some of my favorite UT back issues, I would pick #13 with the Birds story, #20 and 21 with
the first two parts of the Misunderstood, and #33 with the Johnny Echols interview.
What's currently in the works?!
Issue #35 has a story I've been working on for over ten years, unraveling the tale of Craig Smith a.k.a. Maitreya Kali – a super talented songwriter and musician from the 1960s who went off the rails completely at the end of the decade. Writing it has involved a great deal of detective work, and a lot of challenges. More of those ahead, but I hope to finally complete it in the next few months.
Any closing words of wisdom for readers and fellow music enthusiasts?
 Thanks to everyone who has supported Ugly Things over the last 29 years. The zine has always been fueled by passion for the music – not just mine but that of my fellow writers and all of our readers.
---
Since 1983 UGLY THINGS magazine has brought its readers unparalleled coverage of WILD SOUNDS FROM PAST DIMENSIONS: the best lost, unknown and overlooked music of the 1960s and beyond. Published three times a year, each issues features 140-200 pages of in-depth features, exclusive interviews, rare photos and more, as well as a massive review section sifting through hundreds of vinyl and
CD reissues, music-related books and DVDs. UGLY THINGS is not a hobbyist publication for trainspotting elitists, it is a high energy rock & roll fanzine about the music and the stories of the people that made it happen.
UT RECORDS was started as a sideline to the magazine, presenting high quality vinyl and CD releases of rare and previously unreleased garage, beat and psychedelia from the 1960s.
You can contact us at: uglythingsmag@gmail.com
UGLY THINGS, PO Box 3021, La Mesa, CA 91944, USA
Telephone: 619-337-1966
Thanks for your interest,
Mike Stax
Editor/Publisher
---
Ugly Things magazine can be purchased online at our webstore: http://webstore.ugly-things.com
It can also be found at many good record stores, book stores and magazine stands, including the ones listed below. This list is by no means comprehensive. If your store carries Ugly Things and is not listed below, please contact us at uglythingsmag@gmail.com and we'll add you to the list.
If you're interested in carrying Ugly Things at your store, please call or email us for details.
USA
CALIFORNIA
Carlsbad
SPIN RECORDS
370 Grand Avenue
Carlsbad, CA 92008
760-434-0807
www.facebook.com/spinrecords
Hollywood
AMOEBA MUSIC
6400 Sunset Blvd
Hollywood, CA 90028
323-245-6400
http://www.amoeba.com/
Long Beach
FINGERPRINTS
420 E. 4th Street
Long Beach CA. 90802
562-433-4996
http://www.fingerprintsmusic.com/
Los Angeles
CAVEMAN MUSIC
Attn: Eric Stollsteimer
650 N. Spring St.
Los Angeles, CA 90012
213-625-9999
http://caveman-vintage.com/
THE DAILY PLANET
5931 1/2 Franklin Ave
Los Angeles, CA 90028
323-957-0061
http://www.thedailyplanetbookstore.com/
ROCKAWAY RECORDS
2395 Glendale Blvd.
Los Angeles, CA 90039
(323) 664-3232
http://www.rockaway.com/
Oakland
ISSUES
20 Glen Avenue
Oakland, CA 94611
510-652-5700
http://www.issuesshop.com/
Sacramento
BEERS BOOKS
915 S Street
Sacramento, CA 95811
916-442-9475
http://www.beersbooks.com/
PHONO SELECT RECORDS
2312 K Street
Sacramento, CA. 95816
916-400-3164
http://www.phonoselect.com/
San Diego
M-THEORY MUSIC
827 W Washington Street
San Diego, CA 92103
619-220-0485
http://www.mtheorymusic.com/
VINYL JUNKIES RECORD SHACK
2235 Fern Street
San Diego, CA 92104
http://vinyljunkies.net/
San Francisco
AMOEBA MUSIC
1855 Haight Street
San Francisco, CA 94117
415-831-1200
http://www.amoeba.com/
AQUARIUS RECORDS
1055 Valencia Street,
San Francisco, CA 94110
415-647-2272
http://www.aquariusrecords.org/
CITY LIGHTS BOOKSTORE
261 Columbus Ave.
San Francisco, CA 94133
415-362-8193
http://www.citylights.com/
Santa Ana
LEFT OF THE DIAL RECORDS
320 French Street, Suite B
Santa Ana, CA 92701
http://www.leftofthedialrecords.com/
Sherman Oaks
FREAKBEAT RECORDS
13616 Ventura Blvd.
Sherman Oaks, CA 91423
http://freakbeatrecords.com/

Ventura
GRADY'S RECORD REFUGE
2546 E Main Street
Ventura, CA 93003
805-648-5565
http://www.gradysrecordrefuge.com/
COLORADO
TWIST AND SHOUT
2508 E Colfax Ave.
Denver, CO 80206
303-722-1943
http://www.twistandshout.com/
FLORIDA
BOB'S NEWS & BOOKS
1515 S Andrews Ave.
Ft Lauderdale, FL 33316
http://www.bobsnewsandbooks.com/
ILLINOIS
Chicago
DUSTY GROOVE
1120 N Ashland
Chicago, IL 60622
773-342-5800
http://www.dustygroove.com/
LAURIE'S PLANET OF SOUND
4639 North Lincoln Avenue
Chicago IL 60625
773-271-3569
http://lauriesplanetofsound.com/
LOGAN HARDWARE
2410 W Fullerton Ave
Chicago IL 60647
773-235-5030
http://www.logan-hardware.com/
QUIMBY'S
1854 West North Avenue
Chicago IL 60622
773-342-0910
http://www.quimbys.com/
RECKLESS RECORDS
26 East Madison Street
Chicago IL 60602
http://www.reckless.com/
RECKLESS RECORDS
3126 N Broadway St
Chicago IL 60657
http://www.reckless.com/
RECKLESS RECORDS
1532 N Milwaukee Ave # 1
Chicago IL 60622
http://www.reckless.com/
SAKI
3716 W Fullerton Ave.
Chicago, IL 60647
773-486-3997
http://sakistore.net/
SHAKE, RATTLE & READ
4812 N Broadway St
Chicago IL 60640
773-334-5311
VINTAGE VINYL
925 Davis St
Evanstown IL 60201
847-328-2899
http://vvmo.com/
INDIANA
HEIRLOOM RECORDS
516 Wilson Square
Evansville, IN 47715
812-228-7456
http://www.facebook.com/HeirloomRecords
MARYLAND
BARNES & NOBLE BOOKSELLERS
Towson Circle
1 E. Joppa Rd
Towson MD 21286
EL SUPRIMO! RECORDS
1709 Aliceanna St
Baltimore MD 21231
443-226-9628
http://elsuprimo.com/
GURU TOO RECORDS
1635 Lancaster St
Baltimore MD 21231
443-844-5896
JOHNS HOPKINS UNIVERSITY BOOK CENTER
3330 St Paul Street
Baltimore MD 21218
JOJOSOUTH RECORD SHOP
718 W. 36th St.
Baltimore MD 21211
410-889-1759
http://www.facebook.com/jojosouth.recordshop
NORMALS BOOKS AND RECORDS
425 E. 31st St
Baltimore MD 21218
410-243-6888
http://www.normals.com/
THE SOUND GARDEN
1616 Thames St
Baltimore MD 21231
410-563-9011
http://www.cdjoint.com/
MASSACHUSETTS
NEWSBREAK
581 Gar Hwy
Swansea, MA 02777
RED LION SMOKE SHOP
94 Washington Street
Salem MA 01970
978-745-2050
http://www.redlionsmoke.com/
NEWBURY COMICS
240 Andover Street, Rte 114
Peabody, MA 01960
978-531-9713
http://www.newburycomics.com/
MICHIGAN
WAZOO RECORDS
336 1/2 S State Street
Ann Arbor, MI 48104
734-761-8686
MINNESOTA
ROADRUNNER RECORDS
4304 Nicollet Ave S.
Minneapolis, MN 55409
612-822-0613
NEW YORK
ACADEMY RECORDS ANNEX
96 N 6th Street
Brooklyn, NY 11211
718-218-8200
http://www.academyannex.com/blog/
BOP SHOP
1460 Monroe Ave.
Rochester, NY 14618
585-271-3354
http://www.bopshop.com/
QUIMBY'S BOOKSTORE NYC
536 Metropolitan Ave
Brooklyn, NY 11211
https://quimbysnyc.com/
ROUGH TRADE NYC
54 N 9th Street
Brooklyn, NY 11249
718-388-4111
NORTH CAROLINA
BULL CITY RECORDS
2600 Hillsborough Road
Durham, NC 27705
http://www.bullcityrecords.com
919-286-9640
OHIO
CULTURE CLASH RECORDS
4020 Secor Road
Toledo, OH 43623
http://www.thecultureclash.com/
419-536-LOVE
OREGON
THE CITY READER
3050 SE Division Street
Portland, OR 97202
https://www.the-city-reader.com/
INDENT
3636 N Mississippi Ave
Portland, OR 97227
https://www.indent-magazines.com/
JACKPOT RECORDS DOWNTOWN
203 SW 9th Ave
Portland, OR 97214
503-222-0990
http://www.jackpotrecords.com/
JACKPOT RECORDS HAWTHORNE
3574 SE Hawthorne Blvd.
Portland, OR 97214
503-239-7561
http://www.jackpotrecords.com/
MUSIC MILLENNIUM
3158 East Burnside Street
Portland, OR 97214
(503) 231-8926
http://www.musicmillennium.com/
POWELL'S CITY OF BOOKS
1005 W Burnside St
Portland OR 97209
http://www.powells.com/
READING FRENZY
921 SW Oak St.
Portland, OR 97205
info@readingfrenzy.com
http://readingfrenzy.com/index.php
PENNSYLVANIA
POSITIVELY RECORDS
4153 Woerner Ave
Levittown, PA 19057
215-945-8063
TENNESSEE
GONER RECORDS
2152 Young Avenue
Memphis, TN 38104
901-722-0095
http://www.goner-records.com/
TEXAS
WATERLOO RECORDS
600-A N. Lamar
Austin, TX 78703
(512) 474-2500
http://waterloorecords.com/Home
WASHINGTON
BULLDOG NEWS
4208 University Way NE
Seattle, WA 98105
206-632-6397
http://bulldognewsstand.blogspot.com/
WASHINGTON DC
CROOKED BEAT RECORDS
2116 18th St NW
Washington, DC 20009
http://www.crookedbeat.com/
SMASH RECORDS
2314 18th ST NW 2nd Floor
Washington, DC 20009
202-38-SMASH
http://www.smashrecords.com
WISCONSIN
RUSH MOR RECORDS
2635 S. Kinnickinnic Avenue
Milwaukee, WI 53207
414-481-6040
http://www.rushmor.com/
AUSTRALIA
BIG STAR CDS & RECORDS
160 Magill Road
Norwood SA 5067
http://www.facebook.com/bigstarrecords
CANADA
NEPTOON RECORDS
3651 Main Street
Vancouver, BC V5V 3N4
http://neptoon.com/
ZAP RECORDS
14 King St East,
Cobourg, Ontario K9A 1K7
http://www.zaprecords.com/
 FRANCE
BIMBO TOWER
5, passage Saint-Antoine
Paris 75011
http://bimbo.tower.free.fr/
BORN BAD
17 rue Keller
Paris 75011
01 43 38 41 78
http://www.bornbad.fr/
DANGERHOUSE
3 rue Thimonnier
69001 LYON
http://www.dangerhouse.fr/
GIBERT JOSEPH
26-34 Boulevard St-Michel
Paris 75006
http://www.gibertjoseph.com/
SONIC IMPORT
15 avenue du Maréchal Foch
Nice 06000
04 93 53 48 39
http://www.sonic-import.com/
GERMANY
ROCKINFO SHOP
www.rockinfo.de
JAPAN
WAREHOUSE
Shinmei Bld. 2F 7-7-33
Nishi-Shinjyuku, Shinjyuku,
Tokyo 160-0023
http://warehouse.shop-pro.jp/
NORWAY
BOOGALOO
Skostredet 16
5017 Bergen
boogaloobergen@gmail.com
www.facebook.com/boogaloobergen
SPAIN / PORTUGAL
M!RANDA – Cultura para levar
Trás Salomé, 1
15705 Santiago de Compostela
Spain
Tel. 881 25 60 20
UNITED KINGDOM
BLACK VINYL RECORDS
47 Main Street
Symington
Biggar ML12 6LL
Scotland
http://www.blackvinylrecords.com/
ROUGH TRADE SHOP
130 Talbot Road
London W11 1JA
http://www.roughtrade.com/
ROUGH TRADE EAST
Old Truman Brewery
91 Brick Lane
London E1 6QL
http://www.roughtrade.com/
---