Featured

News

By Jay Dobis     Erkin Koray, aka Erkin Baba, the father of Turkish Rock 'n Roll (he put together the first Turkish rock band (Erkin Koray ve Ritmcileri) in 1957 when he was a high school student

Featured

Articles

By Harvey Kubernik   To celebrate the 50th anniversary of The Roxy and its enduring relevance, the Grammy Museum announced a new exhibit, The Roxy: 50 Years On The Sunset Strip, which explores the
George Gallacher – 1943-2012
It is with deep sorrow and incredible sadness that we learned of the death of our dear friend George Gallacher, lead vocalist and founder member of the Poets, who died suddenly from a heart attack while driving home from watching his favorite football team, Partick Thistle, on Saturday August 25, 2012. On the day "The Jags", as Thistle are known by their fans, won 3-0 against Dumbarton at their home ground Firhill, in Glasgow, so George would've been pretty ecstatic. He was such an avid supporter that, unusually, the club held a half-time tribute to him on the day of his funeral, playing Poets songs, while former Scotland player Alan Rough read out tributes.
George was born in the Garngad (later Royston) area of Glasgow and would've celebrated his sixty-ninth birthday on 21 October.
In 1964, The Poets were quickly signed to Decca by Rolling Stones manager Andrew Loog Oldham, who produced for them a brace of highly-innovative singles, all co-written by Gallacher, and guitarists Hume Paton and Tony Myles. Forever etched in the minds of beat fans is the group's scorching February 1965 single, "That's The Way It's Got To Be," and its sublime, truly haunting counterpart, "I'll Cry With The Moon." This showcased both the tough and romantic sides of the young Gallacher's talent, across intense, creative, and thoroughly mesmerizing material. The weird baroque-beat stomp of "Now We're Thru," their debut from late the previous year, would give them their only Top 30 placing. The Poets followed manager Oldham into his new Immediate label venture, cutting two singles there including the spellbinding "Some Things I Can't Forget," the group's preferred choice for the topside. This was over-ruled by ALO in favor of "Call Again"—"depressing stuff… and we were depressed that it was going to be our single," recalled Gallacher in 2011.
In early '66 after "Baby Don't You Do It," Gallacher left the Poets, disillusioned by lack of direction and momentum within the group, and the mess of ongoing management wrangles. He stayed in London until the end of the '60s singing back-up on sessions for such as Keith Relf and Spencer Davis, doing A&R work, writing and recording for labels including United Artists, Fontana and Major Minor. Gallacher also taped some excellent songs of his own with backing by the pre-White Trash group, the Pathfinders, who included former Poets guitarist (and by then Gallacher's brother-in-law) Fraser Watson. At least four titles exist on acetate only including "The Tailor," "A Weathercock's View Of Life," and the more well-known "Dawn (A Portrait)." A little-known fact, however, is that in 1968 Gallacher also supplied lead vocals for an album project by a group called the Illusive Dream which remains unreleased to this day.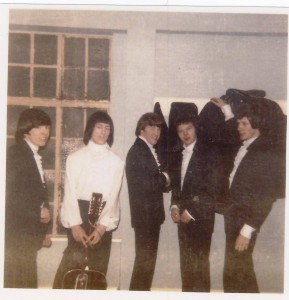 When George returned to Glasgow, married with children, much of his free time was spent playing junior league football. As early as 1963, before the Poets broke out, George's prowess on the football park had already been noted and he signed up for trials with Leicester City's youth team alongside England's future goalkeeping hero Gordon Banks.
But music was in Gallacher's soul, and after a brief stint playing with old pal Alex Harvey, he and Watson formed the hard rocking, politically aware Dead Loss Band, also the Dansettes, The Blues Poets and, more recently, the Nearly Men. His friend, award-winning author James Kelman, had also cast him as the leading role in his acclaimed 1994 play One Two Hey!, the story of a struggling blues group, mirroring that of the Poets.
Gallacher also returned to education, gaining degrees in both English and Philosophy at the University of Strathclyde, before becoming a teacher, and mentoring to asylum seekers, many from war-torn Kosovo.
A unique vocalist until the very end, George was blessed with a thoroughly commanding stage presence, as evidenced by those in attendance at recent concerts given by the reconstituted Poets line-up where George and Fraser were backed by longtime friends and fans, the Thanes, in Glasgow, London, and at what would turn out to be their last ever appearance, at Festival Beat in Italy on 30 June, playing almost all of the group's '60s repertoire before jubilant, receptive audiences.
On a very personal note, as one of George's and his family's friends for the last twenty five years, I'd like to say that life has been richer by far having known him. George Gallacher was a very generous, gracious, wryly funny, heart-thinking individual, an extraordinary spirit with an astonishing musical gift. He will be dearly missed by all who knew him. He journeys on leaving behind his dear wife Anne, and their two sons, Craig and Fraser. RIP George, you were some man. (Lenny Helsing)
---