Featured

News

By Harvey Kubernik Guitarist Jan Savage, who was born Buck Jan Reeder, of the American rock band the Seeds died in early August, according to a report in The Ada News and a subsequent Fac

Featured

Articles

By Harvey Kubernik CHRIS HILLMAN is arguably the primary architect of what's come to be known as country rock. On November 17, 2020 BMG Books will publish his autobiography Time Between: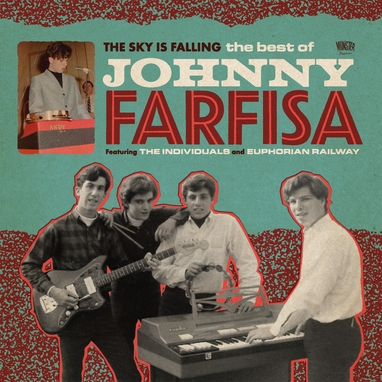 Hot on the heels of Matteo Bocci's fine piece on Johnny Farfisa in UT#44 comes this stellar compilation of the musical exploits of one Andy Cahan a.k.a. Johnny Farfisa. Having previously been represented only by a Moxie EP from 1980, this collection rights many musical wrongs by making most of this material available to the public for the first time.
The first grouping of tracks by his outfit the Individuals is represented by not one but four fine versions of "She's Gone Away," all of which kick mightily. Set amidst a frantic pace, stop-start Farfisa breaks and screams that could only come from the most monstrous of burgeoning sex drives, this track is a primitive ride through all that is right and honest in the world.
The monstrous "The Sky is Falling" bears all the unmistakable earmarks of the East Coast sound and a strong nod the Rascals with its soulful delivery and knuckle-dusting backbeat. Apart from the fact that it rocks righteously, it has no problem with throwing in some unexpected breakdowns which I find irresistible.
The haunting "Monkey on My Back" is a gloomy cautionary tale that seems odd coming from kids of this age but it's enthralling nonetheless as we follow the protagonist down the dark alleyways of addiction.
The pimply fun continues on into Andy's next outfit from '68, the wonderfully named Euphorian Railway. There is a revamped version of "The Sky is Falling" which somehow manages to top the Individuals take by leaps and bounds, adding some much needed backups and an extremely busy bass line that propels this track somewhere else. "She Showed Me" and "I Thought I Knew You" echo the Youngbloods earlier material with the loose but propulsive groove, dual vocals and the underlying moody folkiness; the latter showcasing a staggering lead break. "On My Way to the Sun" sounds like a glorious mix of the Rascals and the Vagrants with a suitably trippy mid-section, while the astonishingly great "Nothing and No One" is a beautiful, faintly psychedelic number that just drips with emotion and contains a wonderfully bizarre tempo change.
Add to the mix a full color booklet/insert and liner notes by Mike Stax and you have one enticing proposition. (Eric Reidelberger)
Order here.
---
By Hunter Bennett
The article below is an online-only sidebar to "SNAKE WRAP: The Definitive (and, Thus Far, Only) Account of Washington, DC's Funniest HarDCore Band," which appears in Ugly Things #47. The introduction to "SNAKE WRAP" reads:
Like John Cheever's idea of a punk band, the Snakes were a pair of whip-smart, clean cut, well-heeled teenagers who amused themselves by writing snarky songs about summering in the Greek Isles, lusting after Russian royalty, and, most of all, the quirks and foibles of those around them. But they were also the quintessential Washington, D.C. punk insiders. Championed by Henry Rollins, produced by Ian MacKaye, and closely affiliated with Rites of Spring, the Snakes released a charmingly ragged Lp of silly, melodic punk tunes on the venerable Dischord Records — smack dab in the midst of that label's remarkable 1980s run of harDCore punk classics, including Minor Threat, Dag Nasty, and Fugazi. The Snakes' story spans nearly 50 years and is inextricably entwined with the histories of both harDCore and Dischord. It also offers a glimpse into the world of Washington WASPs.
If you think the sidebar is entertaining, you should buy the magazine and read the article.
http://webstore.ugly-things.com/ugly-things-47-p399.php
We asked the Snakes (i.e., Michael Hampton and Simon Jacobsen) to tell us what their songs were about. They did the best they could: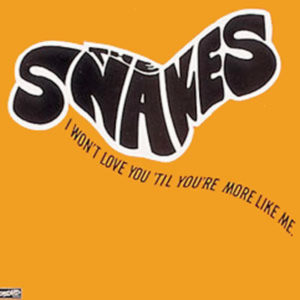 I WON'T LOVE YOU 'TIL YOU'RE MORE LIKE ME LP
She's Got It Now – An uncharacteristically earnest rocker with an infectious four-note riff.
MICHAEL: Not sure. It's a pretty early song. Definitely a Simon riff. I think that's a Simon song.
SIMON: I wrote that when I was a sophomore in high school. I had a very bad prom date that stood me up. The thing that makes that song is that little riff. Ian [MacKaye] picked up on it, too. He said "This song is nothing without that thing." And so he just kept having me play it [throughout the song].
https://snakes.bandcamp.com/track/shes-got-it-now
I Won't Love You 'Til You're More Like Me – A narcissist's kiss-off to his significant other featuring the immortal line "You say, 'I love you.' I say, 'I do, too.'"
MICHAEL: That's self-explanatory. [Laughs].
SIMON: That [line] cracked us up. We didn't drink. We didn't smoke. We didn't do anything cool. We just sat on the edge of the bed and in a chair and played these very loud, amplified instruments and we would just laugh and laugh and laugh.
https://snakes.bandcamp.com/track/i-wont-love-you-til-youre-more-like-me
---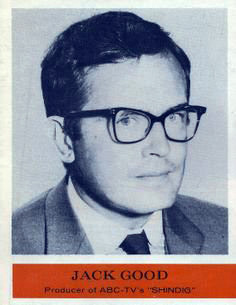 By Harvey Kubernik 
Jack Good, producer of the landmark Shindig! television series passed away on September 24, 2017.  I learned the news from deejay Rodney Bingenheimer. Good also produced a very early TV special Around the Beatles in 1964.
Shindig! was a seminal pop and rock music series that changed the music and frame game. It debuted September 1964 and ran through 1965 and was shot in L.A. at ABC Prospect Avenue Hollywood studios Initially it was a weekly half-hour spot that was extended to two weekly half hour episodes. No Jack Good, no MTV.
I went to live tapings as a teenager. I cited the program in my 2004 book Hollywood Shack Job: Rock Music in Film and On Your Screen. Rodney saw the Animals and the Stones. I have a fond memory of the Four Tops. Live vocal track from Levi and the group over a pre-recorded track by the Shindig! house band. The show might have aired nationally in black and white but what I saw was in living color. The Four Tops were clad in matching iridescent green suits, moving to "I Can't Help Myself (Sugar Pie Honey Bunch)."
Andrew Loog Oldham was the manager/record producer of the Rolling Stones 1963-1967 who booked the Stones on Shindig! in 1965. It's an episode that also featured Howlin' Wolf. In  Hollywood Shack Job, Oldham told me, "The British fashion business was the first pop business. At the same time poor British pop music had its moments, grand magical moments like Jack Good's TV shows, Oh, Boy! and Boy Meets Girl, but the music we had was hardly exportable. All that ever got out and onto the Ed Sullivan TV show and the American airwaves was the one-offs and the freaks—Acker Bilk, Jackie Dennis and Laurie London.
"How vaudeville and World War II begot a middle class trad-jazz which begot skiffle and imitative well-meaning pop and eventually this little cluster of about 300 white kids with a passion for rhythm 'n' blues. How before the Beatles there was a Jack Good, Eddie Cochran, Little Richard, Buddy Holly, Billy Fury, Marty Wilde and Cliff Richard and the Shadows that ran that first all-important mile."
In my book Turn Up the Radio! Rock, Pop, and Roll in Los Angeles 1956–1972, singer/pianist Ian Whitcomb reflected on Shindig! to me. "I had been a guest several times on producer Jack Good's TV series, Shindig!, that was filmed in Hollywood at ABC-TV. Jack had a background in drama at Oxford. When he did the earlier Oh Boy! television music series in England, he had everything organized and synchronized. So Jack saw the dramatic potential of rock 'n' roll. To that point, it hadn't been exploited or explored in this country. You simply had teenage kids dancing with each other on the Dick Clark shows. Jack had this dramatic view. The Shindig! shows were done live, and the backing tracks of the music were done on Melrose Avenue at Nashville West, next to Nickodell Restaurant near Paramount Studios. It took a week to make a Shindig!"
In a 2000 interview I talked about Shindig! with keyboardist/arranger/composer/and producer Jack Nitzsche. "I spent a day with Howlin' Wolf on the set of Shindig! I went down there with the Stones, and Sonny & Cher were there, too.  So Sonny introduced me to Howlin' Wolf and I was speechless.  He was imposing.  There was a sweetness in there you could see.  And anyway, we were sitting there for a long time and he was sitting next to me and he had a friend with him who was a little older, and strange.  He wore a cowboy hat, boots and a bolo tie.  Western attire.  We sat together and I was content just to sit and not even speak.  Just to be in the man's presence, ya know.
"So, after a while, we got to talking and he became more comfortable.  So did I.  He said, 'I didn't introduce you to my friend.  Jack, this is Son House. . .'  I'm sitting with Wolf and Son House.  I saw the Stones sitting around Howlin' Wolf when he performed.
"You should have seen the take they stopped. They made him stop in the midst of a take.  'Cause he was like 300 pounds.  Huge and he had a toy harmonica, a tiny harmonica that he would put in his mouth.  He could hold it between his lips.  Oh man. So, he got up there on stage to do his set and he put that little harmonica in his mouth.  That was the surprise.  The band was playing, and it came time for the instrumental and he was kinda dancin' around when he came up again for air, he was playing harmonica and holding the microphone.  It was theatrical and funny stuff for the fish fry.  I had to use a Wolf track on Blue Collar.
"I met Leon Russell with Jackie DeShannon; she introduced me. Leon at the time was playing piano in a bar in Covina. He was an innovative piano player. He was good. In those days it was real hard to find rock 'n' roll piano players who didn't play too much. Leon talked the same language. You could really hear Leon play in the Shindig! television band. I put him in the TAMI Show band, and he's all over the soundtrack. I knew Leon would emerge as a band leader."
In 1985, I watched a Marvin Hagler and Thomas Hearns boxing match with Jack Nitzsche and Denny Bruce inside Bruce's Bel-Air home. That night Nitzsche touted and endorsed Good's telegenic musical vision but also lamented network executives who couldn't handle race mixed recording artists vocalizing together on camera in their early 1964 Shindig! TV pilot. Our current politically correct climate prohibits me from printing Jack's specific memory statement and exact racist wording of a cautionary remark he heard at the time uttered from a couple of former  ABC programmers and censors. In addition, brass also didn't want Jack's Caucasian wife, Gracia, a studio background singer and a regular member of the Blossoms, Shindig! regulars, to appear on the weekly series with them.
By January '66 Good had his final argument with ABC executives, splitting from Shindig! He went on to produce the locally shot TV special 33 1/3 Revolutions per Monkee that was broadcast on NBC-TV on April 14, 1969. Fats Domino, Little Richard, Jerry Lee Lewis, the Clara Ward Singers, the Buddy Miles Express and Brian Auger, Julie Driscoll and the Trinity were the guests.
Harvey Kubernik is the author of 12 books, including Leonard Cohen, Everybody Knows, and Neil Young, Heart of Gold.  In April 2017, Sterling published Kubernik's 1967 A Complete Rock Music History of the Summer of Love. Kubernik's literary anthology Inside Cave Hollywood: The Harvey Kubernik Music InnerViews and InterViews Collection, Vol 1 will be published during November 2017 by Cave Hollywood.    
---