Featured

News

On Sunday, August 21, 2022 there will be an afternoon tribute concert to the late great Don Craine at the Half Moon in Putney. The show begins at 1:00pm and features the Downliners Sect, the Masonics,

Featured

Articles

By Harvey Kubernik Keith Moon, the drummer of the Who and I in 1975 did an interview for the now defunct Melody Maker at the Laurel Canyon home of his manager, Skip Taylor, the record pro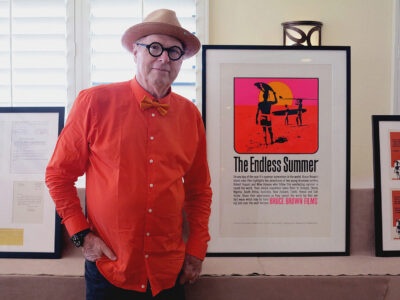 By Harvey Kubernik
John Van Hamersveld's pop culture expedition began over 50 years ago with the landmark Endless Summer movie poster. 300 album covers followed, including designs for the Beatles' American pressing of Magical Mystery Tour, Jefferson Airplane's self-empowering Crown of Creation, Grateful Dead's discovered Skeletons in the Closet, Blondie's inviting Eat to the Beat, Hotter Than Hell from KISS, and Exile On Main Street, the Rolling Stones portrait of confinement and escape which celebrates a 50th anniversary in June 2022. The band resumes their No Filter tour of the US in September 2021.
Van Hamersveld created the LP graphics for Bob Dylan's soundtrack to the movie Pat Garrett & Billy the Kid. John also crafted the cover art for The West Coast Pop Art Experimental Band LP. While helming the art department at Capitol Records from 1965-1968, John did the Beach Boys' Wild Honey LP cover along with 54 album packages for the label during his tenure at the famed tower building in Hollywood.
In addition, Van Hamersveld collaborated with illustrator Rick Griffin for the Max Buda and Chris Darrow Eye of the Storm pairing, and then the graphics for This Is What You Want from John Lydon's PiL.
John's memorable 1968 Pinnacle Dance concert posters held at the Shrine Exposition Hall in downtown Los Angeles had a monumental influence on pop culture designs for generations to come, including artist Shepard Fairey.
Van Hamersveld's art can be found in The Smithsonian, The Los Angeles County Museum of Art, The Museum of Modern Art, Experience Music Project, and the Rock and Roll Hall of Fame.
John Van Hamersveld, Coolhous Studio, 50 years of Graphic Design was published by Ginkgo Press as a 304-page coffee table book. It is both a stunning and inspiring collection of text, assorted photos and illustrations. John's West Coast-defined life and visionary process is fully housed and revealed in this gorgeous volume. Artist Shepard Fairey penned the introduction. gingkopress.com/03-gra/van-hamersveld.html.
Now screening in select cinema venues for 2021 is the film documentary, Crazy World Ain't It. The Life and Times of John Van Hamersveld directed by Christopher Sibley. It had a world premiere at the Santa Barbara International Film Festival. As an interview subject for the film, I discussed Van Hamersveld's engrossing art along with Shepard Fairey, world surf champion Shaun Thompson, Jeff Ho of the Zephyr Surf Team, designer Louise Sandhaus, Jim Fitzpatrick, Steve Olson, Gary Wong, Carole Caroompas, Chaz Bojorquez, and Quentin "Shplinton" Thomas.
Born at the John Hopkins University Hospital, Baltimore, MD, in 1941 and immediately raised in the South Bay section of Southern California, Van Hamersveld is a graduate of Art Center College of Design and Chouinard/California Institute of the Arts.
John's epic poster of The Endless Summer might be considered his masterpiece. In 1966 a reproduction of the image ensured that the soundtrack album to Bruce Brown's documentary movie took its rightful place as one of the best surf instrumental records and soundtracks of all-time.
In 1964, the Sandals were known as the Sandells who released an obscure surf music LP called Scrambler! Then they encountered surfing documentary director Brown, who had the idea of following surfers around the globe chasing the perfect wave. Brown and co-producer Robert Bagley utilized music and theme cues culled from their album mixed with his spectacular footage. The irresistible combination proved instrumental in spreading surf culture worldwide, The Sandells re-named themselves the Sandals, and also re-named their album The Endless Summer. 
The Real Gone record label this summer has re-released The Endless Summer "ultraviolet" vinyl with the original artwork. It is the first-ever domestic reissue.
---
Ugly Things gives the floor to the band, who expressed the wish to complete and clarify the information provided in Issue #56
For Olivier Zdrzalik, Michel Muzac and Pascal Chassin, the adventure starts in summer 1969, when Olivier and Michel—who are cousins, used to play guitar together and to go on holiday together—decide to leave for Ibiza and Formentera (Balearic Islands, Spain), one of the European authentic hippy underground destinations. But the day of the sea crossing the boat serves only Menorca and Mallorca, where they meet Pascal in a party: as he is playing guitar alone Michel starts spontaneously jamming on harmonica with him. They will meet again totally by chance a first time in Ibiza where Pascal went separately and, back to Paris, a second time in a record store. It is how all three become friends and start rehearsing together with their three guitars.
For Francis Lemonnier (saxophone) and Serge Catalano (drums) another adventure had started in May 1968, when their newly formed band Red Noise, with the guitarist Patrick Vian, used to play its music within the well known Parisian university "La Sorbonne", which was occupied by striking students, as factories will be occupied later by striking workers. Revolt rumbled and Red Noise stirred up passions with the violence of its music: the sound and the fury!
Red Noise split in spring 1970 because of political and musical disagreements. Patrick believes that music is revolutionary in itself and is a sufficient means of expression, as opposed to Francis and Serge who believe that words and lyrics are essential to expose the feelings and the political thoughts of this troubled period. So, in May 1970, both find themselves looking emergency for musicians, having a tour sheduled soon as support act for the English band East Of Eden, very popular in France at that time.
They meet Olivier, Michel and Pascal following an ad, in their rehearsal space that they call "the blockhaus" because of the incredible acoustic reverberation of the place. After a furious jam, (which will become later one of the tracks of the Komintern's album: "Petite Musique pour un Blockhaus") the formation of the band is decided and thereafter Olivier, who has an excellent rhythmic sense, will play bass guitar.
As it's not possible to keep the name Red Noise, Francis and Serge choose the name Komintern with Philippe Constantin, artistic director of the record company Pathé- Marconi that promotes East Of Eden in France, with whom they maintain friendly relations.
After only a few rehearsals, and with only its long jam and some variations, Komintern starts performing on May 25, 1970, on the big stages of the "Maisons de la Culture" (kind of theaters dedicated to cultural events) in big cities, and first in Paris… suicidal and heroic tour during which they receive mixed reactions from the audience.
Relations are sometimes strained and there are heated discussions between Serge and Francis on one side, and Olivier, Pascal and Michel on the other because, if all three had also shared the ideals of May 1968 and had been moved by the speech explosion, the revolutionary creativity and the anarchist and festive aspect of the events, and if they are politicized, they however don't adhere to the sectarian and dogmatic aspects of the radical "classic" leftists, Trotskyists or Maoists. They are more interested in California counterculture and in UK psych-rock music (Pink Floyd, Soft Machine, Led Zeppelin, King Crimson…), as well as in environmental concerns and emerging ecology (mainly in US). As for Serge, he is very involved in political militancy and close to the Communist League, and Francis largely shares his ideas at that time.
---
AN APPRECIATION BY TIM STEGALL

The current issue of Ugly Things contains a heartfelt tribute from Tim Stegall to New York Dolls guitarist Syl Sylvain, written in January after his passing. It unfortunately contained a factual error that could not be verified at the time of writing, pertaining to his birth name. The family and their representatives have confirmed his full name was Sylvain Sylvain Mizrahi. We apologize for any emotional distress and inconvenience this has caused the family. Here is the full obituary, corrected.
PARDON ME if I'm sentimental when we say goodbye. Don't be angry with me should I cry. It ain't often the likes of a Sylvain Sylvain—born Sylvain Sylvain Mizrahi in Cairo, Egypt, Valentine's Day 1951—comes along. Which means when someone like Syl exits—as he did January 13 this year, following two years battling cancer—this big boppin' world feels a whole lot emptier.
Of course, you can't write about Syl without writing about the New York Dolls.
In 1980, Lester Bangs—the one rock critic (then) alive who wrote verbal rock 'n' roll—spent a benzadrine'd weekend pounding out Blondie, a quickie bio of New York punk's first superstars. Published by Simon & Schuster's rock division, Delilah, the thin book likely paid Lester's rent for a couple of months. As with even Lester's most crass efforts (as this surely was), there were flashes of genius. Such as the chapter "In Which Yet Another Pompous Blowhard Purports to Possess the True Meaning of Punk Rock," the best three page summary yet written of punk—musically, culturally, aesthetically.
Which meant at least three or four of those paragraphs were some of the best writing ever about the New York Dolls.
"They might have taken some cues from the Stooges," noted the pride of El Cajon, California, "but who they really wanted to be was an American garage band Rolling Stones. And that's exactly what they were. Everything about them was pure outrage. And too live for the time — '72-3-4 mostly. They set New York on fire, but the rest of the country wasn't ready for it.
"I was talking to a guitarist friend, and the subject of the Dolls came up.
"'God,' she said, 'the first time they were on TV, we just couldn't believe it, that anybody that shitty would be allowed to do that! How did they get away with it?'
"I felt like throwing her out of my house. They didn't 'get away' with anything. They did what they could and what they wanted to do and out of the chaos emerged something magnificent, something that was so literally explosive with energy and joy and madness that it could not be held down by all your RULES of how this is supposed to be done! Because none of them are valid! Rock 'n' roll is about BREAKING the form, not 'working within it.' GIVE US SOME EQUAL TIME! Let the kid behind the wheel."
I can remember one of those moments the Dolls were "lookin' fine on television." September 13, 1973, the day after my seventh birthday. Mom and Dad were at the Friday night kicker dance at the local VFW hall, in the tiny town where I grew up, Bishop, Texas. My teenage babysitter let me stay up with her to watch The Midnight Special, NBC's popular televisual rock showcase of the age. It was always fun, especially when glitter rockers like Alice Cooper might appear, or old Fifties dudes like Little Richard.
I can't remember who else appeared that night. But I remember the New York Dolls. I remembered them seven years later, when I picked up bargain bin copies of their Mercury albums after reading Sex Pistols interviews where the only bands they praised were the Dolls and the Stooges. I got it, the moment I heard "Personality Crisis." There was the delinquent energy and the snot and venom I heard in the Pistols. And Johnny Thunders' grimy guitar roar was clearly the square root of Steve Jones.
Then I realized this was that band that got me in trouble the day after that Midnight Special episode. I wandered into the kitchen as Mom washed dishes, wondering about this word my babysitter snarled at the TV screen as this band played.
"Mommy, what's a faggot?"
I don't think I've forgotten how nasty Palmolive tastes since.
Nor, as stated above, have I forgotten what I saw that night with my babysitter. (Mind you, the clip is easily viewable on YouTube.) Maybe two minutes prior to the opening credits, Thunders ignited the opening guitar riff to "Personality Crisis" with a baby doll strapped to his back, all swagger, stacked heels and ultra-teased hair. David Johansen strutted like a Max Factor-ed Mick Jagger. Syl Sylvain and his Flying V guitar pirouetted in matching leopard trousers and oversized bow tie. The kids in the front row appeared shell shocked, save for two girls bopping at the stage's lip.
Those cross legged James Taylor fans would never get it. The New York Dolls reinvented the '70s in that moment. What those boys on the floor didn't know, those little girls did understand….
What nobody got then was how there'd have never been a New York Dolls without that bopping imp in the leopard spandex, with the corkscrew curls and that Flying V. Yeah, Johnny Thunders had the star power, charisma and raunchy guitar ethic that every future punk guitarist copied wholesale. But it was Sylvain Sylvain who taught Johnny how to do it.
"Basically, what we wanted out of music was something simple, powerful and sexy, topped with a hook that would just drive you crazy," Sylvain told me in 1997, in an interview that ran in New York Dolls oral history "Doll Parts" for Guitar World magazine eight years later, as the band first reunited. "The Dolls' music was mostly derived from ripping off the Rolling Stones and Eddie Cochran. We didn't invent [the power chord], but we perfected it, and it became the punk sound. Instead of holding all six strings, you're holding only two. But when you hit it hard and you've got your amp up loud, that's what gives you the power. I showed that to Johnny, and I swear to God, he took that to the hilt. And that's how we came up with every other song. 'Chatterbox' and the beginning of 'Human Being' were all power chords. It gave Johnny a brand-new invention. Of course, Marc Bolan [of T. Rex] used it and so did James Williamson from the Stooges."
Syl Sylvain taught the Dolls all their dirty tricks. The name was his, derived from a walk past the New York Doll Hospital at 787 Lexington Ave while on lunch break at late Sixties Manhattan clothing shop Different Drum. Upon returning from a European business trip on behalf of his and original Dolls drummer Billy Murcia's Truth & Soul clothing business, he found Thunders, Murcia, and bassist Arthur Kane rehearsing under the name that was his brainchild. Singing: Someone Syl's pal Rodrigo Solomon introduced to him, David Johansen.
Management and Mercury seized upon Johansen and Thunders as the Dolls' power duo. Producers were instructed to pay attention to them, downplaying crucial Sylvain compositions like "Trash" or the second album's "Puss 'n' Boots." But can you imagine either New York Dolls or Too Much Too Soon without them? And few get that Syl shared lead duties with Thunders on things like "Vietnamese Baby" and "Jet Boy." He was a little bluesier, a little cleaner than his flashier friend. Later Sylvain classics like "Teenage News" became critical to the band's Red Patent Leather endgame, before getting disseminated between David Johansen's and Sylvain's own solo records.
Now listen to Syl's records. The Dolls' mix of '50s rock 'n' roll, girl groups, and Stonesy raunch? That remained the core of solo Syl. He was the Dolls' heart and soul.
I came to understand this as I got to know him the last 30-some-odd years of his life. I first met him and classic Dolls drummer Jerry Nolan on my first trip to NYC in 1988. They'd reunited under the name the Ugly Americans, playing a weekly residency at East Village raunch 'n' roll palace the Continental Club on Friday nights. It was the closest you'd get to seeing a Dolls reunion in those days. Years later, he was generous with his time, memories, and wisdom when I worked on that Guitar World piece. You could hear his pain at how the Dolls dissolved—that was his baby. You had to laugh at some of his DIY scams, like recording albums on a four-track, then dumping the mixes on cassettes, designing homemade covers, then sneaking them into the cassette sections of various New York record stores!
Mind you, I'd kill to hear some of those lost solo albums now. Bet you would too.
A few times, my bands the Hormones and Napalm Stars were privileged to open his shows. Those were always a master class in showmanship and raw rock 'n' roll. The main lesson I learned was that, for all the anger in punk's DNA, the core of Syl Sylvain's art was joy. He had his anger, certainly, especially when recounting how the New York Dolls broke up. But Syl Sylvain mostly wrote happy tunes, three chord celebrations. Onstage, he was overjoyed at playing this wild, primitive, yet deceptively well-crafted rock 'n' roll. This was a party.
And you never saw anyone happier when the New York Dolls finally reformed in 2004. The best tunes on those reunion albums? Syl Sylvain compositions like "Dance Like A Monkey." He'd been the guardian of the Dolls' spirit and legacy in those wilderness years in between, and he was ecstatic at being at the heart of their new lineup with Johansen and Kane, for the brief moment the latter could enjoy it before he died from leukemia. And no one was more heartbroken when the band dissolved for many of the same reasons that killed it off in 1975: Egos. The death of every great band. Of every great relationship, really.
So, it was back to Syl Sylvain to keep the band's spirit alive again. David Johansen had returned to his Buster Poindexter alter ego. In 2017, Syl came to Austin to play a weekly residency at hipster garage room Hotel Vegas, backed by a local punk supergroup calling themselves the Sylvains. The Hormones were overjoyed to be handpicked to open one of the shows, of course.
The afternoon of our gig, I called my old friend, who had become my "Uncle Syl" by this point. "You're family now, Tim," he told me after I'd worked as the Dolls' guitar tech one SXSW weekend. "Listen to what your Uncle Syl tells you, now!" And now I was calling him where he was staying.
"Syl," I began, "y'know that since the Dolls broke up, we've been playing 'Personality Crisis,' we've been playing your song 'Teenage News,' we've been playing some of Johnny's songs. We don't want the Dolls to die. Would you like us to lay off those songs in deference to you tonight?"
"Are you kidding?!" he roared. "I am so fucking proud of you for playing those songs! You are keeping the spirit and music alive! I want you to play every one of those fucking songs tonight!"
We did. The crowd went apeshit. Then he came on and showed us the right way to play them. With all the joy of having invented everything we all love about punk rock. Now it's up to all of us still standing to carry it on. Uncle Syl, I weep as I finish typing these lines. We have lost a lot with your passing. That will never be replaced or equalled. Thank you for the rock 'n' roll. Thank you for punk rock. Thank you for the New York Dolls.
Thank you for having been Sylvain Sylvain. Sleep, Baby Doll. Sleep.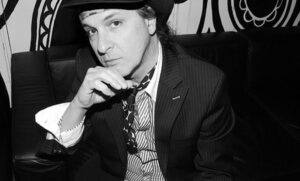 ---