Featured

News

Musician, sound-hound and writer, Michael Anthony 'Mick' Farren (September 3, 1943 - July 27, 2013), was part of the Brit art school lot of the '60s. Farren initially had a master plan laid to be grap

Featured

Articles

By Mike Stax (The article below appeared in the SAN DIEGO READER in 2010 as part of a larger story marking the 30th anniversary of John Lennon's death.) On December 8, 1980 I
Welcome to Ugly Things Magazine, the ultimate rock & roll read, bringing you wild sounds from past dimensions, from times when rock & roll was young, daring, dangerous and vital. Passionate, informed, insightful, in-depth coverage of the overlooked music of the 1950s, '60s, '70s & beyond. Now in our 30th year.
We have launched a new webstore and now offer subscriptions!
Featured
Reviews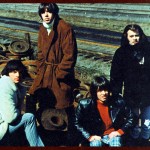 By Doug Sheppard It's fitting that the Seeds have been retrospectively described as punk — as their history is nothing if not punk before punk. Their wildly contrasting attire of cowboys 'n' Indians 'n' Beethoven confounded audiences, their (for 1965 and 1966) outrageously long hair literally turned heads, and their primitive music made the most of members' limitations....
View More