Featured

News

By Harvey Kubernik Guitarist Jan Savage, who was born Buck Jan Reeder, of the American rock band the Seeds died in early August, according to a report in The Ada News and a subsequent Fac

Featured

Articles

By Harvey Kubernik CHRIS HILLMAN is arguably the primary architect of what's come to be known as country rock. On November 17, 2020 BMG Books will publish his autobiography Time Between:
By Harvey Kubernik
Larry "The Mole" Taylor, known primarily for his bass playing in Canned Heat passed way from cancer on August 19, 2019 in the Lake Balboa area of California's San Fernando Valley after a decade-long battle with cancer. A graduate of Fairfax High School in West Hollywood, Larry's older brother was Mel Taylor, the longtime drummer of the Ventures.
As a teenager at Fairfax High School I first saw Larry in 1967 when Bob "Deacon" Kushner and I caught Canned Heat recording their live album at the Kaleidoscope club in Hollywood. I later ran into Larry and Canned Heat drummer Fito de la Parra in 1968 when Albert King headlined the Ash Grove.
(Photo: Larry Taylor onstage at Woodstock with Canned Heat. August 16, 2019. Photo by Henry Diltz/Courtesy Henry Diltz Archives)
I always felt there was a secret blues society 1966-1975 around Hollywood. The roots-based musicians and cool record producers like Denny Bruce and Chris Darrow would all be at the Muddy Waters, James Cotton, John Lee Hooker, Magic Sam, Paul Butterfield Blues Band and Albert Collins shows and sometimes share a table with you. I was a high school student and record geek. We would on occasion congregate after midnight at the Hollywood Ranch Market on Vine Street, just down the block from the Local 47 Musicians Union. Ever eat hot fried greasy chicken gizzards at 2:00 am and then have to go to high school for Home Room the next morning?
It was at the start of 1969 when I witnessed the epic New Year's Eve bill at the Shrine Exposition Hall in downtown Los Angeles where Lee Michaels and Sweetwater opened the show, followed by Canned H
Just before midnight Canned Heat lead singer Bob "The Bear" Hite, clad in a white diaper, rode an elephant across the floor of the venue and was deposited on stage. He then uttered the command, "Let's Boogie," and the band soared for nearly three hours. Guitarist Henry Vestine didn't show up at the gig and Jerry McGee sat in with them. Like Taylor, Jerry was on sessions on the debut Monkees LP. He was working with Delaney, Bonnie & Friends at the time.
After the crowd recovered from the event, at 3:00 am I was hitchhiking home with my friend Steve on Figueroa Street, it wasn't illegal then, when a blue VW stops, and the driver said, "Come on in." It was Larry Taylor with a very pretty blonde girl in the front seat.
Larry schlepped us back to the Fairfax area and touted blues music and specific LPs all the way down Olympic Blvd. "The Mole' insisted I devour Robert Johnson's King of the Delta Blues. He also touted a 1959 Wesley Reynolds' record "Shut Down" on the local Dollar label I learned was a subsidiary of 4 Star Records, and he cited guitarist Michael Bloomfield, who told him that he picked up a guitar because of Wesley Reynolds.
"Bloomfield had heard his records playing in Chicago in 1962, '63, and that's when he bought a guitar. Canned Heat played a gig with Paul Butterfield Blues Band at the Troubadour and I saw Michael there, maybe 1966. I knew him when he and the Butterfield Band were staying in Los Feliz. I went over there with Elliot Ingber one time. We both went to Fairfax High and were in the Gamblers."
During the ride, Larry was impressed when I informed him I had a copy of the 1959 instrumental surf music "Moon Dog" b/w "LSD-25" record by the Gamblers produced by Nik Venet on World Pacific Records he was on. Taylor laughed and enthused, "It got a lot of airplay and I actually made a royalty, my first royalty off a record."
What did he mean by this word royalty? I didn't know what he was talking about.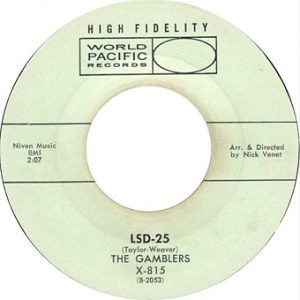 Larry deposited me at my parents' house by 4:00 am and we exchanged phone numbers. Welcome to Hollywood…
In 1999 we chatted again when he was on tour with Tom Waits playing upright bass.
Myself and Monkees' scholar Gary Strobl are truly saddened by Larry Taylor's death. Larry was enthusiastic when people like Gary and I would quiz him about the Monkees. Larry is all over their first LP, including "Last Train to Clarksville" and "I'm Not Your Steppin' Stone."
At Raybert Productions at the Columbia Studios my mother Hilda helped type the scripts of The Monkees TV series. Unlike so many session cats, Larry wasn't embarrassed of his hired hand pop music work around his blues mission. Canned Heat helped put blues on the AM radio dial with "Rollin' and Tumblin'," "Going Up the Country" and "Let's Work Together."
I interviewed Larry a few times this century. Once for my Canyon of Dreams: The Magic and the Music of Laurel Canyon, and then in 2012 for a book The Illustrated History of the Monterey International Pop Festival that I wrote with my brother Kenneth.
"You gotta realize that back then, even at Monterey, blues had been played before and was an influence on everybody," he explained in one of our dialogues. "Canned Heat's Al Wilson was more of the country then I was the city blues, the urban blues, like Henry, because Al was a record collector and would go down to the south and canvas for records. And drummer Frank Cook was sort of in between with jazz in the beginning. And then Bob (Hite) had the material and the ideas he brought into the band.
"Alan had a strong influence on the country blues part of it which it was in the beginning. In my case, I'm a jazz listener and jazz lover and a blues hard core style old rock & roller. That's where I'm comin' out of. And I'm still doing it today. I'm playing with all the best guys today. I played a lot of slide guitar and a lot of Alan's type stuff. I was influenced from him on the guitar."Canned Heat taught people roots music. One thing the band did was definitely get people hip to what American Country blues was all about. That was the music that the band loved.
"Canned Heat, Paul Butterfield Blues Band and Michael Bloomfield with Electric Flag played together at the 1967 Monterey International Pop Festival. Woodstock was the same but a lot more people. Same sort of vibe in a way. I did all the US music festivals with Canned Heat, Miami, and Atlanta. Monterey had more to do with FM radio.  "At Monterey I saw some new things and figured 'That's what it is. That's what it's gonna be.' You didn't think about things then. You just did it. (laughs). You showed up for the gig and you went on the road and you played all these festivals. We could translate well in the big places. Monterey and subsequently, Woodstock, had the big amps. Back then you never thought about the mix. You just got up there and played. None of this 'this guy is in my monitor.' You mixed it yourself playing, right then, like the old records.
"At Monterey I was on stage when Booker T was on backing Otis Redding and they sounded like the recordings. Hearing him was a special thing. It was music that I grew up listening too and wanted to play. Let's put it this way: It was amazing that it was live. I had never seen anything live like that," he emphasized. "I was at Monterey for two days. I saw Hendrix and was on stage. Laying right by Booker T's organ watching him. There I was. I had heard of Jimi before the festival. 'Foxy Lady' was on the radio. At Monterey I saw Brian Jones walk by. I also saw Peter Tork and Mickey Dolenz of the Monkees. I had played bass in sessions on a lot of their early records. So playing with Canned Heat at Monterey was new, whereas playing on the Monkees' records I had done other times. I had done stuff in the studio, played little clubs and now a festival.
"With Canned Heat we were stretching out. We were experimenting. In the studio even Canned Heat stretched out more than most. Live it even stretched out more and took solos. Expounding on a different level than you did in the studio. That was new."
©Harvey Kubernik, 2019
Harvey Kubernik is the author of 15 books. His literary music anthology Inside Cave Hollywood: The Harvey Kubernik Music InnerViews and InterViews Collection Vol. 1, was published in December 2017, by Cave Hollywood. Kubernik's The Doors Summer's Gone was published by Other World Cottage Industries in February 2018.  It has been nominated for the 2019 Association for Recorded Sound Collections Awards for Excellence in Historical Recorded Sound Research. During November 2018, Sterling/Barnes and Noble published Kubernik's The Story of The Band From Big Pink to the Last Waltz. Harvey's 1995 interview, Berry Gordy: A Conversation With Mr Motown, that initially was published in 1995 in Goldmine and HITS magazines is included in The Pop, Rock & Soul Reader edited by David Brackett to be published in 2019 by Oxford University Press.  This century Harvey penned the liner note booklets to the CD re-releases of Carole King's Tapestry, Allen Ginsberg's Kaddish, Elvis Presley The '68 Comeback Special and The Ramones' End of the Century. In November 2006, he was a featured speaker discussing audiotape preservation and archiving at special hearings called by rhe Library of Congress and held in Hollywood, California.
---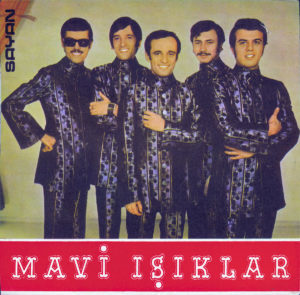 By Jay Dobis
Nejat Toksoy, the lead singer of one of the top rock bands in Turkey in the '60s, Mavi Işiklar (1966-70), died on Tuesday, July 9, 2019, after a lengthy stay in hospital due to cancer.
Nejat was one of the most important figures in the development of Turkey's rock culture when Mavi Işiklar formed in 1964, and he became lead singer. Mavi Işiklar released numerous singles, EPs, and one album. Although not a garage band per se, much of their material and execution was garage in nature. At the time, the record companies never allowed them to play original songs, so they covered American garage favorites, and best of all, played rocked up versions of traditional Turkish songs.
But before that, Nejat was lucky enough to spend a year going to high school in California as an exchange student and living with a family and guided by his 'older brother' Bruce Robinson… Soon after forming, Mavi Işiklar entered the first Altın Mikrofon contest run by the Hürriyet daily newspaper, which pushed bands to mix traditional Turkish folk music with rock 'n' roll, and Mavi Işiklar were at the forefront of this movement, which eventually resulted in Anadolu Rock. The band came in second, and the contest released their first single, "Helvaci Helva." They toured heavily and quickly became one of the most in-demand bands, playing top clubs in many cities and appearing in films.
In 1965, when one of the members had to do his military service, Nejat's old pal Bruce Robinson, a member of the well-known California surf band the Revelaires, filled in on bass. In the second Altın Mikrofon contest in 1966, they again came in second, and the contest released their second single, and they signed with the Sayan label and quickly released two bestselling EPs. They released an album in 1968 and their biggest hit single, "Iyi Dusun Tasin," a cover of "For Your Information" by the Lebanese band the Cedars (one of at least 20 covers of this song in Turkey, and it's the best).
After the band broke up in 1970, Nejat was considering an offer to become the lead vocalist for Moğollar; however, as Murat Ses (the arranger and principal writer for Moğollar) had quit that band, Nejat and Murat formed a new band: Ağrı Sağı Efsanesi, which released a number of singles.
Mavi Işiklar remained dormant until reforming in 2000 and played many gigs that year and the next. I saw them a number of times, and they were wonderful, still playing with energy and passion. The best songs were their rocked up versions of traditional Turkish songs on which the guitarist played some sizzling Middle Eastern raga rock guitar. All of the members were in fine form that night and every night I saw them. I got to know the entire band, and they were all very nice guys. In particular, I got to know Nejat, and we became friends. He was a wonderful guy… Eventually, the band decided to record another album, but unfortunately broke up over musical differences. However, a few years later, a successful Turkish TV series set in the '60s, Öyle Bir Geçer ki Zaman, relied heavily on the music of Mavi Işiklar and members of the band made many personal appearances. The band reformed again and periodically played gigs…
Nejat suffered two tragedies in 2010. First, his 32-year-old daughter Derya died from cancer and months later his beloved, grief-stricken wife also passed away.
Nejat will be greatly missed. He is survived by his daughter Deniz Toksoy and Linda Wright, his American high school girlfriend from that year in '63 in California, who moved to be with him about a year and a half ago.
---
Craig Smith was a 1960s golden boy – good looking, charismatic, outgoing; a preternaturally gifted musician and songwriter whose songs were recorded by some of the biggest names in entertainment – Andy Williams, Glen Campbell, the Monkees. Starting out his career on the Andy Williams Show as a member of the Good Time Singers, Smith next teamed up with Chris Ducey in the duo Chris & Craig, then the Penny Arkade, a talented group mentored and produced by Mike Nesmith of the Monkees. Smith's future success seemed assured, until an unexpected turn of events plunged him into a terrifying darkness. Clean-cut Craig Smith became Maitreya Kali, the self-proclaimed psychedelic Messiah. He laid out his poignant, disturbing schizophrenic vision on a sprawling self-released double-album before disappearing completely. Author Mike Stax spent fifteen years piecing together the mystery of Maitreya Kali, uncovering one of the strangest and most tragic untold stories of the 1960s and '70s.
Published by Process Media in September 2016
Available at the Ugly Things webstore, Amazon, and all good booksellers.
Reviews
Craig Smith/ Maitreya Kali should be considered in league with eccentric 1960s greats such as Alexander "Skip" Spence, Judee Sill and Gene Clark.
Swim Through the Darkness by Mike Stax was easily the most moving and inspiring book I read in 2016. Stax's biography of Craig Smith — a promising musician and songwriter who took a wrong turn at the dawning of the Age of Aquarius, and fell forever through the cracks of society — is a deeply heartbreaking one. But the book also doubles as a fascinating detective story, and the author's suspenseful recounting of his nearly 15-year search for Smith makes Swim Through the Darkness read like the Citizen Kane of rock bios.
You don't know his name now, but there was a time when Craig Smith was on the path to becoming a star. In the early 60s, the singer-songwriter was in the house band on a popular variety show, wrote music that ended up being recorded by Glen Campbell, and eventually started a band called Penny Arkade that members of the Monkees helped produce in their home studio. Then, as quickly as his career took off, he disappeared … The musician had left Hollywood to travel along the famed Hippie Trail with a head full of acid and a guitar slung over his shoulder. At some point on the trip, though, something changed in Smith, and he came to believe he was the reincarnate of both Christ and the Buddha. He began calling himself Maitreya Kali, had a black widow spider tattooed on his forehead, and was convinced he'd be king of the world by the year 2000.
Swim Through the Darkness is a cautionary tale of sorts. It's like the stories of brilliant musicians like Pink Floyd's Syd Barrett, Jefferson Airplane and Moby Grape's Alexander "Skip" Spence and many others who burst onto the scene with sounds of brilliance, only to descend, unescorted and alone, into their own madness.
In his aureate prime, circa 1966-67, Craig Smith might as well have been sunshine pop rendered in flesh: the beaming, sweet-natured straight-shooter who co-fronted Chris & Craig (of Isha repute) and the Penny Arkade, and who did very well from the royalties of his compositions Salesman (covered by The Monkees) and Country Girl (tackled by Glen Campbell), to name but two.
Rock lore loves to romanticize the drug casualty. Of course it's wrong, but it's so hard to resist imagining the tantalizing might-have-beens that surround the likes of Syd Barrett, Roky Erickson, and Skip Spence, all of whom suffered from mental illnesses almost certainly exacerbated by their enthusiastic drug use. Pot and acid have inarguably inspired creativity by breaking down the artificial walls between categories that exist only in our minds, but there are people who can't handle that and lose it. And it's really not so romantic, especially when the artists who fall through that crack never got the chances that Spence, Barrett, and Erickson had at recognition. Ugly Things' Mike Stax has authored a new book, Swim Through the Darkness, published by Process Media, which tells the tale of Maitreya Kali, born Craig Smith in 1945. He should have been a really goddamn big deal
Before he lost himself completely to his illness and homelessness, Smith experienced a messiah trip and re-named himself 'Maitreya Kali,' believing he was Earth's savior. Friends distanced themselves from Smith's odd and often disturbing behavior. As Maitreya, Smith recorded and released two self-produced early '70s albums that combined unreleased Penny Arkade performances with newly-written songs. Pressed in small quantities, Smith sold copies of both Apache and Inca (the latter of which was combined with the former as a two-album set) to record stores in his native Los Angeles; both albums would later become red-hot collectors' items for fans of acid folk and psychedelic pop, their rarity resulting in stratospheric five-figure prices whenever a copy surfaced.
---