Featured

News

By Jay Dobis Nejat Toksoy, the lead singer of one of the top rock bands in Turkey in the '60s, Mavi Işiklar (1966-70), died on Tuesday, July 9, 2019, after a lengthy stay in hospital d

Featured

Articles

By Harvey Kubernik February 3, 2019 is the 60th anniversary of tragic airplane crash that subsequently became known as "The Day the Music Died," sadly referenced in Don McLean's so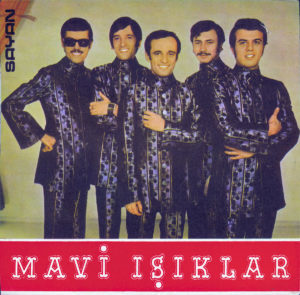 By Jay Dobis
Nejat Toksoy, the lead singer of one of the top rock bands in Turkey in the '60s, Mavi Işiklar (1966-70), died on Tuesday, July 9, 2019, after a lengthy stay in hospital due to cancer.
Nejat was one of the most important figures in the development of Turkey's rock culture when Mavi Işiklar formed in 1964, and he became lead singer. Mavi Işiklar released numerous singles, EPs, and one album. Although not a garage band per se, much of their material and execution was garage in nature. At the time, the record companies never allowed them to play original songs, so they covered American garage favorites, and best of all, played rocked up versions of traditional Turkish songs.
But before that, Nejat was lucky enough to spend a year going to high school in California as an exchange student and living with a family and guided by his 'older brother' Bruce Robinson… Soon after forming, Mavi Işiklar entered the first Altın Mikrofon contest run by the Hürriyet daily newspaper, which pushed bands to mix traditional Turkish folk music with rock 'n' roll, and Mavi Işiklar were at the forefront of this movement, which eventually resulted in Anadolu Rock. The band came in second, and the contest released their first single, "Helvaci Helva." They toured heavily and quickly became one of the most in-demand bands, playing top clubs in many cities and appearing in films.
In 1965, when one of the members had to do his military service, Nejat's old pal Bruce Robinson, a member of the well-known California surf band the Revelaires, filled in on bass. In the second Altın Mikrofon contest in 1966, they again came in second, and the contest released their second single, and they signed with the Sayan label and quickly released two bestselling EPs. They released an album in 1968 and their biggest hit single, "Iyi Dusun Tasin," a cover of "For Your Information" by the Lebanese band the Cedars (one of at least 20 covers of this song in Turkey, and it's the best).
After the band broke up in 1970, Nejat was considering an offer to become the lead vocalist for Moğollar; however, as Murat Ses (the arranger and principal writer for Moğollar) had quit that band, Nejat and Murat formed a new band: Ağrı Sağı Efsanesi, which released a number of singles.
Mavi Işiklar remained dormant until reforming in 2000 and played many gigs that year and the next. I saw them a number of times, and they were wonderful, still playing with energy and passion. The best songs were their rocked up versions of traditional Turkish songs on which the guitarist played some sizzling Middle Eastern raga rock guitar. All of the members were in fine form that night and every night I saw them. I got to know the entire band, and they were all very nice guys. In particular, I got to know Nejat, and we became friends. He was a wonderful guy… Eventually, the band decided to record another album, but unfortunately broke up over musical differences. However, a few years later, a successful Turkish TV series set in the '60s, Öyle Bir Geçer ki Zaman, relied heavily on the music of Mavi Işiklar and members of the band made many personal appearances. The band reformed again and periodically played gigs…
Nejat suffered two tragedies in 2010. First, his 32-year-old daughter Derya died from cancer and months later his beloved, grief-stricken wife also passed away.
Nejat will be greatly missed. He is survived by his daughter Deniz Toksoy and Linda Wright, his American high school girlfriend from that year in '63 in California, who moved to be with him about a year and a half ago.
---
Craig Smith was a 1960s golden boy – good looking, charismatic, outgoing; a preternaturally gifted musician and songwriter whose songs were recorded by some of the biggest names in entertainment – Andy Williams, Glen Campbell, the Monkees. Starting out his career on the Andy Williams Show as a member of the Good Time Singers, Smith next teamed up with Chris Ducey in the duo Chris & Craig, then the Penny Arkade, a talented group mentored and produced by Mike Nesmith of the Monkees. Smith's future success seemed assured, until an unexpected turn of events plunged him into a terrifying darkness. Clean-cut Craig Smith became Maitreya Kali, the self-proclaimed psychedelic Messiah. He laid out his poignant, disturbing schizophrenic vision on a sprawling self-released double-album before disappearing completely. Author Mike Stax spent fifteen years piecing together the mystery of Maitreya Kali, uncovering one of the strangest and most tragic untold stories of the 1960s and '70s.
Published by Process Media in September 2016
Available at the Ugly Things webstore, Amazon, and all good booksellers.
Reviews
Craig Smith/ Maitreya Kali should be considered in league with eccentric 1960s greats such as Alexander "Skip" Spence, Judee Sill and Gene Clark.
Swim Through the Darkness by Mike Stax was easily the most moving and inspiring book I read in 2016. Stax's biography of Craig Smith — a promising musician and songwriter who took a wrong turn at the dawning of the Age of Aquarius, and fell forever through the cracks of society — is a deeply heartbreaking one. But the book also doubles as a fascinating detective story, and the author's suspenseful recounting of his nearly 15-year search for Smith makes Swim Through the Darkness read like the Citizen Kane of rock bios.
You don't know his name now, but there was a time when Craig Smith was on the path to becoming a star. In the early 60s, the singer-songwriter was in the house band on a popular variety show, wrote music that ended up being recorded by Glen Campbell, and eventually started a band called Penny Arkade that members of the Monkees helped produce in their home studio. Then, as quickly as his career took off, he disappeared … The musician had left Hollywood to travel along the famed Hippie Trail with a head full of acid and a guitar slung over his shoulder. At some point on the trip, though, something changed in Smith, and he came to believe he was the reincarnate of both Christ and the Buddha. He began calling himself Maitreya Kali, had a black widow spider tattooed on his forehead, and was convinced he'd be king of the world by the year 2000.
Swim Through the Darkness is a cautionary tale of sorts. It's like the stories of brilliant musicians like Pink Floyd's Syd Barrett, Jefferson Airplane and Moby Grape's Alexander "Skip" Spence and many others who burst onto the scene with sounds of brilliance, only to descend, unescorted and alone, into their own madness.
In his aureate prime, circa 1966-67, Craig Smith might as well have been sunshine pop rendered in flesh: the beaming, sweet-natured straight-shooter who co-fronted Chris & Craig (of Isha repute) and the Penny Arkade, and who did very well from the royalties of his compositions Salesman (covered by The Monkees) and Country Girl (tackled by Glen Campbell), to name but two.
Rock lore loves to romanticize the drug casualty. Of course it's wrong, but it's so hard to resist imagining the tantalizing might-have-beens that surround the likes of Syd Barrett, Roky Erickson, and Skip Spence, all of whom suffered from mental illnesses almost certainly exacerbated by their enthusiastic drug use. Pot and acid have inarguably inspired creativity by breaking down the artificial walls between categories that exist only in our minds, but there are people who can't handle that and lose it. And it's really not so romantic, especially when the artists who fall through that crack never got the chances that Spence, Barrett, and Erickson had at recognition. Ugly Things' Mike Stax has authored a new book, Swim Through the Darkness, published by Process Media, which tells the tale of Maitreya Kali, born Craig Smith in 1945. He should have been a really goddamn big deal
Before he lost himself completely to his illness and homelessness, Smith experienced a messiah trip and re-named himself 'Maitreya Kali,' believing he was Earth's savior. Friends distanced themselves from Smith's odd and often disturbing behavior. As Maitreya, Smith recorded and released two self-produced early '70s albums that combined unreleased Penny Arkade performances with newly-written songs. Pressed in small quantities, Smith sold copies of both Apache and Inca (the latter of which was combined with the former as a two-album set) to record stores in his native Los Angeles; both albums would later become red-hot collectors' items for fans of acid folk and psychedelic pop, their rarity resulting in stratospheric five-figure prices whenever a copy surfaced.
---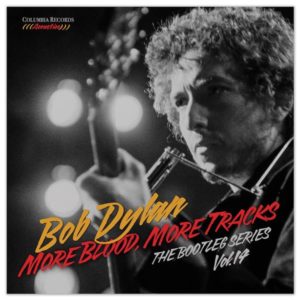 By Steve Matteo
Bob Dylan has spent a great deal of his career hiding behind various personas or simply just hiding, rarely giving interviews and avoiding much of the star-maker machinery behind the popular song. Yet, for decades now, Dylan has been more visible than at any time in his career. His primary work has been his ubiquitous concert touring, referred to as "the never-ending tour" since the late '80s. Another very visible activity was his time as DJ, hosting "Theme Time Radio" on Sirius XM, which ran from 2006 through 2009. In addition, since 1991 he has been issuing his Bootleg Series. There have been 13 separate releases, encompassing 14 volumes so far, and the latest may be one of the most anticipated. It covers his Blood on the Tracks release, and is titled More Blood, More Tracks, Vol 14 (Columbia/Legacy).
While the album is considered one of his best, it went through various incarnations before being officially released in 1975. Of the six CDs included in the deluxe edition, three tracks were released on the first official bootleg set, two were from Biograph, ten were on the official Blood on the Tracks release and one track was from the Jerry Maguire soundtrack. Also included is the first take of "Spanish is the Loving Tongue," which Dylan covered on his 1973 self-titled album.
Blood on the Tracks was a major comeback for Dylan. After a stint with Asylum Records (Planet Waves, Before the Flood), Dylan returned to Columbia.
Dylan had recorded the album in New York, at A&R Studios, but just prior to the release date, he returned to Sound 80 Studio in Minneapolis, and re-recorded the songs. The final album included five tracks from each session.
The September 1974 New York recordings were engineered by Phil Ramone, and the myriad New York tracks here feature Dylan alone on Disc One, and the group Deliverance headed by Eric Weisberg on Disc Two. As the sessions unfold through these discs in chronological order, only bassist Tony Brown remains at the end of Disc Two. As the New York sessions progress on Disc Three, keyboardist Paul Griffin plays on many tracks and steel guitarist Buddy Cage contributes to one track. Cage also contributed to a couple of tracks on Disc Two with the Deliverance band. On Disc Four and Five it is just Dylan and Brown. Disc Six opens with the final three tracks recorded in New York.
After Dylan spent the holidays in Minnesota with his family, he had a change of heart about the sound of the album and quickly assembled a rag-tag group of musicians (Bill Berg, Billy Peterson, Peter Ostroushko, Chris Weber, Greg Inhofer, Kevin Odegard), at Sound 80 Studios in Minneapolis on December 27 with engineer Paul Martinson. While the musicians were not exactly household names at the time of the recordings, their inspired playing worked well and meshed nicely, with Brown the only holdover from the New York sessions. Berg and Peterson were hardly novices and had played key roles on recent albums from Cat Stevens and Leo Kottke.
Dylan was at a major turning point in his life, as his marriage to his wife Sara was disintegrating. He had just come off the road with The Band and he was taking art classes that had a profound effect on his songwriting process. Dylan has also acknowledged that Russian writer Anton Chekhov's plays and short stories had a deep influence on his songwriting, which on the album featured lyrics of ever-shifting time (past, present and future) and, while seemingly autobiographical, were actually more narrative in tone.
Initial ideas for the album and recordings included the consideration of various electric music artists or electric band backing, which eventually gave way to fairly stripped-down, sparse acoustic backing by only a handful of musicians. The resultant album is an intimate, honest, thematic masterpiece that is one of the defining albums of the singer-songwriter period. The simple instrumentation provides just enough musical coloring to be more than just a folkie acoustic outing and it is Dylan's most vocally emotive recording of his career. The album proves what Dylan is capable of when he takes his time and is deliberate in the recording studio. Often he wants to work quickly and get a fresh feel, resulting in few takes for the final recording.
The 70 recordings included here expansively chronicle a tale of two recording sessions that ultimately led to the official Blood on the Tracks release. One of the major changes in the two sessions is that the initial New York sessions tapes were sped up to sound punchier and radio friendly, but are presented here at their normal speed.
Songwriters and particularly musicians who are singer-songwriters can use this set as a master class. Dylan fans will delight in experiencing the process that led to what many consider one of Dylan's best albums and perhaps the only recording that can rival his '60s three-album watershed period of Bringing it All Back Home (1965), Highway 61 Revisited (1965) and Blonde on Blonde (1966).
Along with the six CDs, the box houses a beautiful hardcover book that contains a treasure trove of memorabilia, including candid, intimate photographs, press clippings and photos of Dylan's original lyrics, as well as many pages from a notebook he kept.
---