Featured

News

By Harvey Robert Kubernik  This is not the platform or forum for me to display photos of myself with Charlie Watts or a post card he sent me from the road. However, I feel encouraged by musicia

Featured

Articles

By Harvey Kubernik The John F. Kennedy Center for the Performing Arts today announced last month that Motown founder, songwriter, producer, music publisher, and director Berry Gordy Jr.
By Harvey Kubernik
The John F. Kennedy Center for the Performing Arts today announced last month that Motown founder, songwriter, producer, music publisher, and director Berry Gordy Jr. would be one of five Honorees who will receive the 44th Kennedy Center Honors for lifetime artistic achievements.
The other Honorees are: operatic bass-baritone Justino Díaz, Saturday Night Live creator Lorne Michaels, stage and screen icon Bette Midler, and singer-songwriter Joni Mitchell.
"This year's Honorees represent the unifying power of the Arts and surely remind us of that which binds us together as human beings. These artists are equal parts genius, inspiration, and entertainment," said Kennedy Center President Deborah F. Rutter. "After the challenges and heartbreak of the last many months we celebrate 50 years of the Kennedy Center in DC on December 5th, feting these extraordinary people. We look forward to shaping an even more exciting Honors program and broadcast with CBS-TV."
"Growing up in Detroit, I was not only Black but the 'black sheep' of my family," said Berry Gordy. "I was a failure at everything I did until I was 29 years old. Throughout the years I've been blessed with many wonderful memories, but this—the Kennedy Center Honors—is one that will be forever in my heart."
A man of vision, drive, talent, and determination, Gordy became a boxer, songwriter, producer, director, entrepreneur, and founded Motown—the hit-making enterprise born in Detroit, Michigan. Berry discovered and nurtured the careers of Smokey Robinson and the Miracles, Diana Ross and the Supremes, Stevie Wonder, Michael Jackson and the Jackson 5, Marvin Gaye, Lionel Richie and the Commodores, Martha Reeves & the Vandellas, the Temptations, Gladys Knight & the Pips, and other music greats and is responsible for the "Motown Sound" that reached out across a racially divided, politically and socially charged country, to transform popular music.
Actively involved in the Civil Rights movement, he released the recorded speeches of Dr. Martin Luther King, Jr. Expanding to films, his movies include Mahogany, his directorial debut, and Lady Sings the Blues, which garnered five Academy Award® nominations.
I witnessed several of the mid-1960s Motown Revue live road shows in Los Angeles and Hollywood. I danced on a couple of music TV shows when the Motown acts would be booked on the Sam Riddle-hosted 9th Street Weston Melrose Avenue and Dick Clark's American Bandstand Vine Street location.
In 1966, I saw the Temptations on Shindig! at the ABC-TV studios on Prospect Avenue. They sang live vocals on "My Girl," mixed with a pre-recorded music track. They were clad in matching powder blue outfits in front of me. That was living color even though the series was taped and televised in black and white.
My brother Kenny and I attended the KHJ Second Annual Appreciation Concert at the Hollywood Bowl on April 29, 1967, for the United Negro College Fund and the UCLA School of Music, headlined by the Supremes with Buffalo Springfield, the Seeds, Brenda Holloway, Johnny Rivers and the Fifth Dimension.
---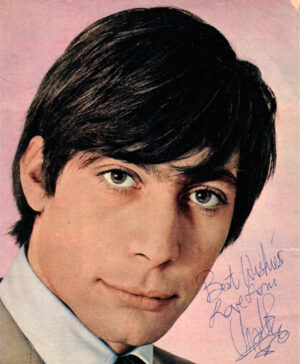 By Harvey Robert Kubernik 

This is not the platform or forum for me to display photos of myself with Charlie Watts or a post card he sent me from the road. However, I feel encouraged by musicians and poets who are offering phone shiva and compelled to write this appreciation.
Charlie was a friend of mine since the early nineties. We never talked about the Rolling Stones. Just jazz.
"One of the great things about recording in Hollywood at RCA was after a session you'd walk into the car port and literally on the other side of the building was [jazz club] Shelly's Manne-Hole," Charlie revealed to me at a 2016 Stones' Coachella Desert Trip tour rehearsal at Third Encore studios in Burbank, California.
In my 2014 book Turn Up The Radio! Pop, Rock, and Roll in Los Angeles 1956-1972 published by Santa Monica Press, I asked Charlie about a Stones' 1964 or '65 recording session at RCA.
"While we were recording in Hollywood, I went to Shelly's Manne-Hole twice—once to see Charles Lloyd, Albert Stinson [with Gabor Szabo and Pete LaRoca], and the Bill Evans Trio with Paul Motian on drums [and Chuck Israels]. I saw Shelly at his club."
Charlie was always thankful I introduced him to drummer Stan Levey, who he saw in 1960 with Stan Kenton at Wembley. Earlier this century we had lunch at the Levey house in Sherman Oaks and Charlie arrived in a cab from The Four Seasons Hotel in Beverly Hills, wearing perfectly pressed blue jeans, to join Jim Keltner and I.
He relished the Chico Hamilton autograph I personally got for him, and was delighted by the gift I gave him of a Shelley Manne coffee table limited edition book. I fondly recall how Charlie described the thin drum sticks that Shelley used on the bandstand and in the studio. I was a Ludwig 7a wood tip guy.
Charlie supplied a testimonial quote for the back cover for a Buddy Collette album I produced and invited myself, brother Kenneth and Buddy to his big band concert at the Henry Fonda Theater in Hollywood.
Jim Keltner and I later connected Charlie with met drummer Freddie Gruber. Lots of marvelous Buddy Rich and Max Roach tales.
On one Stones' tour this century, we had a pre-show chat with the legendary drummer Earl Palmer. He had finally met Earl years earlier at The Palace in Hollywood. In the sixties Charlie visited a Phil Spector recording session at Gold Star studio in Hollywood invited by arranger/keyboardist Jack Nitzsche. He loved the Crystals' record "Da Doo Ron Ron." Earl or Hal Blaine played drums on the track.
On occasion he referenced his drum set up at Olympic studio in Barnes London, and Sunset Sound and Ocean Way in Hollywood.  During 1997 he invited me to a slew of recording sessions at Ocean Way by the Stones during their Bridges to Babylon studio bookings.
There is one memorable Charlie Watts sighting at The Jazz Bakery venue in Culver City when he went to see Elvin Jones. Charlie, in a dashing custom-made suit was greeted and embraced after the show by the drummer drenched in stage sweat. Witnesses knew Charlie wasn't concerned at all about going to the dry cleaner the next morning.
In 2016 Charlie and Jim Keltner invited me to a Rolling Stones' rehearsal in North Hollywood. I carried some cymbals into the room with Jim's lead tech and cartage man that were put on Charlie's kit. He handed me a tambourine from one cymbal stand that I briefly shook for twenty seconds as the band jammed.
Ronnie Wood saw it and said, "Hey. You're big time. At our rehearsal. It's your dream gig? Right?" And I replied, "Yes. But it is not lost on me and just as important is that you were the bass player on Jeff Beck's Truth LP."
That blew him away. Keith Richard heard our exchange and laughed out loud. Ronnie hugged me. Then they both handed me their guitar picks.
Charlie smiled…
A couple of years ago I saw Charlie at Don Randi's Baked Potato club in Studio City. It was an event honoring Hal Blaine on his 90th birthday party. Charlie contributed some autographed drum sticks to a charity auction being held in the room.
Over the last few decades my brother and I would send and give Charlie rare jazz videos. He really dug them. In my last conversation with him, after he visited the Motown Museum in Detroit, Charlie indicated he was building a collection of rare drum items.
May his beat go on and on…
##
I talked to Andrew Loog Oldham in 2014 about Peter Whitehead's Rolling Stones documentary, Charlie Is My Darling, filmed during the band's 1965 tour of Ireland.
HK: In 2012 your well-earned original producing credit was officially distributed in the retail and commercial universe by way of Charlie Is My Darling. Can you talk about the genesis of the project? You've shown it over the years in related charity functions but now you've endorsed and promoted it while it's achieved stellar notices.
ALO: Yes, it was a Julie Christie world but that is not the origin of the title. It's the Irish use of it, more soil, more turf, sod of the earth, nothing really sixties about it. The credit is only well earned because I made the movie in the first place. Allen Klein and I had discussed doing it on many occasions, but thankfully nothing happened. There are no accidents—and the timing on this was immaculate.
That end of the sixties is slipping away, soon there will be no more reliable witnesses and this film is a reliable witness. Dylan's Dont Look Back is a reliable witness. A Hard Day's Night is not—somebody wrote, constructed and directed that. Charlie Is My Darling is the real deal, the end of the innocence, the last hurrah before what the Beatles had started when they appeared in February of ' 64 on The Ed Sullivan Show turned the game into business.
HK: You told me in 2012, "The film was done as an audition to see which one of the Rolling Stones the camera actually loved off stage. We knew who the focus was on stage. The concept was to see who was telegenic off stage. Like an MGM screen test or how studio heads would view talent at RKO. It was Charlie that the camera loved. Ironically, Harvey, is it not the same camera that loved Ringo? There you go."
My only complaint is that some of the interview footage of Charlie Watts from the original print did not make the new cut of the DVD and new movie. And Charlie is terrific on screen.
ALO: I agree. Charlie was pissed about that as well—or let's say he noticed it when he was shown the new edit. I wasn't there, so I don't know how much he really cared.  It was indeed a screen test, done in Ireland so as to be away from journalists, girlfriends and the London life. I just wanted to see whom, off stage, the camera loved. The drummer's rule, I guess! I thought Charlie looked and sounded terrific. He had the look, he had the voice. I thought he could have a big future in French noir films, but for that to happen somebody else has to agree with you, and they have to be in the French film business.
---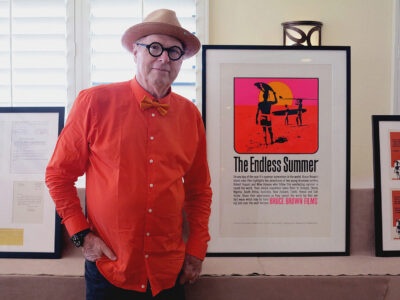 By Harvey Kubernik
John Van Hamersveld's pop culture expedition began over 50 years ago with the landmark Endless Summer movie poster. 300 album covers followed, including designs for the Beatles' American pressing of Magical Mystery Tour, Jefferson Airplane's self-empowering Crown of Creation, Grateful Dead's discovered Skeletons in the Closet, Blondie's inviting Eat to the Beat, Hotter Than Hell from KISS, and Exile On Main Street, the Rolling Stones portrait of confinement and escape which celebrates a 50th anniversary in June 2022. The band resumes their No Filter tour of the US in September 2021.
Van Hamersveld created the LP graphics for Bob Dylan's soundtrack to the movie Pat Garrett & Billy the Kid. John also crafted the cover art for The West Coast Pop Art Experimental Band LP. While helming the art department at Capitol Records from 1965-1968, John did the Beach Boys' Wild Honey LP cover along with 54 album packages for the label during his tenure at the famed tower building in Hollywood.
In addition, Van Hamersveld collaborated with illustrator Rick Griffin for the Max Buda and Chris Darrow Eye of the Storm pairing, and then the graphics for This Is What You Want from John Lydon's PiL.
John's memorable 1968 Pinnacle Dance concert posters held at the Shrine Exposition Hall in downtown Los Angeles had a monumental influence on pop culture designs for generations to come, including artist Shepard Fairey.
Van Hamersveld's art can be found in The Smithsonian, The Los Angeles County Museum of Art, The Museum of Modern Art, Experience Music Project, and the Rock and Roll Hall of Fame.
John Van Hamersveld, Coolhous Studio, 50 years of Graphic Design was published by Ginkgo Press as a 304-page coffee table book. It is both a stunning and inspiring collection of text, assorted photos and illustrations. John's West Coast-defined life and visionary process is fully housed and revealed in this gorgeous volume. Artist Shepard Fairey penned the introduction. gingkopress.com/03-gra/van-hamersveld.html.
Now screening in select cinema venues for 2021 is the film documentary, Crazy World Ain't It. The Life and Times of John Van Hamersveld directed by Christopher Sibley. It had a world premiere at the Santa Barbara International Film Festival. As an interview subject for the film, I discussed Van Hamersveld's engrossing art along with Shepard Fairey, world surf champion Shaun Thompson, Jeff Ho of the Zephyr Surf Team, designer Louise Sandhaus, Jim Fitzpatrick, Steve Olson, Gary Wong, Carole Caroompas, Chaz Bojorquez, and Quentin "Shplinton" Thomas.
Born at the John Hopkins University Hospital, Baltimore, MD, in 1941 and immediately raised in the South Bay section of Southern California, Van Hamersveld is a graduate of Art Center College of Design and Chouinard/California Institute of the Arts.
John's epic poster of The Endless Summer might be considered his masterpiece. In 1966 a reproduction of the image ensured that the soundtrack album to Bruce Brown's documentary movie took its rightful place as one of the best surf instrumental records and soundtracks of all-time.
In 1964, the Sandals were known as the Sandells who released an obscure surf music LP called Scrambler! Then they encountered surfing documentary director Brown, who had the idea of following surfers around the globe chasing the perfect wave. Brown and co-producer Robert Bagley utilized music and theme cues culled from their album mixed with his spectacular footage. The irresistible combination proved instrumental in spreading surf culture worldwide, The Sandells re-named themselves the Sandals, and also re-named their album The Endless Summer. 
The Real Gone record label this summer has re-released The Endless Summer "ultraviolet" vinyl with the original artwork. It is the first-ever domestic reissue.
---