Featured

News

By Jay Dobis Nejat Toksoy, the lead singer of one of the top rock bands in Turkey in the '60s, Mavi Işiklar (1966-70), died on Tuesday, July 9, 2019, after a lengthy stay in hospital d

Featured

Articles

By Harvey Kubernik February 3, 2019 is the 60th anniversary of tragic airplane crash that subsequently became known as "The Day the Music Died," sadly referenced in Don McLean's so
By Harvey Kubernik
February 3, 2019 is the 60th anniversary of tragic airplane crash that subsequently became known as "The Day the Music Died," sadly referenced in Don McLean's song, "American Pie." Buddy Holly, Ritchie Valens and J.P. Richardson a.k.a. The Big Bopper died along with pilot Roger Peterson. After a February 2, 1959 "Winter Dance Party" show in Clear Lake, Iowa, Buddy Holly, Ritchie Valens and J.P. Richardson took off from the Mason City airport, in a three-passenger airplane that Holly chartered piloted by Roger Peterson during inclement weather. It crashed into a cornfield in nearby Macon City, Iowa, just minutes after takeoff.
I will always remember the February 3, 1959 front page headline in The Los Angeles Evening Mirror-News, a daily newspaper who reported this accident.
Ritchie Valens' death was a very big regional loss. He was from Pacoima, a suburb in Southern California. Ritchie's records were very popular in Los Angeles and the surrounding communities. It was KFWB-AM deejay Gene Weed who first spun his music and the radio station held what seemed like an all-day shiva celebrating the life of Valens, whose record label, Del-Fi, was based in Hollywood.
I knew Buddy Holly from his appearances on Dick Clark's American Bandstand and from 1957 when he was on The Ed Sullivan Show. Holly's records were also spun on KFWB. "Chantilly Lace" by the Big Bopper was a national hit.
---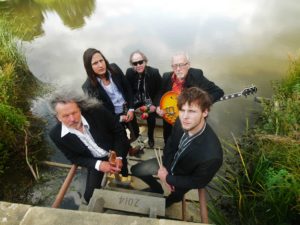 By Mark St John
As I write this, the snow is banked up across roads all over the country, the military are air-dropping supplies to rural areas and power is off across half the country. Right now, the weather in England is the coldest on record since 1963—the coldest winter on British record, and, coincidentally, the year that the Pretty Things were formed and set out on the long journey that has kept them on the road right up to this year—and into this freezing winter, 55 years on, it's like nothing has changed…
Except—it has.
Fifty-five years after their first live performance, 50 years after the milestone that was SF Sorrow, and 30 years after I formally began to manage them, the Pretty Things are retiring from live performances as an electric band. Phil's health, the gruelling tour schedules, the long, long travel days, the disappearing venues, the toll of time, and the disappearing landscape of the old school rock n roll industry have finally hit deep into the heartland of the greatest real rock band in the world, and our long-standing heroes. And, after a lot of soul-searching, they have called "Time" on a phenomenal roller coaster of a career and a mythological life of music, mayhem and magnificence…
I can't say too much about this, apart from fulfilling the job of messenger. Most of you reading this will have your own point of view, your own memories and your own feeling about our war-worn heroes… most of you are believers. I'll leave you to take this news in and, maybe, write to Mike with your feeling and let the guys know what this means to you, I know what it means to me. You guys are the first "real people" to be told, but, for the record, this is the press release, that will be going out to all the agents, promoters, venues, clubs, festivals and long-time working partners that we have, in our live performance world. This is the party line…..
Goodbye The Pretty Things – Press Release, 2018.
After 55 years of performing, the Pretty Things—the iconic, first wave, R&B cult heroes, formed by ex Rolling Stone Dick Taylor, and singer Phil May—will retire from electric performances at the end of this year.
Serial under-achievers, and the greatest band you never heard of, the Pretty Things have been a massive critical success and a huge influence on artists as diverse as David Bowie, Aerosmith, the Ramones, Bob Dylan, the Sex Pistols, the White Stripes, Kasabian and many, many more—who cite their outrageous behaviour, incandescent stage performances and astonishing catalogue of remarkable recordings as fundamental in the creation of their own work.
With a huge catalogue of musical and cultural "firsts" at their core—longest hair in the world, first ever rock & roll drugs bust, most arrests of any band, first ever 'garage' single, first ever rock opera, first UK band to win Rolling Stone Record of the Year, arrested for discharging a sawn off shotgun, first band to gain control of its entire recorded catalogue and on and on…—they are an indelible part of the fabric of popular music and the social influence that it has created.
Still making significant front-line records and with such influential work as their ground-breaking masterpiece and world's first rock opera SF Sorrow, which celebrates its 50th Anniversary this year, in their catalogue, they remain a hugely significant artistic and creative force; with no artists save the Rolling Stones, from the first wave, outselling their frontline recordings and probably no artist at all out-performing them.
It should be compulsory for anyone with the slightest interest in popular music and the social revolution of the 1960s to see the Pretty Things before they hang up their guns at the end of this year. They will be back in the groove until then, hitting every working room on the circuit and finishing up with a huge farewell show in London at the end of the year, with guest appearances from some significant old friends and old school gunslingers to make sure they go out like they came in—with all guns blazing and taking no prisoners.
The Pretty Things are waving goodbye. Be there to wave back…
26th February, 2018.
So there it is—The King is Dead, but there's no Long Live the King… This is an end to that monarchy and we'll be the last generation to live within it, and the old nemesis the Rolling Stones are out this year too, also very possibly for the last time. And then the grass will grow over the hill and only those of us who were there will know…
OK—enough, we'll all think about this in our own way, and I'll get on with the business of the day.
So… The 55th Anniversary, what is that going to bring? Well a great new album (probably the last…), a phenomenal vinyl box of SF Sorrow, a "yet to be decided" digital Sorrow release, and a LOT of shows… In our favorite countries, in our favorite rooms, in our favorite places and with our ever-lovin' favorite audiences. Some big deal stuff by our standards, too. We're performing a stripped down, totally psych, live version of Sorrow in The Big Top Stage on the funky late afternoon slot at the Isle of Wight Festival. It's the 50th Anniversary of the IOW, and (predictably) the only guys still standing who graced the first Festival, back in '68 are… the Pretty Things. It'll be a great show and, a quick hop down the road for Dick, a long-time resident of that little island.
The end of the year will bring a very special "Farewell" Concert. It will be held at the Roundhouse or the Royal Albert Hall and our good friends, dear David Gilmour and Bill Nighy have agreed to join us (Bill's shooting schedule permitting). And we'll be looking to add to that tally. Serge from Kasabian is on our list, with a few others—I'll keep you in the loop. A lot of other old friends have agreed to attend (if not perform), so expect to spot a few famous and significant faces sharing the air with us all, It will be a celebration of the whole life of the band, so more than just a Sorrow show—much, much more. It will, I'm sure, be a fit tribute and it will be recorded and filmed and available for all, sometime next year.
The year will be very, very busy and between recording the new album, rehearsing the psych Sorrow outing, routining our guests for the Farewell show and rehearsing a full scale, "history of" performance for the big show, and fulfilling the busiest touring schedule for years (as we show respect to our fave venues, everywhere) there will be no time left for any of us for much else than the Pretty Things. I hope Phil holds up…
So, that's pretty much all I have to say right now, really. I know it's not my longest Gospel and there is a lot more news n stuff, but the scale of this announcement and the way it affects all of us, and many of you, you're all family, makes saying anything more, redundant.
Phil May, my greatest friend, Frank Holland, my oldest friend, Dick Taylor, my most informed and informing friend. George Woosey and Jack Greenwood—I've managed them since they started and George was about 13, my youngest, true friends. That's a life, right there.
And so, the end of a life, the end of an era. Be sure to dig down deep into 2018, it's going to be a year to remember. Don't let it pass you by…
Enough now, I'll sign off while my eyes are still dry. I'm going to miss them so much…. Please God they find some way back, in any way possible… Where there's life…
God bless you guys, keep the faith.
Mark St John
In the snow, the Dartford Delta, where it all began.
---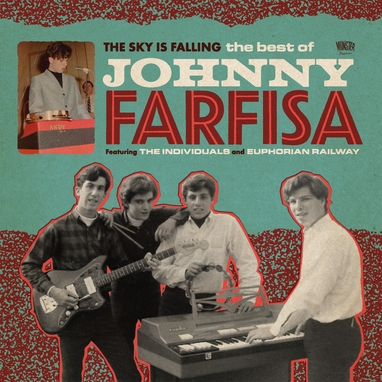 Hot on the heels of Matteo Bocci's fine piece on Johnny Farfisa in UT#44 comes this stellar compilation of the musical exploits of one Andy Cahan a.k.a. Johnny Farfisa. Having previously been represented only by a Moxie EP from 1980, this collection rights many musical wrongs by making most of this material available to the public for the first time.
The first grouping of tracks by his outfit the Individuals is represented by not one but four fine versions of "She's Gone Away," all of which kick mightily. Set amidst a frantic pace, stop-start Farfisa breaks and screams that could only come from the most monstrous of burgeoning sex drives, this track is a primitive ride through all that is right and honest in the world.
The monstrous "The Sky is Falling" bears all the unmistakable earmarks of the East Coast sound and a strong nod the Rascals with its soulful delivery and knuckle-dusting backbeat. Apart from the fact that it rocks righteously, it has no problem with throwing in some unexpected breakdowns which I find irresistible.
The haunting "Monkey on My Back" is a gloomy cautionary tale that seems odd coming from kids of this age but it's enthralling nonetheless as we follow the protagonist down the dark alleyways of addiction.
The pimply fun continues on into Andy's next outfit from '68, the wonderfully named Euphorian Railway. There is a revamped version of "The Sky is Falling" which somehow manages to top the Individuals take by leaps and bounds, adding some much needed backups and an extremely busy bass line that propels this track somewhere else. "She Showed Me" and "I Thought I Knew You" echo the Youngbloods earlier material with the loose but propulsive groove, dual vocals and the underlying moody folkiness; the latter showcasing a staggering lead break. "On My Way to the Sun" sounds like a glorious mix of the Rascals and the Vagrants with a suitably trippy mid-section, while the astonishingly great "Nothing and No One" is a beautiful, faintly psychedelic number that just drips with emotion and contains a wonderfully bizarre tempo change.
Add to the mix a full color booklet/insert and liner notes by Mike Stax and you have one enticing proposition. (Eric Reidelberger)
Order here.
---