Featured

News

Published by Feral House on September 16, 2016. Craig Smith was a 1960s golden boy – good looking, charismatic, outgoing; a preternaturally gifted musician and songwriter whose songs were recorde

Featured

Articles

By Doug Sheppard The musical, cultural and societal waves that Chuck Berry made by pioneering rock 'n' roll could fill a book. And of course, there are so many great songs—brilliant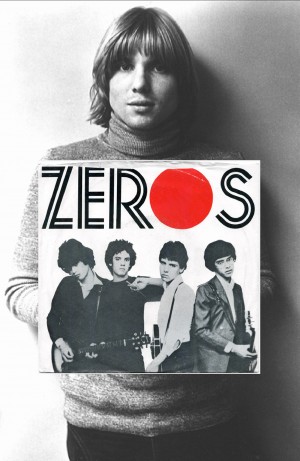 By Mike Stax
Greg Shaw (1949-2004) should need no introduction here. After rolling out one of the seminal rock fanzines, Who Put the Bomp (and its late '60s predecessor Mojo Navigator), he founded Bomp Records in 1974, one of the most respected independent labels of the era, releasing records by the likes of the Flamin' Groovies, Devo, the Weirdos, DMZ, Iggy & the Stooges, and a band from Chula Vista, California called the Zeros.
Part of Southern California's first wave of punk rock bands, the Zeros released two singles on Shaw's label: "Wimp" b/w "Don't Push Me Around" in 1977, and "Beat Your Heart Out" b/w "Wild Weekend." Both are widely regarded as among the best American punk singles of the late '70s. The Zeros' place in rock 'n' roll history was already etched in stone by the time the original band broke up around 1981.
So ten years later, having recently releasing an LP anthology of the band's recordings, Shaw was surprised to receive a letter from some high-powered Beverly Hills attorneys threatening legal action because the name "Zeros" infringed on the "statutory and common law rights" of their clients, a new band of apparently uninformed LA metal douche-bags who were calling themselves… the Zeros.
Greg was never one to concern himself with legal niceties so he took to his typewriter and bashed out a response in short order. It's classic Greg Shaw.
"Our Zeros record is a repackage of classic late '70s tracks by one of the founder bands of the LA music scene, active 1977-81," he helpfully pointed out. "The band you represent, on the other hand, are upstarts of recent years, whose use of the name is possible only by the forbearance of those who bear the rights of original usage. Moreover, your lot are well known as low-brow glam metal posers, whose music in no way resembles that of the original Zeros, and the packaging of the respective albums bears this out."
After some more bon mots, Shaw concludes: "I really wouldn't worry about it, guys. Our record sold about 600 copies. Your Beverly Hills lifestyles are not threatened."
He signed off: "Yours for rock & roll."
The original Zeros—Javier Escovedo, Robert Lopez, Hector Penalosa and Baba Chenelle—continue to be musically active in various forms. Escovedo recently released a new album, Kicked Out of Eden. Lopez is world famous as El Vez. Penalosa plays with the Baja Bugs. And various configurations of ex-members still play occasionally as the Zeros.
On the other hand, the "low-brow glam metal posers," to the best of my knowledge, were never heard from again—at least not in that form.  •
Both letters are reproduced here for your pleasure by permission of Suzy Shaw at Bomp Records.
---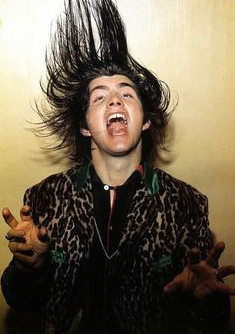 by Mike Stax
When David Sutch took his own life in June 1999 the world of rock 'n' roll lost one of its wildest and most unforgettable characters. As Screaming Lord Sutch, his colorful, larger than life personality was a fixture of the British political landscape, but for rock'n'roll fans he will be remembered for his amazing recorded legacy: the mad rock and horror sides he cut with Joe Meek, the demented mid-'60s gems like "Train Kept A-Rollin'" and "All Black and Hairy," the proto-psychedelic "The Cheat," the hard rockin' Heavy Friends… For someone with no discernible music talent he sure made a lot of great records. And if you make great records you live forever.
In April 1993 I interviewed Lord Sutch by telephone for a two-part feature in the Union Jack newspaper. It was a memorable chat. Sutch was a charming, down-to-earth man, with an in-built, infectious sense of humor. Within a few minutes it was obvious my carefully prepared list of questions was out the window. Sutch talked a mile a minute, determined to cover all the highlights of his career, specifically: precise election results and of course the name of every single one of the famous players who'd passed through the ranks of the Savages ("my musicians," as he called them). Between our chuckling, I made intermittent attempts to direct the flow of conversation, but there was little point, Sutch was on a roll, dashing down tangential side alleys and free-associating memories as the whim took him. Who was I to stop him in his tracks to clarify the smaller facts? It was all entertaining stuff – just let the tape roll.
Caveat emptor: As anyone who has read his autobiography, Life as Sutch, can tell you, historical accuracy wasn't Sutch's strong suit, entertaining people was. Some of Sutch's tales involve a certain degree of exaggeration or misconception. All quite innocent, but bear it in mind as you read.
• • •
---
Published by Feral House on September 16, 2016.
Craig Smith was a 1960s golden boy – good looking, charismatic, outgoing; a preternaturally gifted musician and songwriter whose songs were recorded by some of the biggest names in entertainment – Andy Williams, Glen Campbell, the Monkees. Starting out his career on the Andy Williams Show as a member of the Good Time Singers, Smith next teamed up with Chris Ducey in the duo Chris & Craig, then the Penny Arkade, a talented group mentored and produced by Mike Nesmith of the Monkees. Smith's future success seemed assured, until an unexpected turn of events plunged him into a terrifying darkness. Clean-cut Craig Smith became Maitreya Kali, the self-proclaimed psychedelic Messiah. He laid out his poignant, disturbing schizophrenic vision on a sprawling self-released double-album before disappearing completely. Author Mike Stax spent fifteen years piecing together the mystery of Maitreya Kali, uncovering one of the strangest and most tragic untold stories of the 1960s and '70s.
Available now from Feral House, Amazon, Ugly Things Webstore and at all good book sellers.
---