Featured

News

By Harvey Kubernik Larry "The Mole" Taylor, known primarily for his bass playing in Canned Heat passed way from cancer on August 19, 2019 in the Lake Balboa area of California's San

Featured

Articles

By Harvey Kubernik John Mayall OBE has been indefatigable in his commitment to the blues: virtually every musician who went through his Bluesbreakers academy went beyond their wildest ima
By Greg Prevost
Ted Newman Jones is an unsung hero to anyone who is a fan of the Rolling Stones or for that matter, to anyone who plays a guitar. When I started writing Rolling Stones Gear in the early 2000s, he was on my list of key personnel to track down and interview. Unfortunately, over the course of the near nine years it took to write the book, I was never able to locate him. What was written concerning him and his work was accurate in that it was based upon fact, but the final word from the man was not present or available at the time of press.
To my surprise, a few months ago I connected with Jones' assistant Jeff Smith, who merged talents with Ted in in order to keep the production of Newman Guitars alive and well, now and into the future. In turn, I put in a request to do an interview with Ted, but was saddened by the news that he was terminally ill. Ever the trooper, he did however, grant an interview through special arrangement with Jeff. What is to follow is more or less the story of not only Ted Newman Jones III, but Newman Guitars as well. For those of you who have Rolling Stones Gear, use the information here as an addition, and note that what was not apparent to me at the time the book was written is the fact that Ted's guitars were not just random creations that improved over the years, but a methodical sequence that ultimately led up to a definitive end product. This article is dedicated to Ted, who at the age of 67, passed on July 1, 2016, within weeks after the interview was conducted.
Guitar luthier Ted Newman Jones III was born on October 8, 1949 in Dyersburg, Tennessee. Like most guys who were born between the late '40s and the late '50s, he was hung up on music and became somewhat obsessed with the Stones upon their arrival in 1964. In his late teens, though he took an interest in playing the guitar, he came to realize he had more of a talent for fixing them than playing them. He came onto the scene in 1970 when he refurbished and reconstructed a number of guitars for Eric Clapton including Clapton's famous 'Blackie' Stratocaster. He would however, not be introduced to the music world until 1971 when he became associated with Keith Richards. It's been said that Clapton referred Jones to Richards, but technically, what really placed him in the middle of the Exile On Main Street sessions at Villa Nellcôte in the summer of '71 was the attitude of a free spirit with a strong work ethic and sheer determination.
Once referred to as "Keith's Right Hand Man," he would serve as both a guitar tech and guitar builder for Keith throughout the '70s and into the early '80s. As a result of his position with the Stones back in the early '70s, many articles were written about him at the time, one in which he was described as "an 18-year-old crazed Arkansas cowboy guitar genius luthier…" In response to this description, Jones related, "No, I was a 22 year old West Tennessee guitar—I wouldn't say 'genius,' the appropriate word would be, uhhh—let's just say everything I touched just came out that way. I wasn't a genius, but what I did was all unique."
Although he officially started working with Keith (and the Stones) in 1971, his first encounter with him was actually two years earlier. "My initial meeting with Keith was in 1969 at a Stones concert in Georgia where the wings on their DC3 iced over and their plane came in late then finally landed. The show went on late. I met him backstage with Stanley Booth. I lit his cigarette, and he introduced me to BB King and Chuck Berry—so that was a triple threat right there! I remember that Keith was real nice." As for his connection with Stanley Booth, he revealed to David Dalton in 1981, "While going to college, I'd read an article in Eye magazine on the Stones written by someone called Stanley Booth. Later on, I ended up in Memphis, selling clothes, and cashed a check for a man who turned out to be Stanley Booth. Told him I thought his article was great, etc. This eventually led to my meeting the Stones in '69 on tour and spurred me to ultimately go to Europe in '71."
---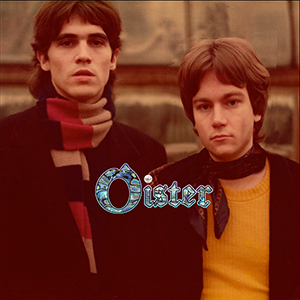 Heaven-sent for fans of classic '70s pop, this is the first ever release by the legendary Tulsa outfit comprising Dwight Twilley and Phil Seymour who would soon thereafter become the great Dwight Twilley band. The Twilley band were a unique hybrid of harmonic Anglophile pop/rock and rockabilly who released two brilliant albums on Shelter—one very polished, one much earthier—before the two principals went solo. Oister was the same but different. The differences may come down to recording technique or simply the youth of our heroes.
There is a charming fragility and innocence here not found in the later Twilley or Seymour stuff. And a dreaminess: indeed much of this is the embodiment of the term 'dream pop' and should appeal to a whole host of people who find the concept of power pop anathema. And the current crop of Big Star fans. The lo-fi aspect will also appeal to fans of DIY. There's a little bit of the baroque but for the most part it's spirited, minimalist early Beatles/Hollies-style pop rock, with a rootsiness learned from early mentor and former Sun artist Ray Harris, and the frequent prominence of Twilley's piano lets you know it's the '70s. Most of the songs here were later rerecorded for official release, including the sublime "You Were So Warm," but even a lot of the re-recordings have only appeared on Twilley rarities collections, and the versions are strikingly different. The material is uniformly strong; the never-before-released "Pop Bottle" is a stunner.
Thank god for the current power pop revival and Hozac for this release: hopefully it will lead to a wider appreciation of Dwight and Phil and all their recordings. Now can someone put it out on CD for me please? (David Laing)
---
By Alan Bisbort
The first time I saw Bruce Hampton, he was standing on the tiny stage at a suburban Atlanta "teen scene" venue reading the contents off the side of can of spray paint. This was in 1968. A sweaty, short-haired guy in a button-down-collared shirt with the build of a middle linebacker, Hampton looked out of place accompanied by two guitarists, a bassist and drummer all with hair so long you could not see their faces and all of whom were playing as loud as fire engine sirens. Needless to add, I had never seen anything like it in my 15 years on this planet. Nor had the handful of other brave teens whose parents had dropped them off at the alcohol-free club in the shopping mall. A much larger crowd of teenyboppers were milling about in the parking lot outside, having been driven from the room by the psychedelic noise created by the Hampton Grease Band. Years later I learned this was just one of the many ill-advised gigs the band's manager had secured for them prior to their signing a record deal with Columbia, which released their one and only album, the epic double-LP package Music to Eat.  (On which was a cut called "Spray Paint").
Not too long after that, the band—Hampton on vocals and dada vibes, guitarists Harold Kelling and Glenn Phillips, bassist Mike Holbrook and drummer Jerry Fields—began appearing at free shows in Piedmont Park, the downtown Atlanta hangout for hippies, druggies, bikers and most of the runaways in the southeastern US. Soon enough, on the strength of these monumental free gigs, the Hampton Grease Band would wow hundreds of thousands of "freaks" at the two Atlanta Pop Festivals and regularly share bills with Jimi Hendrix, the Allman Brothers Band, Grateful Dead and even Captain Beefheart & his Magic Band. Bruce was, in fact, a Southern-fried version of Don Van Vliet, with a warming touch of Sun Ra. To my fragile eggshell mind, Hampton, and his band, provided an epiphany of sorts—showing me that music could go beyond mere recitation of clichéd boogie lyrics and shoddy playing and take you to places you never expected to go.
The Hampton Grease Band carried on for a few years, then members drifted off to pursue their own musical muses. Phillips and Kelling went on to form their own bands (a live recording by Phillips' band was favorably reviewed in UT #44). Over the next four decades, Hampton added the honorific "Colonel" to his name and recorded a few solo albums (including the unsurpassably strange One Ruined Life of a Bronze Tourist) and became a major force in the jam band subculture that flourished under the banner of H.O.R.D.E. He fronted several bands of his own, including the Aquarium Rescue Unit, Fiji Mariners and Codetalkers, and served as a mentor to many young, gifted players who've since gone on to productive musical careers.
In the 1990s, during one of his passes through Washington DC, where I then lived, Hampton contacted me through a mutual friend and I spent a day museum-hopping with Bruce and members of his band, one of the highlights of my 17 years in the nation's capital. He was generous, funny, kind and subject to conversational turns on a dime. No wonder Billy Bob Thornton called Hampton (who appeared in his film Sling Blade) "the eighth wonder of the world." Listening to Hampton on album (other than the indispensable Music to Eat) was not quite the same as seeing him live. I once saw him play a gig with a golf club in his hands, practicing his swing while his band jammed, and every so often going to the microphone to pronounce the word "hose." Every concert was different, unpredictable, strange and beautiful.
Early in May, a veritable who's who of Southern rock gathered for a sold-out 70th birthday celebration for Col. Bruce Hampton at Atlanta's historic Fox Theater. At the end of the show, during the final encore (of "Turn on Your Lovelight"), Hampton collapsed on stage and died minutes later at a nearby hospital. The mourning could be heard all the way to New England, where I live now. Both of my sisters, who live in Atlanta, called to bring me the news, then high school friends I hadn't heard from in years began contacting me. Eventually, the strangeness of Col. Hampton's demise gave the story "legs" in print and on the Internet, propelling it even into the staid pages of the Wall Street Journal—providing Hampton more notoriety in death than he ever had in life. The consensus seems to be that he could not have had a more fitting exit, dying on stage like that.
For me, though, it's just sad. Part of it is, no doubt, tied up with losing that personal connection to my youth, but so many musicians I admired have died before this and the sadness didn't linger like this. With Hampton's death, it's as if a musical force were shut off, like a faucet or a hose. I had no delusions that he still had some musical masterpieces locked inside his fertile cranium. No, it's clear now that HE was the masterpiece.
---