Featured

News

Published by Feral House on September 16, 2016. Craig Smith was a 1960s golden boy – good looking, charismatic, outgoing; a preternaturally gifted musician and songwriter whose songs were recorde

Featured

Articles

By Doug Sheppard The musical, cultural and societal waves that Chuck Berry made by pioneering rock 'n' roll could fill a book. And of course, there are so many great songs—brilliant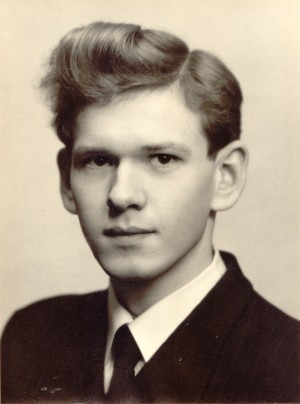 Wild Times with Thor G. Noras, the Lunicks, Bente Lind, and the Ski Ungdomsklubb Scene
By Mike Stax
One of the resources we have at the Ugly Things website is Searchin' For Shakes, an extensive, near-complete database of '60s garage, beat and psychedelic compilations. We receive numerous e-mails as a result of this, some of them from the original band members or others somehow involved in a particular recording. One of the most interesting I've yet received came from Norway, in reference to the song "Goodbye Jimmy, Goodbye" by Bente Lind & the Lunicks, a cool femme-sung beat track that can be found on the Girls in the Garage series.
"It gave me great pleasure to find this record in your list," the e-mail read. "The record has a story attached to it that may interest US listeners. The country singer Jim Reeves was very highly appreciated in Norway, so when he suddenly died in a plane crash we went into the studio and recorded the song. The intro is played on an organ to give a chapel-like atmosphere, and then it went on in a teen-beat fashion, something like the bluebeat of Jamaica or junior high rock'n'roll from the USA. However, on the second day of Christmas we performed in a little village in eastern Norway. On our way back the car slid on the icy road and the organ player was killed instantly.
"On New Year's Eve, we were in Arendal, a lovely city in southern Norway, Bente's hometown. Everybody wanted to hear her great hit song, 'Goodbye Jimmy, Goodbye.' She made herself ready and waited for the intro. When it came she was a little bit puzzled: it didn't come from the organ but from the lead guitar. The organ player was the day before buried and the whole group was present. Bente started crying, the band stopped playing and everybody looked very confused. I had to go on stage and tell the sad story, about Gentleman Jim Reeves and his tragic fate, the organ player who had been killed—and why the city's darling, Bente, was crying instead of singing.
"But that special New Year's Eve was one of the most memorable all of us have experienced. People were having a beautiful evening, holding each other close and dancing to the orchestra: Bente Lind & the Lunicks."
The writer of the e-mail was Thor G Norås, the group's mentor and chief songwriter. Before long, messages were flying back and forth as I began to find out more about this extraordinary character, who left his fingerprints all over the early Norwegian rock'n'roll scene as a successful songwriter, musician, manager, producer, arranger and promoter, working not only with Bente Lind & the Lunicks but also such artists as Harald Pettersen, the Green Onions, Nina & Patzy, Jørn Are and many more. These acts may be virtually unknown outside of Norway, but much of their music has an enduring, almost magical quality that should appeal to any fan of '60s beat and rock'n'roll. The reason for the strange, indefinable flavor of these records becomes more apparent as one learns more about the life and unique personality of the man who played such a large role in their creation.
It's the story of the blending of many different musical and cultural influences, and of the small but remarkable music scene that blossomed out of an innovative, free-thinking youth club organization on the outskirts of Oslo. Its impact may have been limited in a geographical sense, but what happened at the Ski Ungdomsklubb in the early '60s was in many ways a microcosm of the teenage cultural explosion that was shaking the world.
---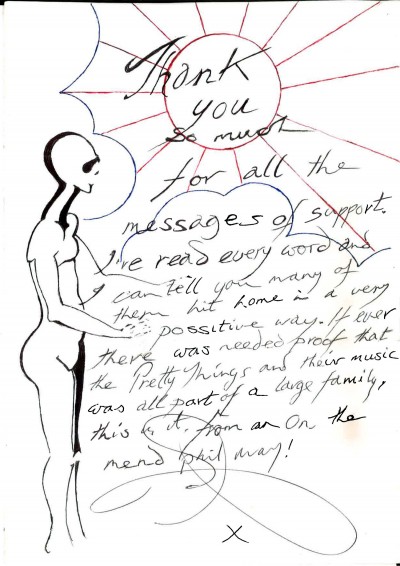 Phil has now been out of the hospital for some time, and is making good progress with his health. He has been very touched by the deluge of letters and cards he's received so far from Pretty Things fans. Please keep them coming.
---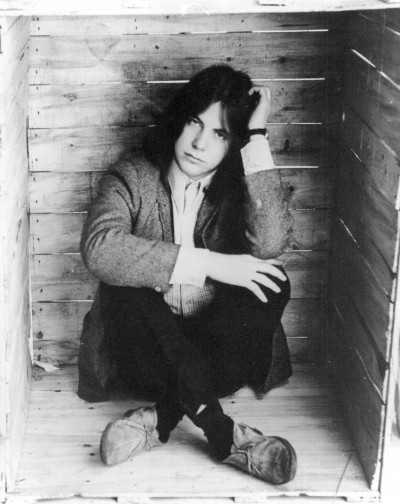 As you probably already know, Phil May is currently in the hospital after suffering breathing difficulties. He has been diagnosed with COPD, a serious disease affecting the lungs. Phil can beat this, but he needs your help and encouragement. He needs to give up drinking and especially smoking urgently and immediately. Those closest to him believe the best chance he has of doing this is to turn his lifestyle around, and immerse himself again in art, music and writing.
How can you help? Write a personal letter to Phil today. Give him your encouragement. It's important that he knows that what he does artistically has value and connects with you. Tell him how much his music has meant to you. Explain why you are a fan of the Pretty Things. Write about why a particular Pretty Things song, album or live show has meaning for you. Share your own story of kicking drink, drugs or smoking or of overcoming a potentially deadly illness or disease. Let him know that what he does matters. We feel if Phil returns home to a flood of letters like this, he'll be inspired to make the changes he needs to make,
What to do: Write your letter today, and mail it to the address below.
Phil May
c/o Ugly Things
PO Box 3021
La Mesa, CA 91944
USA
 All letters will be forwarded unopened to Phil's home in London. We need LETTERS. Emails or Facebook comments won't get the job done. Phil is not a computer person; he won't ever see them. Only a letter has the personal touch that will get our message through. Write today, do not delay. This is your chance to make a difference and help save Phil.
---