Featured

News

By Harvey Kubernik Guitarist Jan Savage, who was born Buck Jan Reeder, of the American rock band the Seeds died in early August, according to a report in The Ada News and a subsequent Fac

Featured

Articles

By Harvey Kubernik CHRIS HILLMAN is arguably the primary architect of what's come to be known as country rock. On November 17, 2020 BMG Books will publish his autobiography Time Between:
By Doug Sheppard
BROWNSVILLE – Air Special (Rock Candy) CD
Brownsville Station hit the big leagues with the success of "Smokin' in the Boy's Room" (#3) and "Kings of the Party" (#31) in 1974, but by 1976, they were in a lull. With their recent Motor City Connection album failing to chart and a parting of ways with their label, Big Tree, the trio format (adopted after their second album) had seemingly run its course. They needed a lift and got in the form of a new label (Private Stock) and especially the addition of second guitarist Bruce Nazarian, a monster player who'd been on countless Detroit soul records.
Nazarian proved to be the perfect complement for fellow axe men Cub Koda and Michael Lutz (with whom Nazarian alternated on bass), invigorating the resulting Brownsville Station album with tons of slide guitar wizardry, blues boogie riffs befitting Koda's formidable record collection and the loose vibe inherent on all Brownsville recordings. Famed producer Eddie Kramer knew how to get it all on tape, and the track lineup was their best yet, featuring a killer remake of "Lady (Put the Light on Me)" (a glam rock obscurity by Big John's Rock 'n' Roll Circus) and especially "Martian Boogie."
Recorded live in one take, "Martian Boogie" was B-movie sci-fi, urban blues and riff rock fused into one rocket that the band was sure would take them back to the moon—if not the home planet of the song's protagonist. Indeed, it spent seven weeks on the national chart and grabbed the top spot in a number of markets. But just as that rocket entered the top 60 at #59, it smashed headlong into an asteroid, exploded into 1,000 pieces, fell off the charts and left its creators stunned. Not long after, Private Stock folded. As Koda recalled in the liners to Rhino's 1993 Brownsville compilation, "it took all the fight out of the band, just like air escaping from a punctured tire."
Morale may have been down, but the chemistry was intact when they recorded their next album for Epic Records, 1978's Air Special. Another hotshot producer, Tom Werman (of Cheap Trick and Ted Nugent fame, among others) was at the helm—giving the resulting album a big arena rock feel, with the drums of Henry "H-Bomb" Weck in particular booming in the mix (thankfully not '80s-style). Much to their chagrin, the band were also forced to record Hello's recent hit, "Love Stealer" (ironically, penned by Phil Wainman, also the coauthor of "Lady" from the previous album) as a gambit to get on AOR radio.
It failed, as did Air Special, but it wasn't for lack of quality. "Taste of Your Love," "Tears of a Fool" and "Never Say Die" are biting hard rockers—the latter taking on an ironic, almost eerie quality thanks to the state of the band, not to mention subtle synths. And befitting a band with so much contempt for the disco and AOR dominating the charts, Brownsville covers "Who Do You Love" Diddley-style, "Down the Road Apiece" and even a Benny Goodman instrumental, "Airmail Special"—rocked up like a '70s Johnny & the Hurricanes. The swamp blues of "Cooda Crawlin'" follows the same thread, and if Air Special doesn't quite have another "Martian Boogie" like its predecessor, it's a solid, commendable effort. Predictably, however, it wasn't what the record-buying public wanted to hear, and a 1979 breakup was inevitable. (Doug Sheppard)
---
By Harvey Kubernik
February 3, 2019 is the 60th anniversary of tragic airplane crash that subsequently became known as "The Day the Music Died," sadly referenced in Don McLean's song, "American Pie." Buddy Holly, Ritchie Valens and J.P. Richardson a.k.a. The Big Bopper died along with pilot Roger Peterson. After a February 2, 1959 "Winter Dance Party" show in Clear Lake, Iowa, Buddy Holly, Ritchie Valens and J.P. Richardson took off from the Mason City airport, in a three-passenger airplane that Holly chartered piloted by Roger Peterson during inclement weather. It crashed into a cornfield in nearby Macon City, Iowa, just minutes after takeoff.
I will always remember the February 3, 1959 front page headline in The Los Angeles Evening Mirror-News, a daily newspaper who reported this accident.
Ritchie Valens' death was a very big regional loss. He was from Pacoima, a suburb in Southern California. Ritchie's records were very popular in Los Angeles and the surrounding communities. It was KFWB-AM deejay Gene Weed who first spun his music and the radio station held what seemed like an all-day shiva celebrating the life of Valens, whose record label, Del-Fi, was based in Hollywood.
I knew Buddy Holly from his appearances on Dick Clark's American Bandstand and from 1957 when he was on The Ed Sullivan Show. Holly's records were also spun on KFWB. "Chantilly Lace" by the Big Bopper was a national hit.
---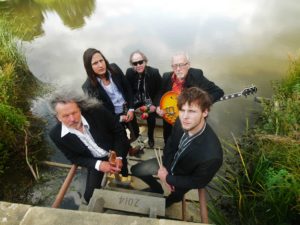 By Mark St John
As I write this, the snow is banked up across roads all over the country, the military are air-dropping supplies to rural areas and power is off across half the country. Right now, the weather in England is the coldest on record since 1963—the coldest winter on British record, and, coincidentally, the year that the Pretty Things were formed and set out on the long journey that has kept them on the road right up to this year—and into this freezing winter, 55 years on, it's like nothing has changed…
Except—it has.
Fifty-five years after their first live performance, 50 years after the milestone that was SF Sorrow, and 30 years after I formally began to manage them, the Pretty Things are retiring from live performances as an electric band. Phil's health, the gruelling tour schedules, the long, long travel days, the disappearing venues, the toll of time, and the disappearing landscape of the old school rock n roll industry have finally hit deep into the heartland of the greatest real rock band in the world, and our long-standing heroes. And, after a lot of soul-searching, they have called "Time" on a phenomenal roller coaster of a career and a mythological life of music, mayhem and magnificence…
I can't say too much about this, apart from fulfilling the job of messenger. Most of you reading this will have your own point of view, your own memories and your own feeling about our war-worn heroes… most of you are believers. I'll leave you to take this news in and, maybe, write to Mike with your feeling and let the guys know what this means to you, I know what it means to me. You guys are the first "real people" to be told, but, for the record, this is the press release, that will be going out to all the agents, promoters, venues, clubs, festivals and long-time working partners that we have, in our live performance world. This is the party line…..
Goodbye The Pretty Things – Press Release, 2018.
After 55 years of performing, the Pretty Things—the iconic, first wave, R&B cult heroes, formed by ex Rolling Stone Dick Taylor, and singer Phil May—will retire from electric performances at the end of this year.
Serial under-achievers, and the greatest band you never heard of, the Pretty Things have been a massive critical success and a huge influence on artists as diverse as David Bowie, Aerosmith, the Ramones, Bob Dylan, the Sex Pistols, the White Stripes, Kasabian and many, many more—who cite their outrageous behaviour, incandescent stage performances and astonishing catalogue of remarkable recordings as fundamental in the creation of their own work.
With a huge catalogue of musical and cultural "firsts" at their core—longest hair in the world, first ever rock & roll drugs bust, most arrests of any band, first ever 'garage' single, first ever rock opera, first UK band to win Rolling Stone Record of the Year, arrested for discharging a sawn off shotgun, first band to gain control of its entire recorded catalogue and on and on…—they are an indelible part of the fabric of popular music and the social influence that it has created.
Still making significant front-line records and with such influential work as their ground-breaking masterpiece and world's first rock opera SF Sorrow, which celebrates its 50th Anniversary this year, in their catalogue, they remain a hugely significant artistic and creative force; with no artists save the Rolling Stones, from the first wave, outselling their frontline recordings and probably no artist at all out-performing them.
It should be compulsory for anyone with the slightest interest in popular music and the social revolution of the 1960s to see the Pretty Things before they hang up their guns at the end of this year. They will be back in the groove until then, hitting every working room on the circuit and finishing up with a huge farewell show in London at the end of the year, with guest appearances from some significant old friends and old school gunslingers to make sure they go out like they came in—with all guns blazing and taking no prisoners.
The Pretty Things are waving goodbye. Be there to wave back…
26th February, 2018.
So there it is—The King is Dead, but there's no Long Live the King… This is an end to that monarchy and we'll be the last generation to live within it, and the old nemesis the Rolling Stones are out this year too, also very possibly for the last time. And then the grass will grow over the hill and only those of us who were there will know…
OK—enough, we'll all think about this in our own way, and I'll get on with the business of the day.
So… The 55th Anniversary, what is that going to bring? Well a great new album (probably the last…), a phenomenal vinyl box of SF Sorrow, a "yet to be decided" digital Sorrow release, and a LOT of shows… In our favorite countries, in our favorite rooms, in our favorite places and with our ever-lovin' favorite audiences. Some big deal stuff by our standards, too. We're performing a stripped down, totally psych, live version of Sorrow in The Big Top Stage on the funky late afternoon slot at the Isle of Wight Festival. It's the 50th Anniversary of the IOW, and (predictably) the only guys still standing who graced the first Festival, back in '68 are… the Pretty Things. It'll be a great show and, a quick hop down the road for Dick, a long-time resident of that little island.
The end of the year will bring a very special "Farewell" Concert. It will be held at the Roundhouse or the Royal Albert Hall and our good friends, dear David Gilmour and Bill Nighy have agreed to join us (Bill's shooting schedule permitting). And we'll be looking to add to that tally. Serge from Kasabian is on our list, with a few others—I'll keep you in the loop. A lot of other old friends have agreed to attend (if not perform), so expect to spot a few famous and significant faces sharing the air with us all, It will be a celebration of the whole life of the band, so more than just a Sorrow show—much, much more. It will, I'm sure, be a fit tribute and it will be recorded and filmed and available for all, sometime next year.
The year will be very, very busy and between recording the new album, rehearsing the psych Sorrow outing, routining our guests for the Farewell show and rehearsing a full scale, "history of" performance for the big show, and fulfilling the busiest touring schedule for years (as we show respect to our fave venues, everywhere) there will be no time left for any of us for much else than the Pretty Things. I hope Phil holds up…
So, that's pretty much all I have to say right now, really. I know it's not my longest Gospel and there is a lot more news n stuff, but the scale of this announcement and the way it affects all of us, and many of you, you're all family, makes saying anything more, redundant.
Phil May, my greatest friend, Frank Holland, my oldest friend, Dick Taylor, my most informed and informing friend. George Woosey and Jack Greenwood—I've managed them since they started and George was about 13, my youngest, true friends. That's a life, right there.
And so, the end of a life, the end of an era. Be sure to dig down deep into 2018, it's going to be a year to remember. Don't let it pass you by…
Enough now, I'll sign off while my eyes are still dry. I'm going to miss them so much…. Please God they find some way back, in any way possible… Where there's life…
God bless you guys, keep the faith.
Mark St John
In the snow, the Dartford Delta, where it all began.
---