Featured

News

By Harvey Kubernik I am so deeply saddened by the death of Gary Stewart, a veteran music and recording executive who had a lifelong devotion of service to the music in any capacity he hel

Featured

Articles

By Harvey Kubernik I am so deeply saddened by the death of Gary Stewart, a veteran music and recording executive who had a lifelong devotion of service to the music in any capacity he hel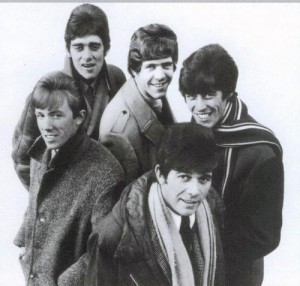 As the Beatles are to Liverpool, so Dave Dee, Dozy, Beaky, Mick & Tich are to Salisbury. Indeed, the Wiltshire county town displayed its pride in the group via the placing of an honorific blue plaque on the wall of the City Hall on the 40th anniversary of their "Legend Of Xanadu" topping the British charts in 1968. The previous year, the group had occupied five concurrent positions in West Germany's Top 20, and had beaten the Beatles by over three thousand readers' votes in a poll organized by the federal republic's principal pop journal Bravo—which also published a major news item detailing 24-year-old Dozy's wedding in November 1968.
'Dozy' was Trevor Davies, who attended the primary school in Enford, then a Wiltshire farming community, prior to studying at Durrington Secondary Modern—and a road-to-Damascus moment when Buddy Holly and the Crickets appeared in Salisbury in 1958. "I was young and impressionable," admitted Davies, "but Buddy astounded me just by his very stage presence."
Acquiring an acoustic and then an electric bass guitar, Davies joined the Beatnicks, where he found himself alongside Ian 'Tich' Amey. By 1961, however, the two had been incorporated into Ronnie Blonde & the Bostons with John 'Beaky' Dymond, David 'Dave Dee' Harman and drummer Stan Poole. After the departure of vocalist Blonde in 1962, Dave Dee became nominal leader when they undertook first professional bookings, zig-zagging across Scotland at a time when Britain's only motorway terminated at Birmingham, and such an odyssey was truly hellish. Then came arduous seasons in Cologne and Hamburg clubland which led to the replacement of Poole with Mick Wilson, a friend of Davies.
Now a hard act to follow, Dave Dee & the Bostons acquired a shrewd management and songwriting team in Ken Howard and Alan Blaikley which, combined with a change of name, led to a maiden Top 30 strike with "You Make It Move," and its "Hold Tight!" follow-up coming with an ace of Number One. So began a four year run of world-wide hits that embraced artistic progress that went beyond orthodox beat group instrumentation—as illustrated by the use of balalaika on "Okay!," and a South American charrasga on "Zabadak!" (which lent its name to a present-day DDDBMT fan club magazine). Moreover, the quintet's parameters as composers of B-sides and LP tracks were proficient, even adventurous—as instanced by 1967's psychedelic "The Sun Goes Down' "co-written by Davies, with its an abrupt concluding tape-edit that anticipated that in the Beatles' "I Want You (She's So Heavy)" on Abbey Road. In retrospect, the chasm between the 'rock' of the more intellectually revered Beatles, and the 'vulgar' pop of DDDBMT is far from unbreachable. In parenthesis, Davies proved an assured lead vocalist when required—as instanced by "Hands Off" on the second album.
By 1969, however, DDDBMT and their mentors were running out of ideas, and the group split in two. Dave Dee went solo while Dozy, Beaky, Mick and Tich (as 'DBMT') attempted to rise anew with a prog-rock repertoire, as instanced by a mild cause célèbre of an album, 1970's Fresh Ear Me). One associated single, "Tonight Today," penetrated the Top Ten in the Netherlands.
Inevitably perhaps, both factions of the old firm resumed an intermittent recording career together in 1974 with "She's A Lady." All members continued, nevertheless, however, to pursue extra-mural projects, as Davies, Amey and Dymond did in Tracker. Yet despite a well-received tour of Germany, this promising trio sundered in 1975. Davies also functioned as one of Woodsmoke, a country & western duo, and recorded songs penned solely by himself for submission to other artists. Then DBMT reunited in the late 1970s, most conspicuously with "In the Coven," a single that might have been a surefire smash had it been attributed to Dave Dee, Dozy, Beaky, Mick & Tich during their "Zabadak!"-"Xanadu" commercial prime.
It was not heard on stage, however, when DDDBMT began focusing chiefly on the Sounds Of The Sixties nostalgia circuit (with a set that sometimes included a showstopping Johnny Cash impersonation by Davies) while tilting occasionally at the charts with such as 1983's disco-tinged "Staying With It," a revival of Manfred Mann's "Do Wah Diddy Diddy," and grafting a Status Quo-esque blues-boogie rhythm onto "Here We Go," the soccer match ditty that lives in its Offenbach melody.
Though Dee died in 2009, Dozy, Beaky, Mick and Tich were still performing together sith the enthusiasm of their younger selves until Davies was diagnosed with acute pancreatic cancer a week before his own death.
He is survived by his wife Yvonne, children Darren and Sarah, and five grandchildren.
'Dozy' (Trevor Leonard Ward-Davies), born 27 November 1944, died 13 January 2015
---
As the year drew to its close, we asked our writers to submit a list of their personal favorite reissues and such for 2014. Against all odds, some of them managed to fight through the fog and fug of the holidays and complete the assignment. Here's what they came up with…
Mike Stax (Editor)
Favorite single artist reissues:
The Bonniwell Music Machine – S/T (Big Beat) 2-CD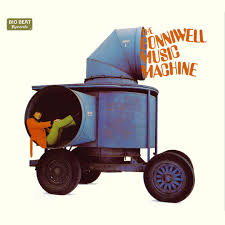 The definitive collection of the second-phase Music Machine. The Bonniwell Music Machine album expanded to include all of the contemporaneous non-LP singles, along with a trove of demos, outtakes and alternate mixes. Expertly compiled and annotated by Alec Palao, who also was responsible for…
The Seeds – Singles A's & B's 1965-1970 (Big Beat/GNP-Crescendo) CD
Big Beat's comprehensive reissue series of the Seeds' catalog concludes with this great collection of all of the band's singles, from 1965's plaintive "Can't See to Make You Mine" to 1970's gut-wrenching "Did He Die." Alec Palao's detailed liner notes spanning this entire series also serve as the ultimate Seeds biography, shining light on every facet of their story, including special attention to all of their recording sessions.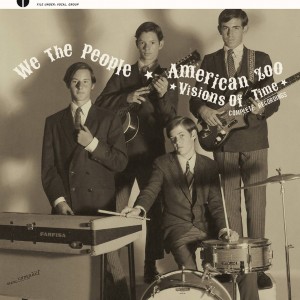 We the People/American Zoo – Visions of Time (Guerssen, Spain) LP/CD/DL
Not to be confused with the well-known Florida band, this edition of We the People were based in LA and released a handful of singles under that name and as American Zoo. We the People/American Zoo resided in that shadow-shrouded corner of the '60s garage band universe where brooding teenagers spent long, solitary hours listening to Byrds and Bob Dylan records and were duly moved to write somber, soul-searching minor key songs with titles like "Feelings of My Emptiness," "Back Street Thoughts" and "Who Am I?" It's an intoxicating recipe when it's done right, and American Zoo did it right. A class package from the Guerssen label including informative liners by Gray Newell.
---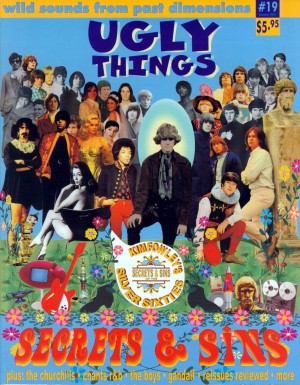 R.I.P. Kim Fowley, an authentic (self proclaimed) Living Legend. Today (January 15, 2015) he became simply A Legend. We visited Kim just a few weeks ago, and I knew then, as he did, that it would be our last goodbye. But Kim was a man who defined himself with his art, with his music, and we will always have that. Kim Fowley will always be with us.
Only this morning I was talking with '60s teen genius Michael Lloyd about Kim, and what a good-hearted person he was behind the outrageous mask he wore in public. "That's not him," agreed Michael. "I've seen that since I was 13. That's just a persona." It was one hell of a persona. But once you knew him better, he was also one hell of a person. A true friend. Kim's last words to me: "Stay teenage. Stay rock & roll." 
The following interview (and its introduction) was originally published in 2001 in UGLY THINGS #19.
Introduction by Mike Stax
Kim Fowley is an authentic Living Legend. He'd be the first to tell you that. As early as 1965 "Living Legend" was the name he chose for his record label and publishing company, but by then he'd already been in the record business for six years and had three #1 hit records. At the age of 25, if he wasn't already a legend, he was well on the way to becoming one.
The son of movie actor Douglas Fowley, Kim was 19 years old on February 3, 1959 when he learned of the deaths of Buddy Holly, Richie Valens and the Big Bopper while walking to the Business School he was enrolled in at the time. Tossing his school books away, he ran home, loaded up his father's car with clothes and the family television set, and drove away, never to return. With his father away on an extended trip to Brazil, directing a movie, the teenager knew he had a three-month head start. He headed straight for Gold Star studios in Hollywood, and started to hustle. He hasn't stopped hustling since.
Kim had actually been involved in rock'n'roll even earlier. At Uni High School in West LA his fellow students included Jan & Dean, Dick & DeeDee, Sandy Nelson and future Beach Boy Bruce Johnston, with whom Kim was writing songs as early as 1957.
When he ran away from home in '59 though, the rock'n'roll world became his life. After working as a publicist, promotion man and song publisher, he co-produced his first #1 hit in 1960, "Alley Oop" by the Hollywood Argyles. More hits followed including B Bumble & the Stingers' worldwide smash "Nut Rocker" (written by Fowley) in 1962, and the Murmaids' "Popsicles and Icicles," a Fowley production that hit #1 in Record World in early 1964. The rest of the decade saw him involved with a multitude of projects in a multitude of roles: PJ Proby, the Hellions (with Dave Mason and Jim Capaldi), the Lancasters (with Richie Blackmore), the Mothers of Invention, Cat Stevens, the N'Betweens (later to become Slade), the Belfast Gypsies, Soft Machine, the West Coast Pop Art Experimental Band and Gene Vincent, to name just a few.
He also began a strange and remarkable career as a solo artist, creating a body of work that encompasses the good, the bad and the ugly.
Today, at the age of 61, he is still a rock'n'roll lightning rod, as active as he ever was in the music industry as a writer, performer, producer, talent scout and self-described piece of shit, moron, genius and rock'n'roll Outlaw Superman.
---