Featured

News

By Bill Furbee WHEN I LAST SPOKE TO DAMO SUZUKI – the influential performer perhaps best known for his years spent as the singer of Krautrock godfathers Can – the world was in a diffe

Featured

Articles

By Doug Sheppard FIVE MONTHS BEFORE there were four dead in O-Hi-O, four were dead at a forlorn, neglected racetrack roughly 50 miles east of Oakland, California: one drowned, one stabbed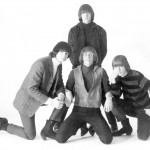 By Greg Prevost & Mike Stax
From late '65 until early '67, the Sons of Adam were one of the most happening bands on the Sunset Strip, playing to packed houses at clubs like Gazzarri's, Bito Lido's and the Whisky A Go Go. They had the right sound, the right image, and some of the most talented musicians on the scene. They even had their share of lucky breaks, including an appearance in a major Hollywood movie and a deal with Decca Records. Arthur Lee even gave them one of his songs. Yet somehow the Sons of Adam never managed to lift themselves out of the Hollywood club scene and into the major leagues. Today they're mostly remembered as the band Michael Stuart was in before he joined Love, or the band Randy Holden was in before joining Blue Cheer. What's too often overlooked is that the Sons have a proud legacy of their own: three enormously great 45 releases, and a story that is long overdue to be told.
---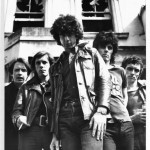 Real high-energy rock'n'roll in its most potent form is best captured live and in the moment. Maximum thrills, minimum frills.
In 1977, London's Warsaw Pakt took that premise one step further, recording their album live, straight through, direct to the cutting lathe – no tape master, no overdubs, no mixing. The record was pressed, packed and shipped overnight and was in the record stores the following day. No procrastination. Instant gratification.
"The idea was to bypass tape and gain a very accurate recording that would be louder and clearer than any other method then available," remembers guitarist Andy Colquhoun.
The actual process was simple. "It was play Side One, break, tune up, play Side Two," he explains. "This was done three times. The engineers were very concerned about us destroying the cutting lathe heads, which ran about five grand each. At first the sound in their control room at the top of the building was very restrained. By the third take of the two sides it was OK, but not as good as the room sound. They used that take anyway. The master was taken directly to the factory and manufactured overnight, and we were in Virgin Records at Marble Arch the following afternoon signing copies."
---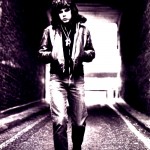 Darryl Michael Roy Read born into television blood September 19, 1951, Exeter, Devon, UK, sadly left us after a fatal motorbike accident June 23, 2013, in Pattaya, Thailand, a popular tourist destination for ex-pats. Read had been splitting his time between Pattaya—playing gigs and broadcasting over the airwaves on Pattaya 105 FM—and Berlin, Germany the last several years. Prior to filling the drum stool as a hammer-handed seventeen-year-old for Mod brute proto-punks Crushed Butler in 1969 he'd played with various combos including the Krayon Angels (with future members of Killing Floor and Rory Gallagher's band ) and Orange Illusion with Silverhead vocalist Michael Des Barres while in drama school. Read remained a rock'n'roll lifer still firmly attached to his '60s roots, much like fellow Crushed Butler member Jesse Hector. Read was a multi-faceted talent existing amongst the lunatic fringe as actor/drummer/guitarist/vocalist/poet, and these various skills played on until his expiration.
A one-time teenage pinup, Read's first love was acting and he attended Corona Academy for Dramatic Arts in Chiswick, West London, along with future Jimi Hendrix Experience drummer Mitch Mitchell and Michael Des Barres. Acting was a vocation he often ran in tandem with more musicianly pursuits via TV and film work—where he came to be known as "One Take Read" being a fast-learner and keen executor. Theater kept him busy in the later '70s/early '80s. He played Keith Richards in Let the Good Stones Roll, starred in a production called Bastard Angel inspired by the Kinks, and also a UK version of Hair. A veteran of Hammer Films in his youth, in recent years he co-wrote and starred in a low-budget film Remember a Day, playing a hermitic character based on Syd Barrett.
---