Featured

News

By Harvey Robert Kubernik  This is not the platform or forum for me to display photos of myself with Charlie Watts or a post card he sent me from the road. However, I feel encouraged by musicia

Featured

Articles

By Harvey Kubernik The John F. Kennedy Center for the Performing Arts today announced last month that Motown founder, songwriter, producer, music publisher, and director Berry Gordy Jr.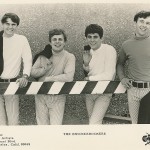 By Katy Levy
So, if you don't mind, let's go back right at the beginning… You are originally from the East Coast, is it true that you were born in the Bronx?
This is true! I'm from New York.
How was it like when you grew up?
When I lived in the Bronx, well… growing up there was kind of interesting. It is New York and it is one of the most interesting places on the planet. There's so much to do and see and I was an avid sports fan so I could go to see the New York Yankees play. I played a lot of sports myself. There were a lot of outlets for that and also for music. I used to go downtown to Manhattan with friends and we'd go to Birdland and other jazz places and watch the really great musicians play. I think that people who come from New York, if they take advantage of it, are around some of the greatest situations in the world, best musicians and artists. Because people from other places, other states, other countries go to New York to act and play, to study music and study writing. So you have the advantage of people coming to your city, bringing their talent with them and you don't have to travel very much. It's a melting pot. So, I think that was really cool. I mean, you've got great stuff like museums, the Natural History, the New York Public Library on 2nd Avenue. You've got the zoo; the best zoo in the world is in the Bronx… the Bronx Zoo. You've got all kind of places that you can go and take advantage of for educational purposes and just to broaden your views of the world.
I feel that was the greatest part about growing up in New York… It had its disadvantages. In my neighborhood it started to get tough! There were a lot of gangs started to come up in the late '50s. That's when it was starting to get downright dangerous. That was the disadvantage of being a teenager in a dangerous neighborhood, you really had to watch yourself. But you know, it makes you street smart!
Do you come from a musical background or are you the only artist in the family?
The only person in the family who had any musical ability was my dad, he could sing really well. And he could play the drums, same as me.
Well, actually my next question was about your discovery of the drums, where it came from, what attracted you to that particular instrument. So it came from your dad?
Yeah! I think if you have a talent, at least me at a very early age – I was maybe seven or eight years old – you just naturally gravitate towards it. I watched drummers on television. My uncle was a musicologist and a copyist for the army band at West Point. He bought me my first snare drum and sticks and brushes when I was nine. He was also a kind of saxophone player and even in our first little jam session in my house, my uncle pulled out his saxophone and we started playing old swing stuff. He noticed and said that I had an unusual gift for it. So even at an early age, it was just totally natural for me to be able to play the drums. I couldn't understand why everybody couldn't do it!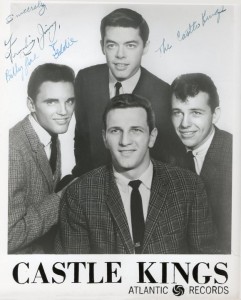 So, before you joined the Knickerbockers, you were in a New York band called the Castle Kings. What sort of music did you play?
Yeah! Well you know, the street doo-wop, rock 'n' roll, Elvis, Carl Perkins, Jerry Lee Lewis, the Isley Brothers, Little Richard – the early rock 'n' roll stuff. One late afternoon, we were standing outside in front of Atlantic Records. We just had a meeting with Dot Records, they were in the same building as Atlantic. So we're standing outside, harmonizing, waiting for one of the guys' dad to pick us up – this is a true story – harmonizing to some goofy song that one of the guys in the band wrote and Ahmet Ertegun, the president of Atlantic Records, heard us and told us to meet him the next day. So we did! He actually signed us to a contract and we recorded three or four records. I was recording with some of the legends of the business. People like Phil Spector, Ahmet Ertegun and his brother Nesuhi. These guys were legends and we were in the studio with them and I didn't know who they were! So I mean, at a very early age, we were doing things with the heavyweights of the business and we didn't even know it.
Apart from being an amazing drummer, you also sing… Is it true you that you joined the Knickerbockers because of that extra talent and why were they looking for a drummer who could sing?
They were looking for a drummer and the first time I saw the Knickerbockers was in a neighborhood venue. It was a supermarket that had been emptied, sold-out and it was reopened to do a little party on Memorial Day. I was walking down the street and I heard this music so I went back and they were set up playing as a trio. Buddy, the saxophone player was playing the drums, really well, and I thought, boy this is a band I'd love to play with! A couple of weeks or months later, they called me up because they'd heard I was a drummer and that I was looking for work. So I went and set up in John and Beau's house and we played, but my drumming skills were a little bit on the amateur side because I was still young. Then they asked me to sing, I sang some rock 'n' roll stuff and John and Beau's mum heard me sing and she said "Hire that guy, he does sound good"! So my skills with drumming didn't get me the work, it was the singing. Then I improved as a drummer because you get to play a lot. Also, Buddy taught me a lot of stuff on the drums that he got from other good drummers. But it was actually my voice that got me the job.
---
R.I.P. Kim Fowley, an authentic (self proclaimed) Living Legend. Today (January 15, 2015) he became simply A Legend. We visited Kim just a few weeks ago, and I knew then, as he did, that it would be our last goodbye. But Kim was a man who defined himself with his art, with his music, and we will always have that. Kim Fowley will always be with us.
Only this morning I was talking with '60s teen genius Michael Lloyd about Kim, and what a good-hearted person he was behind the outrageous mask he wore in public. "That's not him," agreed Michael. "I've seen that since I was 13. That's just a persona." It was one hell of a persona. But once you knew him better, he was also one hell of a person. A true friend. Kim's last words to me: "Stay teenage. Stay rock & roll." 
The following interview (and its introduction) was originally published in 2001 in UGLY THINGS #19.
Introduction by Mike Stax
Kim Fowley is an authentic Living Legend. He'd be the first to tell you that. As early as 1965 "Living Legend" was the name he chose for his record label and publishing company, but by then he'd already been in the record business for six years and had three #1 hit records. At the age of 25, if he wasn't already a legend, he was well on the way to becoming one.
The son of movie actor Douglas Fowley, Kim was 19 years old on February 3, 1959 when he learned of the deaths of Buddy Holly, Richie Valens and the Big Bopper while walking to the Business School he was enrolled in at the time. Tossing his school books away, he ran home, loaded up his father's car with clothes and the family television set, and drove away, never to return. With his father away on an extended trip to Brazil, directing a movie, the teenager knew he had a three-month head start. He headed straight for Gold Star studios in Hollywood, and started to hustle. He hasn't stopped hustling since.
Kim had actually been involved in rock'n'roll even earlier. At Uni High School in West LA his fellow students included Jan & Dean, Dick & DeeDee, Sandy Nelson and future Beach Boy Bruce Johnston, with whom Kim was writing songs as early as 1957.
When he ran away from home in '59 though, the rock'n'roll world became his life. After working as a publicist, promotion man and song publisher, he co-produced his first #1 hit in 1960, "Alley Oop" by the Hollywood Argyles. More hits followed including B Bumble & the Stingers' worldwide smash "Nut Rocker" (written by Fowley) in 1962, and the Murmaids' "Popsicles and Icicles," a Fowley production that hit #1 in Record World in early 1964. The rest of the decade saw him involved with a multitude of projects in a multitude of roles: PJ Proby, the Hellions (with Dave Mason and Jim Capaldi), the Lancasters (with Richie Blackmore), the Mothers of Invention, Cat Stevens, the N'Betweens (later to become Slade), the Belfast Gypsies, Soft Machine, the West Coast Pop Art Experimental Band and Gene Vincent, to name just a few.
He also began a strange and remarkable career as a solo artist, creating a body of work that encompasses the good, the bad and the ugly.
Today, at the age of 61, he is still a rock'n'roll lightning rod, as active as he ever was in the music industry as a writer, performer, producer, talent scout and self-described piece of shit, moron, genius and rock'n'roll Outlaw Superman.
---
Wild Times with Thor G. Noras, the Lunicks, Bente Lind, and the Ski Ungdomsklubb Scene
By Mike Stax
One of the resources we have at the Ugly Things website is Searchin' For Shakes, an extensive, near-complete database of '60s garage, beat and psychedelic compilations. We receive numerous e-mails as a result of this, some of them from the original band members or others somehow involved in a particular recording. One of the most interesting I've yet received came from Norway, in reference to the song "Goodbye Jimmy, Goodbye" by Bente Lind & the Lunicks, a cool femme-sung beat track that can be found on the Girls in the Garage series.
"It gave me great pleasure to find this record in your list," the e-mail read. "The record has a story attached to it that may interest US listeners. The country singer Jim Reeves was very highly appreciated in Norway, so when he suddenly died in a plane crash we went into the studio and recorded the song. The intro is played on an organ to give a chapel-like atmosphere, and then it went on in a teen-beat fashion, something like the bluebeat of Jamaica or junior high rock'n'roll from the USA. However, on the second day of Christmas we performed in a little village in eastern Norway. On our way back the car slid on the icy road and the organ player was killed instantly.
"On New Year's Eve, we were in Arendal, a lovely city in southern Norway, Bente's hometown. Everybody wanted to hear her great hit song, 'Goodbye Jimmy, Goodbye.' She made herself ready and waited for the intro. When it came she was a little bit puzzled: it didn't come from the organ but from the lead guitar. The organ player was the day before buried and the whole group was present. Bente started crying, the band stopped playing and everybody looked very confused. I had to go on stage and tell the sad story, about Gentleman Jim Reeves and his tragic fate, the organ player who had been killed—and why the city's darling, Bente, was crying instead of singing.
"But that special New Year's Eve was one of the most memorable all of us have experienced. People were having a beautiful evening, holding each other close and dancing to the orchestra: Bente Lind & the Lunicks."
The writer of the e-mail was Thor G Norås, the group's mentor and chief songwriter. Before long, messages were flying back and forth as I began to find out more about this extraordinary character, who left his fingerprints all over the early Norwegian rock'n'roll scene as a successful songwriter, musician, manager, producer, arranger and promoter, working not only with Bente Lind & the Lunicks but also such artists as Harald Pettersen, the Green Onions, Nina & Patzy, Jørn Are and many more. These acts may be virtually unknown outside of Norway, but much of their music has an enduring, almost magical quality that should appeal to any fan of '60s beat and rock'n'roll. The reason for the strange, indefinable flavor of these records becomes more apparent as one learns more about the life and unique personality of the man who played such a large role in their creation.
It's the story of the blending of many different musical and cultural influences, and of the small but remarkable music scene that blossomed out of an innovative, free-thinking youth club organization on the outskirts of Oslo. Its impact may have been limited in a geographical sense, but what happened at the Ski Ungdomsklubb in the early '60s was in many ways a microcosm of the teenage cultural explosion that was shaking the world.
---