Featured

News

By Harvey Kubernik   Amazon Prime and the Coda Collection are launching a new company programming rare concerts and music documentaries, along with exclusive premieres for films and music docu

Featured

Articles

By Harvey Kubernik   Amazon Prime and the Coda Collection are launching a new company programming rare concerts and music documentaries, along with exclusive premieres for films and music docu
By Harvey Kubernik
Amazon Prime and the Coda Collection are launching a new company programming rare concerts and music documentaries, along with exclusive premieres for films and music documentaries. The Prime Video channel debuts February 18, 2021 and during 2021 Amazon Prime members will be able to access dozens of their library acquisitions exclusively streamed in the US. Some of their first titles announced for broadcast are the streaming premieres of The Rolling Stones On The Air, Music, Money, Madness…Jimi Hendrix in Maui, and Johnny Cash at San Quentin.
I thought it was appropriate to examine the Johnny Cash Live At San Quentin album that celebrates its 52nd retail anniversary on February 24. Johnny and I share a February 26 birthday.
In 1965 I saw a Cash Shindig! taping on Prospect Avenue in Los Angeles at ABC-TV studios, and in 1968 when he guested on The Summer Smothers Brothers Show at CBS Television City. I later caught Johnny and June Cash at The Anaheim Convention Center, The Troubadour and The House of Blues in Hollywood. I must have seen their act over a dozen times in 25 years.
"A Boy Named Sue," written by humorist, poet, and singer/songwriter Shel Silverstein became a popular hit record during 1969 by Johnny Cash. On February 24, 1969, two days before he turned 37, Cash recorded the song live in concert at California's San Quentin State Prison for his Johnny Cash At San Quentin album produced by Bob Johnston, issued on Columbia Records June 26, 1969.
Born Sheldon Allan "Shel" Silverstein in Chicago in 1930, Silverstein was known for his cartoons, songs, children's books and contributions to Playboy magazine.
During 1969 Silverstein's own recording of "Boy Named Sue," a 45 RPM on the LP Boy Named Sue (And His other Country Songs), was produced by Chet Atkins and Felton Jarvis.
It has been said that Silverstein's inspiration for the song's title came from a man named Sue K. Hicks, who was a judge in the state of Tennessee. Silverstein heard Hicks speak at an event, and was intrigued by the name of Sue for a man. Apparently it was the father of Sue Hicks who named the boy after his mother, Susanna Hicks, who died during hospital birth.
Legend has it that Silverstein had penned the tune after a conversation with his friend Jean Shepherd, the writer, radio and television storyteller, who remarked about his own childhood dismay at being taunted for what many kids felt was a "girl's name."
Silverstein first introduced his copyright to Johnny and June Cash during a "Guitar Pull" at their Hendersonville, Tennessee home where local and visiting musicians would pass a guitar around and play their recent songs.
Mitch Myers, Silverstein's nephew, biographer, and Director of the Silverstein archives, emailed me in 2018 verifying that it was June Carter Cash who encouraged Johnny to include it in their stage show.
Canadian-based writer and Cash scholar Gary Pig Gold, in the September 11, 2009 Rock and Roll Report also provides additional information on how "A Boy Named Sue" landed in the Cash repertoire: "It was quite common for JC to invite special televised Johnny Cash Show guests back to his grand new Hendersonville, TN homestead for post-taping song swaps. On any such evening the guitar would be passed round to, for example, Graham Nash (who offered 'Marrakesh Express'), Kris Kristofferson (premiering 'Me And Bobby McGee'), and of course Johnny's ol' pal the Zimmer Man (who, applying his grand new boudoir voice, crooned 'Lay Lady Lay').
"In fact one morning after, a young Rosanne Cash was flabbergasted to find none other than her teenage bedroom wall pin-up prince Davy Jones sitting at the breakfast table! (Yes, Johnny had hosted the Monkees on prime time just the night before).
"One most momentous evening however, the inimitable Shel Silverstein decided to test-drive a peculiar—even by Silverstein standards—new number he hadn't even considered shopping across Music City just yet. Johnny wanted to hear it though:
"That's the most cleverly written song I've ever heard" was the verdict minutes later, and luckily June thought enough to stuff Shel's cheat sheet into her husband's bag before they departed for the next day's recording session over at San Quentin. "I didn't even know the lyrics," Johnny recalled of making his quickest, biggest hit. 'I had to put the words on a music stand in front of me. I told 'em I wanted to sing a song called 'A Boy Named Sue.' Well they laughed, you know, and I said 'No, it's not what you think. Let me sing it to you.' I read the lyrics off the paper in front of me, and that was the record.'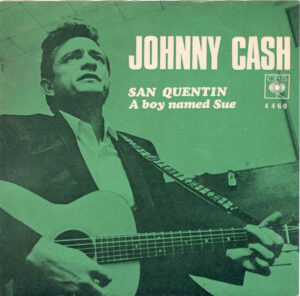 "And by late that summer, only those Rolling Stones and their honky tonk women could keep Sue off the very top of your local Top 40 Radio survey."
Cash wrote in his autobiography Man In Black, that he had just received the song and only read over it a couple of times. It was incorporated in the prison concert just to try it out. On the filmed documentary of the event Johnny can be seen regularly referring to the paper lyric sheet.
Cash biographer, Robert Hilburn, JOHNNY CASH: The Life (Little, Brown and Company) confirmed as well that neither the British television crew filming the concert as well as his band knew he planned to include the song in his act while Carl Perkins and the musicians improvised backing on the spot.
The recording contained the lyric "I'm the son of a bitch that named you Sue!" It was subsequently edited out in the first product shipments on the single and the Johnny Cash At San Quentin album. On subsequent re-orders, compilations and reissues, "son of a bitch" was modified to "son of a gun" or even bleeped out completely on some configurations for AM and FM radio airplay.
The live San Quentin version of the song became Cash's biggest hit on the Billboard Hot 100 chart and his only top ten single there, spending three weeks at #2 in 1969.
"A Boy Named Sue" topped the Billboard Hot Country Songs on September 16, 1969 and radio station KHJ in the Los Angeles market on their August 6, 1969 radio station survey. Cash's unplanned smash hit record was certified Gold by the RIAA on August 14, 1969. It also earned a Grammy for Silverstein in 1970 as best Country & Western Song.
Originally a single album, this century Johnny Cash At San Quentin is now a deluxe three-disc, Legacy Edition package: two CDs containing 31 selections, 13 of them previously unissued. The package also houses a DVD, Johnny Cash In San Quentin, the culture-shaping 1969 documentary produced and directed by Mike Darlow for England's Granada television network. Journalist Geoffrey Cannon from The Guardian had pitched the idea to executives at Granada and eventually sold the concept to Cash's manager, Saul Holiff.
The expanded Johnny Cash At San Quentin includes a full rendition of "A Boy Named Sue." It's a stirring portrait of Cash and band; the Statler brothers, lead guitarists Bob Wooten and Carl Perkins, bassist Marshall Grant, drummer WS Holland, June Carter and Carter family members. There are also interviews with the prisoners and guards who were in attendance when The Johnny Cash Show packed the big house.
Shel Silverstein's tune and the fortuitous alignment with Johnny Cash has continued for half a century in magazines, movies and informed other songs by bands referencing it.
A 1970 issue of MAD magazine displayed a parody titled A Boy Named Lassie. A male character in the movie Swingers is named Sue, and another actor announced on screen, "His dad was a big Johnny Cash fan."
It was in June 1967 when Columbia Records staff producer Bob Johnston replaced Don Law at the Nashville based company producing Cash. Johnston's production acumen and label machinations on behalf of Cash in the 1968 and '69 time period resulted in two California penitentiary location-created live recordings: Johnny Cash at San Quentin and Johnny Cash At Folsom Prison.
Johnston's credits include Leonard Cohen's Songs From a Room and Songs of Love and Hate, and Bob Dylan's Highway 61 Revisited, Blonde On Blonde, John Wesley Harding, and Nashville Skyline. He worked on Simon & Garfunkel's Bookends.
Johnston was born in 1932 in Hillsboro, Texas. His career began as a songwriter eventually holding a staff writing position at Elvis Presley's Hill & Range Music and often reviewed potential Presley demos and songs earmarked for his movies in 1964 and 1965. Bob co-wrote with Charlie Daniels "It Hurts Me," the flipside of Presley's hit "Kissin Cousins" before he joined Columbia Records in 1965.
I met Johnston and producer/label executive Jimmy Bowen in July 1978 at MCA Records on Lankershim Boulevard in Universal City when I was West Coast Director of A&R for the label. At the time Johnston was producing Joe Ely's Down on the Drag. We went down the street to see Ely at the Palomino Club.
"When I took over Cash he didn't hit the country charts," declared Johnston in a 2007 interview with me. "Like I said on the back of the Folsom Prison album liner notes, no one for eight years would let him go there to record live until he got me, and I said, 'let's do it' I picked up the phone and called Folsom and San Quentin," Bob remembered.
"The reason the Folsom album was made first is because the Folsom warden answered first, simple as that. I got the warden, Duffy, and I handed Johnny the telephone and left. When we did Folsom there was a guy who was going to introduce Johnny on stage in front of the cons and everyone standing up.
"I said 'bullshit!' And told Johnny to go walk out there now! They are not even sitting down good. Walk out there and jerk your head around and say, 'Hello. I'm Johnny Cash' and it don't matter what the fuck you record. And he said 'Get outta my goddamn way!' And he didn't usually cuss. But he pushed people away went out there and the goddamn place became unglued!
"I had the engineer Neil Wilburn, did the Cash Live At Folsom Prison album with him. And he was a genius behind all that shit. I had a great thing with anybody who was a genius!
"Leonard was the best I'd ever heard. And Dylan was the best I'd ever heard. Simon was the best I'd ever heard and Cash was the best I'd ever heard. And all those fuckin' people were the best I'd ever heard.
"I'll tell you something else I did recording Dylan, Cash and Cohen," emphasized Johnston. "Everybody else (at the time) was using one microphone. What I did was put a bunch of microphones all over the room and up on the ceiling. I would use the echo. I could do that as much as I wanted. I wanted it to sound better than anything else sounded ever, and I wanted it to be where everybody could hear it. And that's the way that we did it. I always had four or eight speakers all over the room and I had 'em going. The louder I played it the better it sounded to me.
"I had Cash in the Columbia Music Row studio [February 1969] and thought it would be nice to get Dylan in there, too and I didn't say anything to them. Cash was in the studio and Dylan came in. 'What are you doing here?' 'Gonna record.' 'Well, I'm recording too.'
"So, they invited me to dinner, but I said 'no thanks.' And when they returned I had a café set up outside with microphones and their guitars, and they came in for two hours, like a nightclub, looked at the lights, sorta smiled at each other. June Carter Cash was there. We did like 18 tracks."
The session yielded the duet "Girl from the North Country," only heard on Nashville Skyline.
"I spent a lot of time with Bob Johnston and I believe he deserves an enormous amount of credit for the Folsom Prison album and some of the other albums he did with John," Robert Hilburn pointed out to me in our 2016 interview. "He not only helped John believe in himself at a time when the drugs and other problems had left him vulnerable, but he organized the Folsom tracks and San Quentin tracks in a way that maximized their impact."
These live Cash albums each reached triple platinum awards in the United States. Johnny Cash At San Quentin was his only # 1 LP in his lifetime.
Working with Columbia producers Don Law (1958-67), Frank Jones (1960-67), Bob Johnston (1968-70), Larry Butler (1972-78), Charlie Bragg (1972-77), Brian Ahern, Billy Sherrill, Chips Moman, and others, Johnny Cash was always in command of his direction, whether it was country and western, gospel, blues, rockabilly, traditional balladry and folk, or any other style he chose to pursue.
Bob Dylan's relocation to Nashville to record Blonde On Blonde in 1966 with Johnston, along with the established presence of Johnny Cash on the Columbia label created an impulsive career decision for the soon-to-be-turned songwriter, Kris Kristofferson, who studied creative writing at Pomona College in Southern California and earned a Rhodes scholarship to study literature at Oxford.
I discussed this with Kristofferson in 2010 when I worked as the Consulting Producer on director Morgan Neville's Troubadours: The Rise of the Singer-Songwriters.
Around the Dylan/Johnston Blonde On Blonde sessions, Kristofferson was working as a janitor sweeping up floors and cleaning up ash trays at the Nashville CBS studios and forbidden to pitch songs to company clients. Although when he met June Carter on the premises he asked her to give Johnny Cash a tape of his. June did, but Johnny tossed it on a large pile of other submissions.
Kristofferson briefly served in the Tennessee National Guard and still had his commercial pilot's license from his previous job in Lafayette Louisiana at a company Petroleum Helicopters International.
Kris then spoke of a strategic maneuver of his flying a helicopter over the Cash residence and dropping a demonstration tape on Johnny and June's house lawn in Tennessee. "I flew in to John and June's property and almost landed on their roof. Looking back, when I think about it now, I could have been arrested or court-martialed," he sighed to me one afternoon around a taping inside the empty Doug Weston Troubadour club in West Hollywood.
In 1966, Johnny Cash was just concluding his own geographical relationship to the Southern California area and Los Angeles.
Before he became a living tradition, Johnny Cash spent large portions of a decade of his life near planet Hollywood after leaving Sun Records and Memphis, doing his first gospel LP when he signed to Columbia Records.
On August 13, 1957 at a party in California, Cash first met British-born record producer Don Law after a local television date who first touted Johnny about joining Columbia Records after Cash's contract with Sam Phillips and Sun ended on August 1, 1958. That same month Cash and clan moved to California and he rented an apartment on Coldwater Canyon Avenue in North Hollywood.
Cash and his family later bought a ranch house from comedian/TV host Johnny Carson on Havenhurst Avenue in Encino in the San Fernando Valley. Johnny Cash Enterprises was located on Sunset Boulevard at the Crossroads of the World complex in Hollywood.
He did a slew of television appearances in the Southern California area in the sixties including the Compton-based and Hadley's Furniture sponsored Town Hall Party program in 1960 that was broadcast on KTTV-TV. In 1961 Johnny came to Pal Records on Sherman Way in Canoga Park for an autograph party.
Cash, and his pal, actor, singer and radio host, Johnny Western, along with Pat Shields, a PR guy doing promotions for Liberty Records, had a company together called Great Western Enterprises on Western Avenue in Hollywood.
In 1964 Cash recorded Bitter Tears: Ballads of the American Indian, his history of Native Americans concept album. He toured Wounded Knee, South Dakota with descendants of the survivors of the 1890 massacre, played songs from the LP at a benefit performance at Cemetery Hill for the tribe and helped the Sioux raise money for schools. This is four years before AIM, the American Indian Movement civil rights organization was founded in Minneapolis, Minnesota.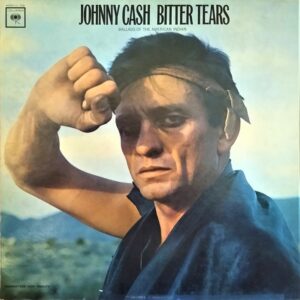 Cash sent out personal letters and copies of his 45RPM recording of folksinger Peter La Farge's "The Ballad of Ira Hayes" on that album, after Johnny purchased a thousand of them from Columbia Records and mailed the entire batch to every radio station in the country. It eventually landed at number three on the Billboard Country Singles chart in 1964.
In February 1965, Cash performed "The Ballad of Ira Hayes" on a Los Angeles television program, The Les Crane Show.
When Johnny Cash died in 2003, writer Todd Everett informed me about a 1964 Ventura College Gymnasium benefit Cash did for the police department, "'cause Johnny was always getting in trouble in an area between Ventura County and Ojai California, his young girls with his first wife Vivian (Liberto) grew up there. And Johnny purchased his father a trailer home. And if that ain't country you can kiss my ass."
"John had some happy years in Encino, but gradually things started going bad," Hilburn detailed in our 2016 interview. "His film debut—in a low budget crime story called Five Minutes to Live—was embarrassing, a real disaster. And tensions developed between John and his wife, Vivian, over the career demands that took him away from home so often. Then, the drugs took hold.
"Looking for a new start, he moved to a small town in Ventura County to escape the glare and pressure of Hollywood. But the tensions and drugs continued. He pretty much stopped coming home. By early 1966, he had pretty much left California and the family behind. He moved to Nashville and spent most of his time with June Carter.
"One of the big reasons John left Sam Phillips for Columbia was he wanted artistic freedom, which is something Columbia promised—and it eventually came back to haunt the label because they wanted hits and that wasn't the primary thing on John's mind.
"Again, he wanted to make music that lifted people up—music that reflected his fascination with people and their struggles; hence so many songs about the Old West and the working man and Native Americans. John wanted to make music that mattered to him; Columbia wanted hits. The issue came to a head in 1963 when his Columbia contract was due to expire. Columbia was going to drop him, but Don Law, who signed John and produced his records, talked them into one more session. They came up with 'Ring of Fire' and Columbia did renew the contract. If he hadn't come up with a hit in that session, Columbia, in fact, would have dropped Johnny Cash.
"At the time Cash was making concept albums like Ride This Train and Bitter Tears: Ballads of the American Indian in the 1960s, the country music world (chiefly radio) was focused on hits. They weren't looking for 'art' from their singers. But rock 'n' roll changed that. Thanks to people like Dylan and the Beatles, fans began to look for 'art' as well as 'hits' and they began buying albums rather than just singles. Cash tapped into that with the Folsom Prison album, and he found an audience that didn't just listen to country radio. He was embraced by the rock culture, and I think it's that audience finally discovered Cash's 'art'/concept albums."
On August 16, 1975 forty miles from Los Angeles, California, I interviewed Johnny Cash for the now defunct Melody Maker inside the Royal Inn Hotel in Anaheim. At the time of our interview Johnny was in town in 1975 to promote his autobiography, Man In Black, and to perform a special concert for the Christian Booksellers convention.
"It covers the ups and downs of my life and music career and my problem with drugs," stressed Cash. "The book also contains 20 song lyrics which provide a musical guideline. The lyrics help tell the story. It was time to do the book and set the record straight. About a year ago I was approached by the publisher to write it. I spent nine months writing it and shaping it. I wrote it by hand and worked with an editor.
"It was a whole new project for me. More discipline was involved. It was my main activity for months when I got up in the morning. It was hard lookin' back through my life and trying to remember conversations and details. Remembering some of the nightmares that I had especially gettin' off drugs. I went through a total soul-searching experience lookin' back. I went through all the pain again to a certain degree," Johnny confessed.
The book eventually sold over a million copies.
"In concert I sing 'Sunday Morning Coming Down,' the Kris Kristofferson tune. That's so much of me that sometimes I feel like I wrote it. There are some songs that I must write for self-expression. If a song comes along I must acknowledge it. I've recently recorded a song 'Strawberry Shortcake.' It's about a guy who went into the Plaza hotel in New York and stole a cake. It's a novelty song. But there are some songs that I had to write like 'I Walk the Line'."
In the late '60s Cash was selling concert tickets and guesting on TV. The success of his Johnny Cash at Folsom Prison long player gave him new visibility on the pop and rock charts.
Then an American television documentary Johnny Cash! The Man, His World, His Music, directed by filmmaker Robert Elfstrom had a US TV premier in March 1969. Johnny and June Cash, the entire Carter family, Bob Dylan, Bob Johnston, Marshall Grant, Merle Kilgore, and Bob Wooton received vital US TV exposure.
This landmark screen gem, coupled with the '69 UK-shown Granada-TV Johnny Cash At San Quentin documentary, resulted in ABC-TV offering manager Saul Holiff on behalf of Johnny, an hour-long pilot as a 13-week summer replacement for their Saturday night variety show, The Hollywood Palace.
In June 1969, Columbia Records issued Johnny Cash at San Quentin that hit the sales charts, aided by the LP's smash country and pop hit single "A Boy Named Sue." It convinced the ABC network, who then picked up his option for a full season which was conceived, developed, directed and executive produced by William Carruthers. Stan Jacobson was the producer and associate producer was Joel Stein.
Bill Carruthers had previously directed The Soupy Sales Show on station WXYZ-TV in Detroit and had directed the Ernie Kovacs game show Take a Good Look, for ABC-TV. Carruthers subsequently directed The Newlywed Game and The Dating Game.
"Dylan called my dad before he and the staff left for Nashville," recounted Byl Carruthers, then Billy, the son of William Carruthers. "I had gone to work with my dad that day. He had an overall deal with Screen Gems at the time, and had an office on their lot. He had said we were going to get lunch, and then his assistant beckoned him back to the office, saying it was important!
"Two full hours went by, and I had to wait. When he got off the phone, he came out and said that he had just gotten off the phone with Bob Dylan. I asked him what he was calling about, and he said that Johnny wanted Dylan to do the show. Johnny really wanted Bob to do the first episode, and told Bob that he would be in good hands with my dad, and he wouldn't have to do anything he didn't want to. My dad said Bob was 'feeling him out' on the phone.
"My dad was very cool about letting me hang when the musicians were there, and yes, I got to fetch coffee and stuff for Bob Dylan, in the hour or so before the taping…
"I distinctly remember Dylan having two very sedate western-style two-piece suits laid out, and he saying to my dad, 'Bill, which one of these do you think would be best?' A few minutes later, my dad said to the assistant director, 'I can't believe Bob asked me what he should wear!'
"The first show was a mindblower, as we all know, and the first season surprised ABC enough to pick it up. The sets were cheap, 'cause they had no money. The production issues they faced retro-fitting the Ryman Auditorium were immense," recollected guitarist/songwriter Carruthers, now in the roots music duo, Café R&B.
"For that year of pre-production and production, my dad and John were close. He showered my dad with gifts (among them a 1932 Martin Guitar, and a Civil War Colt Pistol—John had a pair of them with consecutive numbers. He gave my father one, and he kept one, so they'd each have one as symbol of their relationship). My dad was the executive producer and director for the first year. It was his show."
During 1970-1971 the prime time Cash slot was then helmed by Jacobson. A veteran of The Wayne and Shuster Show for several seasons, Jacobson had been a writer for Country Hoedown and writer/producer of the program Music Hop. In 1966 he wrote and directed the Battle of Britain documentary for the Canadian Broadcasting Company series Telescope, and in 1967, The Legend of Johnny Cash.
"I would say there were many things that likely would not have happened were it not for [manager] Saul Holiff's influence on Johnny's career, but the San Quentin show and Johnny's television show are both ones that undoubtedly can be credited to Saul's vision for Johnny," observed author Julie Chadwick who wrote The Man Who Carried Cash: Saul Holiff, Johnny Cash and the Making of an American Icon.
"On the television front, there are dozens of letters that go back more than a decade in which he continually pitched the idea of getting Johnny on TV, which finally bore fruit when a Canadian named Stan Jacobson decided to do a CBC special on Johnny in 1967, which many regard as the predecessor to his television series."
The Johnny Cash Show debuted in June 1969. Programs were done at Nashville's Ryman Auditorium, which back then was home to the Grand Ole Opry 1943-1974. Bill Walker was the musical director and arranger. June Carter Cash and the Carter Family, Carl Perkins, The Statler Brothers, and The Tennessee Three were screen regulars. Fifty-eight episodes were originally broadcast from June 7, 1969 to March 31, 1971.
Among the Cash-invited performers: Louis Armstrong, Bill Monroe, Dusty Springfield, Judy Collins, the Monkees, Creedence Clearwater Revival, Stevie Wonder, Tony Joe White, Homer & Jethro, the Everly Brothers, Joni Mitchell, Neil Young, Derek & the Dominos, Roger Miller, Faron Young, Charley Pride, Loretta Lynn, Marty Robbins, Mickey Newbury, Neil Diamond, Conway Twitty, Tammy Wynette, Bob Dylan, Waylon Jennings, George Jones and Doug Kershaw.
In 1975, Johnny and I chatted in Melody Maker about his groundbreaking 1969-1971 The Johnny Cash Show. In 1970 it reached #17 in the Nielsen ratings. That year, Columbia Records shipped The Johnny Cash Show, a live album, coinciding with the TV series, which was not promoted to retailers as a soundtrack. The LP is an unusual product as the Columbia label was not affiliated with the competing CBS-TV network. I am the proud owner of a white label Columbia Records Radio Station Service Not For Sale promotional copy.
Cash's variety show TV program, along with his successful Folsom Prison and San Quentin albums ushered in today's acceptance of country music artists on national and cable television.
"One reason country music has expanded the way it has is that we haven't let ourselves become locked into any category. We do what we feel," ventured Cash.
"I like to go into the studio with my own musicians and record my own songs," Johnny reminded me in our encounter. "I'm open to other songwriters. I like to do things differently all my career."
However, Johnny said that TV obligations hampered his creativity. "It cut down on my touring, it became too confining. We stayed in Nashville for two-thirds of the time. I really didn't enjoy it all that much. If it was kept loose and spontaneous it could have been great. But we had to do the same song every eight or ten times before they would accept it. The show lost its feel and honesty. Consequently I lost a lot of interest in it."
"Though he was often frustrated by some compromises forced on the show by the network," Hilburn affirmed. "Cash used the show to express his core values. He brought on musical guests he believed in—not just Bob Dylan, but also Merle Haggard, Kris Kristofferson, Waylon Jennings. He used the show as his pulpit, if you will, to once again lift people's spirits.
"People didn't just like John's music; they believed in him. The timing was crucial. If he had gotten a TV show just two years earlier, it would have been a disaster. America would have seen a desperate drug addict. Instead, they saw a national icon."
The weekly ABC-TV slot also featured Cash's road band with Carl Perkins, who was a welcome addition to the musical cast. Perkins wrote "Daddy Sang Bass," the Cash recording that spotlights the Statler Brothers and Carter Family on background vocals.
"Carl Perkins is not given enough credit," Bob Johnston exclaimed. "But Cash got him on that TV show and Carl was part of 'A Boy Named Sue.'"
In Julie Chadwick's The Man Who Carried Cash: Saul Holiff, Johnny Cash and the Making of an American Icon, we learn the reasons why Cash cut "A Boy Named Sue" and are now celebrating the 52nd anniversary of Johnny Cash At San Quentin.
"The entire book is filled with so many remarkable scenes," emailed Chadwick to me in 2019. "Many of which have never before been revealed, such as how Johnny came to record 'A Boy Named Sue' after bumping into Shel Silverstein in an airport with Saul, to the time he hit rock bottom in 1967 and penned a tearful handwritten ten-page letter to his manager confessing his fear that he had lost June forever because of his out-of-control addiction.
"I feel like overall, I have done the two men's relationship justice and brought a relatively hidden story to light. Saul also was the one who fought tooth and nail to convince Columbia Records to go along with the idea of a live album recorded at San Quentin, as they thought the concept had already been done with his Folsom concert."
In his review of The Johnny Cash Show in the June 12, 1969 issue of Great Speckled Bird, the counterculture underground newspaper in Atlanta, Georgia, Gene Guerrero reviewed the ABC-TV/Screen Gems initial broadcast.
"With the inauguration of the Johnny Cash Show, country music has finally made it to network television. One can only hope and pray that it will take a couple of seasons before these corrupting influences set in.
"Dylan sang a couple of songs off his new album including 'Girl From the North Country' which he sings with Cash. In a non-contrived way Dylan and Cash singing together remind you of two kids practicing for their first recital. In this time of super-slick entertainers, that's very refreshing."
In our 1975 Melody Maker interview, Cash cited Dylan.
"I became aware of Bob Dylan when the Freewheelin' album came out in 1963," mused Johnny. "I thought he was one of the best country singers I had ever heard. I always felt a lot in common with him. I knew a lot about him before we had ever met. I knew he had heard and listened to country music. I heard a lot of inflections from country artists I was familiar with. I was in Las Vegas in '63 and '64 and wrote him a letter telling him how much I liked his work. I got a letter back and we developed a correspondence.
"We finally met at Newport in 1964. It was like we were two old friends. There was none of this standing back, trying to figure each other out. He's unique and original.
"I keep lookin' around as we pass the middle of the 70s and I don't see anybody come close to Bob Dylan. I respect him. Dylan is a few years younger than I am but we share a bond that hasn't diminished. I get inspiration from him."
As a teenager, in the very late fifties, Dylan, birth name Robert Allen Zimmerman, hitchhiked from Hibbing, Minnesota, to Duluth to see Cash and the Tennessee Two (Marshall Grant bass and Luther Perkins guitar) play at the Duluth amphitheater.
In the 2009 book A Heartbeat And A Guitar Johnny Cash and the Making of Bitter Tears by author Antonino D'Ambrosio, Johnny Western disclosed to D'Ambrosio in an interview witnessing a Dylan and Cash exchange where Dylan admitted, "Man, I didn't just dig you; I breathed you."
In November 1961, Cash had stuck his head inside the Columbia Records studio when talent scout/A&R man John Hammond was producing Dylan's debut long player, Bob Dylan.
"Dylan was also grateful that Cash would constantly endorse his talents to skeptical Columbia Records executives," Antonino expressed to me in a 2009 interview, "after the initial weak sales of his first platter, some calling it 'Hammond's folly,' a jab at Hammond who signed Dylan to the label."
Drummer and friend Jim Keltner on November 19, 1979 invited Knack drummer Bruce Gary and I to the Santa Monica Civic Auditorium to attend Bob Dylan's Slow Train Coming tour. Jimmy arranged our tickets and backstage passes. I was reviewing the concert for Melody Maker, too.
I had a very brief chat with Dylan. We had met earlier at Gold Star studios when he was producing a session with Clydie King and I was on a few May '79 dates as a percussionist with Keltner on the Phil Spector-produced Ramones' album End of the Century.
Bob inquired about Phil. I told him I had recently done an interview with Spector for Melody Maker. Phil talked about R&B vocalists, also listing Dion, John, Paul, Elvis, Johnny Cash and Bobby Darin as great singers. Dylan then removed his sunglasses. He has blue eyes like Eva Marie Saint, Charles Bukowski, and Kris Kristofferson. Bob offered a firm handshake, and sternly said, "Johnny Cash is a friend of mine."
"Bob has told me time and again how much he loved John's music and his failure to compromise," reinforced Hilburn. "The bond was so great between them, even though they didn't spend a lot of time together. Their relationship was more one of mutual inspiration and respect than time spent in each other's company.
"Johnny Cash wasn't about simply entertainment. Like Bob Dylan, he belongs with the great American artists, whether they are from the worlds of art, film or music. He told about his life and times with a strong, personal vision."
© 2021 Harvey Kubernik
HARVEY KUBERNIK is the author of 19 books, including Canyon Of Dreams: The Magic And The Music Of Laurel Canyon and Turn Up The Radio! Rock, Pop and Roll In Los Angeles 1956-1972. Sterling/Barnes and Noble in 2018 published Harvey and Kenneth Kubernik's The Story Of The Band: From Big Pink To The Last Waltz. For late summer 2021 the duo has written a multi-narrative volume on Jimi Hendrix for Sterling/Barnes and Noble.
Otherworld Cottage Industries in 2020 published Harvey's book, Docs That Rock, Music That Matters, featuring interviews with D.A. Pennebaker, Chris Hegedus, Albert Maysles, Murray Lerner, Morgan Neville, Dr. James Cushing, Curtis Hanson, Michael Lindsay-Hogg, Andrew Loog Oldham, Dick Clark, Ray Manzarek, John Densmore, Robby Krieger, Travis Pike, Allan Arkush, and David Leaf, among others.
This century Kubernik wrote the liner note booklets to the CD re-releases of Carole King's Tapestry, Allen Ginsberg's Kaddish, Elvis Presley The '68 Comeback Special and The Ramones' End of the Century). Harvey and Andrew Loog Oldham wrote the liner essays to The Essential Carole King.
In November 2006, Harvey Kubernik was a speaker discussing audiotape preservation and archiving at special hearings called by The Library of Congress and held in Hollywood, California.
Kubernik's writings are in several book anthologies, most notably The Rolling Stone Book Of The Beats and Drinking With Bukowski. Harvey penned a back cover endorsement for author Michael Posner's book on Leonard Cohen that Simon & Schuster, Canada published in October 2020, Leonard Cohen, Untold Stories: The Early Years.
His 1995 interview, Berry Gordy: A Conversation With Mr. Motown appears in The Pop, Rock & Soul Reader edited by David Brackett published in 2019 by Oxford University Press. Brackett is a Professor of Musicology in the Schulich School of Music at McGill University in Canada. The lineup includes LeRoi Jones, Johnny Otis, Ellen Willis, Nat Hentoff, Jerry Wexler, Jim Delehant, Ralph J. Gleason, Greil Marcus, and Cameron Crowe.
During 2020 he served as a Consultant on the two-part documentary Laurel Canyon: A Place in Time directed by Alison Ellwood. Kubernik is currently working on a documentary about Rock and Roll Hall of Fame member singer/songwriter Del Shannon.
Harvey is also spotlighted for the 2013 BBC-TV documentary Bobby Womack Across 110th Street, directed by James Meycock. Womack, Bill Withers, Ronnie Wood of the Rolling Stones, Damon Albarn of Blur, the Gorillaz and Antonio Vargas are featured.
In 2020 Harvey Kubernik was an interview subject in the Chris Sibley & David Tourje-directed short documentary entitled John Van Hamersveld: Crazy World Ain't It. Van Hamersveld designed the iconic Endless Summer visual image and album covers for the Beatles, the Rolling Stones, Jefferson Airplane, Grateful Dead, the Beach Boys, the Kaleidoscope, and Blondie.
During 2019 Harvey was filmed for director Matt O'Casey on his BBC4-TV digital arts channel Christine McVie, Fleetwood Mac's Songbird. The premiere broadcast was in September 2020. He was also interviewed by director/producer Neil Norman for his GNP Crescendo documentary, The Seeds: Pushin' Too Hard. Debut broadcast on television will be in 2021.
This decade Harvey was filmed for the currently in-production documentary about former Hollywood landmark Gold Star Recording Studio and co-owner/engineer Stan Ross produced and directed by Brad Ross and Jonathan Rosenberg. Brian Wilson, Herb Alpert, Richie Furay, Darlene Love, Mike Curb, Chris Montez, Bill Medley, Don Randi, Hal Blaine, Shel Talmy, Richard Sherman, Don Peake, Kim Fowley, Johnny Echols, Gloria Jones, Carol Kaye, Marky Ramone, David Kessel and Steven Van Zandt have been lensed.
---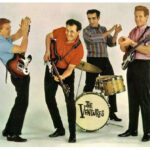 By Harvey Kubernik
The first-ever full length documentary chronicling the 60 year career of the Ventures, The Ventures: Stars on Guitars, debuted on DVD, Blu-ray and VOD to cable providers and streaming platforms on December 8, 2020 via Vision Films Inc. Outlets for viewing include iTunes, Vimeo, Comcast, Spectrum, DirecTV, and Amazon. It's the definitive history of the instrumental rock 'n' roll band from director Staci Layne Wilson, daughter of the Ventures' founder Don Wilson and features 35 interview subjects. The filmic journey is told from the point of view of Wilson, the last original member of the band.
The Ventures are the bestselling instrumental rock group in history. The group has sold over 100 million records with nearly 300 different retail releases in the US and worldwide since beginning with "Walk, Don't Run."
The Ventures' classic quartet lineup consisted of rhythm guitarist Wilson, bassist Bob Bogle, initially lead guitarist, Nokie Edwards, lead guitar, converted from bass, and drummer Mel Taylor. The Ventures were inducted into the Rock and Roll Hall of Fame in 2008.
It was on a construction site in Seattle, Washington, in 1959 that two guitarists, Don Wilson and Bob Bogle, decided to perform together at local sock hops, initially as the Versatones. They added a rhythm section and then became the Impacts for a very short period. Finally settling on the name "The Ventures," they recorded two songs that Don's mother Josie released on her Blue Horizon Records label.
The Ventures self-pressed a second single, a cover of Johnny Smith's "Walk, Don't Run," a song that Don and Bob had discovered on a Chet Atkins album. "Walk, Don't Run" was a hit single in 1960, reaching Number 2, just behind Elvis Presley's "It's Now or Never," and over the last forty-six years, Wilson and his partner Bogle have subsequently recorded 250 albums and sold 100 million records, 50 million of them just in Japan.
Over the decades the Ventures' studio and concert lineup included Don Wilson, Bob Bogle, drummers Mel and Leon Taylor, guitarists Nokie Edwards, Gerry McGee, Bob Spalding, Jeff "Skunk" Baxter, and keyboardist David Carr.
The late, legendary drummer Mel Taylor (Leon's father), who started out playing and recording with Buck Owens and also anchored the rhythm section on the seminal hits "Monster Mash" (Bobby "Boris" Pickett and the Crypt-Kickers) and "The Lonely Bull" (Herb Alpert & the Tijuana Brass) drove the Ventures beat from 1962 until his untimely passing in 1996.
The Kings of Instrumental Rock, influencing scores of musicians around the world to pick up electric guitars – they endorsed the Mosrite – and strum along to the nearest TV theme or dance craze, including many kids who bought one of their influential instructional LPs called Play Guitar with the Ventures. The group recorded five of those, which became the only instructional albums ever to appear on the US national Billboard charts.
Numerous musicians credit the Ventures with helping them learn their instrument, including Anthrax, the B-52s, Jeff "Skunk" Baxter, Dire Straits, Dave Edmunds, Marco Paroni (Adam Ant), Mick Fleetwood, Aerosmith's Joe Perry, Johnny Ramone, Jello Biafra, Keith Moon, Gene Simmons, Jimmy Page, Toulouse Engelhardt, Jim Diamond, Chris Spedding, Insect Surfers, Black Train, Gary Pig Gold, Al Di Meola, Bruce Gary, Max Weinberg, and the Malibooz's John Zambetti. "Everybody was influenced by The Ventures," says Steven Van Zandt. "They were huge."
In January 2006 the Grammy Hall of Fame added the Ventures' "Walk, Don't Run" to their list of the most influential songs in the history of music.
Over the last half century I saw the Ventures numerous times in concert and their television show appearances. In 2006 I interviewed Don Wilson in Burbank, California.
Don Wilson interview by Harvey Kubernik
Q: How did you find the Chet Atkins cover version of "Walk, Don't Run?"
A: My partner Bob Bogle had a Chet Atkins album Hi Fi In Focus. And Chet had a song on it, "Walk, Don't Run," and we loved the melody. But Chet played it in a finger style, almost classical, almost jazz. And actually, it was written by a jazz guitarist Johnny Smith. Now, Johnny Smith's version we never heard. But we were really enamored by that particular song. And so, we couldn't play it like that. So, we started playing it in the clubs while we were moonlighting after our construction job. You weren't making any money playing. You got $5.00 a night and played four hours. We played Duane Eddy and a little bit of Chuck Berry. I grew up in the 1940s and loved big band stuff. I picked up trombone and played it all the way through high school.
Q: Where was "Walk, Don't Run" recorded?
A: Joe Boles' studio. And prior to us he had recorded a group the Fleetwoods, "Come Softly to Me," on his label Dolton Records. We had saved our money, and thought when we came into a recording studio we would do something different. And I did a 'Walter Brennan' voice in our show, and thought we would do a record like that and cut something like that. And we did. A standard rock 'n' roll song, make a stop, I'd say something, so the "Walter" voice. I think we pressed 500 of those and I think we still had 450 of them.
Then, we started playing "Walk, Don't Run" in these clubs we were playing in and people would come up to us and say, "What was the name of that? The song you played?" I'd say, "'Walk, Don't Run.'" And they would reply, "Would you play it again?" And we'd play it twice through the night because we knew we'd had something.
The audience reaction didn't really influence the arrangement or tempo of the song, but it evolved somehow. We did two, three or four other instrumentals, like a Duane Eddy, but also something we wrote ourselves. I would say it was about 50 per cent vocals and 50 per cent instrumentals. After "Walk, Don't Run" was requested so many times, people would come up to us and say "Why don't you record that?" "You think so?" And we did.
Not very many takes. Two-track Ampex. You'd have the bass and the drum on one track, and the lead and the rhythm on the other. So you'd have a pretty easy mix. (laughs). But, Joe Boles was very good at getting it right to begin with, even two-track. So he did a good job with 'Walk, Don't Run,' even though you have a bass and drum on one, you'd better equalize them because you're stuck with that.
Q: And since you had a balance of all the instruments on that record, it seems the lead guitar since has always been out front on the mix or featured a little more loudly sonically, not even counting the lead guitarist in concert situations.
A: That's very true. (laughs). Our recording was different. We had four pieces. And I told them, "I want to hear everyone of them." And the way it worked out is that you do hear every instrument. You hear the bass, you hear the rhythm, you hear the lead and you hear the drums.
Q: How did the record breakout in Seattle?
A: As a matter of fact, we befriended a deejay, Pat O'Day, who just came from out of town. And he was a deejay for a very small station, and these were the only people who would talk to you. You could never get to the big station. "Who are you?" As luck would have it, Pat went to the biggest station in town, KJR. If it were not for him we might not have gotten that first record played. What Pat would do was use songs as "news kickers," and take a song, and they had the news five minutes before the hour. And he would play a song, and not say who it was or who it is, and this is how they would find out if the audience, the listeners would like that song. And, when "Walk, Don't Run" was played the switchboard lit up. And Pat didn't have a piece of the record! (laughs).
So, Bob Reisdorf who had Dalton Records in Seattle heard it, he had the Fleetwoods, and he forgot that we had already brought "Walk, Don't Run" to him four months earlier, and he passed. No one wanted the record. We went around trying to sell ourselves, and with help from my mother we started the Blue Horizon Records label, and did a previous 45, "Cookies and Coke" b/w "The Real McCoy." Then later we pressed up "Walk, Don't Run."
So, Pat played it as a "news kicker" and it immediately went to number one. Three weeks. Then, Bob Reisdorf called from Dalton, who called the station, "Who is that and where are they from?" And Pat said "They are local. They live here." Bob said, "That's a natural, I want to talk to them." Didn't even remember we were in earlier playing it for him. So, he liked it before he heard it on the radio. The song wasn't an immediate hit somebody thing.
Years later, we were out touring and the songwriter, Johnny Smith wanted us to come over and had lunch. He was making a few schekels on that. (laughs). He said to me, "If you hadn't called that 'Walk, Don't Run' I might not have recognized it." That's what he told me. That melody is so unique.
Q: "Walk, Don't Run" then become a huge national and international hit?
A: We signed to Dalton, who was distributed by Liberty Records, and Bob Reisdorf was told by Liberty head Al Bennett "I don't think it's a hit." And, Bob said, "I'll guarantee it. If it loses money I'll pay it." "OK. If you want to make that deal that's fine by me." And it started climbing up the chart and went to number 2 in the nation.
Q: When drummer Mel Taylor joined the band in 1962, after your sixth album, he had already played on "Alley Oop" by the Hollywood Argyles, "Monster Mash" from Bobby Boris Pickett, and "The Lonely Bull," the huge hit instrumental by Herb Alpert & the Tijuana Brass. Mel really brought a lot to the Ventures after joining when drummer Howie Johnson had to leave the band in 1962 after injuries from a traffic accident.
A: Well, in 1962, for one thing, we needed a drummer. We listened to Mel play one night at the Palomino Club in North Hollywood. That's where we met him. But he was 'Gene Krupa School,' and played a lot of different things that most rock drummers didn't play at the time. And we wanted him to join.
We had chemistry with Mel. It worked very well. He just stepped right in and we got along great. It's important to that as far as I'm concerned you like the person you are working with. There's a lot of groups who stay together and they are not happy with each other or ride in the same car. We were always good friends, and go out for dinner.
Luckily, we were smart along the way, and picked up ways of picking up vocals putting them into instrumentals. And 'Venturising' them, if you will. That was for band survival and for selling albums, too.
Q: Where did the concept come from where you and the group started recording and covering television and movie songs that were included in albums and your repertoire? Like "Batman" and "James Bond."
A: If you play "Walk, Don't Run" all the time, it's just not gonna happen. We were looking for anything we could do, and those TV themes were mostly instrumental songs, 9 out of 10. That was a natural for us to go on instrumentally. And the songs could work without the visual. They were cinematic in nature, and minor keys we love. And that's one of the reasons we got so popular in Japan. Minor keys are very prominent in Japanese music. And, there was no language barrier.
Our agent Tats Nakashima told us, "Your music is intimate, and people want to see you play it. I could put you in a ball park right now but listen to me, I don't want to. I think you guys need to play places that hold no more than 5,000 or 6,000 people." And there were venues all over the place like that.
When we came back in 1964 to Japan we played places that held 4,000 people, and played three times a day there and they were lined up five a breast around the block. Now we've been stuck with that (laughs). One year we did 108 concerts in 78 days. We ate Kobe beef and raw fish before a lot of people. I love it.
When we hit, teenagers were ready to play guitar and we just brought it to them. We went back to Japan after the Beatles played there. At first I wasn't totally into them, it was a little bubblegum. As it went on I recognized their multiple talents, their arrangements and their vocal arrangements, and I thought George Harrison was a good guitarist. Good tone. He cited us in an interview.
I think that our early learning and our musical appreciation, even before we picked up guitars, were quite different from somebody who picks up a guitar and has only heard and only appreciates rock 'n' roll.
We go back to Frank Sinatra, Bing Crosby, Jerry Vale, so many of these people that we really respected. And we learned those kinds of songs. We learned tunes like 'Stardust' after we really started playing, and probably playing not the most perfect chords but good enough. But we were very conscious of playing something that sounded not right. There could have been better chords, no doubt about it, but they weren't bad chords. I've heard a lot of that. And we'd modulate – change keys – in our records. Modulating. We've done that a lot of times. You don't want the damn thing to get boring.
We had always felt we were a good combination of ears. What I hear, Bob doesn't hear. And what Bob might hear, I don't hear. We were basically producing our own things. Most of our producers let us have our head. Neither Nokie nor Gerry McGee plays heavy. They play very light, using their fingers and thumb picks. Bob Bogle, who is really the Ventures' sound of "Walk, Don't Run," "Perfidia," and "Blue Moon," the very first thing, plays with a heavy pick, but a great feel. But I still play the same as I would play anyway. I do what I want and I have a good feel for it. If I'm playing an acoustic guitar behind Gerry, I try and be as pretty as I can be. The reason we get along so well is because we don't step on each other's toes.
Q: Tell me about your concepts and philosophy regarding the use of vibrato and the tremolo bar also distinguished you from everyone.
A: Yes. Well, you know, there's a very simple story to that. When Bob and I started, there were not really four-piece bands. You either had a saxophone or a piano. Two guitars, a bass and a drum. You need a piano or a saxophone. We didn't know a drummer or a saxophone player. So, he and I when we started learning, I played very percussion rhythm, and he played with a vibrato, and coming to certain notes with a chord to make the sound even more full.
So the two of us together tried to make up for drum, piano or whatever else. And the whole thing was when we did get a drummer and a bass player that stuck with us. That was our style and the way we played. A lot of people come up and say "How do you get that sound?" Well, it's not a matter of getting it. That's what we do.
Q: Your Ventures In Space is very popular. It was one of Keith Moon's favorite all time discs. He told me his first group was the Beachcombers and that he learned to play along with the pedal steel on that LP. No gimmicks.
A: That's true. I'm surprised, but many followers of the Ventures, it is their favorite album. I don't know if it has anything to do with not using anything electronic. We had a steel guitar player, Red Rhodes, he was absolutely great, and he put the first fuzz tone together. He owned a couple of equipment patents and he could play anything. But, using his steel guitar, and all the things he could come up with sounds, and all the sounds that we could come up with, and we tried, we accomplished, using no electronic at all. I think that impressed a lot of players.
Q: One of the most popular albums is your Play Guitar With The Ventures. The impact of that album is monumental with a great package with an instructional booklet.
A: Thank you, the first and only since that ever hit the charts. An instruction album that hit the charts and we had five of them. At one time we had five albums in the Top 100 at one time that hit the charts like Bobby Vee Meets The Ventures, and a country thing. Someone came in with an idea for an instructional album and that it would be good for us. We didn't mind giving some secrets away. We're pompous enough to think that nobody is gonna cop our sound regardless of what we tell them. I think it helped a lot of guitar players and they still come up to me and say "I learned to play off that album."
Q: Guitarist Gerry McGee first came along in 1968, added something to the lineup. He's on the early Monkees recordings and Delaney, Bonnie & Friends. I saw him blow an audience away in LA when he subbed for Henry Vestine in Canned Heat at a New Years' Eve 1969 show at the Shrine Exposition Hall.
A: He can play anything. He shows up and plays his tail off and he's got a feel that won't quit. The tempos are faster on stage. I can remember the first time we played on stage in Japan. I can't even believe how fast those songs were. They're triple out of nerves. Trying to satisfy, not drag anything and we overdid it.
Q: One other aspect of the Ventures music is how your recordings continually are in movies and television shows like Hawaii Five-0.
A: Mel Taylor knew an engineer he worked with a lot named Ted Keep. He did the engineering for that TV show. Source music. He came to Mel and said, "They are starting this show and it's been on for a month and the writer/composer, Mort Stevens only has a thirty second version of it and he does not plan to do a regular commercial release, and I think you guys should come in and do it."
So we did. The record company hired 35 pieces, all brass, and we copied his version but with a guitar lead over the top. And his version did not have that.
We put it out in July 1968 and no one would play it. Then the show started getting better, but we still weren't getting any airplay. So we hired an independent promotion man. He was real good and a go-getter. No one was promoting it and we said this is good and used our own money. We bit the bullet for a month or six weeks. Then the show's scripts got better and then he got it played and to number one in one city. In Honolulu!
Anyway, he happened to know somebody who was a deejay who then became the program manager in Sacramento, California, and he started to play it as a favor to this guy. And it went to number one and it started spreading everywhere and it took seven months.
Q: Does it ever get tired or predictable that you are now in decades of playing "Walk, Don't Run" nightly. I know people are paying money and want to hear it. Are you trapped by your past or are you in conflict about repertoire?
A: Never. I love to play it. We all have no qualms about playing it over and over. Now, Nokie Edwards quit, more than once, owing a little to "I'm so tired of playing those songs." Bob and I, along with Mel, we know the audience loves it and want to hear it. We enjoy playing. I love to see the faces when we are playing "Walk, Don't Run."
Q: Jimi Hendrix was from Seattle. He saw the Wailers live, and Dick Dale at least a couple of times, too and heard the Ventures during 1960-1962.
A: I wore out his first album with "Hey Joe," "Foxy Lady" and "Fire."
When we first started in 1960, songs were 2:20, "Walk, Don't Run," and "Hawaii Five-O" is 1:50. In 1960-1965, if you played a song longer than 2:20 most disc jockeys wouldn't play it, for a single. Then later in 1967 and '68 Hendrix took it into a whole other world. He was amazing to watch. I did see him play live a couple of times in Seattle, probably 1967. '68… Blew my mind… Amazing. I think it was his technique, and the way he hardly ever looked at the neck of the guitar. It was like he was in another world and playing those things you shouldn't hear from a guitar. I think he was an innovator.
Q: Jimi was into science fiction. The Ventures even did psychedelic and space-titled long players.
A: In early '67, a local LA deejay, The Real Don Steele on KHJ came to us and said, "There's something coming up called psychedelic and you guys should get on that right away because it's really gonna be something." OK.
So we did the Super Psychedelic album released in June of '67. We stretched out on that album. I really like it. We were older than the other psychedelic bands, wore velours and our hair was shorter. Man, red blazers, black ties, and white bucks. Drummer Keith Moon of the Who decades ago cited Ventures in Space.
Q: Man, you must have met every guitar geek on the planet digging your action.
A: For sure, for sure. They initially chose, or still utilize a Mosrite because of us. You put a Mosrite guitar out without the Ventures name what do you got? They were impressed and it had our name.
The most interesting one lately is Al Di Meloa who told me he learned to play off our stuff and also the garage bands. Even drummers we have influenced. At NAMM show I saw Mick Fleetwood and he came over. On The Johnny Carson Show many years ago, he was asked his early influences, and the first thing that came out of his mouth was "The Ventures." And I reminded him of that. (laughs).
Q: I know some real major guitarists that play and are well-known global performers who acknowledge your influence.
A: Here's a good story. We're playing the House of Blues a few years ago. Aerosmith came to see us play, and sat at table near my family and friends. My son recognized Steven Tyler and somebody came up to them and said, "You guys are legends." And Steven Tyler pointed to us and said, "No. Those guys are legends." Now that's a compliment. Two years ago I'm in Japan, or last summer. Aerosmith is playing the Tokyo Dome. Now, I don't know Joe Perry. But he and I are waiting for a train. He looks at me and says "Are you a musician?" "Yeah." And he said, "Who are you with?" "The Ventures." "The Ventures! Can I get a picture" "Sure." And he calls his manager and says, "Get over here. This is history!"
I talked to him all the way on the train. I had no idea they had an autobiography out. So anyway, he says, "I'm gonna get you tickets to our show and to come backstage." "OK."
My wife and I went backstage with Leon our drummer. Joe then said it was an honor to stand in front of me and talk. And then he's on stage he said, "My teacher is out there." He introduced and brought me out. Everybody knows the Ventures in Japan. The place went crazy and I didn't even have to play. (laughs).
© Harvey Kubernik  2020
A Ventures playlist:
https://open.spotify.com/artist/2GaayiIs1kcyNqRXQuzp35
In 1964 Harvey Kubernik was the drummer/percussionist of a very short-lived surf instrumental group called the Riptides. In the late seventies he provided handclaps and percussion on recording sessions of the Runaways, the Surf Punks, the Ramones, the Paley Brothers and Leonard Cohen.
Kubernik is the author of 19 books. His literary music anthology Inside Cave Hollywood: The Harvey Kubernik Music InnerViews and InterViews Collection Vol. 1, was published in December 2017, by Cave Hollywood. During November 2018, Sterling/Barnes and Noble published the Harvey and Kenneth Kubernik The Story of The Band From Big Pink to the Last Waltz. The duo for the same publisher in September 2021 have written a book on Jimi Hendrix. In 2019, The National Recording Registry at the Library of Congress in Washington, DC have asked Harvey to pen an essay on the landmark The Band album, which celebrated a 50th anniversary edition in 2019. Kubernik's 1995 interview, Berry Gordy: A Conversation With Mr. Motown appears in The Pop, Rock & Soul Reader edited by David Brackett published in 2019 by Oxford University Press. Brackett is a Professor of Musicology in the Schulich School of Music at McGill University in Canada. Harvey joined a distinguished lineup which includes LeRoi Jones, Johnny Otis, Ellen Willis, Nat Hentoff, Jerry Wexler, Jim Delehant, Ralph J Gleason, Greil Marcus, and Cameron Crowe.
Harvey's 1996 interview with poet/author Allen Ginsberg was published in Conversations With Allen Ginsberg, edited by David Stephen Calonne for the University Press of Mississippi in their 2019 Literary Conversations Series. This century Kubernik wrote the liner note booklets to the CD re-releases of Carole King's Tapestry, Allen Ginsberg's Kaddish, Elvis Presley The '68 Comeback Special and The Ramones' End of the Century. During 2020 Kubernik served as a Consultant on the 2-part documentary Laurel Canyon: A Place in Time directed by Alison Ellwood which debuted this spring on the EPIX cable TV channel In late summer 2020, Otherworld Cottage Industries published Harvey's film and music study, Docs That Rock, Music That Matter.
---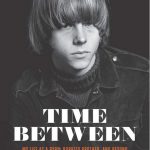 By Harvey Kubernik
CHRIS HILLMAN is arguably the primary architect of what's come to be known as country rock. On November 17, 2020 BMG Books will publish his autobiography Time Between: My Life as a Byrd, Burrito Brother, and Beyond. Dwight Yoakum penned the foreword for the 315 page volume.
2021 dates are being planned for Hillman's live show Time Between: An Evening of Stories and Songs, featuring John Jorgenson and Herb Pedersen, a night of songs and stories that dovetails with this memoir.
In 2013 I spoke with Chris at the same venue when photographer Guy Webster mounted an exhibition and comically pleaded once more that it was time for Chris to tell us his musical life story. When I last talked to Chris on the 2018 Sweetheart of the Rodeo Los Angeles tour date backstage at The Ace Hotel with Roger McGuinn and Marty Stuart and his band the Fabulous Superlatives, he assured me he was going to do his autobiography. That night guitarist Mike Campbell of Tom Petty & the Heartbreakers came up on stage and played on a few numbers with Roger, Chris and Marty's band. A couple of decades ago I remember when Mike Campbell came into the CD Trader record store in Tarzana, California and bought a rare Byrds European picture sleeve EP. More than once in my encounters and interviews with Tom Petty he praised McGuinn covering "American Girl" and was thankful he and his band the Heartbreakers had an opening slot in March 1977 when Roger headlined the Bottom Line club in New York.
Hillman was born in Los Angeles in 1944. His early years were spent in San Diego County. Chris' late fifties and early sixties television diet were the Southern California country music shows Town Hall Party, Cal's Corral and The Spade Cooley Show. In 1959 he saw the famed bluegrass band the Kentucky Colonels at The Ash Grove club on Melrose Avenue in West Hollywood. He soon took up the mandolin and became a fixture in the San Diego folk music community playing coffee houses. Hillman's first band was the Scottsville Squirrel Barkers.
In 1963 he joined the Golden State Boys, an outfit that showcased Vern Gosdin, his brother Rex and Don Parmley. They evolved into the Hillmen, and Chris later did a brief stint with the Green Grass Revival. Chris was in the annual Santa Claus Lane Parade on Hollywood Boulevard on a float with guitarist and record producer Speedy West, who was the first country steel player to employ a pedal guitar built by Paul Bigsby.
It was the Hillmen's record producer and manager, Jim Dickson who in October 1964 introduced Chris to musicians and songwriters Jim McGuinn, David Crosby, and Gene Clark, developing their sound in the Jet Set and then the Beefeaters. Mandolin player Hillman joined the group, was converted to bass and the addition of drummer Michael Clarke. They became the Byrds on their folk, rock, psychedelic, country, and pop 1965-1967 recordings and tours.
Chris was a fixture in Laurel Canyon during 1965-1968 before relocating to Topanga Canyon in '68. In April 1966 he was instrumental in securing Buffalo Springfield their first ever booking at the Whisky A Go Go. During 1966, the house Hillman was renting in Laurel Canyon burned down. The local NBC-TV affiliate broadcast the incident. It was a loss the entire community felt at the time.
Hillman went on to partner with Gram Parsons to launch the Flying Burrito Brothers, recording a handful of albums that have become touchstones of rock-influenced country.
Following his tenure with the Flying Burrito Brothers, Hillman then embarked on a prolific recording career in various configurations: as a member of Stephen Stills' Manassas; as a member of Souther-Hillman-Furay with JD Souther and Richie Furay of Buffalo Springfield; as a solo artist; and in a trio with his fellow former Byrds Roger McGuinn and Gene Clark.
In the 1980s, Hillman launched a successful mainstream country career when he formed the Desert Rose Band with Herb Pedersen and John Jorgenson, scoring eight Top 10 country hits. In the midst of his country success he was inducted into the Rock and Roll Hall of Fame as a member of the Byrds. Hillman also released a number of solo albums with the most recent, Bidin' My Time, produced by Tom Petty.
In Time Between, Hillman takes readers behind the curtain of his quintessentially Southern Californian musical journey.
I've seen Chris Hillman in a slew of bands over the last 55 years from the Byrds to Flying Burrito Brothers to Manassas to the Desert Rose Band and a handful of dates this century he did with Herb Pedersen. In 1988 I worked on the benefit for The Ash Grove held at the Wiltern Theater in Los Angeles where the original five members of the Byrds appeared.
This decade I asked a handful of friends, writers, photographers, filmmakers, musicians, deejays and Hillman's bandmate Roger McGuinn to comment on the Byrds, the Flying Burrito Brothers, followed by my own 2007, 2010 and 2014 interviews with Chris.
Chris Darrow: I first met Chris Hillman in 1963 at Disneyland when he was in the Scottsville Squirrel Barkers and I was in the Floggs.
In 1965 my [then] wife Donna and I were sitting watching TV one night and we turned on the Hullabaloo TV show. It was great program and we all waited for it because there was little rock and roll on TV. All of a sudden there was a sound that permeated the airwaves, a jangly 12-string guitar lick and a close up of a guy [then Jim McGuinn] in small dark glasses and a Beatle haircut. I said, "It's that guy that Richard Greene brought to our gig?"
As the camera panned the band, I caught a glimpse of another familiar face, Chris Hillman, but instead of his short curly hair and Levis and T-shirts, he was wearing Beatle boots, pegged pants and had a long, straight, bobbed haircut. "This is Chris's new band, I guess," I said to Donna. It was the introduction of "Mr Tambourine Man" and it was, of course, the Byrds. Now there were people who we knew who were in big bands and it looked like something we could all do.
Jim Dickson: When Bob Dylan came to the Monterey Folk Festival, 1963 or '64, I went over to a room with Victor Maymudes and some other people and Dylan had a whole bunch of new songs and he sat there and played them all. Him and the guitar. And that's what blew my mind. He had one great song after another. He was playing them live.
It was the first time I met Dylan. The songs became alive in front of me and they were all new songs that weren't on his first album. He sang about 20 songs and I was just glued to them. I never heard anybody write like that. He was just playing one song right after another. And they were amazing.
When I heard "Mr Tambourine Man" I said, "That's the best. That could be a hit song." Artie Mogull was involved in Dylan's publishing just gave me the song. And I put my head down and went after that one with the Byrds. They already had about a couple of dozen songs that Gene Clark wrote and a couple of (Jim) McGuinn, and all those songs. And I didn't hear a hit in any of it. But there was a quality we were getting. And I put "Mr Tambourine Man" in there and we recorded it. And, David got it kicked out for a while.
What happened was David campaigned against it. He talked Gene Clark out of singing it. Saying to Gene, "Your songs are better." Of course he didn't like Gene's songs. "Your songs are better than that." Gene was the lead singer for the Byrds. So when Gene said he wasn't gonna do it, based on Crosby's influence, McGuinn volunteered. And I said, "OK. Let's give it a try." And McGuinn created a voice I had never heard before. He tried to come down somewhere between Dylan and (John) Lennon vocally. And it worked. I could hear it on the Byrds' Pre-Flyte tape that I produced. He was getting the song and it was working and all I needed was the right music behind it and I would have a hit.
And when Crosby had it kicked out of the lineup at rehearsal, Dylan showed up in town and wanted to come to the World Pacific studio. So I told the band Dylan was coming and please do "Mr Tambourine Man" again for him.
Here's Dylan, at World Pacific. He came to the studio more than once. One time with Bob Neuwirth, who played a key role. McGuinn took it over. Dylan also sat there and played the piano with them, got to know them a little bit. Michael Clarke was still playing on cardboard boxes with a tambourine on top. He didn't have his drums. McGuinn had a 12-string acoustic guitar with a pick up and Dylan walked around listening to what each person was playing, all that sort of stuff. They were so right and he thought they were really charming.
Then I sent the record to Dylan, we had to get his OK. That's where Bobby Neuwirth comes in. Dylan and Neuwirth sat on the floor and they wore out the first acetate I sent 'em. And they listened to it over and over and that's when Neuwirth said, "You can dance to it." And [manager] Albert Grossman was trying to talk him out of it.
Dylan and Grossman had the finished product but Neuwirth was able to persuade Dylan, "Hey man, it's a rock 'n' roll band playing one of your songs." And going up against Albert was not comfortable for him, but he OK'd it and we were able to release it. I later got the approval for a photo I took of Dylan and the Byrds at Ciro's that was on the back cover of the first Byrds' LP.
The Byrds first heard "Mr Tambourine Man" all together on the radio station KFWB. When they were in a car, a station wagon they bought from Odetta. They had to pull over.
And David, who had been anti-Dylan all along, the next time we went to Ciro's, I see him outside on the sidewalk out front, explaining to some young girl the deep meaning of Dylan and all that stuff. Like he was the expert…
David Kessel: My dad Barney Kessel played rhythm guitar on a "Mr Tambourine Man" session at Columbia Studios on Sunset Boulevard. Chris Hillman mentioned Barney on the date in a book Turn! Turn!Turn!: The '60s Folk-Rock Revolution. Hal Blaine, Leon Russell, Joe Osborn and other cats were booked with Roger McGuinn, David Crosby and Gene Clark.
The Byrds came out during the electrification of folk music. This was cool to me, because they had a new vibration that was being felt by others. They also had nice harmonies on the vocals. It was at the beginning of the San Francisco/ LA Sunset Strip Hippie thing.
Herb Pedersen: Chris, in the Byrds was playing the bass like a rhythm guitar, using a flat pick. He comes from the mandolin, so it made perfect sense for him to play with a pick and not his fingers. Chris was more of a solid, no-nonsense kind of bass player that brought a lot of feel and good direction to what he was doing.
Andrew Solt: Discovering the Byrds in the summer of 1965 was a life changer. Dancing to the Byrds' jet-powered rock at Ciro's on Sunset Strip had me feeling like I was present at America's version of the Cavern in Liverpool. After graduating Hollywood High School in the winter of 1964, end of January '65, after the weekend, I started UCLA in February '65. And Ciro's was two blocks from where I lived. Mecca!
Rodney Bingenheimer: In 1965 I stood outside the Peppermint Stick nightclub in San Francisco, North Beach and heard the Byrds. I was underage. Later in 1965 I moved to Hollywood and was at The Big TNT Show where they played in the Moulin Rouge with Ray Charles, Joan Baez, Donovan, Bo Diddley, Roger Miller, Lovin' Spoonful, the Ronettes, Petula Clark, and the Ike & Tina Turner Revue. It was Godhead! Because of the sound system, the guitars, amps, drums and Chris's bass playing, the Byrds were really making folk music come to life.
Chris Hillman was always the quietest rock star and a nice guy. I saw him at Ben Frank's on Sunset Boulevard around the time I met Bob Dylan at The Trip which was across the street.
Dr James Cushing: The Byrds hit the scene when I was twelve, living in the East, and primed for the New Thing by the Beatles and the Stones. Over the AM radio (WABC was my go-to station, with Dan Ingram and Cousin Brucie), "Mr Tambourine Man" sounded like nothing else ever, the sound of a big party already happening right now, and the invitation to it. I graduated from elementary school that June and asked for the LP as a graduation present; I played it repeatedly, the way I would repeat every new Beatles album, and wonder about this Dylan guy pictured on the back cover with the group, the guy who had written "Mr Tambourine Man" and three of the other songs on the album — my friends at school and I were aware of him, but hadn't yet heard him. This LP is, among many other things, an ideal introduction to Dylan's writing.
Steve Kalinich: I was living at the YMCA in Hollywood in 1964. At the time I had been doing poetry readings with Esquerita. It was before I signed with the Beach Boys' Brother Records as a staff writer around 1967.
I went out with someone to an after-hours club. There was a guy with a 12-string guitar, a very good player. We started singing Beatles songs together at the party and a man came up to us and said. "You guys sound great. I have club in downtown Los Angeles called Mrs G's." I think that was the place. Over the next few days we all exchanged numbers. He offered us an evening there to just sing Beatles songs.
We had no rehearsals. Jim McGuinn picked me up one early evening in his car. As I remember it was a TR3 or TR4 convertible. I did not have a car. I was living at the YMCA then on Hudson in Hollywood for $15 a week. Harry Hall was the director. So Jim and I played this club. They were not overly receptive but seemed to like us the promoters were very encouraging and receptive.
Jim played a song of his "It Won't Be Wrong" co-written with Gene Clark, and Harvey Gerst who designed the sound at the Ash Grove. It was electric. The air sizzled. Jim was in the Beefeaters before the Byrds, who recorded it as well. This was 56 years ago.
We did the gig and he gave me his number. He was the first person to take me to the Troubadour before I met Doug Weston the owner. He played in the front room and people would bring their guitars. He was so good. There were no Byrds and I did not yet know Brian Wilson or the Beach Boys yet. Jim introduced me to many people he took me to a few other places. He was just a young guy hoping to play music. Jim was very kind and nice to me. I wonder if he would remember.
A year or so later I played Mrs G's on Open Mic Night. I was last to go on and the owner came up to me and loved the spoken word. Bob Lind, who later did "Elusive Butterfly," was there and very supportive. It was an amazing time. I was performing "Candy Face Lane" in the sixties a dark take on the war and the world. I was already into the peace movement.
From that same YMCA I met the guy Jim Critchfield who worked with Jay Ward Productions of Bullwinke fame that led to my signing with Brother Records my first break. I met Al Jardine at that YMCA when I signed with Brother Records while I was still living there.
The day I got my advance check I moved to Brentwood, California, and I eventually bought a house and condo. It was the beginning. I am forever grateful.
I did not see Jim again. He later changed his name to Roger after being involved in the Subud spiritual movement around 1966.
Roger McGuinn: I had been flirting with a name change from the Village. I got interested it in New York and sorta followed through in LA. By 1967 I was into it whole hog. Legally, I only changed my middle name. My first name is still James. If someone wrote a check to Jim McGuinn I could still cash it. (laughs). I switched my middle name. It was Joseph and I switched it to Roger and started using Roger as a first name.
There was a Subud house in downtown LA on Hope Street and the Beach Boys used to hang out there. I remember that. Then, Brian (Wilson) formed his own chapter at his house during his 'sandbox' phase.
I saw weed in the Village. Alcohol was definitely a square thing to do. Only the tourists drank alcohol. Like, you'd be at the Gaslight, and you would hear, "This tourist came in and asked for a martini." And, everyone would laugh. "Are you kidding?"
I tried my first acid in 1961 in San Francisco when it was totally legal. It was from the Sandoz labs. It was great. I loved it. I noticed all the colors that were intense and everything was kinda dreamy. We were living in a commune in the Mission District. A bunch of us were living in a house. It was a wild scene. It was fun. Crosby and I later took acid in Los Angeles and we'd walk around. I remember going to Will Wright's Ice Cream Parlour on Santa Monica Boulevard.
Ray Gerhard was the engineer at Columbia Records when the Byrds started recording. And at the time Columbia was a middle of the road record label, and they were scared of rock 'n' roll. So, Ray, to protect his precious equipment would put limiters on everything, compression, and double compress it for the Rickenbacker, and that is what gave it the wonderful sound. When I heard the sound for the first time I could not believe we had done it. It knocked me out.
At the time I was on the band track with the Wrecking Crew guys, and that was fun, and we did the vocals, and it was all different parts. But when it all came together on the playback it was bigger than the sum of its parts. I couldn't believe we had done it. It sounded so creamy, rich, big and full. Well I did engineer my vocal, but it wasn't to match the Rickenbacker but to get between John Lennon and Bob Dylan's vocal. I wanted to try and hit that niche there between the two of them.
With the Byrds we over dubbed with the Rickenbacker, like the lead break on "Eight Miles High" and "Turn! Turn! Turn!" They were not done with the band track, we just did a rhythm track and I would go in and do the leads until I got it right.
Chris Hillman is a very gifted musician. The way he transitioned from mandolin to bass was amazing in a very short. I don't know if he was completely influenced by (Paul) McCartney but he had this melodic thing, I guess more from being a lead player. He incorporated a lot of leads into his bass playing.
David Crosby an incredible singer for harmonies and he's written some wonderful songs as well. A good songwriter. I also really appreciated his rhythm guitar work. I thought he had a great command of the rhythm part of it and also finding interesting chords and progressions.
The Byrds' vocal blend? We sang together well. I give the credit to Crosby. He was brilliant at devising these harmony parts that were not strict third, fourth or fifth improvisational combination of the three. That's what makes the Byrds' harmonies. Most people think its three-part harmony, and its two-part harmony. Very seldom was there a third part on our harmonies.
Jim Dickson was definitely a large part of the formation of the group and the attitude. It was Dickson's pick to do "Mr Tambourine Man." He got a demo of it before (Bob) Dylan released it. Jim loved the song. We didn't get it. He had to bring Bob Dylan around to the World Pacific Studio for us to do the song at all. Dylan came over with Bobby Neuwirth and we played "Mr Tambourine Man" and "All I Really Want to Do" for Dylan and Bobby, and Neuwirth said, "Wow. You can dance to it." After "All I Really Want to Do," Dylan said, "What was that?" And we said, "That was one of your songs, man." "I didn't recognize it."
After "Mr Tambourine Man" we just loved Bob Dylan's writing. I had a real heart for his lyrics and really sang them from the heart.
I love "All I Really Want to Do." It's kind of a simple little love song, you know, but it's got a really sarcastic whimsical attitude. He doesn't want to be hassled. He just wants to be friends. We changed the arrangement from the 3/4 time to a 4/4 time.
We became his 'unofficial, official' band for his stuff. I remember when Sonny & Cher got the hit with "All I Really Want to Do," Dylan went, "Oh man, you let me down…" Normally, a writer would be happy to get a hit with his own songs. Who cares who did it? He was on our side.
We did "Chimes of Freedom." I loved the imagery. You can't pin it down as a peace song, or whatever, but it's got overtones of that. It's brilliant. I just identified with it and could relate to it.
I remember one time Bob took me aside, I went over to the hotel he was staying at and said, "You know, I used to think of you as just an imitator but I heard 'Lay Down Your Weary Tune' and listened to that and you're doing something that wasn't there before. That's really good."
Dylan's stuff is brilliant. I coined the term that he was the 'Shakespeare Of Our Time.' It was like knowing Shakespeare here. Dylan was carrying on Kerouac and Ginsberg. The baton had been passed. I remember Ginsberg said "I think we're in good hands."
Gene Aguilera: On February 4, 1965, by divine intervention, this 11-year old was invited to a concert by his Uncle Ernie. Turned out to be the Byrds at East Los Angeles College. I had no idea who they were. Mr Tambourine Man wouldn't be released for another six weeks. And I find out many years later, this was the Byrds first paid gig booked by no other than Lenny Bruce's mom, Sally Marr. Needless to say, the Byrds blew my mind so much that I got their autographs on the school program, which I proudly still have to this day.
They had the look of cool. Part Sunset Strip hippie along with English Invasion swagger. And the bass player? Quiet, mysterious, and talented. Chris Hillman was his name. Did the Byrds give birth to the country-rock genre here in Southern California? Very possible . . . if not, they were pretty damn close.
Just three months later, I began to hear hourly commercials on KRLA that the Rolling Stones were coming to town. I begged my dad Larry to take me to see them at the Long Beach Arena as part of an early birthday gift. Luckily, it worked out. And who was the opening act? The Byrds.
I've always loved the Byrds, through thick and thin, and all their changes. I bought them all, including every solo album. The Bible-sized tome The Byrds Timeless Flight Revisited by Johnny Rogan has a place in my book library.
I followed Chris through his stints with the Flying Burrito Brothers, Manassas, and the Desert Rose Band, where at last he assumed the position of a front-and-center man. A must watch on YouTube is their version of "Why You Been Gone So Long," and seeing Hillman decked out in his blue Nudie jacket looking so confident, animated, and even smiling.
In the late 90s, my good friend Allen Larman invited me to a Hillman live radio performance on his parents show FolkScene (KPFK-FM). Allen knew how much of a Byrds/Hillman fan I was and we all got to hang for a couple of hours. A few years ago, I even planned a California-by-car family vacation around a Chris Hillman/Herb Petersen gig at the Clark Center for the Performing Arts in Arroyo Grande. And to take things full circle, how could I miss the Byrds Sweetheart of the Rodeo 50th anniversary concert in 2018 at the Ace Hotel in downtown Los Angeles while surrounded by all my music-loving amigos?
Guy Webster: The Byrds came to me from Terry Melcher, who was producing them for Columbia Records. In December 1965 I attended the Bob Dylan press conference held in the Columbia Records Press Room that was arranged by Billy James from the label. You don't work with Bob. There's not that connection there. You just do your thing.
I went to the recording sessions for the Turn! Turn! Turn! album over on Sunset and Gower. I didn't think of them as folk singers, more like rock crossovers. I loved their artistry and sound of the guitars. They came over and I did the session on my big 4 x 5 Sinar camera. I had them sitting on the ground before this backdrop I'd made. I was getting hip to what would happen to my cover photos; you'd leave space for graphics. I didn't want my picture to be crunched so I gave them a full bleed with space for the words "Turn! Turn! Turn!" up on top. So I let the blues just sort of drag down to them. It was like they were almost on strings if you look at the photo carefully. I was thrilled with it. And it got nominated for a Grammy.
I also did some photos of them for publicity and they were dressed for an Edwardian portrait. I like to think the Beatles copied it, just look at some of their photos around the time of "Strawberry Fields."
David Crosby was brilliant but difficult. He's an Ojai kid. His father was in films. He had a chip on his shoulder. Michael Clarke was so sweet and nice. Chris Hillman – pure musician. We stayed friends. I loved Roger McGuinn's guitar work and Gene Clark's voice.
Denny Bruce: It was powerful hearing "Mr Tambourine Man" coming out of every open car window, not just on the Sunset Strip, but where ever people were letting their inner freak-flag fly. I liked seeing a guy or girl driving with a tambourine around their neck, which they would bang on when the song came on the air. In 1965 I still lived in the San Fernando Valley, without a car, but I had my Valley girls picking me up every night, wearing their homemade bell bottoms, on a Cher level. They felt safer with a dude in the car.
Henry Diltz: I knew the Byrds as fellow musicians when I was working with my own group, the MFQ. To stand there and watch McGuinn play that Rickenbacker 12-string was mesmerizing. It just put me into a place, and the harmonies, those were the songs we heard everyday driving down Sunset Strip on the radio. So, to me it was magic. I didn't see the Byrds play a lot in 1965 and 1966, except once in 1966 in downtown LA.
Roger McGuinn: In 1965 the Byrds went to England to do an initial tour of the country. There were brilliant moments on the first trip over to England in 1965. We met the Beatles and the Rolling Stones. We had met the Stones before, but we got to hang out together in England. We met a lot of people and hung out at a lot of parties. Paul McCartney gave me a ride in his Aston Martin at a night at a club, The Scotch of St James.
It was amazing. George Harrison and I went over our first guitar licks and talked about them and compared notes. Stuff like that. It was incredible. The audiences then in 1965 were basically little girls. And they were screaming and liking it. But the press ate us up because we were billed as "America's Answer to the Beatles." And it was like a football game to them. It was a competitive thing and where they couldn't let us get away with that, which is understandable. And the fact was that we were a green band. Michael Clarke was very inexperienced as a drummer.
I remember at the Blaises club Chris Hillman was so nervous that he broke a bass string, which is really hard to do. (laughs). He did! We weren't firing on all cylinders there. It wasn't musically that great. And we got some awful reviews. Then, I got the flu, and Michael wanted to quit. It was kind of a nightmare.
On the good side we hung out with the Beatles and the Stones then. In 1967 when we came back again we did a fan club event at the Chalk Farm Roundhouse that I remember. That was fun. At the end of the tour, the Byrds played a surprise gig at Blaises which Paul McCartney attended.
My favorite recording in 1967 was John Coltrane's Africa Brass. We were on the road, and I had bought a Phillips Cassette Recorder in London, and it was such a new invention at the time there were no pre-recorded cassettes on the market. But, I had a couple of blanks that I picked up. And we stopped somewhere in the mid-west, Crosby knew somebody there, so we went over to this guy's house, and he had the latest Ravi Shankar and Africa Brass. And, so, I guess this is music piracy, but I dubbed Africa Brass on one side of the cassette and Ravi Shankar on the other. And we strapped the cassette player to a Fender amp on the bus and we just kept turning the cassette over and over and listened to that thing for a month on the road. We loved that music, which influenced "Eight Miles High" later.
The break on "Eight Miles High" was a deliberate attempt to emulate Coltrane, like sort of a tribute to him, if you will. We had heard Ravi Shankar earlier. I had a physical response to that Coltrane album the first time I heard it. It felt like a white hot poker was searing through my chest. It cut deep into me and it was a little painful. But I loved it. It just opened up some areas in my heart and head that I hadn't known about.
I think what I loved about Africa Brass was the improvisation of course, but his attitude comes through, a forceful, rebellious attitude. Like rock 'n' roll. It really knocked me out.
Dr James Cushing: "Eight Miles High" from the Byrds' third album, Fifth Dimension (1966), represents one of rock music's landmarks, high points, supreme accomplishments, strongest evidence that this mass-produced musical format is capable of achieving the status of modern art: this single song offers what Wallace Stevens called "a new understanding of reality." It stands along with "Satisfaction," "Like a Rolling Stone," "Good Vibrations," "Strawberry Fields Forever," "Purple Haze," "Anarchy in the UK," and no more than two or three others. Every way that a record can be great, this is.
I have a theory that many young people were introduced to jazz improvisation in the late 60s on a 'stealth' basis — that is, the idea that, if jazz were to played on loud guitars and marketed as rock, it would fly. "Flute Thing" by the Blues Project and "Gold and Silver" by Quicksilver Messenger Service were early examples.
Of course, Bill Graham liked to sneak the Charles Lloyd Quartet onto Fillmore triple-bills, and then came Cream — but "Everybody's Been Burned," the David Crosby tune that loses outside one of Younger Than Yesterday (1967), is another primo example of stealth-jazz, a tune whose mood has nothing to do with "rock" and which serves as a vehicle for improvisation.
Kirk Silsbee: Younger Than Yesterday is a very important Byrds milestone. To my ears, it's the first full expression of the band—as writers, players and conceptualizers. True, 5D was the album where they predominantly generated the important material from within the group. On Yesterday, all of those categories are more fully realized, and we're hearing a matured band that—like a thoroughbred horse—has won some races and now knows what it can do.
Hillman gave us a song that extended the Gene Clark ethos: "Have You Seen Her Face." It's a wistful, love-struck song, and a perfect track. They Byrds' patented harmony is pitch-perfect, McGuinn's lead guitar line is stinging and memorable, and Hillman's bass line undergirds the tune in a strong, dependable, almost complex way. But that was the way he played: with a mobile, linear bottom line that never drew attention itself, but whose strength and fidelity to the song were unquestionable.
If there was ever any doubt as to Hillman's bluegrass roots, there's "Time Between," purportedly the first tune he ever wrote. The Byrds had recorded "Mr Spaceman," a Buck Owens-sounding tune. But "Time Between" was rocked-up bluegrass and, as such, it was a cornerstone of the country rock that was formulating.
Yesterday is where we get to take the full measure of Hillman. His playing on David Crosby's "Everybody's Been Burned" is one long, lyrical, melodic, contrapuntal, linear statement. It's the sturdy spine that the whole record is hung on, and if you were to remove Hillman, the whole tune would fall apart. I can't think of another rock record of the day that utilized the electric bass in such a creative way.
Roger McGuinn: Our Younger Than Yesterday LP, produced by Gary Usher, was mostly recorded in late 1966, and released in January '67. Chris played us "Have You Seen Her Face" in the studio and we cut it. We weren't into making demos back then. Demos came along in the '80s. (laughs).
"So You Want to Be a Rock 'n' Roll Star" as a single came out in January, and in March. "My Back Pages" followed. Things like that. Chris and I knocked that off, "So You Want to Be A Rock 'n' Roll Star" in very late 1966 at his house. It really wasn't about the Monkees. We were looking at a teen magazine, and noticing the big turnover in the rock business, and kinda chuckling about it, you know, a guy was on the cover that we'd never seen before and we knew he was gonna be gone next issue. A funny little song. People didn't know how to take it. We just meant it as a satire. We got along well and we wrote well. Actually, Crosby and I wrote well too for a while together when we were writing, and so did Gene and I. We had some good times writing songs.
Hugh Masekela had played on our record of "So You Want to Be a Rock 'n' Roll Star," and I had toured with Miriam Makeba. So I knew who he was. It was always wonderful to play with someone of Hugh's caliber on the session. The song was a satirical jab at how they make teen idols. That was what it was all about.
Heather Harris: I saw the Byrds along with Buffalo Springfield, the Doors, Peter Paul & Mary and Hugh Masekela at a CAFF (Community Action For Fact and Freedom) benefit concert on February 22, 1967 At the Valley Music Center in Woodland Hills, California. Jim Dickson, Alan Pariser and Ben Shapiro produced the show [Others involved in the event were B Mitchell Reed, Ed Tickner and Derek Taylor] that helped defray the legal expenses of teenagers arrested by The Los Angeles Police Department 'Riot Squad' regarding the 10:00 PM curfew incidents on under 18-years olds around the Sunset Boulevard Pandora's Box club.
Jim Dickson: It wasn't a riot at all. Of course not. They instigated some of those things. There were a lot of people who weren't Strip regulars. It became the place to be which was all right. And very few shop owners complained to me.
After the CAFF show Hugh Masekela said to Alan, "We gotta do another one." Alan got it (Monterey International Pop Festival) rolling and took it to Benny Shapiro. [Lou Adler and John Phillips subsequently became involved, bought Shapiro out, and made the event a non-profit three-day venture].
Roger McGuinn: I had a lot of history with a lot of people at Monterey. I was also on the Board of Directors and involved in it. It was a real wonderful thing that they did. Derek Taylor was our publicity guy who worked with the Beatles.
I was at front to see Ravi Shankar. And we were into him before because of his records on World Pacific, which was a very cool label. I met Dick Bock. I knew Benny Shapiro, who was a friend of Dick's, and Benny was the catalyst to getting us signed to Columbia. And, we turned the Beatles onto Ravi. I saw Jefferson Airplane. We were friends. Paul (Kantner) played Rickenbacker because of the Byrds, and the Beatles. We were Rickenbacker buddies. Crosby was friends with him, too.
This was a different thing entirely. It was almost like it wasn't about the music business. It was about the music and friendships, joy and camaraderie. It was almost a religious thing.
The sound system was a big departure from what we had. We were using little MacIntosh amps and I don't know what kind of speakers for our sound as the Byrds. So to have these massive speakers and big amplifiers was a big thing. And, having monitors for the first time.
At the Monterey International Pop Festival Hugh Masekela joined us on trumpet along with Big Black the percussionist. What a thrill.
And you can see our Monterey Pop set on You Tube with David talking about the Kennedy assassination. "Renaissance Fair" our opener that I wrote with David was the perfect song for the festival. We had just recorded it. It was another new song. We were doing new material, and not relaying on our hit records. I like "Lady Friend," one of his songs.
I didn't know David was going to sit in with Buffalo Springfield, and that wasn't really a big deal. What was happening was that we were not happy with each other, like a marriage breaking up. He was really upset because we didn't do his song "Triad." That was the big bone. He wanted to be the lead singer of the Byrds, you know, the head Byrd. That wasn't happening. To his satisfaction we were sharing vocals equally.
At Monterey I was trying to be a trouper, like Bobby Darin taught me, and try and soldier on and do it. "He Was A Friend Of Mine." I was surprised by David's Kennedy rant on stage. I mean, first of all, I wasn't sure I agreed with it. The myth-busters do a fairly extensive analysis of the whole thing and it looks like it could have been one bullet, ya know. So, I don't know. My feeling was that it was not professional and my only concern. An inappropriate moment.
Before the 1967 Monterey International Pop Festival I was driving my Porsche up La Cienega, and got around to Sunset, and Jim Dickson pulled up in his Porsche, and signaled for me to roll my window down. "Hey Jim, you ought to record Dylan's 'My Back Pages.'" I said, "OK. Thanks."
The light changed, I drove back up into Laurel Canyon, and pulled out the Dylan album that had "My Back Pages" and learned it. I then took it to the studio and showed it to the guys. And Crosby hated it because he was mostly upset because he wasn't getting his own songs on the album, and the reason why he left the band. There was a riff in the band, and he wasn't getting as many as some of us.
So anyway, I liked "My Back Pages" and don't remember any resistance from anybody else in the band, just David. And he was just mad because he wasn't getting his songs. And it was a hit and a good tune. I'm real happy with it. It was Dickson's suggestion and I hadn't thought of it as a song for the Byrds repertoire.
I liked the wisdom of the song and it's a very insightful song on the thing that happens when you think you're so knowledgeable and wise when you're real young. And then when you get a little older you realize what you didn't know.
Jim Dickson: For the most part, the Monterey International Pop Festival was a positive thing and the only thing that wasn't positive was David Crosby's speech. That embarrassed me. You can't imagine the ego involved. Never was a team player.
Ravi Shankar had performed at Monterey and earlier had played at The Renaissance a number of times. And Dick Bock at World Pacific recorded him. I took David to one of Ravi Shankar's recording sessions at the World Pacific studio and that was where he really heard that kind of music for the first time.
Right after Monterey, the Byrds fired me. I had been the one who had gotten them into "Mr Tambourine Man," "Chimes of Freedom," and all that Dylan stuff.
When I got home from Monterey, in Monday morning's mail was a letter from the Byrds firing Eddie Tickner and I. [Dickson was the Byrds' first manager with Eddie Tickner, and introduced the Byrds to their booking agent, Benny Shapiro].
But while I was in Monterey (Roger) McGuinn didn't mind having me find the words to "Chimes of Freedom" and ran all over Monterey to find them because he could not remember the words and I wanted them to sing the song and he agreed he should do it. So I went and got him the words with him knowing he had already fired me and Eddie and I hadn't got the letter.
Even though they had fired me, and they didn't understand I wasn't bitter about it. I mean, I got further with them than I thought I would.
Johnny Rogan: There were several reasons why Jim Dickson was fired. David Crosby had become entranced by Larry Spector, who was representing Dennis Hopper, Peter Fonda, Hugh Masekela and various Monkees. Crosby persuaded the others that a change of manager would be a good idea, something he later regretted.
Dickson could be overbearing and would never play the sycophant. He always told the Byrds what he thought about every aspect of their career, music or personalities – whether they wanted to hear it or not. Beyond the issue of personalities, his leaving was also symptomatic of the times.
In 1967, the Rolling Stones dismissed their great mentor Andrew Loog Oldham and there were strong rumors that the Beatles might not be renewing their contract with Brian Epstein, who died that same summer. It seemed that change was in the air everywhere and artistic autonomy was the new watchword.
David Kessel: I was a big listener of what Chris Hillman was doing on the various albums. I knew he had deep country music roots and brought some of that to the table culminating with Sweetheart of the Rodeo. His bass playing is very musical and has a big round tone. Chris helps lay foundation and cuts through.
Roger McGuinn: On our [1968] Sweetheart of the Rodeo, Chris got the demos of the two Dylan songs "Nothing Was Delivered" and "You Ain't Goin' Nowhere" in the mail that we did. Dylan as a songwriter was so much better than everyone. We had been out of touch for a few years and it was interesting to notice that at this same period he was going in the same musical direction we were in.
Before Sweetheart Of The Rodeo began I was planning, or toying with a sprawling double album concept collection of roots, bluegrass, folk, country, experimental, Appalachian, Elizabethan, and space age music.
It was a very ambitious idea, it was actually bigger than Americana, it was world music. It was going to be the origins and the history of music if you will from the beginning: Dawn of man up to the present day, incorporating Elizabethan music and how that came over to the Appalachians and got distilled and became folk music and country music and rock 'n' roll and the African blend. It was to cover everything, including jazz, and finally go off into space music and synthesizers and go off the top and just into the future.
But I couldn't get anybody to go along with me and got outvoted. I really thought that would be fun. 'Cause I was interested in all those types and all those forms of music. I thought it would be a nice thing to put in one package and have it all there. It would have been interesting, but in retrospect all the albums the Byrds made you've kind of got that: Sci-fi, early stuff, "Renaissance Fair," "CTA-102."
I really loved Sweetheart of the Rodeo. I wasn't upset about it. It wasn't a band meeting and there wasn't a vote taken it was simply that I couldn't get anyone else to go along with me on this bigger idea.
Chris Hillman met Gram Parsons in a bank and then Chris invited Gram over to our rehearsal. We were rehearsing and Gram came in, and there was a keyboard of some kind and I asked Gram if he could play any McCoy Tyner because I wanted to continue in the vein of "Eight Miles High" jazz fusion with a (John) Coltrane kind of thing. And he sat down and played a little Floyd Cramer-style piano and I thought this guy's got talent. We can work with him. That was my original thought.
Not knowing that he had another agenda, and that Chris and he were like kinda in cahoots and going to sway the whole thing into country music. But I really liked country music having come up in folk I always considered country music, especially the Hank Williams and the traditional country music that Gram was into a part of folk music, so it wasn't alien to me.
I was a fan of country music and we were dabbling in country rock before Gram came in. "Oh Susannah" and "Satisfied Mind," a Porter Wagoner song. And even "Mr Spaceman" has a country beat to it. I mean, it's a silly sci-fi song but it's got a country, Buck Owens approach kind of song. We were dabbling in that and something we did for fun, and the only difference when Gram came along is that we decided to do an entire album of it and do nothing but that. That was the difference. And I think it was because Chris had an ally. That's what he feels. He found an ally in Gram. And the two of them kind of swung it over to that at the time.
Sweetheart of the Rodeo has taken on a life of its own. It's far exceeded my expectations for it. At the time we were just having fun and we wanted to do it. In Nashville when we recorded, we had party tools…It's probably the hottest album the Byrds ever did and it's ironic to me. It made the difference by doing it in Nashville and the authenticity it would not have had if the whole thing had been done in L.A. [Drummer] Kevin Kelly was easier to work with than Michael Clarke. He was more precise in the recording. He was a nice guy. We liked him.
During Sweetheart there was collaboration and there was unity. We used to play poker every day. I mean we were buddies who would sit around, drink beer and play poker. And when we were off in LA we'd ride motorcycles together. I mean, we were having a good time. It wasn't like there was this weird animosity. There was very little of that going on. It was a friendly band, maybe too much fun. We enjoyed it.
"Lazy Days" is a cool song Gram wrote. They're all good songs and we have to give Gram credit for bringing a lot of them to the sessions. Gram brought in a batch of songs. "Hickory Wind," William Bell's "You Don't Miss Your Water," and the Louvin Brothers' "The Christian Life."
We all got along great with the musicians in Nashville and stayed at this Ramada Inn and played poker all day until the sessions at night, and had a ball. We were country boys. We got into it. I mean we had cowboy hats and boots. I loved it. A very enjoyable experience. We were just role- playing, even Gram. He wasn't that kind of kid. He was a folkie. He was a preppie.
Basically Gram got turned on to Elvis (Presley) when he was 10 years old, and that changed his life and he wanted to be a rock star, which he eventually became. And then he got into country, he got into Buck Owens and he got into Waylon and Willie. And I started harmonizing with Gram, and he and I had a good blend. I was getting into it. It was fun. He and I had a lot of fun for a long time up until he left.
Producer Gary Usher was amazing when he was doing this. He was a 'tech head' for the time and very innovative. We had done this phase-shifting he had done with two tape machines. And he took that idea, which was moving the machines closer together, after recording them spread out, and then one would phase shift, and move them and make a 16 track out of two eight-tracks. I was loving it. He was great. Gary and I were kindred spirits and very creative.
The Byrds released a single of the Goffin/King composition, "Goin' Back." Gary Usher got the tune and brought it to us in the studio and played it for us as a demo. I didn't know of Carole King, even though I had worked in the Brill Building earlier on. And, I had never heard of the Goffin/King songwriting team. But I loved the tune and thought it was really good. Gary explained that these were Tin Pan Alley writers who had just kind of taken a sabbatical and come back and revamped their style to be more contemporary, like we were doing. So it really fit well I thought. We learned it and put a kind of dreamy quality into it.
After Sweetheart, Chris left, Clarence (White) came along, finally we got (bassist) John York, Skip Battin, Gene Parsons and it was a country rock band. That was the last incarnation of the Byrds.
I think what Gram really wanted to do was get rid of me and get a steel guitar player. [Sneaky Pete Kleinow]. Yea. (laughs). Let's form the Burrito Brothers and call it the Byrds basically. I didn't want that to happen. I had put too much into the Byrds.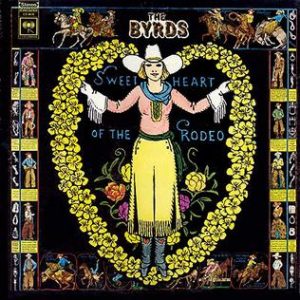 Chris Darrow: I got to know Gram Parsons a little bit. He and Bernie Leadon would come out to my house and visit. The Burritos even did a concert right across the street from my house; I designed the poster for the gig. Gram had a mentor from the east coast who was teaching in Claremont at Pomona College. His name was Jett Thomas.
I think that country rock was a West Coast phenomenon and that the bands were the originators, not the individuals. The East Coast solo artist was a different breed from the West Coast collaborative unit. Most of the situations that arose in the West Coast were band situations and whether there was strife or not, the element of the band usually prevailed. Guys like Gram Parsons were much more self-directed and solo oriented than most of the West Coast personalities that worked with him. Chris Hillman has always been a good team player. Bluegrass training!
The use of studio musicians to create certain styles sometimes goes against this credo. Bringing in a steel guitar player is what the Buffalo Springfield did on "Kind Woman." The Byrds' Sweetheart of the Rodeo wasn't played entirely by the members of the band; Earl Ball and JD Maness were brought in.
What I'm saying is that country rock did not sprout out of the head of Gram Parsons and everybody else followed. It was a process and he was a solo artist. His independent income allowed for him to be free of the constraints of playing with 'the guys' for bread. He was a talented guy but I am one who refuses to put a single name to the father of this genre.
The fomenting of this music started early in all our heads and each opportunity to express it was taken. A steel guitar is not the only criteria for country rock music. Clarence White invented a device to play the electric guitar like a steel guitar. He and Gene Parsons developed a B string bender to bend the second string in the same manner as a steel guitar. It is a hard style to play and only a handful of musicians have mastered this technique. I had a chance to play in his band at the Ash Grove a month before his untimely death.
Heather Harris: The Flying Burrito Brothers were much touted by my friends who worked at A&M Records (their label) who regaled me with stories of how their promotional efforts on their behalf backfired, like stuffing real straw hay into their publicity mailers, all of which were seized before delivery by the US Post Office who suspected far more illegal botany going on.
Since I was still too young to get into clubs, the first opportunity to photograph the Burritos was at the April 1, 1969 Palm Springs Pop Festival, open to all ages. And I was packing a better camera. However…this was the first time show I'd attended that had blocked off the entire front of the stage from the audience or photographers like me. I was as determined then as I am now to get great live shots, so I just tore down the offending chicken wire, entered the rarefied area and took a photograph of the Flying Burrito Brothers, Gram Parsons, Chris Hillman, Chris Ethridge and Sneaky Pete Kleinow, all accoutered in their infamous custom Nudie suits–Gram with cannabis leaves and pills, Sneaky with pterodactyls etc.).
I only got this one shot of the Burritos because suddenly eight thousand people rushed forward to join me in the once-blocked off area, and I was jostled terminally away from any further photography. But apparently those pushing stagewards continued in their spirit of surging and mobbing, eventually rioting throughout toney Palm Springs all the way to Taquitz Falls Park.
It was one of the first instances in utter failure of concert crowd control for festivals ending in rioting, quite some months before the Rolling Stones' Altamont downer and I, dear reader, may be responsible for its inception. I'm pretty sure the statute of limitations has run out, hence my confession…
Daniel Weizmann: It's a common thing to point out that the Byrds married Dylan to the Beatles and created the sixties—but I think it's equally important that the marriage took place in Los Angeles. For all their genius, neither Dylan nor the Beatles ever bring the kind of bright, spacious, sunlit sense of air and ocean that is part and parcel of every Byrds record. Even a simple blues like "I Know My Rider" soars like a runaway kite caught on sea breeze in their hands. Make no mistake: the Byrds are a surf group.
It's no accident that the Paisley Underground flowered here. For us LA kids who were born in the late '60s, you can't imagine the civic pride we felt stumbling on a Byrds Greatest Hits record in the library on Hillhurst, seeing those photos of them lounging among the daisies that could have been Bronson Canyon or Fern Dell or some other sun-splashed LA grove. The myth of the sixties belongs to everyone, but the Byrds were ours.
I had just turned 15 when I checked that LP out of the public library. It was the early '80s and I was becoming ever-so-slightly bored with punk. What happened next was either crazy coincidence or magnificent fate. Two nights later at a "normal" Marshall High party–ya know, Michael Jackson on the hi-fi, cute girls in pastel, vodka in the punch–some chick I'd never seen before led me to a dark corner of the house and asked me if I ever tried magical mushrooms. I had no idea what they were, but, improbable as it sounds, maybe she was hitting on me! I ate 'em.
I don't remember the party. I don't even know who gave me a ride home. But as long as I live, I will never forget being back in my room, slipping on the big Panasonic headphones, and putting the needle on Side One.
Bill Mumy: In 1968, I bought a sunburst Fender Precision Bass for $242.00 from Splevin's Music store on Pico Blvd in West Los Angeles. I still have it and have used it for over half a century now. I chose that particular model because it was the one Chris Hillman was using with the Byrds at the time.
I saw the Byrds play live at the 1968 Newport Pop Festival. The members of the Byrds for that gig were Roger McGuinn, Chris Hillman, Clarence White and Kevin Kelley. I had been a big Byrds fan since their first album was released in 1965. Marta Kristen, who played Judy Robinson on Lost in Space knew I was a folk music kinda guy and she turned me on to the Byrds and I took to them in a big way.
Chris Hillman was a bluegrass mandolin player who accepted the invitation to become the Byrds bass player before the band even had settled on a name. His approach to the bass was always fresh, fluid and melodic. Within a very short amount of time, he became a truly brilliant bass player.
Listen to his bass lines in "Eight Miles High," "Renaissance Fair," "So You Want To Be a Rock 'n' Roll Star," "Everybody's Been Burned" and "My Back Pages." They are BOSS. Chris stepped up and delivered a big batch of outstanding original songs for the Byrds when they needed him to and his lead vocals shined.
Chris Hillman has always excelled at the tasks he's accepted.
I've followed his career since the beginning. He's a wonderful singer, songwriter and musician: A rootsy, soulful artist. I liked the first Burrito Brothers album, but I didn't love it. I liked the second one with Rick Roberts more. Sonically, that first Burritos album didn't win my ears over.
When Chris teamed up with Stephen Stills to form Manassas, I got into that band as well and Chris' "Bound to Fall" is a highlight from that group. Manassas always kind of reeked of excess to my ears though. They were certainly no CSN& Y.
I was absolutely excited when the original five Byrds reunited and anxiously awaited the release of that album that turned out to be a pretty major disappointment. Gene Clark certainly delivered the goods and Chris did too. But… it was far from great.
I had lost my youthful cheerleader attitude when the Souther Hillman Furay band was put together. It obviously was a 'corporate' move and although I bought those albums as soon as they were released, they too disappointed. Once again, my hope was fired up when McGuinn, Clark and Hillman formed. Three Byrds? Should be great! Wasn't. But Chris was always steady. He sang well. He played well. The songs just weren't there and to me, there was a feeling of trying too hard.
Until… The Desert Rose Band. THAT group was a grand slam home run. Chris was finally the indisputable front man. It was HIS band. That group played and sang fantastically. Finally, original Byrd, Chris Hillman, found great commercial success without being someone else's wing man.
One of the very best gigs I ever attended was McGuinn, Hillman & David Crosby uniting to reclaim the name the Byrds back in 1989. Chris brought in his Desert Rose band mates John Jorgenson on guitar and Steve Duncan on drums. What a show! How I wish that band had stayed together. But, fate had other plans. Their attempt to get the Byrds title back was unsuccessful and that was the end of that.
On July 24th, 2018, I attended the Sweetheart of the Rodeo Anniversary gig at the Ace Theater with Chris and McGuinn backed by Marty Stuart and the Fabulous Superlatives. It was indeed a fabulous night of classic Byrds music. Marty Stuart truly honored the late great Clarence White throughout the night playing amazing riffs on Clarence's 'B-Bender' Telecaster.
I also enjoyed Chris' most recent album, Biden My Time, although because it sadly turned out to be the final project from Tom Petty, there's a cloud of sorrow attached to it.
I'm looking forward to reading Chris Hillman's book. He's never let me down.
***
Chris Hillman is a walking tradition. And, if you ask him a question he'll always tell you exactly what he's thinking. Below are excerpts from dialogues I conducted with Hillman in 2007, 2010 and 2014.
Q: Talk to me about the very late fifties and early sixties music world.
A: But there was also that period from 1959 to the Beatles in late 1963 that was a dead period. That was when folk music was just jumpin' on its hind legs there. And so who comes out of folk music? The Byrds, John Sebastian, the Lovin' Spoonful, Stephen Stills, Richie Furay, the Mamas & the Papas. Four bands that were really successful with hits on the radio came out of folk music. And, of course, we were all emulating the Beatles to some degree at first. The Byrds certainly were. And then, I mean, my God, when I joined the Byrds they were still doing Beatlesque songs that Gene [Clark] was writing.
But then we got into doing other material. But interestingly enough, out of that folk era, and I'm the guy coming out of the real traditional bluegrass, the other guys are coming out of the New Christy Minstrels. But those four bands took it and incorporated it and were successful but took it and incorporated it. And I think a lot had to do with the folk music emphasis on lyric, on a story, on that whole thing. And, the Beatles, when they became aware of Dylan and to some degree, listened to us a little bit, but they started to write deeper songs.
Before I was even in the Byrds, the first record I ever did was with the Scottsville Squirrel Barkers and we did the entire album in four hours. It was a good band. We went out to Griffith Park in Hollywood. Here we are lined up in a color photo shoot appropriate for our age. It still sells and is print from Ace Records.
When the Byrds came along we did one of our very first publicity black and white shots and we're in suits. I remember us doing that photo in the daytime and it might have been at Shelley's Manne-Hole club in Hollywood. And there was an older guy who was at that session doing photos. It was so early it might not have been an (official) Columbia publicity photo.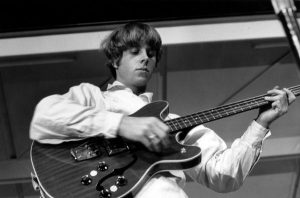 Q: The Columbia recording studio. I loved that place, knowing the history going back to radio broadcasts with Fred Allen and Jack Benny.
A: I remember that Columbia was a union room. The engineers had shirts and ties on. Mandatory breaks every three hours. [Record] producer Terry (Melcher) was a good guy. I didn't really get to know him. I was shy. Columbia was comfortable to record in there. Terry was good. I liked him. I will say this, and on the Byrds albums I was not mixed back. Sometimes it worked. And I do have to say all five of us were learning how to play. Once again, coming out of the folk thing and plugging in. And we were all learning. Roger was the most seasoned musician, and we all sort of worked off of Roger. He had impeccable great sense of time. His style and that minimalist thing of playing that was so good. He played the melody.
Our first album cover was shot by photographer Barry Feinstein, who was an old friend of Jim Dickson who was our manager.
I know the time period when the only delivery method was an album with LP cover art. The album cover meant a lot then. Jim Marshall was in San Francisco as was Guy Webster in Southern California shooting, and then (Henry) Diltz came along just a bit after and was the next generation. Guy was very good at his job. And, of course, my time with him then I was so shy. I barely said four words within an hour in the early days of the Byrds. He did a great job.
One thing I've said before, melody and lyrics, and what our manager Jim Dickson drilled into our heads, the greatest advice we ever got, and he said, 'Go for substance in the songs and go for depth. You want to make records you can listen to in forty years that you will be proud to listen to.' He was right.
Here we were initially rejecting "Mr Tambourine Man." Mind you, I was the bass player and not a pivotal member. I was the kid who played the bass and a member of the band. Initially all five of us didn't like what we heard on the Bob Dylan demo with Ramblin' Jack Elliot. We were lucky. And Bob had written it like a country song. And Dickson said, "Listen to the lyrics." And then it finally got through to us and credit to McGuinn, mainly Jim (later Roger) arranged into a danceable beat.
The Byrds do Dylan. It was a natural fit after "Mr Tambourine Man" was successful. Roger (then Jim) almost found his voice through Bob Dylan in a way. Literally a voice through Bob Dylan in a sense. And then we start doing some Dylan stuff. "Chimes of Freedom." Great song. "All I Really Want To Do."
"Bells of Rhymney" is my all-time favorite Byrds' song. What song best describes the Byrds? I would say that, because of the vocals on it and the harmony. Because of the way we approached the song and we had turned into a band. We had turned into a band with our own style. We went from doing Bob Dylan material and then we take 'Bells Of Rhymney' and it's our own signature rendition of it. It's not like Pete Seeger's at all. It's our own thing. And Michael Clarke, who was a lazy drummer but when he was on he was great. And he's playing these cymbals. A great experience. I just love that cut.
We did the Byrds' Turn! Turn! Turn! cover at Guy's studio at his parents' house in Beverly Hills. Terry Melcher at Columbia knew Guy, and they had done some work previously. That's where I first really met Guy Webster.
There we are. (David) Crosby is in his cape. McGuinn has got the glasses on, and the ever so fashionable hounds tooth sport coat. And then Gene (Clark) and Michael (Clarke) and I have our perfectly coiffed Beatle hair. It's all in blue. Guy's father was a very famous songwriter. I knew that.
That LP cover and the music on Turn! Turn! Turn! was the breakthrough. The breakthrough record was 'Mr. Tambourine Man,' but the breakthrough album was that. "Turn! Turn! Turn!" is the most recognizable Byrds' song way over "Mr Tambourine Man," with all due respect. That's the Byrds' song people always remember. It was the LP cover I autographed the most. I only just found out when I attended Guy's show at the Ventura Museum it was Grammy-nominated for album cover.
Q: You told me your favorite record in 1965 was the Rolling Stones' "Get Off My Cloud."
A: You know why I like it? Brian Jones is on it. The unknown factor of what made the Stones great was Brian Jones and nobody gives him credit. Yes, he was the pretty boy, however, as a musician, he was an unbelievably good musician. There is something about "Get Off My Cloud" where they went from doing a Bobby Womack song "It's All Over Now," straight R&B, to within six months to a year they are doing "Get Off My Cloud."
The record was recorded at RCA studios in Hollywood produced by Andrew Loog Oldham and engineered by Dave Hassinger, who engineered the Byrds when we cut a version of "Eight Miles High" there. Hassinger did "Eight Miles High" and got a little more of an edgy feel. The fact that this was the first time the Byrds had stepped away from the Columbia (Records) embryonic building. It's very hard to tell the difference of the "Eight Miles High" versions, but the one we did at RCA had a little bit more edge because we felt a little freer, and we hit a homer with it.
Then Columbia said, "We will not accept this because it was not recorded at our studio." And in those days that was the law. Recording in Hollywood then, and at our age at the time, and not being aware personally, I didn't think about the environment being an influence. A studio was good anywhere and I didn't care about the technical part if it was a comfortable place to work, and the engineer was quick and got sounds that were good. But it was in Hollywood at RCA where the Stones did their albums 1964-1966.
So when you came to record in those days, you didn't go to Santa Monica or the San Fernando Valley, you went to Hollywood. That's where the studios were. In those days it was RCA, Gold Star, and Wally Heider. All those rooms made all these great records. Remember it was all analog. No digital. And Andrew Loog Oldham cut the Stones on 4-track.
On "Get Off My Cloud" I love Charlie Watts' drumming and Bill Wyman's bass playing. That rhythm section…They understated it, less is more. They played it right for that song. Watts and Wyman wasn't exactly the Motown rhythm section but what they did made it work. Each part of the Rolling Stones was a part of the equation and all five of them made that sound. Mick's delivery on the "Get Off My Cloud" vocal. He's involved in that delivery 110 per cent. Once again, Mick is not Marvin Gaye, but Mick gets it when he does it. He puts his entire heart and soul into delivering that vocal. And that's what counts. At the time Mick did that lead vocal on it he sold it. He sold me that song and he sold me that emotion. His emotion came through as it always does. They have an amazing body of work.
I remember when the Byrds opened some shows for the Stones in 1965 and at a concert in San Diego when they were late arriving. We actually were doing a couple of their songs when they walked in the door because we had run out of material. So we were doing our 'club set,' that included a couple of their tunes. We had four or five shows with them. I watched them from the wings. They were good. They were great.
To me, I'm a kid coming out of bluegrass, where you didn't move on stage and had a glum look on your face 'cause you had to keep concentrating and playing at breakneck speed on a musical thing. Chris Darrow can attest to the 'bluegrass showmanship,' which is nothing there. And, I'm watching these guys, at least Mick and Keith (Richards), just going for it. And my mouth was open. "Wow!" I go back to Brian Jones, who was a real integral part of the band, but he didn't do much on stage either, he looked great.
Q: You really blossomed on Younger Than Yesterday.
A: I started really writing songs after Crosby and I were on a Hugh Masekela session that Hugh was doing with these South African musicians way ahead of Paul Simon and one of them was a piano player named Cecil Bernard was very inspirational And a gal, Letta Umbulu. A wonderful singer. All the musicians were South African with the exception of Big Black. I played bass on a demo session. And David was a good rhythm guitarist.
I went home and wrote "Time Between" and "Have You Seen Her Face" influenced by a blind date Crosby had set me up with along with other young ladies. There was something that connected with me and that was where I came out of my shell with that session. I came home and wrote songs that entire week after that session. And Hugh we were working with Letta Mabulu, so some of that carried over to Monterey.
Q: The Byrds and Hugh Masekela played together at Monterey.
A: Hugh Masekela at Monterey was one of the highlights, and earlier recording with him was one of the highlights of my life. At Monterey we did Dylan's "Chimes of Freedom." I didn't realize how beautiful that lyric was until years later. And Jim Dickson, and you gotta give ol' Jim credit, he instilled in us the concept of depth and substance.
He said, "Do you think you're gonna be able to listen to this 20 years later?" And, here we are yelping about "Mr Tambourine Man" when he brought it to us. "Chimes of Freedom" and the reading, the version we did on that first album was the band. We all knew it. And "Chimes Of Freedom" is a killer. It's just one of Dylan's beautiful songs. And he was just peaking then.
At Monterey we played "So You Want to Be a Rock 'n' Roll Star." It wasn't personal against the Monkees, it was against the process how contrived it was as a takeoff on A Hard Day's Night. Nothing against those guys. Michael Nesmith was a damn good musician. Good writer and good singer. And the rest of those guys could handle their chores. Davy Jones was a song and dance guy.
The idea and base line of the song came from playing with Hugh, and when I called Roger, 'I got a song.' And he put the bridge there. And the bridge was really from a Miriam Makeba song and he had history with her. Gene Clark has left, David was going nuts and Roger and I were sorta bonding together as I came out of my shell and learning how to write and sing. We got some good things out of it.
At Monterey we did a repertoire that was currently involved in what we were recording and other songs. Gene Clark had just left and had so many good songs that lent themselves to the Byrds' concept sound that when he was gone we continued to do those songs.
My theory is like the Rolling Stones, when Bill Wyman left that band they never sounded the same to me. We recovered and did a lot of great things after Gene left, but he was a very integral part of the original five people. Roger was a great collaborator. He could write songs with myself, Gene, and David. "Old John Robertson" was a silent movie film director.
I was coherent, and relations with David were so strained at that time it was getting to the cusp, the end of the deal. Here was this beautiful weekend, this diverse lineup. Otis Redding to Ravi Shankar, our set was a disaster. Crosby, you know, I mean you could almost see in the (film) footage where Roger and I were walking away from him. He was ranting about the (John) Kennedy assassination.
He was so unconnected to Roger, Michael and I musically in that particular performance because whatever he was going on, no groove, despite the ranting, inappropriate, as it is now on stage when our peers get up there and start politicalizing, or whatever they're doing, shut up and sing. Do your music. Don't do that stuff.
When I finally saw the footage a few years ago and saw our performance, and we're doing "Hey Joe" a hundred thousand miles an hour and David obviously ingested a few things in the LSD area. Crosby says it in the concert film, the sound system at Monterey. You better believe it. When we started there weren't even monitors. The guys would have a couple of house system speakers, which were minimum, and microphones.
But really, really upset me down was the performance. I mean, oh my God. That is so bad. End of story. I was up there and I was part of it. End of story. And, you know what? I don't look back in hindsight anymore but sometimes the one thing I wished I had been I was such a shy little kid back then. I wish I had been as assertive and a little more confident. I would have probably strengthened Crosby out a little more 'cause nobody did. We didn't have a captain of the ship, in all due respect to Roger McGuinn. Roger was the Byrds, and he was the Byrds, and he has every right now to go out now and do that entire catalog on stage. Because he was the Byrds.
However, and Roger's great quote was "We were a band of cutthroat pirates stabbing each other in the back." We'll the reason we were a band of cutthroat pirates was that we didn't have a captain. McGuinn was strong enough to be the captain of the ship. You don't go into a platoon in combat without an officer. That's where you get decimated. We did that. We allowed that thing to happen.
David is David. There's a good part of David. There's really a good guy inside all of that. But, David is David, and we didn't have anyone calling the shots. And after Monterey was where we let Jim Dickson go. There was this underlying tension, but it was a great festival.
At Monterey I knew of Ravi Shankar through World Pacific and Jim Dickson. I saw his set it was dead quiet. You could hear a pin drop. We were all mesmerized by sitar music.
Mike Clarke and I on the early Byrds tours, we used to take battery-operated tape recorders and loved listening to R&B and blues. One night at Ciro's Mike played drums for Major Lance when his drummer didn't show. And his hair is processed, and he turned around, "Hey drumma. Thanks man. Good job. Six bucks!"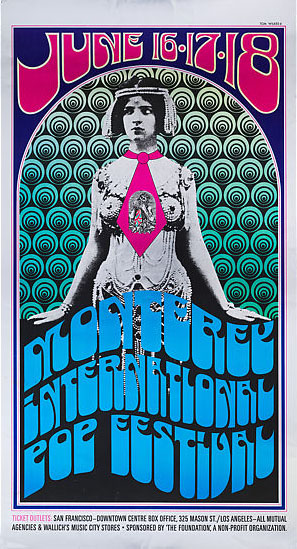 Q: Tell me about Otis Redding at Monterey.
A: I remember watching Otis at Monterey… I can't compare it to anyone, even my brief viewing of the Beatles at the Hollywood Bowl. They were so good but they had to keep stopping the show. Screams, but they were so tight. Otis Redding… It was like… I remember watching Otis Redding and I had seen Sam & Dave at the Whisky with Michael Clarke. We sat down with Otis and he bought us a drink. Sweet man. And that was just a whole other level of professionalism.
Harvey. We took everything so laissez faire out here. We weren't entertainers. You follow? We weren't supposed to be a Las Vegas act. But that would have taken the whole mystery out of the Byrds or the Buffalo Springfield, or any of those bands. But those guys were real professionals. They moved, they danced, and went into songs. One of my favorite albums of that era, James Brown Live At The Apollo. That record is so good you're almost there in the audience listening to that record. And, that's how tight the Otis Redding band was at Monterey.
Q: How about the Jimi Hendrix Experience US debut?
A: Jimi Hendrix… His playing. He was so out of left field that's what got everybody. Not the burning of the guitar. That part was minimum. Here he was getting this tone on a guitar no one has heard before. My reaction at first was that's a lot of noise. Noel Redding was really loud and the drummer (Mitch Mitchell) was playing nine million fills. But then that guitar tone comes in. And let me be honest with you: I didn't appreciate Jimi Hendrix until 15 years afterwards. And I started to hear the blues stuff later on he did after all the show… He was such a good player.
Earlier, we got to know him. Mike Clarke and I went to Ciro's and Jimi was playing guitar for Little Richard. Roger went as well. He was a sideman on the end of the stage playing left handed. The best part of the night was we had these stupid suits that Dickson bought us and we left them in the Ciro's dressing room and Little Richard's band stole them. And we went, 'Thank God,' because they were like these velvet collar Edwardian Beatles suits, but there was Hendrix.
You could not help but look at him at hear the sounds he was making on the guitar. And playing lead Star in an R&B rock 'n' roll band you not the showcase. It's the horn section carrying it. Very few guitar solos, mostly rhythm and stuff, but we said, "Who is that?" Because the guy was so good. And then a year and a half later there he was at Monterey.
There was a sense of camaraderie at Monterey. Duck Dunn at Monterey, but I didn't pay as much attention to as Entwhistle and McCartney. I saw McCartney play at the Hollywood. Bowl. I thought John was unbelievable and the Who's set was great. Hendrix blew everybody away.
I saw part of Janis Joplin's set and didn't like it because the band didn't do that much for me. But then again, in looking back at the Byrds performance, they were like the Beatles next to us that night (laughs). I didn't see Johnny Rivers at Monterey. Now that Johnny and I have become pretty good friends and reminisce. I don't remember him being at Monterey. Johnny is quite an innovative guy. I missed Canned Heat and I liked them. Larry Taylor a good bass player.
There was a guy who played guitar for the Mamas & the Papas, Eric Hoard, from San Diego. And I knew him when I was 18 learning the mandolin. And he was a good friend to me, and when I was starving, living with Gene and Mike on Melrose Ave. and the Byrds were going down to World Pacific studios and working every night from midnight to 3 or 4 in the morning, no money. And I'll never forget running into Eric. "Are you OK?" "Yeah, but I just don't have any money." He says, "Here." And he pulls out $15.00. Lot of money in 1964. I'll never forget that. "God, Eric, thanks." "Don't worry. I've been there." So, I kept in touch with him over the years and he was their guitar player.
I saw Paul Butterfield and we had worked with Paul the one time when the Byrds really came to the plate which when we did a week at The Trip and Butterfield's original band and they were so good. Smoking. Michael Bloomfield doing answer solos with Butterfield on harmonica. They were so good and the Byrds…
The one time in our whole career that we played every night at our peak. It wasn't a competition. It was two different kinds of music. We went, "Oh my God. We played good." That was when the Byrds really jelled and really got together that week at the Trip. There were other times, but I always remember that so distinctly. Butterfield. Great band. I studied that first album. I got to know him a little bit.
I remember doing a music festival with him in 1969 in Palm Springs, with the Burrito Brothers. I remember walking with Paul to the promoter's tent with Paul Butterfield, and he's got his brief case with a 38 Colt piece in it, and I said to myself, "This guy really did work on the south side of Chicago." Oh… Here we are in the peace and love bullshit and here he's got his 38 loaded to go and collect his money!' This guy is real. A real blues guy!
Q: Sweetheart of the Rodeo.
A: I have no idea why I got in the mail the two Bob Dylan "Basement Tapes" songs in my mail. I sensed something was good there and I took them to McGuinn. And I wasn't ready to sing those songs. I was not a good singer and the songs I sang on Sweetheart are mediocre at best. I wasn't a good singer yet. I admit it. And it's not going to haunt me to the grave, because I learned how to sing. I loved the first Band album.
Country rock? We had Clarence White come in and play on Younger Than Yesterday. I'm not taking credit for any of that. Rick Nelson deserves credit in the country rock thing, too. Big credit. Way beyond anybody else. But you know how this business works. Sweetheart is an OK record. Gram brought two great sings to the mix: "100 Years From Now" and "Hickory Wind." Really two of his greatest songs.
Gary Usher was an incredibly gifted producer to work with. Especially at the very end, and it was just McGuinn and I trying to finish Notorious Byrds Brothers. And Gary worked with us as another band member. Good ideas. Gary Usher brought us the Goffin and King "Goin' Back." I don't have a problem with that record. That was Gary bringing in a song that fit us like a glove. It was perfect and its Roger and I singing lead. It's a little too pretty but it's OK.
Later Guy Webster re-enters my life doing the cover of the Byrds' Notorious Byrds Brothers. We literally rode back from Topanga Canyon, and Guy found a location and subsequently placed equipment on a horse as part of the shot. And the question was, "Why did I have my shirt off?" And then, of course, for many years, "Oh the horse was David Crosby." No. It was just a great shot.
Q: The music business changed after Monterey.
A: About Monterey, Jerry Moss was there. One of the nicest people I've ever dealt with. He and Joe Smith, guys like that in the record business and I can give you a list of guys I wouldn't walk across the street to talk to, but Moss was an A-1 standup guy. And, I ended up on A&M (with the Flying Burritos), and that was due to Tom Wilkes, who was my neighbor, and the art director at A&M Records. Gram Parsons and I also went to Warner Bros. and almost had a deal with Mo Ostin, but we went with A&M instead. End of story.
After Monterey, what was a cottage industry and starting to develop into a profitable industry and then started to draw in… The ethics took a bit of a slide, not that they were always there, but what was a little cottage industry that was really run by music people, Jerry Wexler, the Chess Brothers, Ahmet Ertegun, and Mo Ostin, and the people who loved music. And Monterey all of a sudden the business started to really expand. The gates opened, the flood gates opened. And FM radio, and Tom Donahue was the FM guy and he brought that to the forefront I think. You are looking at a profitable situation and we had the golden area of the recording industry and that the artists had more artistic freedom. They were signed, and kept around for 2 or 3 albums. It wasn't platinum out of the box or you are out of the label. It was still this little tiny business that kept growing and growing.
Monterey 1967, everyone started to get a little smarter. The thing that came in that really sort of upset the apple cart, drugs. That part of it, as we entered the '70s, which was the dumbest decade ever, there was some great music in the '70s but a lot of casualties. Lots of casualties. 1968. Left turn. Cocaine is coming in, heavy drugs, profits, drug dealers, big budgets in record companies. Come on, we were making records for a pittance back then.
However, after Monterey and I always say 1968, the next year is when everything changed, politically and socially, every which way in our society. It took a big left turn, and I say this again, if we had not, as a people, if we had not inhabited such a huge land mass, America, we were on the verge of anarchy in this country.
McGuinn and I did a fundraiser for Robert Kennedy a couple of months before he died. He was running in the primary. This is when things really changed. Drugs got weird. There was profit in that. That changed because it became a big profitable business. All of those things happened. Yes, Monterey did open up the record business. I was learning as I went along. I got quite an education.
By 1972 I started to figure out publishing, and after working with Stephen Stills I started my own publishing company. The original concept of an A&R man, artist and repertoire, it wasn't the publishing game that it became in the music publishing business. It was sign the singer and find the material. And that's when the music companies started to own publishing catalogues.
It's like Nashville. I got into Nashville in 1985, '86 with Desert Rose Band, it was a publishing world. That's what made the town work. Singers were dispensable. And in rock 'n' roll, too. They really were. In the '70s, Jerry Wexler was my brother in law for a few years, and Jerry gave me an unbelievable education and would tell me these stories.
In the Byrds, I was both a participant and a consumer as well. I would buy a record and go home and play it. It was a visual. On your first listening to of the album during that initial listening to the album you are looking at the cover photo and reading the liner notes. That was the package. The whole deal. An audio and visual experience. This includes picture sleeve singles. Which has never been duplicated with downloads and all that stuff. To some degree CD's but by the time those came out it was harder to read the information. The seventies were the highlight of packaging.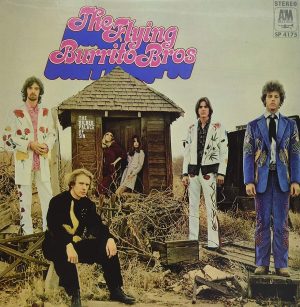 Q: The Flying Burrito Brothers.
A: The original concept in 1969 was as plain as day. Here we are. We wanted to do country stuff. And the first two years with Gram was very good, very productive and on the same page. I think if I was to look back and say, "Well, I'd only…"and I don't go there, but if I did, and it was a question presented to me, "allow him. He was far more confident. I was a musician. He wasn't a musician. He was a charismatic figure. He was an interesting man at the time. I'm not saying he was a great singer. He wasn't. He was a good singer on a couple of tracks, probably on the first album.
I knew Gram (Parsons) and I will always cherish a couple of years when we really worked together. But, it turned into Cain and Abel at that point and about the trust fund. That was the downfall of Gram. Gram was handicapped big time with the annual stipend of $55,000.00. Because, this is what I have said, and you've read it before, it was a Tennessee Williams play. There was alcoholism, money, new money, backstabbing; a tragedy in front of my eyes.
I was young but I was smart enough and well-read enough to go, "This is like some Southern gothic Faulkneresque Tennessee Williams thing unfolding here" as I started to lose him.
Gram was an interesting guy. He had that thing. And I don't know what the attraction is that other than he died in such a mysterious way. Yes, he did some good songs. He had a bunch of good songs. Two songs, "Hot Burrito #1" and "Hot Burrito #2," where "I'm Your Toy," which Elvis Costello renamed, which is a good name, those are Chris Ethridge songs. Chris Ethridge brought those in and Gram helped finish 'em. "She." Great song. Ethridge. And with all due respect to Gram, he was a good collaborator. We collaborated well. He collaborated well with Chris Etrhridge and Bob Buchanan on 'Hickory Wind." But they don't get the credit. So I stopped worrying about getting credit. I don't care.
The Burritos took two and a half, maybe three years of my life. That wasn't the only thing I did. I did other things afterwards that were valid and sometimes bordering on really getting it together. So I always say the Burritos were an interesting band. It was like I was in a Mexican circus. I mean, with Gram it was really extremely entertaining most of the time. Until he got so drugged out we had to get rid of him. It was funny. He was a great guy. Had a great sense of humor.
Listen, in 1969 I'm walking on stage at Altamont with the Burrito Brothers and Crosby is walking off after a set with CSN&Y, and we're looking at each other and going "What's going on here?" And he said, "It's not good." That was the conversation.
The 1967 Monterey International Pop Festival was fabulous. The greatest rock festival, ever. I'm sorry. Not Woodstock. Not the Isle of Wight. It was Monterey. In August 1969 I was living in the San Fernando Valley in a house with Gram Parsons. And the news came on about Woodstock. I said to Gram, "That's no Monterey!" And it wasn't. We were almost chuckling. I'm not denigrating it or putting it down. Monterey was the best.
Here's the point. I was playing Monterey in '67 and then in 1969 I play Altamont. My God, within a couple year period. But also on the other side of the coin I've always felt 1969 was the turning point when it got edgy. Meaning it got a little dark.
Isle of Weight came along, and the Burritos were on that festival (Festival Express) in Canada in 1970. But we were only on for a couple of shows after we let Gram go. Bernie (Leadon) and I. I looked at that footage when they called for clearance, and we were rockin' there.
We were sloppy, the Burritos with Gram. I just had come out of a band that recorded "Eight Miles High" that went from doing Bob Dylan songs to being able to do a song like that. To doing something that musical. And to be on a par with the Who or the Beatles. The point is we became a really tight good band. And I'm in the Burritos, and I'm looking at it not from a sterile place of it should be perfectly tight, but it wasn't. We didn't put any time into it.
And I must say, and I'm not patting myself on the back, when Gram left and Bernie (Leadon) and I took that band and we tightened it up and we made it a good band. And when Bernie left we lasted another six or eight months. It became a musical band then. Did it have the magic that Gram offered? Not really. I still was learning how to sing.
Q: Your musical collaborations and catalog from decades ago still resonate and penetrate.
A: The sixties were wonderful. What does hold up from that era were melody and lyric. In the Byrds our manager Jim Dickson drilled into our heads, the greatest advice we ever got, and he said, "Go for substance in the songs and go for depth. You want to make records you can listen to in forty years that you will be proud to listen to." He was right.
I think that's as big part of it and it was real and so honest. Of course, I'm preaching to the choir and telling you things you already know. But the record companies were run by music people who loved music. It was not a corporate monster. And they'd sign you and you'd be on the label for three or four albums, you know.
When you heard a new song on the radio the melody will catch you right away. You might hear a couple of lyrics then when you hear the lyrics if they're strong and really saying something, yes, we do have songs that are sort of very catchy songs, but didn't last long, like a fast food meal. It was good when you ate it but wasn't good later. That was it. The Beach Boys. Melody, melody, melody. Even though "Help Me, Rhonda" lyrics fit the melody. It worked. It swung. That era…
I look back at the sixties and it's amusing to me. I don't hold any grudges about people. I have no animosity toward anyone I worked with. But I look back and almost have a chuckle. People are obsessing over that period, still to this day. Yes, youthful idealism. You have to be that way when you're that age. Yes we want one great world and it's lovely. The human condition does not allow for that. OK. That doesn't mean you shouldn't have those wonderful things when you are a young person.
When I do shows, I have people who come to see me play. Either they're my age or they are young kids. Twenty to twenty five and twenty six who are enamored by the Beach Boys, Beatles, the Byrds and the Flying Burrito Brothers.
© 2020 Harvey Kubernik
HARVEY KUBERNIK is the author of 19 books, including Canyon Of Dreams: The Magic And The Music Of Laurel Canyon and Turn Up The Radio! Rock, Pop and Roll In Los Angeles 1956-1972. Sterling/Barnes and Noble in 2018 published Harvey and Kenneth Kubernik's The Story Of The Band: From Big Pink To The Last Waltz. For 2021 they are writing a multi-narrative book on Jimi Hendrix for the same publisher.
Otherworld Cottage Industries on July 30th published Harvey's 508-page book, Docs That Rock, Music That Matters, featuring Kubernik interviews with DA Pennebaker, Albert Maysles, Murray Lerner, Morgan Neville, Michael Lindsay-Hogg, Andrew Loog Oldham, John Ridley, Curtis Hanson, Dick Clark, Travis Pike, Allan Arkush, and David Leaf, among others.
Kubernik's writings are in several book anthologies, most notably The Rolling Stone Book Of The Beats and Drinking With Bukowski. He was the project coordinator of the recording set The Jack Kerouac Collection. During 2006 he spoke at the special hearings initiated by The Library of Congress that were held in Hollywood, California, discussing archiving practices and audiotape preservation.
In 2020 Harvey served as Consultant on Laurel Canyon: A Place In Time documentary directed by Alison Ellwood which debuted om May 2020 on the EPIX/MGM television channel.
He has just penned a back cover book jacket endorsement for author Michael Posner's book on Leonard Cohen that Simon & Schuster, Canada, will publish in October 2020, Leonard Cohen, Untold Stories: The Early Years).
Kubernik's 1995 interview, Berry Gordy: A Conversation With Mr. Motown appears in The Pop, Rock & Soul Reader edited by David Brackett published in 2019 by Oxford University Press. Brackett is a Professor of Musicology in the Schulich School of Music at McGill University in Canada. Harvey joined a distinguished lineup which includes LeRoi Jones, Johnny Otis, Ellen Willis, Nat Hentoff, Jerry Wexler, Jim Delehant, Ralph J Gleason, Greil Marcus, and Cameron Crowe.
Kubernik's 1996 interview with poet/author Allen Ginsberg was published in Conversations With Allen Ginsberg, edited by David Stephen Calonne for the University Press of Mississippi in their 2019 Literary Conversations Series.
---