Featured

News

By Alan Bisbort The first time I saw Bruce Hampton, he was standing on the tiny stage at a suburban Atlanta "teen scene" venue reading the contents off the side of can of spray paint.

Featured

Articles

By Doug Sheppard The musical, cultural and societal waves that Chuck Berry made by pioneering rock 'n' roll could fill a book. And of course, there are so many great songs—brilliant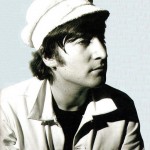 By Mike Stax
(The article below appeared in the SAN DIEGO READER in 2010 as part of a larger story marking the 30th anniversary of John Lennon's death.)
On December 8, 1980 I had been living in America for just over four weeks. I had flown to San Diego from England with a suitcase, a bass guitar and about $250 to join a band called the Crawdaddys. I was 18 years old. The Crawdaddys were one of the first fiercely retro '60s bands. We lived and breathed 1964-65: vintage clothes, vintage guitars, vintage amps, vintage songs. Musically we were fixated more on the Stones and Them than the Beatles, but the early Beatles were a big part of the daily soundtrack of our lives. John Lennon in A Hard Day's Night was the epitome of cool to us: his quick wit, that hard-faced sarcasm in the face of authority.
At the time I was living with Ron Silva, the Crawdaddys leader, and his girlfriend Mindy in a small apartment on Fifth Avenue, close to downtown. Ron and I arrived home early that evening after another day of walking around the city. We'd walked as far as 30th and Meade where Ron had dropped a jacket off at a tailor he used there. Later we figured out that's where we must have been when Lennon had actually been shot. I can't drive by that block now without thinking of John Lennon. When we got home Mindy blurted out between sobs that John Lennon had been shot. We were stunned, speechless. She and Ron disappeared into the bedroom and I was left alone, reeling in disbelief. It wasn't until a few minutes later when Ron reemerged that I learned that Lennon had not only been shot, he was dead. Mindy was inconsolable, fixated on a line Lennon sung years before: "The way things are going, they're gonna crucify me."
Later that night and over the next few days, we, like the rest of the world, watched as the rest of the story unfurled on television. None of it made any sense: the killer, the motive, the media canonization. I was gutted but felt completely detached from the public displays of grief, the constant soundtrack of "Imagine" on every TV set or radio. These people seemed to be mourning a different John Lennon than we were. Did they even know him? I remember one grieving 'fan' on TV sobbing to a reporter that she loved John so much because he'd written two of her favorite songs: "Yesterday" and "Hey Jude." You had to laugh to keep from puking.
A few months later Reagan was shot, not by a political revolutionary but by another delusional loner with an unhealthy celebrity fixation.
So this was America, I thought, a land where any disaffected loser can simply grab a weapon, select his target and blast himself a small perch in history. I seemed to have arrived in a very strange place, a long way from home. Maybe John had a similar revelation as he lay dying on the cold pavement in front of the Dakota. Maybe we all did.
Mike Stax, writer, Ugly Things magazine publisher, lead singer of The Loons.
---
By Mike Stax
Inhabiting a region of the sonic solar system somewhere between the Creation and the Small Faces, the Attack languished in comparative obscurity back in their day, only to be recognized decades later as one of the most exciting bands of the era.
That none of the band's four singles for Decca cracked the charts was more down to bad luck and record company incompetence than any shortcomings on the band's part. Their first effort, in January 1967, was a sharp version of the Ohio Express/Standells nugget "Try It," backed with the great, Hammond-drenched mover "We Don't Know." Composed by singer Richard Shirman and lead guitarist Davy O'List, the song was nominally based on an obscure soul single, Mona Lisa's "They Don't Know," with new, sarcastic social comment lyrics, including the opening salvo: "We don't know about the H-Bomb / We don't know about drugs / We don't know what is going on / They say that we are thugs."
While "Try It" failed to click with the record buying public, the band felt they were onto a sure thing with their next release, "Hi Ho Silver Lining," but they were beaten to the bunch by Jeff Beck who romped into the charts with his Mickie Most-produced version after the Attack's record was delayed at the pressing plant. The B-side was a cracker too. Based on a blistering guitar hook by O'List, "Any More Than I Do" was the Attack at their most incendiary, and still thrills every time. Totally disillusioned by the failure of "Hi Ho Silver Lining," this lineup folded shortly afterwards, with O'List going on to the Nice.
---
By Mike Stax
The Pretty Things may not have been the most commercially successful band of the '60s, but at street level, around the world, they had more influence and credibility than many of their more popular contemporaries. One band who formed in homage to the Pretties is Valiant Little Tailor, a short-lived outfit from Wuppertal, in the North Rhine-Westphalia region of Germany, a band so obscure they don't even rate a mention in Hans-Jurgen Klitch's definitive German Beat book, Shakin' All Over.
---