Featured

News

By Jay Dobis     Erkin Koray, aka Erkin Baba, the father of Turkish Rock 'n Roll (he put together the first Turkish rock band (Erkin Koray ve Ritmcileri) in 1957 when he was a high school student

Featured

Articles

By Harvey Kubernik   On August 3, 1966, stand-up comedian, social critic, satirist, and philosopher Lenny Bruce was found dead at age 40 inside his Hollywood Hills home from an acute overdose of mor
As the year drew to its close, we asked our writers to submit a list of their personal favorite reissues and such for 2014. Against all odds, some of them managed to fight through the fog and fug of the holidays and complete the assignment. Here's what they came up with…
Mike Stax (Editor)
Favorite single artist reissues:
The Bonniwell Music Machine – S/T (Big Beat) 2-CD
The definitive collection of the second-phase Music Machine. The Bonniwell Music Machine album expanded to include all of the contemporaneous non-LP singles, along with a trove of demos, outtakes and alternate mixes. Expertly compiled and annotated by Alec Palao, who also was responsible for…
The Seeds – Singles A's & B's 1965-1970 (Big Beat/GNP-Crescendo) CD
Big Beat's comprehensive reissue series of the Seeds' catalog concludes with this great collection of all of the band's singles, from 1965's plaintive "Can't See to Make You Mine" to 1970's gut-wrenching "Did He Die." Alec Palao's detailed liner notes spanning this entire series also serve as the ultimate Seeds biography, shining light on every facet of their story, including special attention to all of their recording sessions.
We the People/American Zoo – Visions of Time (Guerssen, Spain) LP/CD/DL
Not to be confused with the well-known Florida band, this edition of We the People were based in LA and released a handful of singles under that name and as American Zoo. We the People/American Zoo resided in that shadow-shrouded corner of the '60s garage band universe where brooding teenagers spent long, solitary hours listening to Byrds and Bob Dylan records and were duly moved to write somber, soul-searching minor key songs with titles like "Feelings of My Emptiness," "Back Street Thoughts" and "Who Am I?" It's an intoxicating recipe when it's done right, and American Zoo did it right. A class package from the Guerssen label including informative liners by Gray Newell.
---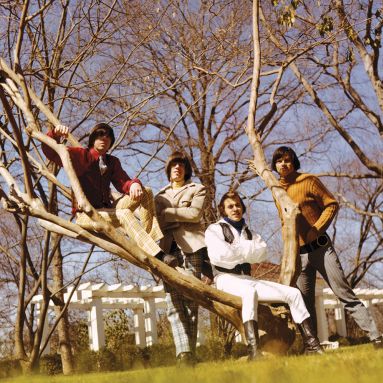 By Doug Sheppard
To capitalize on their hit single and to keep up with their contemporaries, the Seeds entered the sessions for their third album with aspirations of a more sophisticated sound. It was a great plan, but two things stood in the way: their own limitations and the overconfidence of leader/vocalist Sky Saxon.
Saxon's inflated sense of self-importance only complicated the band's limits, but 1967's resulting Future album came off more as a mixed bag than an embarrassment. Between an overdubbed tuba on "Two Fingers Pointing on You" and "March of the Flower Children" (with Sky's inane spoken-word intro) and weak material like "Painted Doll" (crappy ballad) and "Where Is the Entrance Way to Play" (forced profundity), Future has its share of awkward moments. The overdubbed harp may be added to that list, but not on "Flower Lady and Her Assistant" — a darker textured number where the objective doesn't seem as unrealistic — and the obligatory long track "Fallin' ," where an "Evil Hoodoo" vibe portends a bad trip. The resurrected B-side "Out of the Question" and "Pushin' Too Hard" soundalike "A Thousand Shadows" are the best of the lot — probably because they're the only two that recall the Seeds' original sound.
Ironically, three of the best tracks from the session — "Chocolate River," "Sad and Alone" and "The Wind Blows Your Hair" — were left off the album, but appear (plus alternate versions) here. "Rides Too Long" — the original version of "A Thousand Shadows" under a different title — is another highlight of this expanded edition, as are early versions of "Gypsy Plays His Drums" and "Satisfy You," not to mention less adorned versions (the mono "Travel With Your Mind" is the best mix) of a few album tracks. On paper, the full-length version of "900 Million People Daily All Making Love" has the potential to be another — but 10 minutes of it is a tad too much, and some of these songs (see previous paragraph) will never sound good, no matter what the mix.
---
By Bill Wasserzieher
The problem with many documentaries about solo artists and/or bands is that they "print the legend," to lift that old line from John Ford's The Man Who Shot Liberty Valance. That is, filmmakers, being storytellers, flesh out the accepted version of their subject's career—and that's good for what it is, overviews being useful for the uninitiated—but rarely do they dive deep for what is at the core of the actual art.
To put it another way, is there even one among the scores of Dylan documentaries that digs into his songwriting process? I'd love for the hire-by-the-hour "talking heads" who pop up in them to focus on the creative vision that, for example, produced "Just Like Tom Thumb's Blues." Think about those opening lines:
 When you're lost in the rain in Juarez and it's Easter-time too,
And your gravity fails and negativity don't pull you through,
Don't put on any airs when you're down on Rue Morgue Avenue,
They got some hungry women and they'll really make a mess out of you.
 These are maybe the bleakest lines since T.S. Eliot was ruminating on "The Hollow Men" and "The Wasteland." But, no, we always hear about young Bob scuffling in the Village, courting Joan Baez, going electric, retreating to Woodstock, finding/losing/finding religion, ad infinitum. Instead, tell me about those carbolic lines and how his etched-with-acid voice shoves them to the gut.
This problem comes to mind with the new and very competently made documentary Big Star: Nothing Can Hurt Me (Magnolia Pictures). The filmmakers present nearly a two-hour overview of a band whose members were young white guys from Memphis—one a former teenage hit-maker with the Box Tops—who cut an indisputably great album, #1 Record, that went unnoticed; followed by another, Radio City, nearly as good and equally ignored; and then a third, Sister Lovers, which was never actually finished, as the players drifted off to different and mostly sad, bad fates.
The filmmakers get the Big Star story from the band drummer Jody Stephens and bassist Andy Hummel, from friends and relatives of deceased members Chris Bell and Alex Chilton, their Ardent recording studio associates (Ardent headman John Fry is the film's executive producer), an array of rock critics (including a funky old Lester Bangs clip), plus numerous praise-wielding musicians, among them Jim Dickinson, Chris Stamey, Mike Mills, Robyn Hitchcock and Ken Stringfellow.
No denying it's a well-crafted overview, but what's missing is serious analysis of the songs and the musicianship on No. 1 Record. What are those songs about? What do say about life as Chris Bell and Alex Chilton were experiencing it, their individual and sometimes at war psyches (Bell bipolar and troubled by sexual identity issues, Chilton bitter, caustic, frequently loaded), and how did their minds and voices work together and separately? These are things crucial to the Big Star story. Otherwise the band was just one of millions that arguably could have been the new Beatles but were not, though at least this one became famous after the fact and served as a fountainhead for power-pop bands that came later.
Plus the documentary, while keeping with the legend, plays it cautious. Nowhere is the Alex Chilton I met a few times, first in New York City during the late 1970s when he had a loose ensemble called the Cossacks. One night I asked him about the Big Star records, and he responded,  "Fuck that old shit." Nearly 25 years later, after he and Jody Stephens reformed Big Star with members of The Posies, I cornered him after a solo show at McCabe's in Santa Monica, where he had intentionally bummed out a capacity crowd hoping to hear a few Big Star and/or Box Tops tunes by playing instead "Volare" ("Nel blu dip into di blu") and other songs better suited to a Dean Martin tribute. I asked him why, and he said, "I hate my fans." Sometimes an artist is his own worst enemy, but Big Star: Nothing Can Hurt Me doesn't say so.
And that brings to mind those purveyors of commercial/corporate rock, the Eagles. At least the documentary History of the Eagles manages to do more than provide the standard career recap. Glenn Frey, the film's executive producer and primary talking head, spends three hours trashing everyone who has ever rubbed him wrong—producer Glyn Johns who got the Eagles their first hits, former bandmates Bernie Leadon and Randy Meisner (whose previous stints in Dillard & Clark, the Flying Burrito Bros. and Poco gave the Eagles early credibility), original manager and label boss David Geffen, even Timothy B. Schmit and Joe Walsh who are still contracted sidemen in the band, and especially Don Felder who is reduced to tears when interviewed on how he came to be kicked out.
According to Frey, only he and Don Henley really matter in the grand scheme of things—and that's why he's proud to say they get bigger bucks than the others, money apparently his ultimate gauge for success. At no time does Frey ever seem to see beyond his own ego, coming off as vengeful, arrogant and self-absorbed. It's fascinating and twisted, as creepy as watching footage of performance artist Chris Burden nail himself to the hood of a VW Beatle. But at least it's more than just another example of "print the legend," and we do learn something about his band's songcraft, including that Frey dreamed up the title "Life in the Fast Lane" while roaring through Hollywood at 90 mph in a Corvette driven by his dope dealer on their way to a poker game.
In issue #36 of Ugly Things, Alan Bisbort has a review of a DVD titled A Band Called Death. Comprised of three African-American brothers from Detroit who played rock rather than Motown, the band was good enough for Clive Davis, then the head of Columbia Records, to offer to sign them if they would change their name to something less of a sales-killer than Death. But they wouldn't, so he didn't. Now that's a legend new for the telling. Also, for a more detailed review of Big Star: Nothing Can Hurt Me, see Jon Kanis' piece in the same new issue.
---