Featured

News

By Harvey Kubernik   April 2023 marks the 50th anniversary of the release of David Bowie's Aladdin Sane, which was released only ten months after his breakthrough album The Rise and Fall of Ziggy

Featured

Articles

By Harvey Kubernik   During 1969, Jimmy Cliff's "Wonderful World, Beautiful People," "The Israelites" from Desmond Dekker & the Aces, and a hit single from Johnny Nash, "Hold Me Ti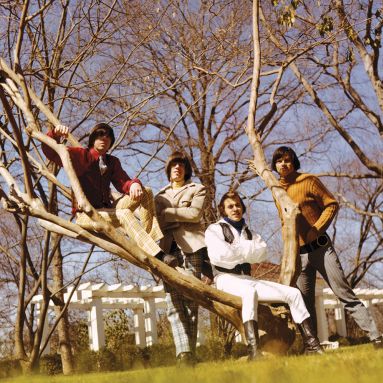 By Doug Sheppard
To capitalize on their hit single and to keep up with their contemporaries, the Seeds entered the sessions for their third album with aspirations of a more sophisticated sound. It was a great plan, but two things stood in the way: their own limitations and the overconfidence of leader/vocalist Sky Saxon.
Saxon's inflated sense of self-importance only complicated the band's limits, but 1967's resulting Future album came off more as a mixed bag than an embarrassment. Between an overdubbed tuba on "Two Fingers Pointing on You" and "March of the Flower Children" (with Sky's inane spoken-word intro) and weak material like "Painted Doll" (crappy ballad) and "Where Is the Entrance Way to Play" (forced profundity), Future has its share of awkward moments. The overdubbed harp may be added to that list, but not on "Flower Lady and Her Assistant" — a darker textured number where the objective doesn't seem as unrealistic — and the obligatory long track "Fallin' ," where an "Evil Hoodoo" vibe portends a bad trip. The resurrected B-side "Out of the Question" and "Pushin' Too Hard" soundalike "A Thousand Shadows" are the best of the lot — probably because they're the only two that recall the Seeds' original sound.
Ironically, three of the best tracks from the session — "Chocolate River," "Sad and Alone" and "The Wind Blows Your Hair" — were left off the album, but appear (plus alternate versions) here. "Rides Too Long" — the original version of "A Thousand Shadows" under a different title — is another highlight of this expanded edition, as are early versions of "Gypsy Plays His Drums" and "Satisfy You," not to mention less adorned versions (the mono "Travel With Your Mind" is the best mix) of a few album tracks. On paper, the full-length version of "900 Million People Daily All Making Love" has the potential to be another — but 10 minutes of it is a tad too much, and some of these songs (see previous paragraph) will never sound good, no matter what the mix.
---
By Bill Wasserzieher
The problem with many documentaries about solo artists and/or bands is that they "print the legend," to lift that old line from John Ford's The Man Who Shot Liberty Valance. That is, filmmakers, being storytellers, flesh out the accepted version of their subject's career—and that's good for what it is, overviews being useful for the uninitiated—but rarely do they dive deep for what is at the core of the actual art.
To put it another way, is there even one among the scores of Dylan documentaries that digs into his songwriting process? I'd love for the hire-by-the-hour "talking heads" who pop up in them to focus on the creative vision that, for example, produced "Just Like Tom Thumb's Blues." Think about those opening lines:
 When you're lost in the rain in Juarez and it's Easter-time too,
And your gravity fails and negativity don't pull you through,
Don't put on any airs when you're down on Rue Morgue Avenue,
They got some hungry women and they'll really make a mess out of you.
 These are maybe the bleakest lines since T.S. Eliot was ruminating on "The Hollow Men" and "The Wasteland." But, no, we always hear about young Bob scuffling in the Village, courting Joan Baez, going electric, retreating to Woodstock, finding/losing/finding religion, ad infinitum. Instead, tell me about those carbolic lines and how his etched-with-acid voice shoves them to the gut.
This problem comes to mind with the new and very competently made documentary Big Star: Nothing Can Hurt Me (Magnolia Pictures). The filmmakers present nearly a two-hour overview of a band whose members were young white guys from Memphis—one a former teenage hit-maker with the Box Tops—who cut an indisputably great album, #1 Record, that went unnoticed; followed by another, Radio City, nearly as good and equally ignored; and then a third, Sister Lovers, which was never actually finished, as the players drifted off to different and mostly sad, bad fates.
The filmmakers get the Big Star story from the band drummer Jody Stephens and bassist Andy Hummel, from friends and relatives of deceased members Chris Bell and Alex Chilton, their Ardent recording studio associates (Ardent headman John Fry is the film's executive producer), an array of rock critics (including a funky old Lester Bangs clip), plus numerous praise-wielding musicians, among them Jim Dickinson, Chris Stamey, Mike Mills, Robyn Hitchcock and Ken Stringfellow.
No denying it's a well-crafted overview, but what's missing is serious analysis of the songs and the musicianship on No. 1 Record. What are those songs about? What do say about life as Chris Bell and Alex Chilton were experiencing it, their individual and sometimes at war psyches (Bell bipolar and troubled by sexual identity issues, Chilton bitter, caustic, frequently loaded), and how did their minds and voices work together and separately? These are things crucial to the Big Star story. Otherwise the band was just one of millions that arguably could have been the new Beatles but were not, though at least this one became famous after the fact and served as a fountainhead for power-pop bands that came later.
Plus the documentary, while keeping with the legend, plays it cautious. Nowhere is the Alex Chilton I met a few times, first in New York City during the late 1970s when he had a loose ensemble called the Cossacks. One night I asked him about the Big Star records, and he responded,  "Fuck that old shit." Nearly 25 years later, after he and Jody Stephens reformed Big Star with members of The Posies, I cornered him after a solo show at McCabe's in Santa Monica, where he had intentionally bummed out a capacity crowd hoping to hear a few Big Star and/or Box Tops tunes by playing instead "Volare" ("Nel blu dip into di blu") and other songs better suited to a Dean Martin tribute. I asked him why, and he said, "I hate my fans." Sometimes an artist is his own worst enemy, but Big Star: Nothing Can Hurt Me doesn't say so.
And that brings to mind those purveyors of commercial/corporate rock, the Eagles. At least the documentary History of the Eagles manages to do more than provide the standard career recap. Glenn Frey, the film's executive producer and primary talking head, spends three hours trashing everyone who has ever rubbed him wrong—producer Glyn Johns who got the Eagles their first hits, former bandmates Bernie Leadon and Randy Meisner (whose previous stints in Dillard & Clark, the Flying Burrito Bros. and Poco gave the Eagles early credibility), original manager and label boss David Geffen, even Timothy B. Schmit and Joe Walsh who are still contracted sidemen in the band, and especially Don Felder who is reduced to tears when interviewed on how he came to be kicked out.
According to Frey, only he and Don Henley really matter in the grand scheme of things—and that's why he's proud to say they get bigger bucks than the others, money apparently his ultimate gauge for success. At no time does Frey ever seem to see beyond his own ego, coming off as vengeful, arrogant and self-absorbed. It's fascinating and twisted, as creepy as watching footage of performance artist Chris Burden nail himself to the hood of a VW Beatle. But at least it's more than just another example of "print the legend," and we do learn something about his band's songcraft, including that Frey dreamed up the title "Life in the Fast Lane" while roaring through Hollywood at 90 mph in a Corvette driven by his dope dealer on their way to a poker game.
In issue #36 of Ugly Things, Alan Bisbort has a review of a DVD titled A Band Called Death. Comprised of three African-American brothers from Detroit who played rock rather than Motown, the band was good enough for Clive Davis, then the head of Columbia Records, to offer to sign them if they would change their name to something less of a sales-killer than Death. But they wouldn't, so he didn't. Now that's a legend new for the telling. Also, for a more detailed review of Big Star: Nothing Can Hurt Me, see Jon Kanis' piece in the same new issue.
---
Due in great part to the compilation release of Those Shocking, Shaking Days (Now Again, 2010), the exposure and subsequent interest in unknown and/or long forgotten Indonesian psych/hard rock groups of the late 1960s to early-mid 1970s has been growing in recent years. A virtual treasure-trove of lost tracks and obscure bands, one can only wonder why these Indo treasures weren't excavated sooner. One of the stand-out tracks on …Shaking Days is undoubtedly Shark Move's "Evil War", an incredibly eerie, psychedelia drenched gem that just oozes monster tones and thumping bass. Lest we forget, during the early 1970s, Southeast Asia was very much in turmoil and littered with devastating violence. "Evil War", a song written in the very backyard of that seemingly never ending conflict, speaks volumes about the people who endured so much, yet who persevered in spirit, as evidenced in their their music. And so, in 1973, against the backdrop of war, Shark Move laid down their one and only album, Ghede Chokra's.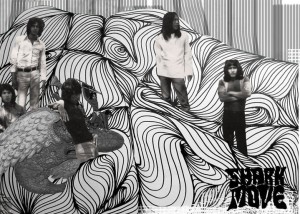 One of the members of Shark Move, a cat by the name of Benny Soebardja, would go on to work with another well-known Indonesian band of the period, Giant Step. It was with Giant Step that Benny almost caught his "big break", when they came painfully close to signing with Virgin Records (UK). However, as with most Indo acts of the time, this was not to be; the world just didn't seem ready. Eventually, Giant Step ran its course in relative ambiguity, being contained, and ultimately lost, within the confines of mid-70s Indonesia. Refusing to lay down his pen, however, as well as his guitar, Benny would go on to crank out some of the most phenomenal solo music the Indonesian music market has ever been hit with. Much like his earlier work with Shark Move and Giant Step, Benny's seminal solo recordings of the 1970s were released without label support, making them essentially private pressings. Between 1975 and 1980, Benny recorded five albums, all of which have never seen any official vinyl issuing…until now. Thanks to the salvage divers over at Strawberry Rain, Benny's first three solo albums, Benny Soebardja & Lizard(1975), Gimmie a Piece of Gut Rock (1977), and Night Train (1978), have been released on vinyl for the first time ever.
BENNY SOEBARDJA – Benny Soebardja & Lizard (1975/2012) [Ltd. Ed. 250] (Strawberry Rain) LP
Where to begin? Well, for starters, this was Benny's first "official" solo release. And, with no label backing this sucker, the creative freedom was flowing — and man, can you hear it. Hell, you can feelit! Backed by Lizard (a group made up of essentially mystery musicians, although I personally suspect some Sharkmovers are present), what you hear on this album is beyond amazing. Standout tracks include "18 Years Old" and "Cynthia"; "Cynthia" will leave you wondering if you've ever really heard a love song before. Upon its original release (if you can even call it a release), Benny Soebardja & Lizard appeared on cassette only, in sudo-bootleg form, and was ultimately absorbed by the sands of time. Enter Strawberry Rain records! This reissue has everything going for it. One, it's a limited edition pressing of 250 copies (however, the Indonesian market had reserved 50% of those pressings, leaving only 125 copies available worldwide). Two, the sleeve on this LP sports the original banned artwork. And three, the album (as well as the other two re-releases) is housed in a vintage tip-on style jacket! How cool is that?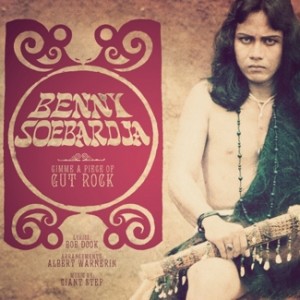 BENNY SOEBARDJA – Gimmie a Piece of Gut Rock (1977/2012) [Ltd. Ed. 500] (Strawberry Rain) LP
Ah, Gimmie a Piece of Gut Rock. Just the title alone is far out! Recorded in just 30 days — rumor has it that Benny was given unlimited studio time — the sound you get off Gimmie… is layered, at times complex, and not necessarily what one would expect coming off of Benny Soebardja & Lizard…but it works! It works so well in fact, that some collectors argue this to be his finest hour. While I personally don't adhere to that opinion, it is nonetheless an epic ride and one definitely worth buying a ticket for. Hey, speaking of Lizard, guess who backed-up the noise on this effort? You got it! But what most people don't know is that Benny also had help from some even older pals on this one, with Giant Step filling the gaps.
BENNY SOEBARDJA – Night Train (1978/2012) [Ltd. Ed. 500] (Strawberry Rain) LP
Recorded in 1978, Night Train may very well be the rarest thing that Benny Soebardja ever laid down. Cassette copies of this creature fetch an upwards of three figures on the Indonesian market! The first track, "Wise World", is a testament in itself; it's also a track that paves the way for the rest of the album, preparing you for some amazing fuzz as well as other trippy musical dealings. Laced in classic Benny Soebardja psychedelic style, Night Train stands out as one of his most crowning achievements. Thanks to Strawberry Rain, this "Benny at his best" title has finally seen a proper vinyl pressing, although it is limited to 500 copies and is getting harder and harder to track down nowadays.  (Bryan O'Keefe)
---