Featured

News

By Jay Dobis     Erkin Koray, aka Erkin Baba, the father of Turkish Rock 'n Roll (he put together the first Turkish rock band (Erkin Koray ve Ritmcileri) in 1957 when he was a high school student

Featured

Articles

By Harvey Kubernik   To celebrate the 50th anniversary of The Roxy and its enduring relevance, the Grammy Museum announced a new exhibit, The Roxy: 50 Years On The Sunset Strip, which explores the
Sky's Limits: The Seeds Stumble Into Psychedelia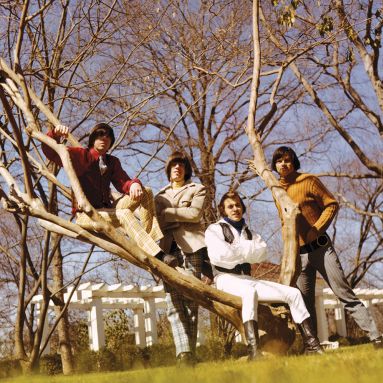 By Doug Sheppard
To capitalize on their hit single and to keep up with their contemporaries, the Seeds entered the sessions for their third album with aspirations of a more sophisticated sound. It was a great plan, but two things stood in the way: their own limitations and the overconfidence of leader/vocalist Sky Saxon.
Saxon's inflated sense of self-importance only complicated the band's limits, but 1967's resulting Future album came off more as a mixed bag than an embarrassment. Between an overdubbed tuba on "Two Fingers Pointing on You" and "March of the Flower Children" (with Sky's inane spoken-word intro) and weak material like "Painted Doll" (crappy ballad) and "Where Is the Entrance Way to Play" (forced profundity), Future has its share of awkward moments. The overdubbed harp may be added to that list, but not on "Flower Lady and Her Assistant" — a darker textured number where the objective doesn't seem as unrealistic — and the obligatory long track "Fallin' ," where an "Evil Hoodoo" vibe portends a bad trip. The resurrected B-side "Out of the Question" and "Pushin' Too Hard" soundalike "A Thousand Shadows" are the best of the lot — probably because they're the only two that recall the Seeds' original sound.
Ironically, three of the best tracks from the session — "Chocolate River," "Sad and Alone" and "The Wind Blows Your Hair" — were left off the album, but appear (plus alternate versions) here. "Rides Too Long" — the original version of "A Thousand Shadows" under a different title — is another highlight of this expanded edition, as are early versions of "Gypsy Plays His Drums" and "Satisfy You," not to mention less adorned versions (the mono "Travel With Your Mind" is the best mix) of a few album tracks. On paper, the full-length version of "900 Million People Daily All Making Love" has the potential to be another — but 10 minutes of it is a tad too much, and some of these songs (see previous paragraph) will never sound good, no matter what the mix.
To its credit, this reissue doesn't present Future as an overlooked classic — as Alec Palao even acknowledges in the liners: "If you're not already a Seeds fan, Future is unlikely to convince you." The main appeal of this 2CD set is more the historical angle: Even if you don't like the album much, it's impossible not to like this beautiful package with extensive sessionography and many cool previously unseen color photos.
Unlike Future, which had at least some redeeming qualities in its original form, Raw & Alive had few. Material notwithstanding, the overdubbed crowd noise (with indiscriminate screams) sounds like a loud air conditioner drowning out the music — and worse, ruining a good performance. Whether you agree or disagree with that sentiment, this remaster presents both the original mix and (to these ears) a far superior undubbed mix.
While the album wasn't "live" in the sense of being recorded at an actual gig, it was cut live in the studio — so think of it as a lost Seeds BBC session if nothing else. In addition to the new versions of Seeds classics like "Mr. Farmer," "Pushin' Too Hard" and a frenetic "Up In Her Room" that beats the Web of Sound original, there are five songs that made their first appearance on this album: "Satisfy You," "Night Time Girl," "Gypsy Plays His Drums," "Mumble and Bumble" and "Forest Outside Your Door," which hark back to the Seeds of the first two albums, not the ones lost in the psychedelic wilderness of Future.
The second CD is given over to the original attempt at the album, where a small crowd was present. On one hand, it's easy to see why the band rejected it; "No Escape" is surprisingly limp, "Hubbly Bubbly Love" is cursory, "A Faded Picture" is painfully long and the proceedings generally lack urgency. That said, it's worth hearing, with strong performances of "900 Million People Daily All Making Love" (much better than its studio counterpart) and "Fallin' " (is that Sky chanting "Sun Ra" just after the 5 minute mark?) standing out. What makes this deluxe Raw & Alive worth it even more is (again) the packaging, with the same level of detail and illustration as Big Beat's other three Seeds remasters. Can't wait for the singles compilation.
The Present
When the original Seeds imploded, there were hundreds of bands left to pick up the slack (and of course, Sky and company would regroup for two last killer 45s on MGM). Now, such a breakup would be catastrophic, what with a world where great music and real musicians are drowned out by a shrill cacophony of computerized, autotuned sound as heard through the mouthpieces of hip hop, diva bimbos, jocks with cowboy hats (aka, country) and teen schlock. Much as we'd like to believe otherwise, and as easy as it is to now avoid it, mass culture really does suck — possibly more than even in the '80s. Even the most popular alternatives such as indie rock are lame.
The silver lining is that the glass ceiling on real rock 'n' roll has created a cottage industry of bands and record labels with no delusions or aspirations fame who just go about their business. They usually don't make money, slogging it out locally or before small-yet-devoted followings on the road, but the quality is there.
It's where bands like Richmond, Viriginia's Ar-Kaics come in. Following up on their stellar debut of "She Does Those Things to Me" b/w "Don't Need Your Love" on Speakertree (reviewed in UT#36), the band has unleashed three singles at once in Moby Grapesque fashion. With the same primal cheap guitars and tell-tale-heart-attack thump of their '60s garage heroes, their sound bleeds Southern and subliminally channels the discontent of many bands with current music.
The first of the lot, "Why Should I" b/w "Slave to Her Lies" (Windian), pairs a hooky romp on the top with a downer lament on the bottom. The "Promotional Copy Not for Sale" release (dream big, I say!) on Steady Sounds channels the raunchy guitars and drum thump on "Make It Mine" before moving on to "Movin' On," where a '70s glam-like stomp intro segues into a smoother rhythm. The Hidden Volume 45 of "Sick and Tired" b/w "Cut Me Down" brings back the rough sound (is it about romance or frustration?) for the A-side—then slides down for the slow, almost bluesy flip. Buy 'em all. Buy their upcoming album, which sees the lineup expanded to four with a bass player. See 'em on tour.
One band that has shared bills with the Ar-Kaics is Oakland's Bad Coyotes, who trump the traditional punk-metal crossover with something more akin to a punk-hard rock hybrid that engulfs listeners in fuzz. Their latest Resurrection Records EP, It's Time for Sex Positions with Bad Coyotes (sounds like Dr. Ruth advocating bestiality), displays that sound in fine fashion on the gang chorus of "Sex Positions," the catchy punk burner "Reasons," the over-the-top riff pounder "Rat Breeders" and "Ex Lion Tamer," which is actually the comparatively tamest of the lot. All short, all great.
There are some great things happening in Southern California as well — and not just the computer server allowing this blog to be published. The self-titled debut EP San Diego's Schitzophonics on Munster Records features a powerful movin' and groovin' sound on three R&B-styled shakers cut from the tapestry that this magazine has been weaving for the past 30-odd years. In fact, Mike Stax is credited for backing vocals and played with guitarist/vocalist Pat Beers in the fiery '60s R&B tribute act the Diddley Daddies. Never mind being full of piss and vinegar; Beers onstage has as much of the yellow liquid as the urine samples of an entire Major League Baseball team and as much vinegar as the wine cellar in Stax's La Jolla seaside estate. (It's true: I was paid a lot of money to write this review while visiting. Or was it the summer home in the Hamptons? I don't remember. Anyway, please bitch accordingly on Facebook in garage forums.)
Bonus Review: Stained Glass
For web readers, here's a bonus review originally intended for the print magazine. This will not appear in the pamphlet or LP versions of this blog, so read it now.
STAINED GLASS – A Scene In-Between 1965-1967 (Ace/Big Beat, UK) CD
They didn't have the kinetic chemistry of the Chocolate Watchband or a hit like the Count Five and the Syndicate of Sound, but among San Jose '60s garage bands, Stained Glass had the best original material. In reality, they probably should have had national chart action, but RCA Records forced them to record schlock at the expense of unreleased originals, didn't promote the records and never let them do an album. Stained Glass also hasn't appeared on many garage comps, as their music isn't quite the Stonesy blues or fuzz mayhem associated with the genre.
Rather, using a heavy Beatles influence as the template, Stained Glass featured three- and four-part harmonies, intricate arrangements and lyrics that transcended the lust/angst themes of their contemporaries. The Fab Four inspiration is most overt on the "I Should Have Known Better" knockoff "Walkin' Shoes" (released in 1966 under their original name, the Trolls) and the "Can't Buy Me Love" cousin "Dollar Sign Friends" (one of 16 previously unreleased tracks), but otherwise the band utilizes their influences to forge an original sound.
The best is unquestionably the title track, a killer raga-like burst of Anglophilia that anticipates psychedelia, but there's also the minor-key character study "Mr. Martyr" (an unreleased RCA master), the unique harmony vocal arrangements of the Zombies-like "Lonely Am I" and "My Buddy Sin," and the Trolls' Mersey ballads "How Do You Expect Me to Trust You?" and "Sweeter Than Life."
"We Got a Long Way to Go," one of the few by outside authors (Barry Mann and Cynthia Weil) is also quite good, but ironically it's two live covers — "You Keep Me Hangin' On" and "My Flash on You" — that are this comp's weakest moments. Otherwise, it's all quite enjoyable — and boosted by Alec Palao's detailed band history and lots of vintage photos. Limited edition, so grab it quick. (Doug Sheppard)
---