Featured

News

By Jay Dobis     Erkin Koray, aka Erkin Baba, the father of Turkish Rock 'n Roll (he put together the first Turkish rock band (Erkin Koray ve Ritmcileri) in 1957 when he was a high school student

Featured

Articles

By Harvey Kubernik   On August 3, 1966, stand-up comedian, social critic, satirist, and philosopher Lenny Bruce was found dead at age 40 inside his Hollywood Hills home from an acute overdose of mor
Documentary review by David Holzer
There's a painful moment in Danny Garcia's Rolling Stone: Life and Death of Brian Jones that captures the raw tragedy of Brian's stumbling downward spiral of a life.
It's December 1967 and Brian has just left the Court of Appeal in London after one of his drug busts. Trapped by a horde of reporters, assaulted by camera flashlights, his face is bloated and blank, his hair is unkempt, his insolent satyrical beauty gone. He wears a thick sheepskin Afghan jacket.
Slowed down by Garcia to chilling, darkly poetic effect, the black and white clip shows Brian as a dazed sacrificial lamb waiting for slaughter.
Garcia's movie is so compelling precisely because it considers all the factors that drove Brian to this point and on to his tragic end without imposing a single, limiting definition. He also gives equal weight to different interpretations of the story of how Lewis Brian Hopkins Jones became Brian Jones, briefly golden rock god.
This is one of the great strengths of the movie: it has real depth. Garcia's subjects in previous movies have included Johnny Thunders, Sid Vicious and Stiv Bators who all lived out a cartoonish rock star fantasy shaped partly by Brian's example as taught to Keith Richards.
As veteran British music journalist Chris Salewicz says towards the end of the movie, Brian had an "aura of dissolute hedonism [and is] the first example of any British rock star living the rock and roll lifestyle…maybe that's a salutary warning as well."
Garcia's movie is also excellent on what intrigues many of us about Brian. He was far more than just a "British rock star."
Time and time again, the people Garcia interviews emphasize just how "ahead of the curve" Brian was, as his friend Prince Stash Klossowski says.
Prince Stash is a joy. His eccentric appearance—hair in what looks like a single iron-grey dreadlock coiled around his head and held in place with a bandanna—and languid aristocratic drawl are a fabulously entertaining contrast to his no-bullshit take on Brian's story.
Being able to hear and see characters whose names are familiar from the various books about Brian is another of the great pleasures of Rolling Stone: Life and Death of Brian Jones.
Among these are Richard Hattrell, the childhood pal so cruelly tortured by Brian in London, Dick Taylor and Phil May of contemporaries the Pretty Things and French actress/model Zouzou.
This more than compensates for the absence of any interviews with members of the Stones, although we do hear sixth Stone Ian Stewart's voice. By now, we've become so familiar with Mick and Keith on the subject of Brian it's hard to imagine their presence would have added anything to Garcia's movie. Unless they came clean.
Garcia also makes powerful use of archive film of Brian, including home movie footage of him aged 17 sailing down the Worcester & Birmingham Canal in the UK with his girlfriend Valerie Corbett.
Brian's in great shape but his eyes suggest his life of "dissolute hedonism" had already begun.
Hearing some of Brian's music, especially critiqued by someone knowledgeable, would have certainly added another dimension to the movie. It's a shame that Brian's soundtrack for Volker Schlöndorff's 1967 movie A Degree of Murder starring Anita Pallenberg can only be heard on a fragmented bootleg.
There's a snippet of Joujouka music in Garcia's movie but, since it accompanies a clip from the daft 2005 Brian biopic Stoned, it's not clear whether it comes from the groundbreaking 1971 album Brian Jones Presents the Pipes of Pan at Joujouka.
Instead, we have a soundtrack featuring, among others, Dick Taylor, the Alabama 3 and Greg Stackhouse Provost, formerly of the Chesterfield Kings and a contributor to this magazine, and guitarist/writer John Perry. Perry's acoustic and slide "Brian" is the standout for me.
If I have a criticism, it's that around half the movie is given over to exploring the conspiracy theories around Brian's death at his East Sussex home Cotchford Farm on July 2, 1969.
I would have preferred that some of this time had been given over to celebrating Brian's achievements as a supremely gifted musical pioneer and sartorial innovator.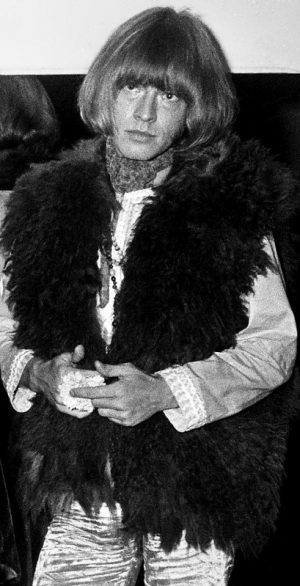 Rolling Stone Life and Death of Brian Jones is out now on DVD in a package that includes the film poster, deleted scenes, bonus footage, an extra featurette and the trailer. The movie will be streamed on a number of platforms including Amazon. The soundtrack is available on vinyl. Find out more at www.chipbakerfilms.com.
David Holzer is writing a book about the legendary Master Musicians of Joujouka who Brian recorded in July 1968.
---
Book review by Bill Shute
CRAZY MAN CRAZY: THE BILL HALEY STORY by Bill Haley Jr & Peter Benjaminson (Omnibus Press UK/Backbeat Books US; 2019; 299 pages)
In 1990, Bill Haley's son John co-wrote a now-rare book, Sound And Glory, which many consider the go-to source for Haley's work up through the early '60s and his move to Mexico. Now, another of Haley's sons, Bill Jr, has co-written a new biography, Crazy Man Crazy, which balances Haley's music and his personal life. It has the benefit of the detailed insights from Haley's first two wives, Dorothy (who was there for the years of struggle, when Bill was a regional artist and working on his fusion of country boogie/R&B in local bars and on local Philly labels), and Cuppy (who was there during Bill's breakthrough in the founding days of rock & roll through his biggest fame until things crashed circa 1959 and he left the country), and Haley fans will thrill at the wealth of detail and specifics about the early tours and television appearances and band dynamics and business problems and the like. It's as if you are there as "Crazy Man Crazy" flies up the charts in 1953, and audiences and radio programmers are trying to figure out what this curious musical hybrid Haley calls rock'n'roll is about—and as "Rock Around The Clock" is featured in the film Blackboard Jungle, months after its original release and modest reception (it wasn't even the A-side of the single!), and Haley and his Comets become superstars, for a time at least.
Bill Haley had a passion to become a famous music personality and an equal passion to create a new form of music, combining the elements of the many American musical forms he loved, from gospel to polka (the early Comets had an accordion)  to jazz to honky tonk (the Comets had a steel guitar), though especially country boogie and R&B. Haley tried various approaches, but hit the right combination in 1951 with his cover of "Rocket 88" and mastered the newly created form with his 1953 hit "Crazy Man Crazy." This book puts you alongside Bill during those agonizing early days as things are coming together.
Unfortunately, you are also right beside Bill as things fall apart in the late '50s, mostly due to mismanagement and Bill's loyalty to friends from the neighborhood who were in way over their heads in business affairs. Also, Bill was not a model father or model husband with his first two marriages, and the picture emerges of a solitary man with a pleasant and friendly public image who lived for music, but found life and family more difficult to master. Fortunately, his third marriage, to Martha, whom he met in Mexico, proved more successful, but by the late '60s, when he'd moved to South Texas and began working in the US again (his tax problems resolved), his drinking problem had taken its toll.
Crazy Man Crazy is not a happy read (with Haley's inconsiderate behavior toward family members and the man's own sad run of bad luck), but it's inspiring in a way to see Haley soldier on decade after decade, often in reduced form, excitedly representing pure '50s rock and roll during periods where few cared. The book is a compelling read and will surely become the standard biography of one of the key architects of rock & roll. (Bill Shute)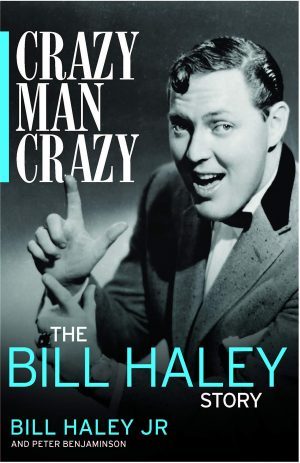 ---
By Steve Matteo
Bob Dylan has spent a great deal of his career hiding behind various personas or simply just hiding, rarely giving interviews and avoiding much of the star-maker machinery behind the popular song. Yet, for decades now, Dylan has been more visible than at any time in his career. His primary work has been his ubiquitous concert touring, referred to as "the never-ending tour" since the late '80s. Another very visible activity was his time as DJ, hosting "Theme Time Radio" on Sirius XM, which ran from 2006 through 2009. In addition, since 1991 he has been issuing his Bootleg Series. There have been 13 separate releases, encompassing 14 volumes so far, and the latest may be one of the most anticipated. It covers his Blood on the Tracks release, and is titled More Blood, More Tracks, Vol 14 (Columbia/Legacy).
While the album is considered one of his best, it went through various incarnations before being officially released in 1975. Of the six CDs included in the deluxe edition, three tracks were released on the first official bootleg set, two were from Biograph, ten were on the official Blood on the Tracks release and one track was from the Jerry Maguire soundtrack. Also included is the first take of "Spanish is the Loving Tongue," which Dylan covered on his 1973 self-titled album.
Blood on the Tracks was a major comeback for Dylan. After a stint with Asylum Records (Planet Waves, Before the Flood), Dylan returned to Columbia.
Dylan had recorded the album in New York, at A&R Studios, but just prior to the release date, he returned to Sound 80 Studio in Minneapolis, and re-recorded the songs. The final album included five tracks from each session.
The September 1974 New York recordings were engineered by Phil Ramone, and the myriad New York tracks here feature Dylan alone on Disc One, and the group Deliverance headed by Eric Weisberg on Disc Two. As the sessions unfold through these discs in chronological order, only bassist Tony Brown remains at the end of Disc Two. As the New York sessions progress on Disc Three, keyboardist Paul Griffin plays on many tracks and steel guitarist Buddy Cage contributes to one track. Cage also contributed to a couple of tracks on Disc Two with the Deliverance band. On Disc Four and Five it is just Dylan and Brown. Disc Six opens with the final three tracks recorded in New York.
After Dylan spent the holidays in Minnesota with his family, he had a change of heart about the sound of the album and quickly assembled a rag-tag group of musicians (Bill Berg, Billy Peterson, Peter Ostroushko, Chris Weber, Greg Inhofer, Kevin Odegard), at Sound 80 Studios in Minneapolis on December 27 with engineer Paul Martinson. While the musicians were not exactly household names at the time of the recordings, their inspired playing worked well and meshed nicely, with Brown the only holdover from the New York sessions. Berg and Peterson were hardly novices and had played key roles on recent albums from Cat Stevens and Leo Kottke.
Dylan was at a major turning point in his life, as his marriage to his wife Sara was disintegrating. He had just come off the road with The Band and he was taking art classes that had a profound effect on his songwriting process. Dylan has also acknowledged that Russian writer Anton Chekhov's plays and short stories had a deep influence on his songwriting, which on the album featured lyrics of ever-shifting time (past, present and future) and, while seemingly autobiographical, were actually more narrative in tone.
Initial ideas for the album and recordings included the consideration of various electric music artists or electric band backing, which eventually gave way to fairly stripped-down, sparse acoustic backing by only a handful of musicians. The resultant album is an intimate, honest, thematic masterpiece that is one of the defining albums of the singer-songwriter period. The simple instrumentation provides just enough musical coloring to be more than just a folkie acoustic outing and it is Dylan's most vocally emotive recording of his career. The album proves what Dylan is capable of when he takes his time and is deliberate in the recording studio. Often he wants to work quickly and get a fresh feel, resulting in few takes for the final recording.
The 70 recordings included here expansively chronicle a tale of two recording sessions that ultimately led to the official Blood on the Tracks release. One of the major changes in the two sessions is that the initial New York sessions tapes were sped up to sound punchier and radio friendly, but are presented here at their normal speed.
Songwriters and particularly musicians who are singer-songwriters can use this set as a master class. Dylan fans will delight in experiencing the process that led to what many consider one of Dylan's best albums and perhaps the only recording that can rival his '60s three-album watershed period of Bringing it All Back Home (1965), Highway 61 Revisited (1965) and Blonde on Blonde (1966).
Along with the six CDs, the box houses a beautiful hardcover book that contains a treasure trove of memorabilia, including candid, intimate photographs, press clippings and photos of Dylan's original lyrics, as well as many pages from a notebook he kept.
---