Featured

News

By Jay Dobis     Erkin Koray, aka Erkin Baba, the father of Turkish Rock 'n Roll (he put together the first Turkish rock band (Erkin Koray ve Ritmcileri) in 1957 when he was a high school student

Featured

Articles

By Harvey Kubernik   To celebrate the 50th anniversary of The Roxy and its enduring relevance, the Grammy Museum announced a new exhibit, The Roxy: 50 Years On The Sunset Strip, which explores the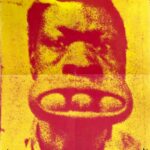 by Harvey Kubernik
"I think people make the mistake of putting too much information on a CD because you can afford to, time-wise. But Exile was a slow, slow thing. It wasn't as immediate as albums characteristically were in those days, 'cause there were two albums. I think another thing with Exile—now that I think about it. Yeah… It was a very 'Keith-spirited-by-Keith' album." – Chrissie Hynde to Harvey Kubernik 2004 interview.
I remember in June 1972 receiving an advance test pressing long LP player of the Jimmy Miller-produced Exile on Main Street from an Atlantic Records publicist at their Sunset Boulevard office. The Los Angeles-centric Exile on Main Street album package artwork and design were created by John Van Hamersveld who collaborated with photographer Norman Seef on the product graphics.
Earlier in '72, the Rolling Stones, record producer Jimmy Miller and engineer Andy Johns relocated to Hollywood after cutting the basic tracks for Exile on Main Street in the 16-room Villa Nelcotte in the South of France. Overdubbing and mixing sessions were subsequently done in Hollywood at the landmark Sunset Sound studios and mastered at Artisian Sound Recorders on the same street.
Sunset Sound was built by Alan Emig, who had come from Columbia Records. He was a well-known mixer there and designed a custom built console for Sunset Sound. Salvador "Tutti" Camarata, a trumpet player originally and an arranger, and did big band stuff in the 1940s and '50s had a friendship with Disney Studios and decided to build a recording studio to produce the Disney/Buena Vista records by Hayley Mills and Annette Funicello.
"The Sunset Sound room was very unique," volunteered Bruce Botnick engineer and co-producer of the Doors during 1966-1971 in a 2009 interview we conducted. "Tuti Camarata did something that nobody had done in this country. He built an isolation booth for the vocals. And later on I convinced him to take the mono disc mastering system and move it into the back behind what became Studio 2. And we turned that into a very large isolation booth which we used to put stings in. With the stings being in the large isolation booth the drums didn't suffer so we were able to make tighter and punchier rhythm tracks than any of the other studios in town were able to do. 'Cause everybody did everything live in those days. You did your vocals live. You did your strings and your brass live. And the rhythm section. And this was a big deal.
And then add to it the amazing echo chamber that Alan Emig designed. There was a good selection of microphones at Sunset Sound. It was all tubes, except for some Ribbon, RCA's and a few Dynamics, they were all tube microphones. U-47's, Sony."
---
By Harvey Kubernik
A 1957 photo of American singers Little Richard, Alis Lesley and Eddie Cochran in Australia grace the cover of Bob Dylan's next book The Philosophy of Modern Song, which will be published by Simon & Schuster in November 2022. Both Bob Dylan and Eddie Cochran recorded at the landmark Gold Star Recording Studios in Hollywood, California.
Paul McCartney, as a 15 year-old, performed a version of Cochran's record "Twenty Flight Rock" as the first song when he auditioned for John Lennon on July 6, 1957 in Liverpool.
Time to examine Gold Star's audio legacy and Eddie Cochran.
There it sat, another anonymous cinder block facade in the working class section of Hollywood, far off the map of celebrity homes. But discerning eyes and ears knew that, behind this unprepossessing veneer, there lurked an authentic powerhouse of star-making capacity. This was Gold Star Studios, ground zero for transforming the fervid imaginings of pop music's visionaries into three intoxicating minutes of backbeat and hum.
Like Merlin's apprentices, Gold Star co-owners and engineers Stan Ross, Dave Gold, and Larry Levine presided over this exercise in alchemy, where inspiration and perspiration produced hit after hit. Their clients included Eddie Cochran, Ritchie Valens, Jack Nitzsche, Phil Spector, Herb Alpert & the Tijuana Brass, Sonny & Cher, Cher as a solo artist, Buffalo Springfield, Charles Wright, Ike & Tina Turner, Stewart Levine, Hugh Masekela, Gloria Jones, the Righteous Brothers, Chan Romero, Brian Wilson with the Beach Boys, Iron Butterfly, the Cake, Harry Nilsson, Arthur Lee, Jimi Hendrix, Dr John, the Chipmunks, Chris Montez, HB Barnum, Buffalo Springfield, Dick Dale, Bobby Darin, Johnny Burnette, Dorsey Burnette, Bob Dylan, Clydie King, record producers Charlie Greene and Brian Stone, Thee Midnighters, Boris Karloff, Harold Batiste, Ronnie Spector, Darlene Love, Donna Loren, the Sunrays, Mark Guerrero, the Murmaids, Jackie DeShannon, the Runaways, the Ramones, the Go-Go's, Concrete Blonde, the Watts 103rd Street Band, Shel Talmy, Led Zeppelin, Duane Eddy, Kim Fowley, Marlon Brando, the Band, the Seeds, the Monkees, the MFQ, and the Turtles.
Gold Star was also the primary studio where the instrumental music tracks and background vocals were pre-recorded for the monumental ABC-TV series Shindig! produced by visionary Jack Good.
"Gold Star felt and sounded different from any other Los Angeles studio," explained Howard Kaylan, Turtles' co-founder, to me in a 2013 dialogue. "You could literally smell the tubes inside the mixing board as they heated up. There was a richness to the sound that Western and United, our usual studios, never had. Those two rooms sounded clean, while Gold Star felt fat and funky. Perhaps we were all reading too much of the Spector legacy into the room, but I don't think so. Our recordings from Gold Star always just sounded better to me. I miss that room."
In the late seventies I supplied some percussion and handclaps on a handful of Spector-produced dates at Gold Star on sessions on Leonard Cohen, the Ramones and the Paley Brothers. In 1982 I produced my own session at Gold Star one afternoon. I was back in a candy store hearing playback results drenched with reverb and echo as the clock ran…
---
By Harvey Kubernik
MICKY DOLENZ, who is now booking himself as "The Voice of the Monkees," and Felix Cavaliere's Rascals are scheduled for live shows in 2022. Their tour begins January 22nd at The Palladium in New York City.
It was just announced that Dolenz's re-imagined recording of Michael Nesmith's "Circle Sky" was voted Little Steven's Underground Garage's Coolest Song of the Year. The track is from Dolenz's solo album Dolenz Sings Nesmith on 7a Records; a tribute to the songs of Mike Nesmith.
I have my own bio-regional relationship with the Monkees that began in Hollywood during late 1965.
My mother Hilda was employed at Columbia Pictures on Sunset Blvd from 1962-1972, and primarily during 1965-1968 for Raybert Productions, helmed by producers Bob Rafelson and Bert Schneider, overseeing The Monkees at the studio in Gower Gulch. Paul Mazursky and Larry Tucker had developed it for TV adaptation.
Hilda helped type the television scripts for The Monkees, was in the stenography pool on the lot, and did dictation for author and screenwriter Lillian Hellman.
Anyway, I first encountered the four members of the Monkees when they held their first press conference in 1966 before the series was broadcast. I remember two events introducing The Monkees, one in Hollywood at the Columbia Pictures studio and in Burbank at the Columbia Pictures ranch.
During 1966 my brother Kenny and I along with our mom assembled the first-ever yellow colored press kits introducing The Monkees on our 5th Street kitchen table that unit publicist Howard Brandy created. Howard had worked on the Beatles' movies Hard Day's Night and Help! Artist Nick LoBianco designed the guitar logo of the Monkees.
Long before it was fashionable, I acknowledged and touted the Monkees' recorded catalog in a few multi-voice articles and three dozen books. Last century I never found outlets for my own real-to-reel memories of The Monkees. Now I'm asked about them on a regular basis.
What a devoted and ever-growing following they have. And, this commercial and critically-acclaimed outfit isn't in the Rock and Roll Hall of Fame? It's a shonda.
---