Featured

News

By Jay Dobis     Erkin Koray, aka Erkin Baba, the father of Turkish Rock 'n Roll (he put together the first Turkish rock band (Erkin Koray ve Ritmcileri) in 1957 when he was a high school student

Featured

Articles

By Harvey Kubernik   To celebrate the 50th anniversary of The Roxy and its enduring relevance, the Grammy Museum announced a new exhibit, The Roxy: 50 Years On The Sunset Strip, which explores the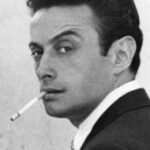 By Harvey Kubernik
On August 3, 1966, stand-up comedian, social critic, satirist, and philosopher Lenny Bruce was found dead at age 40 inside his Hollywood Hills home from an acute overdose of morphine.
He died near where I sold newspapers and distributed admission tickets to The Preview House on Sunset Boulevard at the time. It was front page headlines in Los Angeles, and many folks in the neighborhood and around town were deeply saddened.
Fifty seven years ago over 500 mourners paid their last respects at Eden Memorial Park Cemetery in Mission Hills, California. Principal Eulogy was read by Phil Spector who paid for the funeral.
At least Lenny Bruce was not forgotten around Southern California after his 1966 burial. In August 1968, The Los Angeles Free Press presented a Murray Roman-hosted LennyBrucemas musical event at the Cheetah pier in Venice. Over 20,000 people attended.
Around Lenny Bruce's freedom of speech advocacy, the lingering obscenity busts, and numerous arrests, Lenny's bold stand-up comedy performances and public observations were not routines, but podium examples of unfiltered verbal reality coupled with reflections about race, religion and relationships. His rant on actor Bela Lugosi was always a Halloween favorite on many turntables.
During 1958-1976, my family and I would occasionally see Lenny Bruce, Sandy Baron, Mantan Moreland, Richard Pryor, Al Jarvis, Don Peake, Jan Alan Henderson, Rodney Bingenheimer, Sonny Bono, Don Randi, Nik Venet, Micky Dolenz, and many comics, actors, actresses, directors, screenwriters, movie studio heads, prostitutes, pimps, bands, and the Vine Street-based Musician Union 47 session musicians around town at the Hollywood Ranch Market and Canter's Delicatessen. These places were open 24 hours.
Bruce was a frequent guest on black and white television shows I watched on my parent's television set, In 1957 I saw the Teddy Bears, (Phil Spector, Marshall Lieb and Annette Kleinbard) on the local KTLA TV program Rocket to Stardom, sponsored by salesman Bob Yeakel, who used to hawk Oldsmobiles during the broadcast from his showroom. Lenny Bruce with Joe Maini, Jack Sheldon, Dennis Hopper and Jim Keltner also appeared on the show.
"In spring, 1964, I glimpsed Lenny as he was going into a theater at La Brea Avenue and Hollywood Boulevard," recalled author/musician Jan Alan Henderson in a July 2023 interview we did. "We were going to ABC Books to buy the first books on the Beatles on the way to Le Conte Junior High in East Hollywood. My mother knew Lenny's wife Honey as they were neighbors. My mom was a volunteer for the United Way and the Bruce household was in the district. Lenny was the one who fought for First Amendment rights."
---
By Harvey Kubernik
Dedicated to Mamie Van Doren Con Art Aragon
This spring and summer at select movie theaters and on cable television's Spectrum SportsNet, filmmaker Stephen DeBro in his sports and music documentary 18th & Grand: The Olympic Auditorium, tells the story of Los Angeles through the distinctive voices of boxers, wrestlers, roller derby skaters and rock musicians who performed at the Olympic Auditorium. The venue opened in 1925.
In 1951, rhythm & blues concerts were held on the premises. During the 1969-1970 period, Little Richard, Frank Zappa, Mountain, Jack Bruce and Ten Years After were on the marquee. In the eighties and nineties, Public Image Ltd debuted there, and soon afterwards, monthly concerts were promoted by Gary Tovar and Goldenvoice Productions headlining Dead Kennedys, the Dickies, the Circle Jerks, Bad Religion, Suicidal Tendencies, and X. Music videos for Bon Jovi, Kiss, Air Supply, Janet Jackson, and Rage Against the Machine were produced in the landmark location at the corner of 18th Street and Grand Avenue, just south of the Santa Monica Freeway in downtown L.A.
"From the beginning the Olympic was an extension of Hollywood's back lot," underscores DeBro. "So many great films were shot at the Olympic, starting with Buster Keaton's Battling Butler, The Three Stooges Punch Drunks, The Manchurian Candidate, Raging Bull, the Rocky series, Million Dollar Baby, The Turning Point, Requiem for a Heavyweight, The Sting II, and in 2003, Charlie's Angels: Full Throttle. There were hundreds of TV shows and commercials."
It's now the Korean-American Glory Church of Jesus Christ.
The 18th & Grand: The Olympic Auditorium soundtrack is by War, Shuggie Otis, Charles Wright & the Watts 103rd Street Band, Queens of the Stone Age, Dead Kennedys, the Weirdos, Cannibal & the Headhunters, Quetzal and Jungle Fire (Albert Lopez).
DeBro, author and music/culture historian, Gene Aguilera, along with LA Plaza de Cultura's Karen Crews Hendon and Esperanza Sanchez, are serving as curators of the museum's forthcoming August 11, 2023-May 12, 2024, 18th & Grand: The Olympic Auditorium exhibition recounts the 80-year history (1925-2005) of the Olympic Auditorium, the home for visceral entertainment in Los Angeles with artifacts from all facets of the venue's storied history. The exhibit will be held at La Plaza de Cultura Y Artes Museum, 501 N. Main Street, Los Angeles, California 90012.
18th & Grand: The Olympic Auditorium reminds us about nearby East Los Angeles and adjacent Boyle Heights, east of the Los Angeles River. These two Los Angeles' Chicano/Mexican-American communities gave us Top Forty music hitmakers, Verve Records' founder Norman Granz, record producers and songwriters Herb Alpert, Lou Adler, H.B. Barnum, Mike Stoller, as well as musician/deejay Lionel "Chico" Sesma, Black Eyed Peas' will.i.am, and Gene Aguilera.
---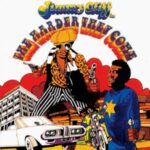 By Harvey Kubernik
During 1969, Jimmy Cliff's "Wonderful World, Beautiful People," "The Israelites" from Desmond Dekker & the Aces, and a hit single from Johnny Nash, "Hold Me Tight," earlier exposed reggae to radio airplay in Southern California and several Stateside areas. In the summer of 1972, Nash's "I Can See Clearly" reached number one on the US Billboard and Cash Box charts.
Island Records' Chris Blackwell, the visionary A&R man and label owner had signed a handful of reggae artists to bring the probing bass propelled messages from Jamaica to a global audience.
In June 1972, the Jamaican crime drama film The Harder they Come, directed by Perry Henzell and co-written by Trevor D. Rhone, starring Jimmy Cliff premiered in Jamaica.
It tells the story of Ivanhoe Martin, (Jimmy Cliff), a young singer who arrives in Kingston, Jamaica, desperate and eager to become a star in that country. He falls in love with a woman and quickly signs a record deal with a powerful music mogul, and soon learns that the record game is rigged. Angered and confident, Ivan becomes increasingly defiant, and finds himself in a battle that threatens not only his life, but the very fabric of Jamaican society.
The well-received film yielded a reggae soundtrack courtesy of the Island company that further positioned these intriguing, enticing sounds to the world.
A publicist, Michael Ochs, who I knew from his 1969-1972 PR department tenure at Columbia Records in Hollywood, was hired by record producer and talent scout Denny Cordell to publicize the soundtrack of The Harder They Come. Michael wrote for Melody Maker in 1972. We both attended a handful of regional June 1972 concerts by the Rolling Stones after the release of Exile on Main Street.
Ochs mailed a copy of The Harder They Come LP, a press kit and a mango fruit, all contained in a burlap bag that arrived to my college dormitory single room at Zura Hall at San Diego State University. The package's mailing sticker came from Mango/Capitol Records.
In 1972 I had only written a couple of record reviews at the time for The Hollywood Press. I suggested a review of the album in the school newspaper, The Daily Aztec, and was rejected.
The hypnotic reggae pulse on my record player was so captivating. I needed to see this movie.
In November 1972 I caught the debut of The Harder They Come in Hollywood at Grauman's Chinese Theater, where it screened as part of Filmex, the Los Angeles International Film Exposition. The place was packed and the crowd loved it.
Independent producer/director/film guru Roger Corman secured domestic distribution of the movie via his company New World Pictures.
The landscape and musical climate of the United States was altered by the December 26th -December 31, 1972 premiere of The Harder They Come at the Nu-Art Theater in Westwood, California.
In February 1973 it was booked in New York City, and gained a small cult gathering at nationwide midnight movie showings in select locals. However, it was the movie's soundtrack that quickly generated pivotal FM radio spins that spring of '73.
The Harder They Come soundtrack was recorded at Dynamic Sounds in Kingston, Jamaica. It housed selections from Jimmy Cliff, the Maytals, the Slickers, Scotty, Desmond Dekker, and the Melodians.
 "Denny Cordell called me in 1972 and wanted me to do the publicity for the soundtrack," recalled author and archivist Michael Ochs to me in a July 2021 interview.
 "I saw it at Filmex, and loved the soundtrack album. I fell in love with reggae. Denny and Leon Russell were partners in Shelter Records and Leon spent a lot of money on a remote recording truck. I was at the Wailers taping in October 1973 at the Capitol studio which was fun. It was like a big rehearsal leading to a real performance.
"The rock press loved the movie and the soundtrack. It was too unique for AM and FM radio. Black radio programmers were not receptive at all. At the time there was a dearth of originality. When this happens, the media tend to go to roots music, like blues. Reggae was the light at the end of the tunnel. It was important to promote it. At that time, I wasn't sure if Toots [Hibbert] & the Maytals or Bob Marley was going to be the leader of the movement.
"Denny then hired me for the Shelter label. He agreed to pay a salary, an office and a secretary. J.J. Cale and Phoebe Snow were two of the artists I worked with.
 "Denny agreed to fly me down to Kingston if I could get a story in Rolling Stone so I called my friend Michael Thomas and he sold it to Stone. So, Rolling Stone paid for Michael to come from London to do the story. Chris Blackwell loaned us one of his houses for us to stay in—me, Michael and photographer Arthur Gorson.
"Robert Christgau didn't stay there but came at the same time to do a five-part story for Newsday, a Long Island paper. Michael and Arthur went into Trench town to interview Marley but they were the only two that were allowed in. For the rest of the time, we were down there, different reggae artists, including Toots were sent to the house to talk to Michael for the story."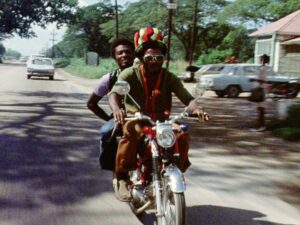 ##
Roger Steffens is the author of seven books about the Wailers, Bob Marley, and the history of reggae. His award-winning Reggae Beat radio program was syndicated to 130 stations world-wide. Since 1984 he has lectured internationally with a multi-media presentation called The Life of Bob Marley. He is the co-founder of The Beat magazine and served as founding chairman of the Reggae Grammy Committee for 27 years. Roger is the former national promotions director for reggae and African music of Island Records.
I asked Steffens about The Harder They Come.
"Back in early summer of 1973 an Australian gonzo journalist named Michael Thomas wrote an extraordinary article in Rolling Stone outlining the history of Jamaican music from the ska and rock steady eras into the emerging internationalization of reggae, particularly through the success of The Harder They Come film. It featured some of the major Jamaican stars of the moment, including the movie's lead Jimmy Cliff and Toots & the Maytals. The mesmerizing tale was based on the true story of a '40s gunman named Rhygin ("raging") who killed cops and became a folk hero.
"The film became a lynchpin of a newly popular trend of Midnight Movies from coast to coast. In Boston it played in Harvard Square for eight years, and when Jimmy was playing in that city, he was known to enter the theater unannounced and jump on stage pretending to hold six guns, mimicking a scene in which he is photographed in his gun-tottin' bad boy pose, in a photo studio, much to the audience's astonishment. 
"The day after I read the article, I saw the movie in a tiny northside theater in Berkeley, holding about 40 seats. When the scene of a midnight chalice-smoking scene came on screen, everyone in the theater lit up and there was so much smoke in the room you couldn't see the screen! On the way home I bought the soundtrack, which led me to seek out recordings by each of its contributors."
##
The world premiere of The Harder They Come, Suzan-Lori Parks' musical adaptation of the 1972 film is scheduled to be staged at New York's Public Theater during February 16th-March 26th 2023 in the Newman Theater.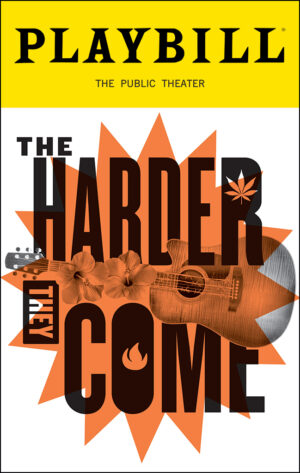 The show includes "You Can Get It If You Really Want It" and "Many Rivers to Cross" by Grammy Award winner Jimmy Cliff, based upon the film produced and directed by Perry Henzell and co-written with Trevor Rhone. Music Supervision, Orchestrations, and Arrangements by Kenny Seymour, choreography by Edgar Godineaux, co-directed by Sergio Trujillo, directed by Tony Taccone. Parks is a Pulitzer Prize-winning playwright and the Public's Writer-in-Residence.
In 2005, The Harder They Come had been adapted into a stage musical by the Royal Stratford East and UK Arts International in the UK where Henzell oversaw the script.
##
On the day Duke Ellington died, May 24, 1974, I encountered Johnny Nash in the lobby of Columbia Records on Sunset Blvd in Hollywood. We had a brief chat.
I acknowledged his seminal 1967-1972 work with the Wailers, where he developed Marley's nascent songwriting abilities on his JAD record label. Johnny smiled when I mentioned his co-writing of a song, "Some of You Love," with record producer Phil Spector in 1961 when he was inked to ABC-Paramount Records. Spector first met Nash, and songwriter Tommy Boyce, during their Army physical examinations.
As Johnny and I left the elevator ride, I wished I would have reminded myself to tell Nash how much I loved his song "What Kind of Love Is This?" Joey Dee & the Starliters had cut the tune in 1962 for the Columbia studio picture Two Tickets to Paris.
I eventually witnessed eight Bob Marley & the Wailers concerts during 1975-1979. First time was July 13, 1975 at the Roxy Theater in West Hollywood.
I interviewed the group in 1976 for Melody Maker. Our conversation was held in such a smoke-filled room in West Hollywood at the Island Records office in California on Sunset Blvd I forgot to turn the tape machine on!
John Lennon and Yoko Ono attended a Wailers' May 16, 1976 Roxy show. While waiting for their car to arrive in the parking lot of the adjacent Rainbow Bar & Grill, I thanked John for introducing me to reggae and blue beat music that he touted in music publications and radio interviews.
On July 22, 1978 I went to see the Wailers at The Starlight Bowl Ampitheatre in Burbank. A few reporters were given tickets and all access backstage passes. At the time press coverage in the US was important for the Wailers and Marley's mission.
I watched the concert from the wings standing the whole evening with Mick Jagger, holding daughter Jade in his arms. Mick still happily managed to pass some ganja to our circle that included Peter Tosh, the opening act the next day for the Rolling Stones at Anaheim Stadium.
Before the awe-inspiring evening concluded, a sweaty Bob Marley ran to our side of the venue, brushing up against me on his way to talk to Peter, who then joined him for a surprise appearance during "Get Up, Stand Up."
Tosh later told Roger Steffens, "Mi slap Bob's hand and him say, 'Bwoi, de Pope feel dat one."'
Three days later the Pope died.
##
Bob Marley has been inducted into the Rock and Roll Hall of Fame (1994) and ASCAP Songwriters Hall of Fame (2010).
The first US residency for the multi-room Bob Marley One Love Experience will be held in Southern California at LA's Ovation Hollywood – from January 27-April 23, 2023.
Visitors will see Marley's entire Rock & Roll Hall of Fame archive at the exhibition, alongside previously unseen photos, rare memorabilia, concert videos, guitars, lyric sheets, sneakers, a Marley-branded jukebox, and Marley-themed artwork. There will be a silent disco with headphones at the Soul Shakedown studio, where fans can dance along to Marley's music. One area celebrates the Marley family legacy and philanthropy.
The event is created in partnership with the Marley Family and Terrapin Station Entertainment. The exhibition's director and producer, Jonathan Shank, added: "The Bob Marley One Love Experience has already created so many positive vibrations for fans in London and Toronto, and it's an honor to continue to have the opportunity to curate and produce the exhibit right in the heart of Hollywood."
Tickets available on The Bob Marley One Love Experience website.
© Harvey Kubernik 2023
Harvey Kubernik is the author of 20 books, including 2009's Canyon Of Dreams: The Magic And The Music Of Laurel Canyon and 2014's Turn Up The Radio! Rock, Pop and Roll In Los Angeles 1956-1972. Sterling/Barnes and Noble in 2018 published Harvey and Kenneth Kubernik's The Story Of The Band: From Big Pink To The Last Waltz. In 2021 they wrote Jimi Hendrix: Voodoo Child for Sterling/Barnes and Noble. Otherworld Cottage Industries in 2020 published Harvey's Docs That Rock, Music That Matters.
Kubernik's writings are in several book anthologies, including The Rolling Stone Book Of The Beats and Drinking With Bukowski. Harvey has written liner notes to CD releases of Carole King's Tapestry, The Essential Carole King, Allen Ginsberg's Kaddish, Elvis Presley The '68 Comeback Special, the Ramones' End of the Century, and Big Brother & the Holding Company Captured Live at The Monterey International Pop Festival.
In 2006, Kubernik was invited to address audiotape preservation held by the Library of Congress in Hollywood.
---