Featured

News

By Jay Dobis     Erkin Koray, aka Erkin Baba, the father of Turkish Rock 'n Roll (he put together the first Turkish rock band (Erkin Koray ve Ritmcileri) in 1957 when he was a high school student

Featured

Articles

By Harvey Kubernik   To celebrate the 50th anniversary of The Roxy and its enduring relevance, the Grammy Museum announced a new exhibit, The Roxy: 50 Years On The Sunset Strip, which explores the
By Harvey Kubernik
John Van Hamersveld's pop culture expedition began over 50 years ago with the landmark Endless Summer movie poster. 300 album covers followed, including designs for the Beatles' American pressing of Magical Mystery Tour, Jefferson Airplane's self-empowering Crown of Creation, Grateful Dead's discovered Skeletons in the Closet, Blondie's inviting Eat to the Beat, Hotter Than Hell from KISS, and Exile On Main Street, the Rolling Stones portrait of confinement and escape which celebrates a 50th anniversary in June 2022. The band resumes their No Filter tour of the US in September 2021.
Van Hamersveld created the LP graphics for Bob Dylan's soundtrack to the movie Pat Garrett & Billy the Kid. John also crafted the cover art for The West Coast Pop Art Experimental Band LP. While helming the art department at Capitol Records from 1965-1968, John did the Beach Boys' Wild Honey LP cover along with 54 album packages for the label during his tenure at the famed tower building in Hollywood.
In addition, Van Hamersveld collaborated with illustrator Rick Griffin for the Max Buda and Chris Darrow Eye of the Storm pairing, and then the graphics for This Is What You Want from John Lydon's PiL.
John's memorable 1968 Pinnacle Dance concert posters held at the Shrine Exposition Hall in downtown Los Angeles had a monumental influence on pop culture designs for generations to come, including artist Shepard Fairey.
Van Hamersveld's art can be found in The Smithsonian, The Los Angeles County Museum of Art, The Museum of Modern Art, Experience Music Project, and the Rock and Roll Hall of Fame.
John Van Hamersveld, Coolhous Studio, 50 years of Graphic Design was published by Ginkgo Press as a 304-page coffee table book. It is both a stunning and inspiring collection of text, assorted photos and illustrations. John's West Coast-defined life and visionary process is fully housed and revealed in this gorgeous volume. Artist Shepard Fairey penned the introduction. gingkopress.com/03-gra/van-hamersveld.html.
Now screening in select cinema venues for 2021 is the film documentary, Crazy World Ain't It. The Life and Times of John Van Hamersveld directed by Christopher Sibley. It had a world premiere at the Santa Barbara International Film Festival. As an interview subject for the film, I discussed Van Hamersveld's engrossing art along with Shepard Fairey, world surf champion Shaun Thompson, Jeff Ho of the Zephyr Surf Team, designer Louise Sandhaus, Jim Fitzpatrick, Steve Olson, Gary Wong, Carole Caroompas, Chaz Bojorquez, and Quentin "Shplinton" Thomas.
Born at the John Hopkins University Hospital, Baltimore, MD, in 1941 and immediately raised in the South Bay section of Southern California, Van Hamersveld is a graduate of Art Center College of Design and Chouinard/California Institute of the Arts.
John's epic poster of The Endless Summer might be considered his masterpiece. In 1966 a reproduction of the image ensured that the soundtrack album to Bruce Brown's documentary movie took its rightful place as one of the best surf instrumental records and soundtracks of all-time.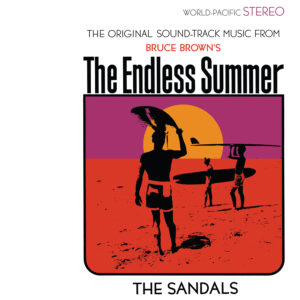 In 1964, the Sandals were known as the Sandells who released an obscure surf music LP called Scrambler! Then they encountered surfing documentary director Brown, who had the idea of following surfers around the globe chasing the perfect wave. Brown and co-producer Robert Bagley utilized music and theme cues culled from their album mixed with his spectacular footage. The irresistible combination proved instrumental in spreading surf culture worldwide, The Sandells re-named themselves the Sandals, and also re-named their album The Endless Summer. 
The Real Gone record label this summer has re-released The Endless Summer "ultraviolet" vinyl with the original artwork. It is the first-ever domestic reissue.
---
Ugly Things gives the floor to the band, who expressed the wish to complete and clarify the information provided in Issue #56
For Olivier Zdrzalik, Michel Muzac and Pascal Chassin, the adventure starts in summer 1969, when Olivier and Michel—who are cousins, used to play guitar together and to go on holiday together—decide to leave for Ibiza and Formentera (Balearic Islands, Spain), one of the European authentic hippy underground destinations. But the day of the sea crossing the boat serves only Menorca and Mallorca, where they meet Pascal in a party: as he is playing guitar alone Michel starts spontaneously jamming on harmonica with him. They will meet again totally by chance a first time in Ibiza where Pascal went separately and, back to Paris, a second time in a record store. It is how all three become friends and start rehearsing together with their three guitars.
For Francis Lemonnier (saxophone) and Serge Catalano (drums) another adventure had started in May 1968, when their newly formed band Red Noise, with the guitarist Patrick Vian, used to play its music within the well known Parisian university "La Sorbonne", which was occupied by striking students, as factories will be occupied later by striking workers. Revolt rumbled and Red Noise stirred up passions with the violence of its music: the sound and the fury!
Red Noise split in spring 1970 because of political and musical disagreements. Patrick believes that music is revolutionary in itself and is a sufficient means of expression, as opposed to Francis and Serge who believe that words and lyrics are essential to expose the feelings and the political thoughts of this troubled period. So, in May 1970, both find themselves looking emergency for musicians, having a tour sheduled soon as support act for the English band East Of Eden, very popular in France at that time.
They meet Olivier, Michel and Pascal following an ad, in their rehearsal space that they call "the blockhaus" because of the incredible acoustic reverberation of the place. After a furious jam, (which will become later one of the tracks of the Komintern's album: "Petite Musique pour un Blockhaus") the formation of the band is decided and thereafter Olivier, who has an excellent rhythmic sense, will play bass guitar.
As it's not possible to keep the name Red Noise, Francis and Serge choose the name Komintern with Philippe Constantin, artistic director of the record company Pathé- Marconi that promotes East Of Eden in France, with whom they maintain friendly relations.
After only a few rehearsals, and with only its long jam and some variations, Komintern starts performing on May 25, 1970, on the big stages of the "Maisons de la Culture" (kind of theaters dedicated to cultural events) in big cities, and first in Paris… suicidal and heroic tour during which they receive mixed reactions from the audience.
Relations are sometimes strained and there are heated discussions between Serge and Francis on one side, and Olivier, Pascal and Michel on the other because, if all three had also shared the ideals of May 1968 and had been moved by the speech explosion, the revolutionary creativity and the anarchist and festive aspect of the events, and if they are politicized, they however don't adhere to the sectarian and dogmatic aspects of the radical "classic" leftists, Trotskyists or Maoists. They are more interested in California counterculture and in UK psych-rock music (Pink Floyd, Soft Machine, Led Zeppelin, King Crimson…), as well as in environmental concerns and emerging ecology (mainly in US). As for Serge, he is very involved in political militancy and close to the Communist League, and Francis largely shares his ideas at that time.
---
By David Holzer
LONG AVAILABLE ONLY in rare, overpriced second-hand copies, Gary Lachman's essential Turn Off Your Mind: The Mystic Sixties and the Dark Side of the Age of Aquarius (2001) is in print again in the USA, with 100 extra pages of material, as Turn Off Your Mind: The Dedalus Book of the 1960s (2021), just in time for its twentieth anniversary.
From Jimmy Page and David Bowie to lesser-known figures like Graham Bond and American band Coven, to pick a couple at random, plenty of sixties and seventies rock &rollers were fascinated by the occult. But I can think of only one who has abandoned rock & roll for a career writing about the secret arts and major figures in its history.
Formerly known as Gary Valentine, Lachman became famous as Blondie's bass player. He also co-wrote their debut single "X Offender" with Debbie Harry and, by himself, UK top 10 hit "(I'm Always Touched by Your) Presence, Dear." The latter was inspired by "paranormal experiences" Lachman was having with his girlfriend.
Lachman first acted on his curiosity about the occult when, as a 19-year-old, he borrowed Alistair Crowley's Moonchild and Colin Wilson's The Occult from band co-founder Chris Stein.
By the time Blondie set off on a major tour in 1977, Lachman's fascination had blossomed. In New York Rocker, his 2006 account of his rock and roll years, Lachman tells the story of a porter at JFK asking him if he's got bricks in his tour bag. By then, Lachman writes, "My magic studies had become quite serious and my bag was filled with books on tarot, kabbalah, astral projecting and the Golden Dawn."
---