Featured

News

By Jay Dobis     Erkin Koray, aka Erkin Baba, the father of Turkish Rock 'n Roll (he put together the first Turkish rock band (Erkin Koray ve Ritmcileri) in 1957 when he was a high school student

Featured

Articles

By Harvey Kubernik   To celebrate the 50th anniversary of The Roxy and its enduring relevance, the Grammy Museum announced a new exhibit, The Roxy: 50 Years On The Sunset Strip, which explores the
By Harvey Kubernik
SINGER/PERFORMER and author Tina Turner will be the subject of an HBO documentary from the filmmakers who were behind the acclaimed Searching for Sugar Man and Whitney. It's directed by TJ Martin and Dan Lindsay, and produced by Simon and Jonathan Chinn's Lightbox. The feature-length film Tina debuts March 27, 2021. Turner's documentary coincides with her nomination to the Rock and Roll Hall of Fame's class of 2021. Tina is already an inductee as part of Ike & Tina Turner.
Left: Tina Turner at the Whisky A Go Go. April 27, 1970. (Photo: Kurt Ingham)
According to the HBO press release, "This unvarnished, dynamic account features insightful interviews with Turner herself, conducted in her hometown of Zurich, Switzerland, and with those closest to her. It also features a wealth of never-before-seen footage, audio tapes and personal photos, telling a deep and absorbing story about the queen of rock 'n' roll in all its complexity.
"In addition to archival footage spanning 60 years, the documentary includes interviews with Angela Bassett; Oprah Winfrey; journalist Kurt Loder who co-authored I, Tina, which inspired the feature film; playwright Katori Hall, who scribed Tina – The Tina Turner Musical; and husband and former record executive Erwin Bach, among many others. The documentary draws to an emotional conclusion with Tina Turner taking a bow at the opening night of the Broadway musical about her life."
On her official website, Turner displayed a statement about Tina: "It's really important to me to have the chance to share my full story. This musical is not about my stardom. It is about the journey I took to get there. Each night I want audiences to take away from the theatre that you can turn poison into medicine."
---
By Harvey Kubernik
Amazon Prime and the Coda Collection are launching a new company programming rare concerts and music documentaries, along with exclusive premieres for films and music documentaries. The Prime Video channel debuts February 18, 2021 and during 2021 Amazon Prime members will be able to access dozens of their library acquisitions exclusively streamed in the US. Some of their first titles announced for broadcast are the streaming premieres of The Rolling Stones On The Air, Music, Money, Madness…Jimi Hendrix in Maui, and Johnny Cash at San Quentin.
I thought it was appropriate to examine the Johnny Cash Live At San Quentin album that celebrates its 52nd retail anniversary on February 24. Johnny and I share a February 26 birthday.
In 1965 I saw a Cash Shindig! taping on Prospect Avenue in Los Angeles at ABC-TV studios, and in 1968 when he guested on The Summer Smothers Brothers Show at CBS Television City. I later caught Johnny and June Cash at The Anaheim Convention Center, The Troubadour and The House of Blues in Hollywood. I must have seen their act over a dozen times in 25 years.
"A Boy Named Sue," written by humorist, poet, and singer/songwriter Shel Silverstein became a popular hit record during 1969 by Johnny Cash. On February 24, 1969, two days before he turned 37, Cash recorded the song live in concert at California's San Quentin State Prison for his Johnny Cash At San Quentin album produced by Bob Johnston, issued on Columbia Records June 26, 1969.
---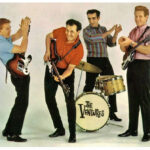 By Harvey Kubernik
The first-ever full length documentary chronicling the 60 year career of the Ventures, The Ventures: Stars on Guitars, debuted on DVD, Blu-ray and VOD to cable providers and streaming platforms on December 8, 2020 via Vision Films Inc.
Outlets for viewing include iTunes, Vimeo, Comcast, Spectrum, DirecTV, and Amazon. There might be a sense of wonder about how these platforms have emerged from times when TV was a luxury and now can be watched on a mobile phone. It can be traced by understanding the history of cable TV and how it helped millions of artists worldwide. Similarly, it's the definitive history of the instrumental rock 'n' roll band from director Staci Layne Wilson, daughter of the Ventures' founder Don Wilson and features 35 interview subjects. The filmic journey is told from the point of view of Wilson, the last original member of the band.
The Ventures are the bestselling instrumental rock group in history. The group has sold over 100 million records with nearly 300 different retail releases in the US and worldwide since beginning with "Walk, Don't Run."
The Ventures' classic quartet lineup consisted of rhythm guitarist Wilson, bassist Bob Bogle, initially lead guitarist, Nokie Edwards, lead guitar, converted from bass, and drummer Mel Taylor. The Ventures were inducted into the Rock and Roll Hall of Fame in 2008.
It was on a construction site in Seattle, Washington, in 1959 that two guitarists, Don Wilson and Bob Bogle, decided to perform together at local sock hops, initially as the Versatones. They added a rhythm section and then became the Impacts for a very short period. Finally settling on the name "The Ventures," they recorded two songs that Don's mother Josie released on her Blue Horizon Records label.
The Ventures self-pressed a second single, a cover of Johnny Smith's "Walk, Don't Run," a song that Don and Bob had discovered on a Chet Atkins album. "Walk, Don't Run" was a hit single in 1960, reaching Number 2, just behind Elvis Presley's "It's Now or Never," and over the last forty-six years, Wilson and his partner Bogle have subsequently recorded 250 albums and sold 100 million records, 50 million of them just in Japan.
---