Featured

News

By Harvey Robert Kubernik  This is not the platform or forum for me to display photos of myself with Charlie Watts or a post card he sent me from the road. However, I feel encouraged by musicia

Featured

Articles

By Harvey Kubernik The John F. Kennedy Center for the Performing Arts today announced last month that Motown founder, songwriter, producer, music publisher, and director Berry Gordy Jr.
Twinkle (Lynn Annette Wilson-Rogers), singer and songwriter, born 16 July 1948, Surbiton, Surrey; died 21 May 2015, Isle of Wight.
By Alan Clayson
"Terry," maiden single by Twinkle—who has died of cancer, aged 65—caught if not the mood, then a mood of 1964. Concerning a biker who, irked by his girl's infidelity, zooms off to a lonely end of mangled chrome, blood-splattered kerbstones and the oscillations of an ambulance siren, it had been an instant cause célèbre. As well as distressing the BBC, it also suffered a banning on ITV's Ready Steady Go, not for the death content so much as its non-conformity to the series' Mod specifications—for there was no doubt about Terry's identity. There was, however, some speculation about Twinkle's: a London dolly-bird in her John Lennon cap, striped jumper and kinky boots—"I never wear anything except boots" ran one press release—singing about a leather boy with a greasy quiff. It was like West Side Story, wasn't it: a Mod loving a Rocker?
Moreover, the upbringing of Lynn Annette Ripley—pet-named 'Twinkle' from birth—was centered on gentrified Kingston Hill where Surrey merges with London, and  embraced chauffeurs, maids, meeting royalty – and a private education that she endured rather than enjoyed at Kensington's select Queen's Gate School. Other former students included the Redgraves and Camilla Parker-Bowles, the future Duchess of Cornwall.
---
As the Beatles are to Liverpool, so Dave Dee, Dozy, Beaky, Mick & Tich are to Salisbury. Indeed, the Wiltshire county town displayed its pride in the group via the placing of an honorific blue plaque on the wall of the City Hall on the 40th anniversary of their "Legend Of Xanadu" topping the British charts in 1968. The previous year, the group had occupied five concurrent positions in West Germany's Top 20, and had beaten the Beatles by over three thousand readers' votes in a poll organized by the federal republic's principal pop journal Bravo—which also published a major news item detailing 24-year-old Dozy's wedding in November 1968.
'Dozy' was Trevor Davies, who attended the primary school in Enford, then a Wiltshire farming community, prior to studying at Durrington Secondary Modern—and a road-to-Damascus moment when Buddy Holly and the Crickets appeared in Salisbury in 1958. "I was young and impressionable," admitted Davies, "but Buddy astounded me just by his very stage presence."
Acquiring an acoustic and then an electric bass guitar, Davies joined the Beatnicks, where he found himself alongside Ian 'Tich' Amey. By 1961, however, the two had been incorporated into Ronnie Blonde & the Bostons with John 'Beaky' Dymond, David 'Dave Dee' Harman and drummer Stan Poole. After the departure of vocalist Blonde in 1962, Dave Dee became nominal leader when they undertook first professional bookings, zig-zagging across Scotland at a time when Britain's only motorway terminated at Birmingham, and such an odyssey was truly hellish. Then came arduous seasons in Cologne and Hamburg clubland which led to the replacement of Poole with Mick Wilson, a friend of Davies.
Now a hard act to follow, Dave Dee & the Bostons acquired a shrewd management and songwriting team in Ken Howard and Alan Blaikley which, combined with a change of name, led to a maiden Top 30 strike with "You Make It Move," and its "Hold Tight!" follow-up coming with an ace of Number One. So began a four year run of world-wide hits that embraced artistic progress that went beyond orthodox beat group instrumentation—as illustrated by the use of balalaika on "Okay!," and a South American charrasga on "Zabadak!" (which lent its name to a present-day DDDBMT fan club magazine). Moreover, the quintet's parameters as composers of B-sides and LP tracks were proficient, even adventurous—as instanced by 1967's psychedelic "The Sun Goes Down' "co-written by Davies, with its an abrupt concluding tape-edit that anticipated that in the Beatles' "I Want You (She's So Heavy)" on Abbey Road. In retrospect, the chasm between the 'rock' of the more intellectually revered Beatles, and the 'vulgar' pop of DDDBMT is far from unbreachable. In parenthesis, Davies proved an assured lead vocalist when required—as instanced by "Hands Off" on the second album.
By 1969, however, DDDBMT and their mentors were running out of ideas, and the group split in two. Dave Dee went solo while Dozy, Beaky, Mick and Tich (as 'DBMT') attempted to rise anew with a prog-rock repertoire, as instanced by a mild cause célèbre of an album, 1970's Fresh Ear Me). One associated single, "Tonight Today," penetrated the Top Ten in the Netherlands.
Inevitably perhaps, both factions of the old firm resumed an intermittent recording career together in 1974 with "She's A Lady." All members continued, nevertheless, however, to pursue extra-mural projects, as Davies, Amey and Dymond did in Tracker. Yet despite a well-received tour of Germany, this promising trio sundered in 1975. Davies also functioned as one of Woodsmoke, a country & western duo, and recorded songs penned solely by himself for submission to other artists. Then DBMT reunited in the late 1970s, most conspicuously with "In the Coven," a single that might have been a surefire smash had it been attributed to Dave Dee, Dozy, Beaky, Mick & Tich during their "Zabadak!"-"Xanadu" commercial prime.
It was not heard on stage, however, when DDDBMT began focusing chiefly on the Sounds Of The Sixties nostalgia circuit (with a set that sometimes included a showstopping Johnny Cash impersonation by Davies) while tilting occasionally at the charts with such as 1983's disco-tinged "Staying With It," a revival of Manfred Mann's "Do Wah Diddy Diddy," and grafting a Status Quo-esque blues-boogie rhythm onto "Here We Go," the soccer match ditty that lives in its Offenbach melody.
Though Dee died in 2009, Dozy, Beaky, Mick and Tich were still performing together sith the enthusiasm of their younger selves until Davies was diagnosed with acute pancreatic cancer a week before his own death.
He is survived by his wife Yvonne, children Darren and Sarah, and five grandchildren.
'Dozy' (Trevor Leonard Ward-Davies), born 27 November 1944, died 13 January 2015
---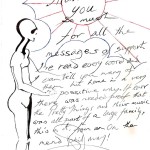 Phil has now been out of the hospital for some time, and is making good progress with his health. He has been very touched by the deluge of letters and cards he's received so far from Pretty Things fans. Please keep them coming.
---