Featured

News

By Bill Furbee WHEN I LAST SPOKE TO DAMO SUZUKI – the influential performer perhaps best known for his years spent as the singer of Krautrock godfathers Can – the world was in a diffe

Featured

Articles

By Doug Sheppard FIVE MONTHS BEFORE there were four dead in O-Hi-O, four were dead at a forlorn, neglected racetrack roughly 50 miles east of Oakland, California: one drowned, one stabbed
By Mike Stax
In the autumn months of 2014, the future of the Pretty Things hung in the balance. Phil May was in a London hospital having been diagnosed with COPD and emphysema. Doctors warned him that if he didn't make drastic changes to his lifestyle he'd be dead within a few months.
That was then. This is now. One year later, in the autumn of 2015, Phil has turned his life around and is in fighting form again. Not only is he back onstage and on the road with the Pretty Things, this summer the band released one of the best albums of their more than half-century career. A huge part of this miraculous turnaround is down to the support of his band mates, friends, family, and you Pretty Things fans, many of whom wrote to Phil personally via UT with words of encouragement and support, and some tough love. When I saw Phil in London earlier this year, he told me how moved he was by all of your letters, how he read and re-read them and found sustenance in them. He appreciated how many of you didn't pull any punches. He quoted one from memory: "Don't you dare die on us, you fucker, we need you around." Yes we do.
If you needed another reminder why, look no further than The Sweet Pretty Things (are in bed now, of course…), their new album on Repertoire Records. (The title quotes the opening line of Bob Dylan's "Tombstone Blues," a song his Royal Bobness wrote and recorded shortly after the famous 1965 UK tour during which he hung out with members of the Pretty Things.)
The album was recorded quickly and simply, on analogue equipment, using vintage instruments and amps, and with only minimal overdubs. Even some of the lead vocals were cut live along with the basic tracks. The result is a collection of songs that sounds warm, organic, and at times almost effortless. It's also very much a collaborative effort. All of the band members as well as manager/producer Mark St John contribute to the songwriting, including the two junior members, bass player George Woosey (who co-wrote three songs) and drummer Jack Greenwood, whose skills are showcased on the instrumental jam "Greenwood Tree."
"The Same Sun," written by Dick Taylor and Mark St John, opens the album, and in another, kinder era would've also been the hit single that preceded it. Taylor's winding guitar melody, mirrored by the vocals, soon imprints itself into your cranial hard drive, along with a great chorus hook: "The sun / The sun is in the sky / The same sun / But seen through different eyes." With its strong SF Sorrow vibe, this one has all the makings of a new Pretty Things classic, and has already become a favorite in their live shows.
"And I Do"—written by Woosey, May, and St John—is archetypal modern-day Pretties. Phil spits out the lyrics with a vinegary vehemence on the verses, propelled by a wiry blues guitar riff, giving way to a more resigned tone on the melodic, harmonized choruses. A pair of cover versions follows. First they revisit the Byrds' "Renaissance Fair," a staple of their live set in 1968-69, highlighted here by some chiming guitar work by Taylor and Frank Holland, then they ambush with a storming version of the late-period Seeds obscurity, "You Took Me By Surprise." Phil's lascivious howl elevates the song tremendously, and the band rocks out with a hard rock ferocity reminiscent of the Harvest-era favorite "Cold Stone." This is followed by a spirited take on "Turn My Head," a song first written and recorded in 1967, but passed over for release at the time.
"Dark Days"—written by Phil May and Frankie Holland—is one of the album's highlights. A tense, foreboding monolith of a song, cloaked in all kinds of doomy atmospherics, it's underpinned by a dense, menacing riff of the kind Led Zeppelin once specialized in. Phil digs deep, getting right inside the lyrics and conjuring an especially powerful and affecting vocal performance, supported by some strong harmonies, beautiful interweaving guitars and swirling Mellotron.
It's followed by "Greenwood Tree," which I mentioned earlier, a psychedelic instrumental jam that had originally segued out of "Renaissance Fair." Dick and Frankie lay down some searing lead guitar work before it breaks off into an extended drum solo that manages not to overstay its welcome (the whole track clocks in at 4:16). This clears a path for the excellent "Hell, Here and Nowhere," written by George Woosey, an acoustic-based piece with some wonderful three- and four-part harmonies, harking back to the some of the more mellow tracks on Parachute and Freeway Madness.
"In the Soukh" is also superb, an atmospheric, Eastern-flavored instrumental by Dick Taylor with a great, coiling guitar riff, reverberating Bo Diddley beat drums, and monastic chanting. The overall effect is not unlike the Yardbirds "Hot House of Omagarashid."
The album closes out with another standout, "Dirty Song," a dark, sensual, bluesy number with a terrific, insistent guitar riff, and another soulful, immaculately phrased vocal from Phil. Once again the group's massed, wordless backups add greatly to the overall mood of the number.
Is there another band working today, more than fifty years into their story, still making music this powerful and relevant? No, there isn't. Only the sweet Pretty Things. Long may they reign. (MS)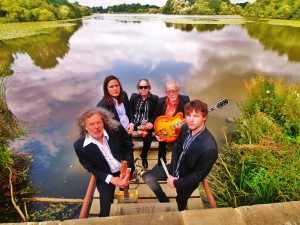 ---
Twinkle (Lynn Annette Wilson-Rogers), singer and songwriter, born 16 July 1948, Surbiton, Surrey; died 21 May 2015, Isle of Wight.
By Alan Clayson
"Terry," maiden single by Twinkle—who has died of cancer, aged 65—caught if not the mood, then a mood of 1964. Concerning a biker who, irked by his girl's infidelity, zooms off to a lonely end of mangled chrome, blood-splattered kerbstones and the oscillations of an ambulance siren, it had been an instant cause célèbre. As well as distressing the BBC, it also suffered a banning on ITV's Ready Steady Go, not for the death content so much as its non-conformity to the series' Mod specifications—for there was no doubt about Terry's identity. There was, however, some speculation about Twinkle's: a London dolly-bird in her John Lennon cap, striped jumper and kinky boots—"I never wear anything except boots" ran one press release—singing about a leather boy with a greasy quiff. It was like West Side Story, wasn't it: a Mod loving a Rocker?
Moreover, the upbringing of Lynn Annette Ripley—pet-named 'Twinkle' from birth—was centered on gentrified Kingston Hill where Surrey merges with London, and  embraced chauffeurs, maids, meeting royalty – and a private education that she endured rather than enjoyed at Kensington's select Queen's Gate School. Other former students included the Redgraves and Camilla Parker-Bowles, the future Duchess of Cornwall.
---
As the Beatles are to Liverpool, so Dave Dee, Dozy, Beaky, Mick & Tich are to Salisbury. Indeed, the Wiltshire county town displayed its pride in the group via the placing of an honorific blue plaque on the wall of the City Hall on the 40th anniversary of their "Legend Of Xanadu" topping the British charts in 1968. The previous year, the group had occupied five concurrent positions in West Germany's Top 20, and had beaten the Beatles by over three thousand readers' votes in a poll organized by the federal republic's principal pop journal Bravo—which also published a major news item detailing 24-year-old Dozy's wedding in November 1968.
'Dozy' was Trevor Davies, who attended the primary school in Enford, then a Wiltshire farming community, prior to studying at Durrington Secondary Modern—and a road-to-Damascus moment when Buddy Holly and the Crickets appeared in Salisbury in 1958. "I was young and impressionable," admitted Davies, "but Buddy astounded me just by his very stage presence."
Acquiring an acoustic and then an electric bass guitar, Davies joined the Beatnicks, where he found himself alongside Ian 'Tich' Amey. By 1961, however, the two had been incorporated into Ronnie Blonde & the Bostons with John 'Beaky' Dymond, David 'Dave Dee' Harman and drummer Stan Poole. After the departure of vocalist Blonde in 1962, Dave Dee became nominal leader when they undertook first professional bookings, zig-zagging across Scotland at a time when Britain's only motorway terminated at Birmingham, and such an odyssey was truly hellish. Then came arduous seasons in Cologne and Hamburg clubland which led to the replacement of Poole with Mick Wilson, a friend of Davies.
Now a hard act to follow, Dave Dee & the Bostons acquired a shrewd management and songwriting team in Ken Howard and Alan Blaikley which, combined with a change of name, led to a maiden Top 30 strike with "You Make It Move," and its "Hold Tight!" follow-up coming with an ace of Number One. So began a four year run of world-wide hits that embraced artistic progress that went beyond orthodox beat group instrumentation—as illustrated by the use of balalaika on "Okay!," and a South American charrasga on "Zabadak!" (which lent its name to a present-day DDDBMT fan club magazine). Moreover, the quintet's parameters as composers of B-sides and LP tracks were proficient, even adventurous—as instanced by 1967's psychedelic "The Sun Goes Down' "co-written by Davies, with its an abrupt concluding tape-edit that anticipated that in the Beatles' "I Want You (She's So Heavy)" on Abbey Road. In retrospect, the chasm between the 'rock' of the more intellectually revered Beatles, and the 'vulgar' pop of DDDBMT is far from unbreachable. In parenthesis, Davies proved an assured lead vocalist when required—as instanced by "Hands Off" on the second album.
By 1969, however, DDDBMT and their mentors were running out of ideas, and the group split in two. Dave Dee went solo while Dozy, Beaky, Mick and Tich (as 'DBMT') attempted to rise anew with a prog-rock repertoire, as instanced by a mild cause célèbre of an album, 1970's Fresh Ear Me). One associated single, "Tonight Today," penetrated the Top Ten in the Netherlands.
Inevitably perhaps, both factions of the old firm resumed an intermittent recording career together in 1974 with "She's A Lady." All members continued, nevertheless, however, to pursue extra-mural projects, as Davies, Amey and Dymond did in Tracker. Yet despite a well-received tour of Germany, this promising trio sundered in 1975. Davies also functioned as one of Woodsmoke, a country & western duo, and recorded songs penned solely by himself for submission to other artists. Then DBMT reunited in the late 1970s, most conspicuously with "In the Coven," a single that might have been a surefire smash had it been attributed to Dave Dee, Dozy, Beaky, Mick & Tich during their "Zabadak!"-"Xanadu" commercial prime.
It was not heard on stage, however, when DDDBMT began focusing chiefly on the Sounds Of The Sixties nostalgia circuit (with a set that sometimes included a showstopping Johnny Cash impersonation by Davies) while tilting occasionally at the charts with such as 1983's disco-tinged "Staying With It," a revival of Manfred Mann's "Do Wah Diddy Diddy," and grafting a Status Quo-esque blues-boogie rhythm onto "Here We Go," the soccer match ditty that lives in its Offenbach melody.
Though Dee died in 2009, Dozy, Beaky, Mick and Tich were still performing together sith the enthusiasm of their younger selves until Davies was diagnosed with acute pancreatic cancer a week before his own death.
He is survived by his wife Yvonne, children Darren and Sarah, and five grandchildren.
'Dozy' (Trevor Leonard Ward-Davies), born 27 November 1944, died 13 January 2015
---