Featured

News

By Harvey Kubernik Micky Dolenz of the Monkees and Felix Cavaliere's Rascals are teaming up for live dates in 2022. Micky is fresh off the 41-date The Monkees Farewell Tour. Felix has a

Featured

Articles

By Harvey Kubernik MICKY DOLENZ, who is now booking himself as "The Voice of the Monkees," and Felix Cavaliere's Rascals are scheduled for live shows in 2022. Their tour begins Janu
Thomas Mera Gartz blazed a trail through psych/Kraut music for over four decades, displaying a streak of minimalism and brutality, tempered with a natural delicacy; and soldiered through times prosperous and lean as a working musician, while former collaborators shuffled off into the world of 9 to 5's. He first came to public attention as (primarily) drummer for the Mecki Mark Men, before serving as founder member of the "continuous seminar of music" called Parson Sound, a group formed to perform Terry Riley's "In C" (Riley had been flown to Sweden to compose an orchestral work for a Stockholm school and work with students). After that initial burst of free-form manna Parson exploded in slippery tentacles down many winding paths, detailed out by humble scribe Erik Bluhm below. Selections by Senor Bluhm and myself give an iceberg-tippin' look into the world of Gertz with a YouTube playlist which follows this tribute. Of Gartz former bandmate Reine Fiske said: "Thomas's unique commitment to everything that surrounded him created a strong spiritual force, a vibe that very easily rubbed off on you and something that can be heard…" Make that time to hear the spirit of this man N-O-W. (jeremy nobody, esq.)
This year saw the passing of Swedish musician Thomas Mera Gartz, best known as a founding member of both the Mecki Mark Men and the Pärson Sound/Harvester/Träd, Gräs och Stenar family. Throughout his forty-five-year career, Gartz also contributed his considerable skills to other notable Swedish combos like Arbete och Fritid and the Hot Boys.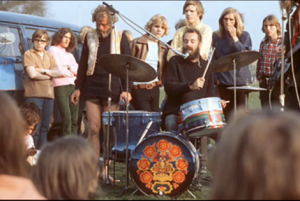 It all began in 1967 when Gartz, then one of two drummers for the Mecki Mark Men, became more and more interested in experimentation and musical freedom. Already contributing sitar and flute to the Mecki Mark Men's sound, Gartz was primed to go further out. On the side he formed the group Pärson Sound with guitarist Bo Anders Persson and bassist Torbjörn Abelli. Envisioned as an informal collective influenced by Minimalism, free jazz, American rock'n'roll, traditional Swedish folk, and various ethno-sounds, the group was not dissimilar in sound and concept to Japan's Taj Mahal Travelers or Germany's Amön Düül and Siloah. Though Pärson Sound never released an album (their collected recordings were released posthumously in 2001), the group was a great countercultural influence and forged much new ground in the Swedish rock scene.
---
The release of his first new album for fifteen years presents Alan Clayson with the opportunity to write some interval notes
Despite the global atmosphere of worsening financial anxiety, ONE DOVER SOUL, a new Clayson long-playing gramophone record has been cast adrift on the discographical oceans. Since my debut as a recording artist in 1978—with Clayson & the Argonauts' disinclined revival of Wild Man Fischer's "The Taster" as a one-shot 45—my output has been, well, sporadic, particularly after a career as an author left the runway with Call Up The Groups!: The Golden Age Of British Beat 1962-67 in 1984.
Soon I'd be scratching a living from my pen at an alarming pace. Output ranged from supermarket potboilers (some under pseudonyms) to the only English language life of Jacques Brel—which, when updated last year prompted Clayson Sings Chanson, a presentation that has been on the road ever since. Most conspicuously, there's been the Backbeat film tie-in, Beat Merchants (a more extensive history of the British beat boom), authorised histories of the Yardbirds and the Troggs, and Death Discs, also the subject of a programme I scripted and presented on national radio. Moreover, I not so much dipped a toe as plunged headfirst into many other—often unexpected—musical waters, such as a 2002 tome about Edgard Varèse, Frank Zappa's boyhood hero, and the missing link between Stravinsky and John Cage.
---
Ritchie Teeter, man of magnificent meter, held down the pound for the mighty Dictators during their most ferocious and fevered period, displaying a dexterity not common in most straight-ahead rock'n'roll. He also saddled the stool as touring member of Twisted Sister for a time, and did a spell with Tom Verlaine (Television), among others. Most prominently, he continually fostered the efforts of many aspiring noise-makers throughout his years, giving them the necessary tools to realize infamy. Luckily, he also contributed to a migh-tee radical catalog that'll rattle our mortal brains for years to come. Below, Dictators guitarist Scott Kempner delivers a moving tribute to his long-time friend and bandmate. Following the article is a link to another Dictator-penned remembrance by Andy (Adny) Shernoff, info on Ritchie's memorial fund, and a 'Ritchie's Golden Moments' YouTube playlist as chosen by Scott. (jeremy nobody, esq.)
This morning, April 10th, 2012, Ritchie Teeter passed away from complications stemming from his battle with esophageal cancer. The news came down hard and unforgiving. Ritchie was our drummer from 1975–1978. Four years of tour, record, tour, record, etc. These were the peak years of the original band's existence. Although Rich's tenure as a Dictator officially came to an end in 1978, he had come back to do a bunch of "reunion" shows in the '80s. It was again a joy to share a stage with him, and relive his own unmistakable approach to the Big Beat. After that, though, we all seemed to lose touch with Rich, although I would occasionally run into him, the last time being at a Del-Lords show in the late '80s. Then, it was no contact until about eight months ago, when I learned of his illness, I knew enough was enough, and the long estrangement needed to end. I wrote him a letter at the last email address I had for him, and that began a series of great correspondence, rekindled friendship, and a final acknowledgment of the eternal bond we created by our extraordinary shared experiences. I only wish I had reached out earlier. Now this…
This is a dark and terrible day, the first such hit the Dictators family has taken. Forty years after the creation of our little band the first casualty is recorded. And dear God, it hurts. The cold glass of mortality thrown our way is a stark reminder of the inevitability of our fate and time here on God's Golf Ball. What follows are some immediate memories and feelings about our fallen brother. Make no mistake, the Dictators are like the Mob, once you're in, you're in. Forever. DFFD.
---