Featured

News

By Jay Dobis     Erkin Koray, aka Erkin Baba, the father of Turkish Rock 'n Roll (he put together the first Turkish rock band (Erkin Koray ve Ritmcileri) in 1957 when he was a high school student

Featured

Articles

By Harvey Kubernik   On August 3, 1966, stand-up comedian, social critic, satirist, and philosopher Lenny Bruce was found dead at age 40 inside his Hollywood Hills home from an acute overdose of mor
As the year drew to its close, we asked our writers to submit a list of their personal favorite reissues and such for 2014. Against all odds, some of them managed to fight through the fog and fug of the holidays and complete the assignment. Here's what they came up with…
Mike Stax (Editor)
Favorite single artist reissues:
The Bonniwell Music Machine – S/T (Big Beat) 2-CD
The definitive collection of the second-phase Music Machine. The Bonniwell Music Machine album expanded to include all of the contemporaneous non-LP singles, along with a trove of demos, outtakes and alternate mixes. Expertly compiled and annotated by Alec Palao, who also was responsible for…
The Seeds – Singles A's & B's 1965-1970 (Big Beat/GNP-Crescendo) CD
Big Beat's comprehensive reissue series of the Seeds' catalog concludes with this great collection of all of the band's singles, from 1965's plaintive "Can't See to Make You Mine" to 1970's gut-wrenching "Did He Die." Alec Palao's detailed liner notes spanning this entire series also serve as the ultimate Seeds biography, shining light on every facet of their story, including special attention to all of their recording sessions.
We the People/American Zoo – Visions of Time (Guerssen, Spain) LP/CD/DL
Not to be confused with the well-known Florida band, this edition of We the People were based in LA and released a handful of singles under that name and as American Zoo. We the People/American Zoo resided in that shadow-shrouded corner of the '60s garage band universe where brooding teenagers spent long, solitary hours listening to Byrds and Bob Dylan records and were duly moved to write somber, soul-searching minor key songs with titles like "Feelings of My Emptiness," "Back Street Thoughts" and "Who Am I?" It's an intoxicating recipe when it's done right, and American Zoo did it right. A class package from the Guerssen label including informative liners by Gray Newell.
---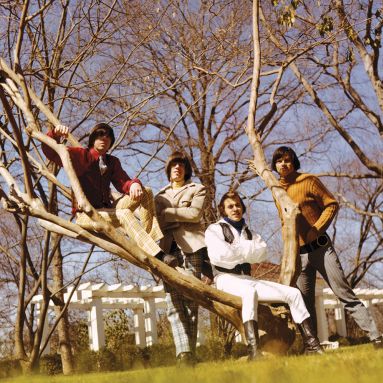 By Doug Sheppard
To capitalize on their hit single and to keep up with their contemporaries, the Seeds entered the sessions for their third album with aspirations of a more sophisticated sound. It was a great plan, but two things stood in the way: their own limitations and the overconfidence of leader/vocalist Sky Saxon.
Saxon's inflated sense of self-importance only complicated the band's limits, but 1967's resulting Future album came off more as a mixed bag than an embarrassment. Between an overdubbed tuba on "Two Fingers Pointing on You" and "March of the Flower Children" (with Sky's inane spoken-word intro) and weak material like "Painted Doll" (crappy ballad) and "Where Is the Entrance Way to Play" (forced profundity), Future has its share of awkward moments. The overdubbed harp may be added to that list, but not on "Flower Lady and Her Assistant" — a darker textured number where the objective doesn't seem as unrealistic — and the obligatory long track "Fallin' ," where an "Evil Hoodoo" vibe portends a bad trip. The resurrected B-side "Out of the Question" and "Pushin' Too Hard" soundalike "A Thousand Shadows" are the best of the lot — probably because they're the only two that recall the Seeds' original sound.
Ironically, three of the best tracks from the session — "Chocolate River," "Sad and Alone" and "The Wind Blows Your Hair" — were left off the album, but appear (plus alternate versions) here. "Rides Too Long" — the original version of "A Thousand Shadows" under a different title — is another highlight of this expanded edition, as are early versions of "Gypsy Plays His Drums" and "Satisfy You," not to mention less adorned versions (the mono "Travel With Your Mind" is the best mix) of a few album tracks. On paper, the full-length version of "900 Million People Daily All Making Love" has the potential to be another — but 10 minutes of it is a tad too much, and some of these songs (see previous paragraph) will never sound good, no matter what the mix.
---
Due in great part to the compilation release of Those Shocking, Shaking Days (Now Again, 2010), the exposure and subsequent interest in unknown and/or long forgotten Indonesian psych/hard rock groups of the late 1960s to early-mid 1970s has been growing in recent years. A virtual treasure-trove of lost tracks and obscure bands, one can only wonder why these Indo treasures weren't excavated sooner. One of the stand-out tracks on …Shaking Days is undoubtedly Shark Move's "Evil War", an incredibly eerie, psychedelia drenched gem that just oozes monster tones and thumping bass. Lest we forget, during the early 1970s, Southeast Asia was very much in turmoil and littered with devastating violence. "Evil War", a song written in the very backyard of that seemingly never ending conflict, speaks volumes about the people who endured so much, yet who persevered in spirit, as evidenced in their their music. And so, in 1973, against the backdrop of war, Shark Move laid down their one and only album, Ghede Chokra's.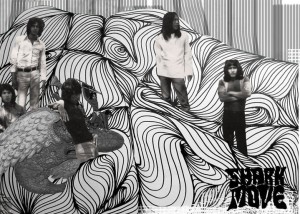 One of the members of Shark Move, a cat by the name of Benny Soebardja, would go on to work with another well-known Indonesian band of the period, Giant Step. It was with Giant Step that Benny almost caught his "big break", when they came painfully close to signing with Virgin Records (UK). However, as with most Indo acts of the time, this was not to be; the world just didn't seem ready. Eventually, Giant Step ran its course in relative ambiguity, being contained, and ultimately lost, within the confines of mid-70s Indonesia. Refusing to lay down his pen, however, as well as his guitar, Benny would go on to crank out some of the most phenomenal solo music the Indonesian music market has ever been hit with. Much like his earlier work with Shark Move and Giant Step, Benny's seminal solo recordings of the 1970s were released without label support, making them essentially private pressings. Between 1975 and 1980, Benny recorded five albums, all of which have never seen any official vinyl issuing…until now. Thanks to the salvage divers over at Strawberry Rain, Benny's first three solo albums, Benny Soebardja & Lizard(1975), Gimmie a Piece of Gut Rock (1977), and Night Train (1978), have been released on vinyl for the first time ever.
BENNY SOEBARDJA – Benny Soebardja & Lizard (1975/2012) [Ltd. Ed. 250] (Strawberry Rain) LP
Where to begin? Well, for starters, this was Benny's first "official" solo release. And, with no label backing this sucker, the creative freedom was flowing — and man, can you hear it. Hell, you can feelit! Backed by Lizard (a group made up of essentially mystery musicians, although I personally suspect some Sharkmovers are present), what you hear on this album is beyond amazing. Standout tracks include "18 Years Old" and "Cynthia"; "Cynthia" will leave you wondering if you've ever really heard a love song before. Upon its original release (if you can even call it a release), Benny Soebardja & Lizard appeared on cassette only, in sudo-bootleg form, and was ultimately absorbed by the sands of time. Enter Strawberry Rain records! This reissue has everything going for it. One, it's a limited edition pressing of 250 copies (however, the Indonesian market had reserved 50% of those pressings, leaving only 125 copies available worldwide). Two, the sleeve on this LP sports the original banned artwork. And three, the album (as well as the other two re-releases) is housed in a vintage tip-on style jacket! How cool is that?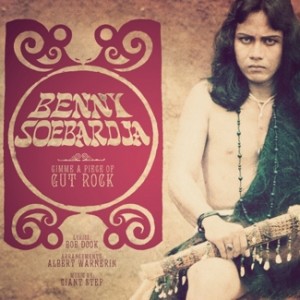 BENNY SOEBARDJA – Gimmie a Piece of Gut Rock (1977/2012) [Ltd. Ed. 500] (Strawberry Rain) LP
Ah, Gimmie a Piece of Gut Rock. Just the title alone is far out! Recorded in just 30 days — rumor has it that Benny was given unlimited studio time — the sound you get off Gimmie… is layered, at times complex, and not necessarily what one would expect coming off of Benny Soebardja & Lizard…but it works! It works so well in fact, that some collectors argue this to be his finest hour. While I personally don't adhere to that opinion, it is nonetheless an epic ride and one definitely worth buying a ticket for. Hey, speaking of Lizard, guess who backed-up the noise on this effort? You got it! But what most people don't know is that Benny also had help from some even older pals on this one, with Giant Step filling the gaps.
BENNY SOEBARDJA – Night Train (1978/2012) [Ltd. Ed. 500] (Strawberry Rain) LP
Recorded in 1978, Night Train may very well be the rarest thing that Benny Soebardja ever laid down. Cassette copies of this creature fetch an upwards of three figures on the Indonesian market! The first track, "Wise World", is a testament in itself; it's also a track that paves the way for the rest of the album, preparing you for some amazing fuzz as well as other trippy musical dealings. Laced in classic Benny Soebardja psychedelic style, Night Train stands out as one of his most crowning achievements. Thanks to Strawberry Rain, this "Benny at his best" title has finally seen a proper vinyl pressing, although it is limited to 500 copies and is getting harder and harder to track down nowadays.  (Bryan O'Keefe)
---