Featured

News

By Jay Dobis     Erkin Koray, aka Erkin Baba, the father of Turkish Rock 'n Roll (he put together the first Turkish rock band (Erkin Koray ve Ritmcileri) in 1957 when he was a high school student

Featured

Articles

By Harvey Kubernik   On August 3, 1966, stand-up comedian, social critic, satirist, and philosopher Lenny Bruce was found dead at age 40 inside his Hollywood Hills home from an acute overdose of mor
(Norton, LP)
Due to lucky circumstances one night back in the '80s, I found myself face to face with Del Shannon, my very first rock 'n' roll hero. I mentioned that when I was 10 years old, hearing "Runaway" for the first time had proved a life-changing experience. Although I knew he must have endured many variations of my story through the years, I found Del to be friendly, funny, enthusiastic, and genuinely down to earth. I saw him live a couple of times too, and he always tore the roof off the joint. The whole point of which is to give fair warning: this will not be a clear-headed, objective analysis of his rockingest Berlee and Amy sides. I love this stuff. It's an amazing compilation, the first to focus solely on what I consider the renegade rocker's peak period.
Once he freed himself from the clutches of the Big Top label, Del got to play rhythm guitar on all his records. Al Caiola had handled most of the guitar duties going all the way back to "Runaway," although Del did play rhythm on "Little Town Flirt" and a few subsequent Big Top sessions. Hooking up with Detroit's rockin' Royaltones proved a tailor-made match for Del. During this time, he chose some perfectly suited covers in "Handy Man" and "Do You Wanna Dance," whilst also penning some of his best originals.
His own "Keep Searchin'" tackled the British Invasion head on, hitting the Top 10 in late 1964. Its themes of persecution and paranoia were carried to even further extremes on "Stranger In Town," which reached the Top 30 early the next year. Both of these atmospheric, superbly produced records feature Del's piercing falsetto and rock like crazy. One follow up, "Break Up," has a tough chord progression and is quite strong, although it barely made the charts at the time. Another one, the frenetic "Move It On Over," features a scorching Dennis Coffey guitar solo but inexplicably failed to hit. There are so many other delights here, including the Link Wray-like instrumental "Torture," which makes its vinyl debut.
To repeat: I love this stuff. (Dave Gnerre)
Review originally published in UGLY THINGS #33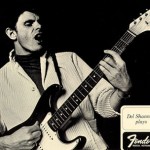 ---
(Munster, Spain) 7" single boxset/CD
The Cramps may have swept to attention in the wake of the '70s punk rock wave, but they were of a different species entirely. This otherness is what makes the Cramps so special. By accident, design or mutated genetic disposition they were able to tap directly into the deep India-ink-black essence that lies at the core of all primal rock'n'roll. What they created with their best music and their live performances—that otherness—was something that existed out-of-time with the rest of the world—and certainly the rest of the music scene. The Cramps' unique vision spawned hundreds of imitators, hopping blindly, stupidly like so many fleas on the back of a big hairy dog. The wanna-fleas may have grokked the mad rockabilly pulse or the voodoo mystique, but the vital essence of it was beyond their understanding. Only the Cramps themselves fully grokked that secret, sacred magic.
If you'd forgotten or, god forbid, never knew just how great the Cramps were, this 10-single vinyl boxset (also available in the more boring CD format) will set you straight in a hurry. Some of the very best of their earliest primal goo-goo muck is here: "The Way I Walk," "Human Fly," "Mystery Plane," "Garbage Man," "TV Set," "Goo Goo Muck," "New Kind of Kick"—the list goes on. Six of these 10 discs are splendid repros of the original 1978-81 singles; four are new pairings with specially-designed cover art in keeping with the all-important original aesthetic. The vinyl box also includes a nifty envelope stuffed with picture postcards.
Liner notes by original Legion of the Cramped fanclub prez Lindsay Hutton seal the deal for this box of Uranium-infused rock'n'roll juice that'll provide thrills and chills for a million years to come. Sacred. (Mike Stax)
Review originally published in Ugly Things #33.
---
(Future Days) CD
Recorded and released in 1970, The Black Gladiator was Bo Diddley's first album of all new material since 1965's 500% More Man. In the intervening half-decade the music scene had been through some pretty radical changes, and the astute and forward-thinking Diddley wasn't about to be left behind. "I just decided to do somethin' different," he told biographer George R White. "Everybody was wearin' funny lookin' crap—Isaac Hayes had come out with chains an' stuff on, an' it was kinda flowin' in that area at that particular time—so I got me some belts an' stuff, an' said I was The Black Gladiator."
The resultant album is one of the overlooked gems in the Diddley catalog, showcasing a freakier, funkier sound that was in step with the times, while retaining the raunch and swagger that defined his earlier work. Bo goes balls-out on the very first track, "Elephant Man," whipping up a torrid, wall-shaking guitar riff over which he hollers some of his craziest rhymes yet, about how he constructed this bizarre animal, called the elephant (maybe you've heard of it?), piece by piece, naming its various body parts, then letting out a blood-curdling scream every time he gets around to not quite mentioning its ass. Such profundity was in short supply at the time.
The album never quite scales the elephantine heights of its monster opening number, but there's still much to enjoy. The backing band cooks throughout—plenty of wailing organ, rattling tambourines and crisp, funky drumming—and Bo is clearly having a ball with this new, different sound. "Black Soul," "I've Got a Feeling" and "Funky Fly" all boast tough, memorable grooves as well as plenty of muscular guitar work. "You, Bo Diddley" is one of Bo's archetypal self-tributes, as is "Power House," a virile boast built around his trusty "I'm a Man" riff, while the strange but wonderful "I Don't Like You" is one of Bo's trademark signifying pieces in the tradition of "Say Man," with Bo trading insults with backing singer Cornelia Redmond (a.k.a. Cookie Vee) and also showing off his abilities as an opera singer—was there no end to this man's talents?
There's been a vinyl boot doing the rounds, but this digipak CD with liners by Scott Schindler is a legit, from the masters, reissue on Light in the Attic's new Future Days imprint. (MS)
(Originally published in Ugly Things #33, Spring/Summer 2012)
---