Featured

News

By Harvey Robert Kubernik  This is not the platform or forum for me to display photos of myself with Charlie Watts or a post card he sent me from the road. However, I feel encouraged by musicia

Featured

Articles

By Harvey Kubernik The John F. Kennedy Center for the Performing Arts today announced last month that Motown founder, songwriter, producer, music publisher, and director Berry Gordy Jr.
Mike Stax talks to Ian McLagan about the new Small Faces box set
"Here come the nice / Looking so good / He makes me feel like no one else could…"
Here Come the Nice is the latest and largest installment in Charly's re-excavation of the Small Faces' back catalog. The bulky box—eleven and a half inches square by two-and-a-half inches deep—is adorned with a simple but stylish graphic based on Kenney Jones' familiar bass drum head and contains a veritable trove of niceties: a large format 72-page glossy hardcover book of essays, rare photos, and recording and recording session minutiae; a second, softcover book of lyrics, full-size reproductions of two huge posters, a foldout Immediate press-release for Ogdens' Nut Gone Flake, two large pictures from the "Itchycoo Park" photo shoot, five promotional postcards; a card autographed by Ian McLagan and Kenney Jones; four seven-inch vinyl records; and four CDs. It's a limited edition of just 3,000 copies.
Nice! But what about the music? Surely we've heard all of it before? After years of buying the Small Faces' material over and over again in different packages, why should Small Faces fans shell out big cash for this new box set?
That's the first question I ask Ian McLagan when I interview him by phone on January 20, 2014.
---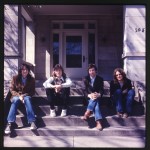 By Bill Wasserzieher
The problem with many documentaries about solo artists and/or bands is that they "print the legend," to lift that old line from John Ford's The Man Who Shot Liberty Valance. That is, filmmakers, being storytellers, flesh out the accepted version of their subject's career—and that's good for what it is, overviews being useful for the uninitiated—but rarely do they dive deep for what is at the core of the actual art.
To put it another way, is there even one among the scores of Dylan documentaries that digs into his songwriting process? I'd love for the hire-by-the-hour "talking heads" who pop up in them to focus on the creative vision that, for example, produced "Just Like Tom Thumb's Blues." Think about those opening lines:
 When you're lost in the rain in Juarez and it's Easter-time too,
And your gravity fails and negativity don't pull you through,
Don't put on any airs when you're down on Rue Morgue Avenue,
They got some hungry women and they'll really make a mess out of you.
 These are maybe the bleakest lines since T.S. Eliot was ruminating on "The Hollow Men" and "The Wasteland." But, no, we always hear about young Bob scuffling in the Village, courting Joan Baez, going electric, retreating to Woodstock, finding/losing/finding religion, ad infinitum. Instead, tell me about those carbolic lines and how his etched-with-acid voice shoves them to the gut.
This problem comes to mind with the new and very competently made documentary Big Star: Nothing Can Hurt Me (Magnolia Pictures). The filmmakers present nearly a two-hour overview of a band whose members were young white guys from Memphis—one a former teenage hit-maker with the Box Tops—who cut an indisputably great album, #1 Record, that went unnoticed; followed by another, Radio City, nearly as good and equally ignored; and then a third, Sister Lovers, which was never actually finished, as the players drifted off to different and mostly sad, bad fates.
The filmmakers get the Big Star story from the band drummer Jody Stephens and bassist Andy Hummel, from friends and relatives of deceased members Chris Bell and Alex Chilton, their Ardent recording studio associates (Ardent headman John Fry is the film's executive producer), an array of rock critics (including a funky old Lester Bangs clip), plus numerous praise-wielding musicians, among them Jim Dickinson, Chris Stamey, Mike Mills, Robyn Hitchcock and Ken Stringfellow.
No denying it's a well-crafted overview, but what's missing is serious analysis of the songs and the musicianship on No. 1 Record. What are those songs about? What do say about life as Chris Bell and Alex Chilton were experiencing it, their individual and sometimes at war psyches (Bell bipolar and troubled by sexual identity issues, Chilton bitter, caustic, frequently loaded), and how did their minds and voices work together and separately? These are things crucial to the Big Star story. Otherwise the band was just one of millions that arguably could have been the new Beatles but were not, though at least this one became famous after the fact and served as a fountainhead for power-pop bands that came later.
Plus the documentary, while keeping with the legend, plays it cautious. Nowhere is the Alex Chilton I met a few times, first in New York City during the late 1970s when he had a loose ensemble called the Cossacks. One night I asked him about the Big Star records, and he responded,  "Fuck that old shit." Nearly 25 years later, after he and Jody Stephens reformed Big Star with members of The Posies, I cornered him after a solo show at McCabe's in Santa Monica, where he had intentionally bummed out a capacity crowd hoping to hear a few Big Star and/or Box Tops tunes by playing instead "Volare" ("Nel blu dip into di blu") and other songs better suited to a Dean Martin tribute. I asked him why, and he said, "I hate my fans." Sometimes an artist is his own worst enemy, but Big Star: Nothing Can Hurt Me doesn't say so.
And that brings to mind those purveyors of commercial/corporate rock, the Eagles. At least the documentary History of the Eagles manages to do more than provide the standard career recap. Glenn Frey, the film's executive producer and primary talking head, spends three hours trashing everyone who has ever rubbed him wrong—producer Glyn Johns who got the Eagles their first hits, former bandmates Bernie Leadon and Randy Meisner (whose previous stints in Dillard & Clark, the Flying Burrito Bros. and Poco gave the Eagles early credibility), original manager and label boss David Geffen, even Timothy B. Schmit and Joe Walsh who are still contracted sidemen in the band, and especially Don Felder who is reduced to tears when interviewed on how he came to be kicked out.
According to Frey, only he and Don Henley really matter in the grand scheme of things—and that's why he's proud to say they get bigger bucks than the others, money apparently his ultimate gauge for success. At no time does Frey ever seem to see beyond his own ego, coming off as vengeful, arrogant and self-absorbed. It's fascinating and twisted, as creepy as watching footage of performance artist Chris Burden nail himself to the hood of a VW Beatle. But at least it's more than just another example of "print the legend," and we do learn something about his band's songcraft, including that Frey dreamed up the title "Life in the Fast Lane" while roaring through Hollywood at 90 mph in a Corvette driven by his dope dealer on their way to a poker game.
In issue #36 of Ugly Things, Alan Bisbort has a review of a DVD titled A Band Called Death. Comprised of three African-American brothers from Detroit who played rock rather than Motown, the band was good enough for Clive Davis, then the head of Columbia Records, to offer to sign them if they would change their name to something less of a sales-killer than Death. But they wouldn't, so he didn't. Now that's a legend new for the telling. Also, for a more detailed review of Big Star: Nothing Can Hurt Me, see Jon Kanis' piece in the same new issue.
---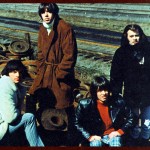 By Doug Sheppard
It's fitting that the Seeds have been retrospectively described as punk — as their history is nothing if not punk before punk. Their wildly contrasting attire of cowboys 'n' Indians 'n' Beethoven confounded audiences, their (for 1965 and 1966) outrageously long hair literally turned heads, and their primitive music made the most of members' limitations. A decade before Johnny Rotten's snarl set the tone for modern punk, Sky Saxon's snide snorting added a distinction that obliterated his previous teen idol failures.
But where the Seeds depart from their punk descendants is that they were reaching for the (pardon the expression) sky. Minimalistic as their sound may have been, they were serious artists doing their part to add brushstrokes to a rock 'n' roll canvas with plenty of unpainted room left. They were a popular band in their native LA, and proud of it – proud of the adulation, proud of their tight musicianship and proud that they scored a major hit with "Pushin' Too Hard" in '66. By practicing rigorously and mostly ignoring contemporaries, the Seeds forged their own sound.
Though they couldn't have known it at the time, they also chose a great record label to keep their legacy alive: GNP Crescendo. As the big fish in GNP's pond, they ensured themselves immortality. As albums by fellow '60s punks like Question Mark and the Mysterians, the Sonics, the Shadows of Knight and countless others became pricey and difficult to obtain through the dark pre-reissue days of the '70s and '80s, the Seeds catalog was always available — making them one of the first '60s garage bands that many fans discovered. Heck, long before outtakes albums became the norm, GNP even did one of those with Fallin' Off the Edge in 1977.
Ironically, in spite of their perpetual availability, Seeds albums never got the deluxe treatment that their once out-of-print colleagues received in the reissue era. All reissues of the first Seeds album used the inferior stereo mix, pressings of A Web of Sound from the 1970s and beyond used an awful alternate stereo mix that wasn't even on original stereo pressings, and the packaging left a lot to be desired. But all is forgiven now that the vaults have been opened to Ace Records and its garage archivist Alec Palao – resulting in proper mixes, remastered sound, bonus tracks, and extensive booklets with detailed liners, sessionography and many cool photos.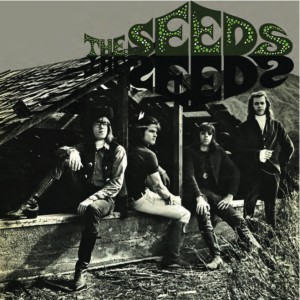 Availability alone doesn't account for why the Seeds are one of the most renowned '60s punk bands. They're also one of the best – and their debut album is as good a place as any to start a '60s garage education. With Sky's frustrated vocals, Rick Andridge's insistent ride-cymbal beat, a killer fuzz riff and tersely great solos by organist Darryl Hooper and guitarist Jan Savage, "Pushin' Too Hard" remains a crowning achievement in rock history – and it's not the only standout on the album. "No Escape," "Girl I Want You," "Nobody Spoil My Fun" and "Excuse, Excuse" sum up the band's burgeoning hedonism and Sky's affinity for the opposite sex, and the five-minute "Evil Hoodoo" dips their feet into the experimentalism of the extended groove.
"Evil Hoodoo" was in fact much longer in its original unedited form, and this reissue treats us to a 16-minute version (with an intercut section) that loses nothing in translation and is a highlight of the 10 bonus tracks (eight of which are previously unreleased). The two alternates of "Out of the Question," "Pushin' Too Hard" with an extra verse and "It's a Hard Life" with more of Savage's guitar savagery also make nice addenda. Best of all, the album's original — and far superior — mono mix is reissued for the first time ever here.
A Web of Sound gets similar treatment from Big Beat – expanding to two CDs to restore the album's original stereo and punchy mono mixes, adding seven previously unreleased bonus tracks and the complete A Full Spoon of Seedy Blues album (released as the Sky Saxon Blues Band). While Web has nothing on the level of "Pushin' Too Hard," it's nonetheless a step forward for the band's creativity with bottleneck guitar by Cooker providing counterpoint to Savage throughout — not to mention the brilliant "Mr. Farmer,' where Hooper overlays oboe-like Farfisa sounds over his trademark Wurlitzer piano. Punk like "Tripmaker" and "Just Let Go" provide further highlights on album culminating with one of the first extended jams on a rock album: the simple yet hypnotic "Up in Her Room." The latter reflects the album and the Seeds in general: repetitive and same-y sounding, yet effective because they deployed their sound so well.
An early take on "The Wind Blows Your Hair" is the best of the bonus tracks, while alternates of five album tracks also make for interesting (albeit not essential) listening. Though the original stereo mix is much better than the alternate stereo that afflicted 40 years worth of Web of Sound reissues (in all formats), the mono version (another first-ever reissue) is the keeper.
A Full Spoon of Seedy Blues is also represented in mono – but the mix is beside the point. Much as the members seem to take pride in their attempt at blues, the results are lackluster – and even guest spots from members of Muddy Waters' band and a new song written by Muddy himself for the Seeds (Did he give them one of his best? Let me guess …) can't rescue this mess. Tellingly, it's the only '60s Seeds album that Big Beat has no plans to reissue individually.
But with A Web of Sound finally reissued the way it was meant to be heard, it doesn't matter. Even better — Big Beat isn't finished with the Seeds yet, as an expanded remaster of Future just came out (it will be reviewed in UT#36), with Raw & Alive and a singles collection – not to mention a documentary film spearheaded by Palao and GNP's Neil Norman – soon to follow.
---