Featured

News

By Harvey Kubernik I am so deeply saddened by the death of Gary Stewart, a veteran music and recording executive who had a lifelong devotion of service to the music in any capacity he hel

Featured

Articles

By Harvey Kubernik I am so deeply saddened by the death of Gary Stewart, a veteran music and recording executive who had a lifelong devotion of service to the music in any capacity he hel
The Velvets' entry into the Golden Archive Series that MGM ran for a mere 12 months starting in 1970 is a curious one. A series more known for packages filled with quantifiable hits by name pop, country, and jazz artists was a strange place for perhaps—along with the Mothers of Invention (also, oddly, profiled in the series)—the most idiosyncratic combo on their roster at the time. In 1970 most people hadn't wrapped their heads around the Velvets—though, their immediate influence was starting to swell in pockets around the globe—and their label clearly understood them no better. Was MGM attempting to re-package both groups for the pop marketplace?
Oddly sequenced, the set reads like either suits determining the most radio-friendly tracks from their first three LPs, or same enlisting a common-man intern not familiar with the group to choose their most palatable sides, with the brutality excised from their grand blend of beauty and brutality. Yet "Heroin" and "White Light/White Heat" are strangely tossed in the mix throwing things askew. You can't fault the tracks chosen, as they're all catalog classics, though focusing on the more spiritually searching, and messy love elements, with a side-order of chemical struggles and darker edges. However, some minor sequence tweaks—either for flow, or to create a narrative out of shifting perspectives—would've bolstered the impact of the set greatly upon initial release. From a fiscal POV I understand, but it's an absolute shame so little of their '67-'68 material is represented—three tracks from The Velvet Underground & Nico, two from White Light/White Heat, and the other five from their recent, decidedly more pop-slanted 1969 S/T album.
Opening with a triple-play of hushed brilliance concerning internal struggles of existence and coupling ("Candy Says, "Sunday Morning," and "Femme Fatale") grabs the ears firmly, but a sharp shift to the pulsing, in-the-red, abrasive noise-fest "White Light/White Heat," is too forceful a move. Their thuggish simplicity and vocal drone is represented in "Here She Comes Now," and too the sweet Tin Pan Alley pop side with Moe at the mic on "After Hours." On the whole a good variety is displayed. While there's a marked step from the total aural and moral destruction of their earlier sides beloved by rock'n'roll trufans, VU were never really something you could easily place in a 'commercial' box even during their attempts at sweetness—there was always one finger raised in your peripheral.
All in all, this is a good entryway into the wonder of VU sans all the dangerous tangles and barbs, but with some retrospective knowledge perhaps a CD is the choice here so you can create your own ultimate playlist. (Jeremy Cargill)
---
Mike Stax talks to Ian McLagan about the new Small Faces box set
"Here come the nice / Looking so good / He makes me feel like no one else could…"
Here Come the Nice is the latest and largest installment in Charly's re-excavation of the Small Faces' back catalog. The bulky box—eleven and a half inches square by two-and-a-half inches deep—is adorned with a simple but stylish graphic based on Kenney Jones' familiar bass drum head and contains a veritable trove of niceties: a large format 72-page glossy hardcover book of essays, rare photos, and recording and recording session minutiae; a second, softcover book of lyrics, full-size reproductions of two huge posters, a foldout Immediate press-release for Ogdens' Nut Gone Flake, two large pictures from the "Itchycoo Park" photo shoot, five promotional postcards; a card autographed by Ian McLagan and Kenney Jones; four seven-inch vinyl records; and four CDs. It's a limited edition of just 3,000 copies.
Nice! But what about the music? Surely we've heard all of it before? After years of buying the Small Faces' material over and over again in different packages, why should Small Faces fans shell out big cash for this new box set?
That's the first question I ask Ian McLagan when I interview him by phone on January 20, 2014.
---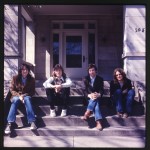 By Bill Wasserzieher
The problem with many documentaries about solo artists and/or bands is that they "print the legend," to lift that old line from John Ford's The Man Who Shot Liberty Valance. That is, filmmakers, being storytellers, flesh out the accepted version of their subject's career—and that's good for what it is, overviews being useful for the uninitiated—but rarely do they dive deep for what is at the core of the actual art.
To put it another way, is there even one among the scores of Dylan documentaries that digs into his songwriting process? I'd love for the hire-by-the-hour "talking heads" who pop up in them to focus on the creative vision that, for example, produced "Just Like Tom Thumb's Blues." Think about those opening lines:
 When you're lost in the rain in Juarez and it's Easter-time too,
And your gravity fails and negativity don't pull you through,
Don't put on any airs when you're down on Rue Morgue Avenue,
They got some hungry women and they'll really make a mess out of you.
 These are maybe the bleakest lines since T.S. Eliot was ruminating on "The Hollow Men" and "The Wasteland." But, no, we always hear about young Bob scuffling in the Village, courting Joan Baez, going electric, retreating to Woodstock, finding/losing/finding religion, ad infinitum. Instead, tell me about those carbolic lines and how his etched-with-acid voice shoves them to the gut.
This problem comes to mind with the new and very competently made documentary Big Star: Nothing Can Hurt Me (Magnolia Pictures). The filmmakers present nearly a two-hour overview of a band whose members were young white guys from Memphis—one a former teenage hit-maker with the Box Tops—who cut an indisputably great album, #1 Record, that went unnoticed; followed by another, Radio City, nearly as good and equally ignored; and then a third, Sister Lovers, which was never actually finished, as the players drifted off to different and mostly sad, bad fates.
The filmmakers get the Big Star story from the band drummer Jody Stephens and bassist Andy Hummel, from friends and relatives of deceased members Chris Bell and Alex Chilton, their Ardent recording studio associates (Ardent headman John Fry is the film's executive producer), an array of rock critics (including a funky old Lester Bangs clip), plus numerous praise-wielding musicians, among them Jim Dickinson, Chris Stamey, Mike Mills, Robyn Hitchcock and Ken Stringfellow.
No denying it's a well-crafted overview, but what's missing is serious analysis of the songs and the musicianship on No. 1 Record. What are those songs about? What do say about life as Chris Bell and Alex Chilton were experiencing it, their individual and sometimes at war psyches (Bell bipolar and troubled by sexual identity issues, Chilton bitter, caustic, frequently loaded), and how did their minds and voices work together and separately? These are things crucial to the Big Star story. Otherwise the band was just one of millions that arguably could have been the new Beatles but were not, though at least this one became famous after the fact and served as a fountainhead for power-pop bands that came later.
Plus the documentary, while keeping with the legend, plays it cautious. Nowhere is the Alex Chilton I met a few times, first in New York City during the late 1970s when he had a loose ensemble called the Cossacks. One night I asked him about the Big Star records, and he responded,  "Fuck that old shit." Nearly 25 years later, after he and Jody Stephens reformed Big Star with members of The Posies, I cornered him after a solo show at McCabe's in Santa Monica, where he had intentionally bummed out a capacity crowd hoping to hear a few Big Star and/or Box Tops tunes by playing instead "Volare" ("Nel blu dip into di blu") and other songs better suited to a Dean Martin tribute. I asked him why, and he said, "I hate my fans." Sometimes an artist is his own worst enemy, but Big Star: Nothing Can Hurt Me doesn't say so.
And that brings to mind those purveyors of commercial/corporate rock, the Eagles. At least the documentary History of the Eagles manages to do more than provide the standard career recap. Glenn Frey, the film's executive producer and primary talking head, spends three hours trashing everyone who has ever rubbed him wrong—producer Glyn Johns who got the Eagles their first hits, former bandmates Bernie Leadon and Randy Meisner (whose previous stints in Dillard & Clark, the Flying Burrito Bros. and Poco gave the Eagles early credibility), original manager and label boss David Geffen, even Timothy B. Schmit and Joe Walsh who are still contracted sidemen in the band, and especially Don Felder who is reduced to tears when interviewed on how he came to be kicked out.
According to Frey, only he and Don Henley really matter in the grand scheme of things—and that's why he's proud to say they get bigger bucks than the others, money apparently his ultimate gauge for success. At no time does Frey ever seem to see beyond his own ego, coming off as vengeful, arrogant and self-absorbed. It's fascinating and twisted, as creepy as watching footage of performance artist Chris Burden nail himself to the hood of a VW Beatle. But at least it's more than just another example of "print the legend," and we do learn something about his band's songcraft, including that Frey dreamed up the title "Life in the Fast Lane" while roaring through Hollywood at 90 mph in a Corvette driven by his dope dealer on their way to a poker game.
In issue #36 of Ugly Things, Alan Bisbort has a review of a DVD titled A Band Called Death. Comprised of three African-American brothers from Detroit who played rock rather than Motown, the band was good enough for Clive Davis, then the head of Columbia Records, to offer to sign them if they would change their name to something less of a sales-killer than Death. But they wouldn't, so he didn't. Now that's a legend new for the telling. Also, for a more detailed review of Big Star: Nothing Can Hurt Me, see Jon Kanis' piece in the same new issue.
---