Featured

News

By Jay Dobis     Erkin Koray, aka Erkin Baba, the father of Turkish Rock 'n Roll (he put together the first Turkish rock band (Erkin Koray ve Ritmcileri) in 1957 when he was a high school student

Featured

Articles

By Harvey Kubernik   To celebrate the 50th anniversary of The Roxy and its enduring relevance, the Grammy Museum announced a new exhibit, The Roxy: 50 Years On The Sunset Strip, which explores the
The Making of Think Pink
An Interview with John "Twink" Alder by Augustus Payne
Could you tell me about the events leading up to the recording of the Think Pink. It was nearing the end of your tenure with the Pretty Things, correct?
 I was playing drums for the Pretty Things and at that time, early to mid '69, I and other members of the Pretties, had been hanging out with Steve Peregrin Took and members of the Deviants. We had performed a number of shows together and would often go out partying afterwards. I became very interested in the Deviants community spirit and began to attend their recording sessions (the last album) and photo sessions, etc.
In June '69 Mick Farren invited me to meet Seymour Stein and Richard Gottehrer of Sire Records, a US record label who had released the Tomorrow album in the States (the band I was in before the Pretties). We met and a deal was struck there and then for album from Twink with Mick Farren as producer. The album was recorded in July 1969 and at the end of the month my last show with the Pretty Things was at the Isle of Wight Festival (Bob Dylan also played). There was still some work to be done on Think Pink, i.e. mixing, which was done with Steve Peregrin Took and Richard Gottehrer in attendance, after I returned from a two-week holiday in Portugal in August or September.
 You rounded up the cream of the London Psychedelic scene to record: Paul Rudolph, Mick Farren, Wally Allen, Viv Prince, John Povey (Pretty Things), John 'Junior' Wood (Tomorrow), Vic Unitt (Edgar Broughton band) and Steve Took (Tyrannosaurus Rex). How did you get everybody together?
It was really quite easy to get everyone together. Apart from a couple of participants, Vic Unitt and John Wood, everyone was fully paid up members of The Pink Fairies Motorcycle Club and All Star Rock & Roll Band. John Wood was a very good friend and as I was preparing to record "Ten Thousand Words In A Cardboard Box" and "Tiptoe On The Highest Hill," both co-written with John, I asked him to come along to the recording sessions. I was living with Jon Povey at the time and he was very keen to help out so I asked Mick to get a Mellotron set up in the studio for Jon to play, which he did.
There were other participants who were peripheral to our "club" who came along and contributed to a lesser degree. "The Mexican Grass War" took advantage of a large number of people in the studio with Viv Prince centre stage playing the drums.
Is there anyone you wish you could have gotten to play on that LP that you didn't?
I was very happy with all the musicians that performed on Think Pink however I think I did try and get hold of Steve Howe who was playing with Bodast at the time. It wasn't until after the recording was finished that I saw him again and played him the album.
Did you prefer being a solo artist or being in a band situation?
I loved being in a band and I also enjoyed being regarded as a solo artist. I had seen other musicians combine group and solo activities which seemed to work for them so why not me?
How did it feel to record your own material after being in many different bands? Was it liberating for you?
It was indeed liberating for me to begin recording my own material after being in some classic bands that had their own established writers. The Fairies – Dane Stevens, Tomorrow – Keith West and Steve Howe, and the Pretty Things – Phil May, Dick Taylor, Jon Povey, Wally Allen. I had started writing in 1965 but began in earnest in 1966. Towards the end of Tomorrow I had a great songwriting partnership with John Wood, Tomorrow's bass guitarist. We started writing together for our project, the Aquarian Age. We recorded a number of demos for EMI and a single was released by them titled "Ten Thousand Words In A Cardboard Box" b/w " Good Wizard Meets Naughty Wizard" by the Aquarian Age. I re-recorded "Ten Thousand Words In A Cardboard Box" for Think Pink, which features some awesome guitar work from Paul Rudolph.
Can you tell me about the studio the album was record and the kind of atmosphere you created in the studio?
The studios used for recording were Recorded Sound Studios, just behind Marble Arch, where the majority of sessions took place, and Decca Studios, West Hampstead—just one afternoon session there. The recording of Think Pink took place in July 1969 and they were nighttime sessions, much more fun. The exact dates I don't know. Although there appears to be an over the top sense of freedom surrounding the recording, there was at the core of it all, "This is business and the job has to get done!" Mick (Farren) ensured all the equipment, amps, keyboards, drums etc, were in place before the sessions started. Also he made sure the booked sessions musicians were there on time too. At other times friends and family dropped by and we simply invited them to guest on various track. The atmosphere was generally relaxed, only taking time out to roll up some 'charge'. But when the red light goes on it's serious business time.
How did drugs figure into the equation? I've compared the LP to friends as "An Aural Mescaline Trip." Were you guys doing psychedelics in the studio?
 No psychedelics were used in the studio. However the recordings were made with the "acid" listener in mind. The only mood altering substances used during the recording was hash and grass. I'll take that as a high compliment describing the album as "An Aural Mescaline Trip."
Who engineered the sessions? There are some astounding sounds on the LP. How well versed did you feel in the studio environment?
I also cannot remember the studio engineer's name unfortunately and there was no time to experiment in the studio. I had studio experience and was well versed at working in a recording environment since 1964. In 1967 and 1968 I had the pleasure work with the master producers Mark Wirtz and Norman Smith and those great engineers Peter Mew and Geoff Emerick at Abbey Road Studios. I recently re-united with Peter Mew at Abbey Rd to mix and master You Reached For The Stars the new album from Twink and The Technicolour Dream on Sunbeam Records. I learnt a great deal from them and I put it into practice on Think Pink. Also helping out in the studio with production and sound ideas was Jon Povey and Steve Peregrin Took, both men of recording studio experience.
To me it seems you were using the studio as almost another band member, would you agree?
I agree that the studio and all that is in it is another instrument/musician and must be treated with respect, and in this case I got the best out of Recorded Sound.
Did you demo the songs before recording? The arrangements seem very free flowing and unforced.
Most of the songs I had demo sketches for, and as you probably realize "Ten Thousand Words In A Cardboard Box" was previously recorded by the Aquarian Age. "Suicide," the first song I wrote, in 1966, was demo'd at that time. "Tiptoe On The Highest Hill," another Aquarian Age song, was demo'd at EMI demo studios in Manchester Square. Steve Peregrin Took's two songs, "The Sparrow Is A Sign" and "Three Little Piggies," were put together in the studio. The musicians were given a lot of freedom but I did spend time with Paul Rudolph going over the songs before going into the studio to record.
To me it seems like you gave everyone a lot of freedom to express themselves. It's very much like what I'd imagine a live show at the UFO club would have sounded like—only condensed into three to five minutes instead of 20-25 minutes.
 The album does have a live feel and I've been thinking about performing the whole album live at sometime in the future.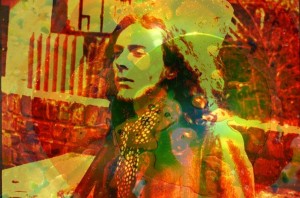 I've found that it's a very visual album. Did you set out to achieve that kind of feeling in the listener? I see very religious-type visuals listening to certain songs on the LP.
I came to realize by listening to other psychedelic musicians and bands that the mind of the listener to music is like a canvas. Therefore using instruments and studio techniques like paint and brushes, and music and lyrics as colours, one can create amazing visual images for the listener. And that's what I set out to do with Think Pink.
When I first discussed what I wanted to do with Mick he suggested to me that the album should be "like a Mass" and I kept that in mind while we were recording. However as the recording progressed I moved away from a total Mass concept and decided to paint individual pictures.
Could you talk about the influence The Living Theatre had on the LP?
The Living Theatre certainly influenced the making of Think Pink. I wanted to create an audio experience similar to that of the visual experience created by Julian Beck and his actors, actresses and musicians. A very free-orm and relaxed atmosphere with a firm base and I wanted to involve the listener as a participating group member to the recordings. I think I managed to achieve that.
How much of an influence did Steve Took and Paul Rudolph have on the LP?
Steve Peregrin Took and Paul Rudolph's influence was considerable. Steve was like a partner to the proceedings coming up with some great ideas, contributing enthusiastically to the recordings and finally helping out with the final re-mix. Paul too was enthusiastic and his guitar parts on "Ten Thousand Words In A Cardboard Box" and " Tiptoe On The Highest Hill" are awesome to say the least. The acoustic duet between Paul and myself at the end of "Suicide" is very special to me. And not forgetting Silver who was always very supportive in and out of the studio. She can be heard on the tracks "Fluid," "Three Little Piggies" and " Rock & Roll the Joint."
Let's talk about the individual tracks: "The Coming Of The Other One" – the album begins with reversed sitars and a quote from Nostradamus. Quite a way to start the LP. At the time did you believe the apocalypse was near or was it more a symbolic rebirth of a new and better society—a separate reality so to speak?
This song uses a poem of Nostradamus to a psychedelic soundscape of sounds to tell the listener about The Day Of Judgement. Jesus (The Other One), peace be upon him, will return and all those who have been buried shall rise again from their graves to meet their Maker. All the signs are there today announcing the end of the world is near.
"Ten Thousand Words in a Cardboard Box": was this song about the end of Tomorrow? It sounds like someone who's just going from thought to thought. Paul's solo is explosive. Do you remember if it was rehearsed or just spontaneous magic?
The title for this song was the idea of John 'Junior' Wood. It described the way he was feeling about Keith West at that time (1968) and I agreed with him then, which also includes the part in the song, "There he goes on another voyage of his own delusion never knowing where the next thought will take him." Paul Rudolph's guitar performance is outstanding on the recording and cannot be faulted. As is Junior Wood's bass guitar performance. The song was rehearsed with Paul but the performance was spontaneous under my direction.
"Dawn Of Magic": this song has a very mystical raga like feel to it. What did you envision when you recorded this song? 
This is a portrait of Earth just before Adam, may peace be upon him, and Eve, peace be upon her, arrived on Earth from Paradise closely followed by Shaitan (The Devil). This was the vision.
"Tiptoe On The Highest Hill": There is an amazing reverse solo in the song about 2:30 into the song. It's truly psychedelic nirvana when it kicks in. Do you remember the recording of this section?
 Another song written by the Aquarian Age which also featured John Junior Wood on bass guitar for this recording. A song full of psychedelic and surreal imagery. The backward guitar effects during the solo are mind-blowing. I remember recording this section and being over the moon with result.
"Fluid": A love song between Silver and you? It sounds like you guys had a lot of fun making this track. What can you recall?
Very sexy! Silver and I retired into a recording booth for this track.
Gnarls Barkley sampled parts of "Fluid" for a new song creation called "Would Be Killer," and this new version was featured on their four times Grammy nominated album The Odd Couple.
"Mexican Grass Wars": Viv Prince plays drums on this track. Any good Viv tales from the sessions?
This was freeform in the studio with all the musicians playing ad-lib parts as the work developed. Nothing has changed much in Mexico, then we had the Grass Wars and now we have Cocaine Wars. This track features my old mate Viv Prince. It was fun having Viv in the studio with lots of other visitors that night. I hope we can do it again on Think Pink II.
"Rock & Roll the Joint": The panned wah wah is out of control. What sticks out to you looking back on this track?
A good bit of rock 'n' roll. If you listen carefully to one of the breaks you can hear someone saying, "Come baby, let's be quick. Pass the joint and suck my dick"
I also remember being on my knees working the two wah wah pedals to get it just right.
"Suicide": I always felt this song was about the death of the ego. What were you thinking when you wrote this?
 The very first song that I wrote 1966. I never contemplated suicide but it seemed an interesting subject. I enjoyed playing acoustic guitar along with Paul Rudolph on this track, great feel! I remember when writing this song some friends seemed to be in a bad way and I was thinking of them.
"Three Little Piggies": Is there any hidden meaning to this song?
Big respect for Steve Peregrin Took for this and the next track. No hidden meaning here.
"The Sparrow Is A Sign": Excellent way to close out the album. How would you and Steve write together?
Big guitar from Paul Rudolph and great lyrics from Tooky. Steve wrote the lyrics and we wrote the music.
I've heard you weren't happy with Mick Farren's original mix. What went wrong?
I don't know what happened to Mick's original mix. I suspect he was mixing as if it was a Deviants album, which turned out to be unacceptable to me and I had to re-mix.
I remember going back into Recorded Sound after getting approval from Sire Records to do a re-mix. Steve came along with me and Richard Gotterher from Sire was in attendance. It was an evening and night-time mix. We turned down the lights and got on with the job. As we progressed, Richard, every now and then, gave me the thumbs up, which was encouraging.
What do you remember thinking when you were done making the LP?
When we finished up I felt we had gotten the best out of the recordings and I relaxed and waited for its release.
Could you tell me about how you came up with the front and back cover design? Where were the photos taken?
Luckily it was brainstorming at the final photo session with Po (Aubrey Powell) from Hipgnosis that produced the front cover shot, taken in Holland Park, London. The back cover shot I think was Po too, but we already had that in the can. That shot was taken as we were driving around looking for locations to shoot when we saw a demolition site where they had a bonfire going. Silver, my girlfriend, and I were put in front of the fire and Po started to shoot. There were about three complete sessions for the cover at different times. Two sessions with Po, one at the London Stock Exchange where the photo lab destroyed the film, and one session with Storm [Thorgerson], also a part of Hipgnosis, which didn't produce anything significant and was shot around the Kensington High Street area. The choice of pics was mine and Keith Morris did the layout.
Did you plan to tour around the album?
I did plan to tour once the album was released in the UK. However it took about 18 months for the album to be released by which time the Pink Fairies with Paul Rudolph, Russell Hunter, Duncan Sanderson and me had formed. Polydor decided to release Think Pink as a teaser for the Pink Fairies' first album release, Never Neverland. Decca were initially interested in Think Pink, but after the disappointing first mix meeting with Decca's A&R department, things began to slow down. I hadn't heard to first mix until the meet and I was as embarrassed as everyone else. The recordings sounded flat and lacked colour. The only thing to do was to re-mix which is what I did after getting Sire's approval. What you hear on Think Pink is that final mix.
How do you feel about modern artists sampling your work?
Warner Brothers contacted me and as soon as I realized who Gnarls Barkley were, my son Frederick told me all about them. I was happy that Danger Mouse had sampled "Fluid" for their second Grammy Nominated album The Odd Couple. Apart from the royalties it was an honor for me to be alongside Cee Lo Green on the new track entitled "Would Be Killer." My voice and drums, Silver's voice and Vic Unitt's guitar features heavily on "Would Be Killer." More samples, no problem as long as I get full credits, etc.
Think Pink has been out of print for many years. How does it feel for it to be back in print on Sunbeam Records?
It's wonderful to have Think Pink back in print again and I'm delighted it's with Sunbeam Records.
If you could do it again would you change anything about the LP?
I wouldn't want to change one thing. It's fine as it is. A great time-piece full of wonderful memories. I look back on the '60s and '70s fondly with the '60s being the golden decade for British music.
---