Featured

News

By Jay Dobis     Erkin Koray, aka Erkin Baba, the father of Turkish Rock 'n Roll (he put together the first Turkish rock band (Erkin Koray ve Ritmcileri) in 1957 when he was a high school student

Featured

Articles

By Harvey Kubernik   On August 3, 1966, stand-up comedian, social critic, satirist, and philosopher Lenny Bruce was found dead at age 40 inside his Hollywood Hills home from an acute overdose of mor
Requiem For A Mensch: Gary Stewart, 1956-2019
By Harvey Kubernik
I am so deeply saddened by the death of Gary Stewart, a veteran music and recording executive who had a lifelong devotion of service to the music in any capacity he held, starting out at Rhino Records (later Rhino Entertainment, where he became senior VP of A&R) and later at Apple iTunes.
In 1976 I first met Gary when he was a student at Cal State Northridge. He politely asked to use my name as a reference on his first job resume in 1978 when I was West Coast Director of A&R for MCA Records. In 1982 I recorded him for an album I produced.
One time in the mid-eighties I had a backstage pass for an Elvis Costello show at a theater in Beverly Hills. Gary came up to me in the lobby and said, "I know you can bring any girl or A&R guy in this place backstage to meet Elvis. But can you try and introduce me to him? I've never met Elvis and have a business proposal regarding Rhino Records and his catalog that I want to speak to him about."
I took the laminate off my jacket, and immediately gave it to Gary.
He then asked for Costello's management contact information. Gary had a Mel Torme box set he wanted to send him.
How many box sets over decades did Gary Stewart constantly give to people?
Weeks later Gary called and said he was on his way to Ireland to meet Elvis Costello at a hotel. Months later Gary arranged a catalog deal for Costello to the label. When the Costello recordings were eventually reissued he sent me the initial copies. My name was the first one in his thank you credits.
After ownership changes at Rhino, Gary went out of his way to ask me to write the liner notes for a 2002 Rhino reissue of the Phil Spector-produced Ramones' End of the Century album. He knew I was present at the recording sessions as food runner and a percussionist on some tracks.
Gary promised no usual machinations at the label, editing behind my back, and the names I wanted included in the musician credits, which were deleted when the LP was first released.
He tripled the offer fee beyond the usual payment and doubled the allotment of promotional copies once he realized I went to college in the seventies with a Democratic Congresswoman he was currently campaigning for re-election in his district.
"Consider some of this reparation," he joked. I replied, "I'm taking this deal because you went to Venice High School with Teena Marie!"
Gary knew her as Mary Brockert and remembered when she had a lead role in a production of The Music Man. He then told me a wonderful story decades later re-connecting with her in his job at iTunes.
Gary also spearheaded the box set release of Nuggets: Original Artyfacts from the First Psychedelic Era, 1965-68, an expanded reissue of the double-album originally compiled by Lenny Kaye along with two other Nuggets-themed boxes: Nuggets 2: Original Artyfacts from the British Empire & Beyond, 1964-69, and Children of Nuggets: Original Artyfacts from the Second Psychedelic Era, 1976-1995.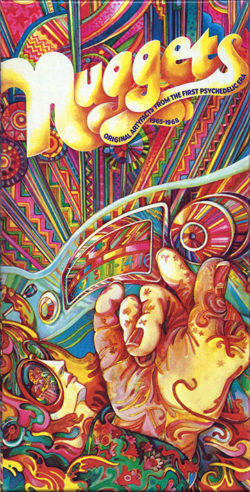 Gary Stewart was a person who truly supported the arts and deeply cared about other people. Gary constantly demonstrated that it could be about the music and not exclusively about the music business. Somehow he still managed to blend his fandom with a keen sense of retail reality that informed the work we will always enjoy and cherish.
But how do we collectively process his global impact and physical departure?
Maybe the Elton John/Bernie Taupin lyric "Where to Now St. Peter?" can provide some sort of revealing and healing?
So now we sit shiva for a remarkable person whose vision is documented in our record and compact disc collections. Perhaps these quotes from interviews conducted with Gary might possibly underscore the feeling of loss that so many of us are feeling.
I am thankful Gary participated in my book Turn Up The Radio! Rock, Pop, and Roll in Los Angeles 1956-1972.
GARY STEWART: I do think a lot of the 1956–1972 music remains popular throughout the work of new artists like the Fleet Foxes, White Stripes, My Morning Jacket, Wilco, the Strokes, Amy Winehouse, Adele. There's a lot of harkening back to earlier forms. In the nineties, there wasn't so much drawing from that previous period.
There is another thing about the popularity of this period—they got there first, just as in the early days of rap and that sort of second period. The possibilities for experimentation become narrower. They aren't gone, but a lot of the stretching has been done. That period usually comes, not during a birth of a form—that's there—but comes right after the birth of a form, when there's money in it and enough support for taking risk. Then the money often takes over as record companies become profit centers. You've created this machinery you can't get out from under. If you look at the sixties, there were so many great records, because there was enough money for them. Part of the reason was that there were enough people who had grown up with rock 'n' roll for the previous ten years, so you had teenagers or early twenty-somethings to support it.
Three Dog Night's legacy was having both the AM and the FM radio world. Look at their first four albums—you can see tracks by Moby Grape, Spooky Tooth, Traffic, the Band, and Argent. The songwriters that they introduced, as well—Elton John and Bernie Taupin, Laura Nyro, Hoyt Axton, Neil Young, and Randy Newman—they were selling out seventeen-thousand-seat arenas, like the Forum, at a time when AM artists weren't able to sell out big gigs.
Listening to Leiber and Stoller, their non-Coaster records often get missed. Their records had this great sense of humor, but clearly were about teenage identity. They even worked in politics and race. If you hear their song 'What About Us,' it can work as an Occupy Wall Street song. There are bits of that in 'Riot in Cell Block #9' and 'Shopping for Clothes.'
My mission at Rhino Records was to turn people on to artists that they didn't know, songs they didn't know in general, or to artists that people knew only for the three to five songs they had heard from oldies radio or wherever exposure they got. It was to give people a deeper experience, and make a case for that. I was going on instinct. Once we started to grow and get a brand, we found ourselves competing with ourselves. When box sets came out, the major labels started to take catalogs more seriously and develop these elaborate packages, trying to beat us.
I'm extremely grateful Gary also contributed to my 1967 The Complete Rock History of the Summer of Love.
GARY STEWART: Prior to 1967 (with some infrequent exceptions in 1966), everything under the banner of rock 'n' roll was made for money for sheer purposes of commerce . . . not for art.
That changed with the emergence of the Doors, Love, the Grateful Dead, Quicksilver Messenger Service, Jefferson Airplane, and the Velvet Underground. They not only took this rock 'n' roll beyond its three-minute limit and added eastern Indian sounds, jazz tones, folk, and elements of classical in search of something beyond the hit single. Even though most of them didn't know what they were doing at the time—in the best sense of the word.
I look at the rock 'n' roll of the sixties as puberty. The birth of the form happened in the fifties, and that was great, but the most interesting phase and the richest period of any movement comes after that formative period when the possibilities inherent in growth exploration and experimentation get realized.
That's what happened after the Beatles and the British Invasion. And by 1967, many of those that might have sought purity in poetry, jazz, folk, other credible forms of expression, found those possibilities in rock 'n' roll, and this extends to soul music.'
In came the sitar, the horns, jazz, and classical elements and Tin Pan Alley, along with ideas, forms, and concepts that were previously or primarily relegated to jazz, folk, or other forms that were practiced as art. And you have this room to grow that you haven't seen since then. Because you can't. That's that one great period in 1967 that marks rock as art form and a focus on the Summer of Love."
A Teddy Bears' recording describes Gary Stewart the best: "To Know Him Is to Love Him."
© Harvey Kubernik, 2019
---