Featured

News

By Jay Dobis     Erkin Koray, aka Erkin Baba, the father of Turkish Rock 'n Roll (he put together the first Turkish rock band (Erkin Koray ve Ritmcileri) in 1957 when he was a high school student

Featured

Articles

By Harvey Kubernik   To celebrate the 50th anniversary of The Roxy and its enduring relevance, the Grammy Museum announced a new exhibit, The Roxy: 50 Years On The Sunset Strip, which explores the
Pretty Things live '67… and the Valiant Little Tailor
By Mike Stax
The Pretty Things may not have been the most commercially successful band of the '60s, but at street level, around the world, they had more influence and credibility than many of their more popular contemporaries. One band who formed in homage to the Pretties is Valiant Little Tailor, a short-lived outfit from Wuppertal, in the North Rhine-Westphalia region of Germany, a band so obscure they don't even rate a mention in Hans-Jurgen Klitch's definitive German Beat book, Shakin' All Over.
"I first heard 'Rosalyn' in '65 as a 14-year-old boy," relates the group's drummer, Uli Schmidt. "I was over the moon with that great voice of Phil May and the great guitars of Dick Taylor and Brian Pendleton. Even though it was a mono single, you could hear the bass of John Stax like a stereophonic 45. It changed my life a bit. My hair grew and grew. I wanted to look like my hero, Phil May, but I always was told that I looked a bit like Brian Jones."
Before long, Uli had decided to form his own group. "I tried to play drums, influenced by the Pretties' 'You'll Never Do it Babe,' and found birds of a feather in '67 called Michael and Klaus. It was a pubertal thought to become a famous group like the greatest band in the world, the Pretty Things."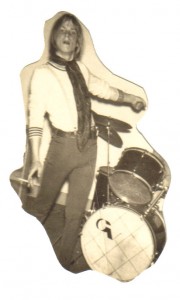 Michael Müller sang and played guitar, Klaus Meier handled the bass, and Uli drummed and also sang. They took their name from a German fairytale collected by the Brothers Grimm. Not surprisingly, their setlist borrowed heavily from the Pretty Things' repertoire, including "Roadrunner," "Don't Bring Me Down" and "You'll Never Do it Babe"— "my favorite, because of the drumming," notes Uli. They also covered "I'm a King Bee," "Mona" and "Around and Around"—all learned from the Rolling Stones. "We only covered songs and didn't write any ourselves. We didn't record anything either."
In Wuppertal Valiant Little Tailor were, in Uli's words "a little popular." "For the year '67 maybe we looked good," he jokes. "We played at youth centers and school assembly halls. The biggest audience we had was maybe one hundred pupils."
The local scene was pretty strong in the '60s. "There were a lot of groups in this time," says Uli. "Good ones I think were the Beatkids, the Mods, and the most popular were the Kentuckys who had two hit singles in Germany: 'Uncle Willy' (Bellaphon 1020, 1965) and 'The Old Hangman is Dead' (Bellaphon 1032, 1966). But our favorite guitarist was the late Wolfgang 'Adolf' Galden who played with the Action Issue Bluesband, the Muddy Waters and as Travelling Wolf (see him on You Tube). He had one album called Wupperblues (AIN records 1989), 'Adolf' died in 2006 at the age of 57."
The highlight of the era for Uli came on November 11, 1967 when the Pretty Things came to Wuppertal to play at the Stadthalle. "At that time my father was a shopwalker in a fashionhaus [clothing store]," explains Uli, "and at the same time responsible for organizing a musical event called the Beat Band Ball in our town hall. His 16-year-old son Uli (me) hassled him to book the forthcoming greatest band in the world, the Pretty Things—and father did!"
Unfortunately, Valiant Little Tailor did not get the opening slot. "They wanted a professional band that was already well known in Germany," explains Uli, "so they booked the German Bonds. The Beatkids were also booked, because they were well known in Wuppertal. So Valiant Little Tailor had no chance."
Nevertheless Uli—"in a 'lovely' flower power shirt"—and his bandmates were there to see their idols in action. Uli was also able to meet the band and snap some photographs. Some of those photos are published here for the first time.
"The Pretties played some songs off Emotions," remembers Uli. "'Children,' 'Photographer,' and I think there was 'Turn My Head,' 'Reincarnation,' 'Roadrunner' for sure, 'Buzz the Jerk,' and other stuff I can't remember. During the gig I was so excited and on this day I also met my first love, Ilse. A whole lot of hormones filled my body and my brain! Backstage I could talk to them and for me, as a 16-year-old boy, I was very nervous and excited. The band members all were very friendly. I can't remember what I asked them, young boy Uli was only happy to be with them backstage. The vociferous audience of nearly 2,500 young people liked the performance of the band and the boys and girls went wild when Skip smashed a chair!"
Valiant Little Tailor disbanded in 1968. "After one and a half years we met with no response so we split up," says Uli. "I never heard of Michael and Klaus again. I began to play activity-related handball and did my job as an apprentice lab assistant."
Some of the other beat group musicians from those days are still carrying the flame, though. "Some members of the former Beatkids are still friends of mine," says Uli. "Nowadays they play cover rock and name themselves Pöms (idiom for pumps). Two other friends of mine, Werner—a diehard Pretties fan from the beginning—and Jürgen, play in the Open Blues Band. They do great stuff like Robert Johnson, Willie Dixon and so on."
Uli Schmidt still lives in Wuppertal and remains a diehard Pretty Things fan.
Originally published in UGLY THINGS #32 (Fall/Winter, 2011)
---