Featured

News

By Jay Dobis     Erkin Koray, aka Erkin Baba, the father of Turkish Rock 'n Roll (he put together the first Turkish rock band (Erkin Koray ve Ritmcileri) in 1957 when he was a high school student

Featured

Articles

By Harvey Kubernik   To celebrate the 50th anniversary of The Roxy and its enduring relevance, the Grammy Museum announced a new exhibit, The Roxy: 50 Years On The Sunset Strip, which explores the
One Dozen Picked Berries: 12 Great Chuck Berry Covers
By Doug Sheppard
The musical, cultural and societal waves that Chuck Berry made by pioneering rock 'n' roll could fill a book. And of course, there are so many great songs—brilliantly executed, simple yet evocative vignettes that in turn provided inspiration and cover fodder for countless bands down the road. As we mark his passing, the time is right to revisit the best Berry covers.
Lists like this tend to be a few obvious choices coupled with an avant-garde rendition and/or an unexpected version by an artist (usually a pop crooner) to prove how great the song is. I'm sure there's a stunning Chinese Sanskrit version of "Johnny B Goode" played on exotic instruments and probably even a reggae remake of "Jo Jo Gunne," but I don't care. To me, it's all about the rock 'n' roll. Rather than researching, I listed the first 12 that popped into my head; after all, if a song isn't memorable, then how good is it?
As the list emerged, so did a theme: The greatest Berry covers tend to be spontaneous, or at least remade in the spirit of fun—much like Chuck's originals. Maybe I missed something. Maybe I didn't. Is this list definitive? At least in your mind if you want it to be.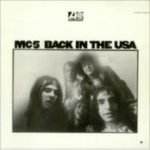 1) THE MC5: "Back in the USA" (1970)
The trebly highs, lack of bass and neutered guitars of Jon Landau's botch-job production nearly ruined Back in the USA, but it's a great album nonetheless—and the Berry cover seems to make the perfect title track. With the Five having fought the law, the record company, Hudson's and society in general, one can't help but note the irony when Rob Tyner sings "I'm so glad I'm living in the USA" followed by the more emphatic "I'm so glad I'm living in the USA." Sarcastic or not, the insistent background vocals, wind-chime piano and ripping guitar solos imply a good time. "Detroit, Chicago, Chattanooga, Baton Rouge" indeed.
2) THE CHOCOLATE WATCHBAND: "Come On" (1967)
The Chocolate Watchband had a way with covers, besting the Tongues of Truth on "Let's Talk About Girls" and the Brogues with "I Ain't No Miracle Worker," possibly even the Kinks with "I'm Not Like Everybody Else." Another fine moment was "Come On," likely inspired by the Rolling Stones' version from four years earlier. But whereas the Stones' take moves like an English sports car, buzzing adroitly like an Aston Martin, the Watchband remake ups the tempo and speeds smoothly like a '66 Corvette, pulsed by Gary Andrijasevich's drumming and the deadly harp/vocal whammy of Dave Aguilar.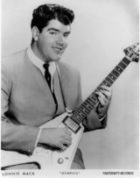 3) LONNIE MACK: "Memphis" (1963)
From Cincinnati by way of rural Indiana, Lonnie Mack turned "Memphis, Tennessee" into a melodic marvel on this instrumental remake that landed him his first hit in 1963. Mack's fluidity on the Flying V is infectious and, even more remarkably, this was recorded as an afterthought when he had 20 minutes of studio time remaining from a session he'd played on.
4) JOHNNY WINTER: "Thirty Days" (alternate version) (1974)
Don't you hate it when lists have some obscure demo version of a song available only on an obscure album? So do I, but there's no way around it in this case. The Johnny Winter version of "Thirty Days" that ended up on Saints & Sinners is good, but it can't compare to this alternate. This version, which appeared on Legacy's A Rock 'n' Roll Collection in 1994, rips with Johnny's badass vocals, trademark white-lightning guitar solos and a rough rhythm section. Sounds like an on-the-spot first take, which may be why it initially didn't come out.
5) DAVE EDMUNDS: "Promised Land" (1971)
Dave Edmunds took one look at the emergent studio sophistication of the '70s and responded with Rockpile, an album flaunting simplicity in sound and production—including this killer Berry cover drenched in reverb and Dave's verve for primal rock 'n' roll.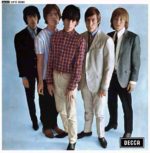 6) THE ROLLING STONES: "Around and Around" (1964)
The Stones' love of Berry is well-known, from the faithful remake of "You Can't Catch Me" on Now! to the Altamont-era live renderings of "Carol" and "Little Queenie." But the pinnacle of their Chuck fetish was this killer romp from Five By Five and 12X5. In hindsight, one can hear how they were on the verge of parlaying their Berry and Chess blues fandom into something entirely their own.
7) THE YARDBIRDS: "Jeff's Boogie" (1966)
Credited to Jeff Beck as an "original," but we all know that this was "Guitar Boogie" retitled, right? Jeff's licks are at the forefront, but don't underestimate drummer Jim McCarty's swinging beat, which makes the engine purr.
8) MOUNTAIN: "Roll Over Beethoven" (Flowers of Evil live version) (1971)
Sidelong tracks rarely work, but "Dream Sequence"—side two of 1971's Flowers of Evil—is one of them, mainly because it's several songs strung together rather than a long jam. As Corky Laing and Felix Pappalardi drive harder than a Mack truck on the Long Island Expressway, Leslie West piles up guitar riffage and fireworks, including a heavier than heavy "Roll Over Beethoven" that shreds ELO's version like a lawnmower over grass. (Legacy later isolated "Roll Over Beethoven" as a single track for 1995's Over the Top double-CD compilation.)
9) THE BEATLES: "I'm Talking About You" (1963)
While some are partial to studio creations like "Rock and Roll Music" and "Roll Over Beethoven," to me the Fab Four's best stab at Berry was a 1963 BBC Saturday Club rendition of "I'm Talking About You." With one foot in their raw Hamburg past and the other in their British invading future, this R&B-soaked stomper (found on On Air — Live at the BBC Volume 2) should put to rest any notions that the Beatles were tame.
10) THE FLAMIN' GROOVIES: "Carol" (1970)
The flame of rock 'n' roll may have flickered and dimmed in the early 1970s, but its spirit lived in the Flamin' Groovies, who did a bang-up job on Berry with this Matrix rehearsal. "Carol" represents everything that made the early Groovies great: Roy Loney's rockabilly-esque vocals, piston-popping rapid-fire guitars by Cyril Jordan and Tim Lynch and the tribal pound of Danny Mihm and George Alexander.
11) THE WALKING FLOUR: "I Want to Be Your Driver" (1967)
Hundreds if not thousands of American teens covered Chuck in the garage band era, but none were as forthright as this short-lived Sacramento, California quintet. "I Want to Be Your Driver" stands out not only because it's a lesser-known Berry side, but with red-on-the meter fuzz, organ and spasmodic Ringo-like drumming by a guy who would later play with Les Dudek. Initially unreleased but unearthed on Ace/Big Beat's The Sound of Young Sacramento in 2000.
12) PAUL REVERE & THE RAIDERS: "Maybellene" (1964)
Also initially unreleased but far from obscure, this live rendition illustrates the flair that so many early '60s Northwest bands (the Sonics' version of "Roll Over Beethoven" also comes to mind) had for cover material. After an irreverent joke about Chuck's brushes with the law, the Raiders kick in to a rearranged version of "Maybellene" that sets it to a "Memphis"-like swinging beat in lieu of the original's two-step rhythm.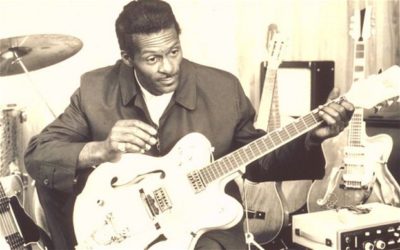 ---