Featured

News

By Jay Dobis     Erkin Koray, aka Erkin Baba, the father of Turkish Rock 'n Roll (he put together the first Turkish rock band (Erkin Koray ve Ritmcileri) in 1957 when he was a high school student

Featured

Articles

By Harvey Kubernik   To celebrate the 50th anniversary of The Roxy and its enduring relevance, the Grammy Museum announced a new exhibit, The Roxy: 50 Years On The Sunset Strip, which explores the
Greg Shaw: A Hero for Zeros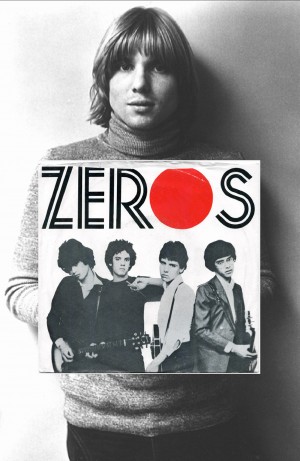 By Mike Stax
Greg Shaw (1949-2004) should need no introduction here. After rolling out one of the seminal rock fanzines, Who Put the Bomp (and its late '60s predecessor Mojo Navigator), he founded Bomp Records in 1974, one of the most respected independent labels of the era, releasing records by the likes of the Flamin' Groovies, Devo, the Weirdos, DMZ, Iggy & the Stooges, and a band from Chula Vista, California called the Zeros.
Part of Southern California's first wave of punk rock bands, the Zeros released two singles on Shaw's label: "Wimp" b/w "Don't Push Me Around" in 1977, and "Beat Your Heart Out" b/w "Wild Weekend." Both are widely regarded as among the best American punk singles of the late '70s. The Zeros' place in rock 'n' roll history was already etched in stone by the time the original band broke up around 1981.
So ten years later, having recently releasing an LP anthology of the band's recordings, Shaw was surprised to receive a letter from some high-powered Beverly Hills attorneys threatening legal action because the name "Zeros" infringed on the "statutory and common law rights" of their clients, a new band of apparently uninformed LA metal douche-bags who were calling themselves… the Zeros.
Greg was never one to concern himself with legal niceties so he took to his typewriter and bashed out a response in short order. It's classic Greg Shaw.
"Our Zeros record is a repackage of classic late '70s tracks by one of the founder bands of the LA music scene, active 1977-81," he helpfully pointed out. "The band you represent, on the other hand, are upstarts of recent years, whose use of the name is possible only by the forbearance of those who bear the rights of original usage. Moreover, your lot are well known as low-brow glam metal posers, whose music in no way resembles that of the original Zeros, and the packaging of the respective albums bears this out."
After some more bon mots, Shaw concludes: "I really wouldn't worry about it, guys. Our record sold about 600 copies. Your Beverly Hills lifestyles are not threatened."
He signed off: "Yours for rock & roll."
The original Zeros—Javier Escovedo, Robert Lopez, Hector Penalosa and Baba Chenelle—continue to be musically active in various forms. Escovedo recently released a new album, Kicked Out of Eden. Lopez is world famous as El Vez. Penalosa plays with the Baja Bugs. And various configurations of ex-members still play occasionally as the Zeros.
On the other hand, the "low-brow glam metal posers," to the best of my knowledge, were never heard from again—at least not in that form.  •
Both letters are reproduced here for your pleasure by permission of Suzy Shaw at Bomp Records.
---