Featured

News

By Jay Dobis     Erkin Koray, aka Erkin Baba, the father of Turkish Rock 'n Roll (he put together the first Turkish rock band (Erkin Koray ve Ritmcileri) in 1957 when he was a high school student

Featured

Articles

By Harvey Kubernik   To celebrate the 50th anniversary of The Roxy and its enduring relevance, the Grammy Museum announced a new exhibit, The Roxy: 50 Years On The Sunset Strip, which explores the
Erkin Koray R.I.P.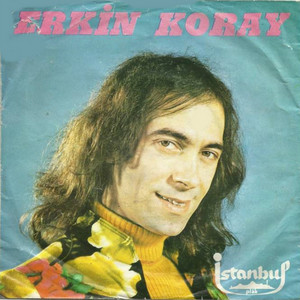 By Jay Dobis
Erkin Koray, aka Erkin Baba, the father of Turkish Rock 'n Roll (he put together the first Turkish rock band (Erkin Koray ve Ritmcileri) in 1957 when he was a high school student in Istanbul, died at the age of 82 on Monday, August 7. He had been living in Toronto, Canada for a while and had been hospitalized due to lung problems.
After a mandatory stint in the army, Erkin started playing out and became a popular live attraction. In 1962, he released his first single: "Bir Eylül Akşamı"/"It's So Long." In 1967, he had his first hit record: "Kızları da Alın Askere" (Let Girls Join the Army), which quickly sold 800,000 copies in a country of only 30 million people (70% lived in rural areas). His next release, "Meçhul/Çiçek Daği" (also in 1968) came after his band finished fourth in Hürriyet newspaper's Altın Mıkrofon contest… In 1969, Erkin Koray & Yeraltı Dörtlüsü (Underground Quartet), released "Sana Bir Şeyler Olmuş," the greatest version of the Cannibal & the Headhunters song "Land of a Thousand Dances." And I mustn't forget his magnificent, crunching track from 1972, "Hor Görme Garibi" (by Erkin Koray ve Ter, which included guitarist Aydın Cakuş (formerly of Grup Bunalim) on sizzling guitar).
Against his objections, in 1973 his label Istanbul Plak, released an album called Erkin Koray, which collected his singles… In 1974, Doğan Plak released Elektronik Türküler, which Erkin considered his first album. It is his masterpiece and is one of the greatest psychedelic albums ever recorded. The core group (Erkin on guitar and bağlama, Ahmet Güvenç on bass, Sedat Avcı on drums) were augmented by Haci Ahmet Tekbilek (who would soon move to Scandinavia to play in Okay Temiz's great Turkish jazz bands of the 1970s on zurna and gaida), Omer Faruk Tekbilek (a future world music star) (bağlama), Eyüp Duran (bongos), and Ayzer Danga (drums) from Moğollar and Mavi Işiklar. The album fully integrates rock with traditional Turkish folk music: great originals; a cover of a traditional folk tune; and a cover of Ürgüplü Refik Başaran's "Cemalin." My two favorite songs on the album are the original "Inat," with searing psychedelic guitar, and "Türkü," a cover of a Nazim Hikmet poem that had originally been set to music by saz player Rui Su. This album cemented Erkin's reputation as an Anadolu Rock legend, blending Turkish classical music, folk tunes, and various Middle Eastern sounds into his psych driven songs. Erkin also claimed to be the inventor of the elektro-saz; he was certainly one of the first and popularized the instrument.
His next album, Erkin Koray 2, released in 1976, was almost as good, putting even more emphasis on Arabic influences, particularly on my favorite song by Erkin, "Şaşkın." Other greats on this album are "Fesuphanallah," "Estarabim," "Arap Sacı," and "Timbıllı." His last excellent album (though he continued to have more great singles) came in 1983: İlla Ki, which shows the influence of the American band The Devil's Anvil. (Knowing that his life was nearing its end, Erkin wrote a letter to music writer Kanat Atkaya, claiming that there was no such influence calling The Devil's Anvil an 'amateur' band, and that he had never heard their album, that he is ERKIN KORAY, and that those who think otherwise should look to ASCAP for clarification. He also discussed his meeting with John Lennon and Yoko Ono at the 1971 Cannes Film Festival.)
In the early and mid '70s, in concert Erkin would typically do two sets. The first would consist of covers of songs by bands such as Deep Purple, Led Zeppelin, and Atomic Rooster. In the second set, he would play his own superior songs… At some point in the early '70s, he planned to record an album of what he described as 'space rock,' but unfortunately his label refused to pay for studio time.
Throughout his career he was known to be a 'different kind of guy,' most probably due to the ill treatment he received from record label owners whom he frequently quarreled with and sued in court. He was even bootlegged in his own country. Over the years I heard many stories about his 'crazy' actions. However, for about 12 years, I was in occasional contact with Erkin: hanging out with him, talking about music, talking on the telephone, having dinner, inviting him to see the band I was managing (ZeN), etc. And he always was very nice and normal.
Even in the US, he had bad luck with record labels. In 1996, an American label was set to release a 3-CD set called Erkin Koray: Turkish Psych Monster. The label had Erkin's permission, and he would have been paid. Extensive liner notes were written and numerous photos were to be included. However, these CDs were never released due to threatened lawsuits by another label that was releasing an Erkin album without his permission. So in America, now you have to settle for the competent but lacking collection on Sublime Frequencies, which doesn't match the quality and number of rarities that would've been available on the Turkish Psych Monster set.
A few years later, a different American label was to release Erkin Koray: Live in Nazilli, which is my all-time favorite live album. On an Aegean tour with his Süper Grup, a power trio with Nihat Örerel on drums (a former member of Grup Bunalim, Nihat also cowrote some of Erkin's greatest songs) and Rauf Ülgün on bass. Nihat recorded every show during the tour on a cheap boom box as a reference tape. So the songs on the album are what was left on the tape after the end of the tour. For the album release, the sound quality was to be cleaned up in a studio, including fixing pitch problems, and excellent liner notes had been written. Unfortunately, a certain miscreant uploaded the concert tape to YouTube, and the album was never released, though it has since been bootlegged.
For a book about Erkin 26 years ago I wrote a short chapter and called him a greater psychedelic musician than Jimi Hendrix, and I still believe this… Although Erkin has died, his eastern modal raga rock lives on.
---