Featured

News

By Jay Dobis     Erkin Koray, aka Erkin Baba, the father of Turkish Rock 'n Roll (he put together the first Turkish rock band (Erkin Koray ve Ritmcileri) in 1957 when he was a high school student

Featured

Articles

By Harvey Kubernik   To celebrate the 50th anniversary of The Roxy and its enduring relevance, the Grammy Museum announced a new exhibit, The Roxy: 50 Years On The Sunset Strip, which explores the
Dick Dale 1937-2019: True Surf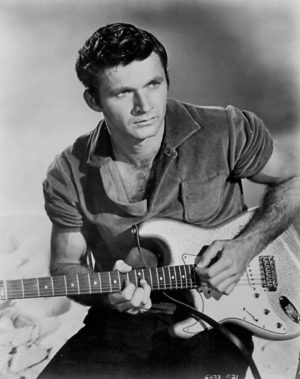 By Chris Darrow
I started surfing in high school about 1959, and was stunned by the first Surfer magazine, which came a year later. Started by John Severson, it was a way to finance his early surf films. Surf Fever was the film that started it all for me. It featured Mexican music, a mandolin instrumental played by Pete Seeger called "Woody's Rag" and Henry Mancini's "Peter Gunn Theme" was used for the big wave sequence at Waimea Bay. Surf Music, as such, had not yet been invented.
There had always been instrumental music in rock & roll. Guys like Joe Houston, Link Ray, "Mighty" Jim Balcom, Chuck Higgins, Jimmy Gilmer & the Fireballs and the incomparable Duane Eddy, all set up the arrival of "The King of the Surf Guitar", Dick Dale.
In 1961 he put out a record called "Let's Go Trippin'" and it was all over. The first real guitar god of rock & roll was born with that 45rpm record. His home turf was Newport Beach, California, and he played regularly at the Rendezvous Ballroom out on the Newport Peninsula. Since the forties, Newport Beach and Balboa Island had been the coastal hang out for most of the high school beach kids in Southern California, especially during "Bal Week," Easter vacation. Places like The Jolly Roger restaurant on Balboa Island and Sid's Blue Beet, the Prison of Socrates and the Rendezvous in Newport were popular gathering spots in the late 50's and early sixties.
I saw Dick Dale for the first time in 1962 or '63 at the Rendezvous Ballroom. The Rendezvous was an old wooden building with a mezzanine wrapping around its interior. Dick Dale & the Del-Tones played so loud and hard that the reverberating sound in this giant, wooden, sound box literally made the rafters shake. It was exiting and visceral. Peroxide heads in Pendleton shirts did the Surfer Stomp with their chicks on the big dance floor. Dick, playing his Fender Stratocaster, upside down and backwards, wowed the audience with pyrotechnics and theatrics that the likes of Jimi Hendrix would later absorb into his persona. Had it not been for the Beatles and the English Invasion, I feel that Dick would have been a greater star and even more of a household name.
The next time I saw him was in the late seventies at a club that he owned in Orange County, dubbed the Rendezvous. It was a totally different vibe, with a Vegas-style act in a Vegas-style cub. There were scantily clad girls dancing on the bars and a lounge type group backing him up, featuring his Asian wife, Jeanie, and a big, black, sax player with a shaved head called Mr. Clean. He did popular songs and every once in a while did a "Dick Dale Song." That was probably his lowest period.
I was living in San Clemente at the time and would front a band called the Hula Buckaroos for the Annual Surfer Magazine Awards banquet every year. There were always special guests at the event. One year Dick was introduced out of the audience, and, as we were playing a tune as his intro, he jumped up on stage and proceeded to sit in on almost every instrument, including the drums. I have only seen Sammy Davis Jr. do anything as 'show biz' as that in my life.
It is my opinion that the only, true surf guitar player is Dick Dale… all the others are just pretenders.
© 2019 Chris Darrow
CHRIS DARROW was a founding member of the influential world beat/psychedelic band Kaleidoscope, 1966-1968. He went on to cut a number of acclaimed solo albums, and played as a sideman on albums by James Taylor, John Stewart and Gene Vincent, and toured with Linda Ronstadt 1969-1971. He is one of the architects of SoCal country rock, a pioneer force in Americana, and also very involved with surf music.
---