Featured

News

By Jay Dobis     Erkin Koray, aka Erkin Baba, the father of Turkish Rock 'n Roll (he put together the first Turkish rock band (Erkin Koray ve Ritmcileri) in 1957 when he was a high school student

Featured

Articles

By Harvey Kubernik   To celebrate the 50th anniversary of The Roxy and its enduring relevance, the Grammy Museum announced a new exhibit, The Roxy: 50 Years On The Sunset Strip, which explores the
David Bowie's Aladdin Sane Turns 50
By Harvey Kubernik
April 2023 marks the 50th anniversary of the release of David Bowie's Aladdin Sane, which was released only ten months after his breakthrough album The Rise and Fall of Ziggy Stardust and the Spiders from Mars. The title track and songs such as "Panic in Detroit," "Lady Grinning Soul" and "Time" marked a significant musical progression from its predecessor, adding brass, woodwind, soulful backing vocals and the distinctive piano playing of Mike Garson. 
On April 14, one week before its Golden Jubilee, Aladdin Sane will be issued by Rhino Records as a limited edition 50th anniversary half-speed mastered LP and a picture disc LP pressed from the same master. 
According to a Rhino news announcement: "This new pressing of Aladdin Sane was cut on a customized late Neumann VMS80 lathe with fully recapped electronics from 192kHz restored masters of the original master tapes, with no additional processing on transfer. The half-speed was cut by John Webber at AIR Studios. 
Originally released by RCA Victor on April 13, 1973, Aladdin Sane was David Bowie's sixth album, co-produced by Bowie and Ken Scott. This was an incredibly busy time for Bowie – Ziggy Stardust had made him a massive star in the UK and he was touring extensively in the US, where most of the album's songs were written while he was on the road.
Recorded at Trident Studios, London and RCA Studios, New York and Nashville, between October 6, 1972 and January 24, 1973, it was be to be the last album on which the Spiders' line-up of Mick Ronson (guitar, piano, backing vocals), Trevor Bolder (bass) and Mick 'Woody' Woodmansey (drums) would appear.
The revealing and absorbing collection featured the debut of one of David Bowie's new collaborators, avant-jazz pianist Mike Garson. In addition to vocals, Bowie himself played guitar, harmonica, keyboards and saxophone on the album.
Aladdin Sane saw him create a rockier, more frenetic album than its predecessor, with the Rolling Stones a possible influence on album opener "Watch That Man" and a transgressive cover of their song, "Let's Spend the Night Together."
Elsewhere, Muddy Waters' influence could be heard in the riff of the UK #2 single, "The Jean Genie," and the "futuristic nostalgia" of "Drive-In Saturday" – which charted at #3 in the UK – was inspired by 1950s doo-wop. "Cracked Actor," possibly Bowie's most decadent and geo-piety moment, was written after he had toured Hollywood and visited Sunset Boulevard translating the images and environment into raw rock 'n' roll.
The addition of Mike Garson and his talents infused some of the album's tracks, in particular the title selection with its dissonant improvisation, the Brechtian cabaret of "Time" and album closer "Lady Grinning Soul" with an edgy, schizophrenic quality.
UK pre-orders for the album were a staggering 100,000 (not seen since the heyday of the Beatles). It was Bowie's first UK number one album, and it reached number 17 on Billboard's US albums chart.
##
I witnessed three monumental David Bowie Ziggy Stardust concerts in Santa Monica, Long Beach and Hollywood during 1972-1973.
With Aladdin Sane, Bowie had forged a sonic sociopolitical beat heat travelogue that wordsmith Allen Ginsberg would be proud of.  
In 1974 during David Bowie's Diamond Dogs tour, I spent half an hour with David at the Beverly Wilshire Hotel one afternoon. We talked about beat generation literature and R&B music while glimpsing at an episode of Soul Train on television. There was a commercial for a hair product, Afro Sheen. In Bowie's "Young Americans" he sings "Blushing at all the Afro-Sheeners." We attended an Al Green concert at the Universal Amphitheater.
I gave David a paperback copy of Ann Charters' Jack Kerouac: A Biography, knowing his Spiders from Mars band name was an homage to Kerouac's On the Road: "exploding like spiders across the stars." Charter's book is seen by his hotel bedside in the Omnibus Cracked Actor 1975 UK documentary which aired on the BBC 1 channel.
On September 18, 1975 I interviewed David in Los Angeles at Television City inside the CBS studios on the corner of Fairfax Avenue and Beverly Boulevard. Bowie was taping the Cher TV show for a November 9th broadcast. I covered it for the now defunct Melody Maker in their October 25, 1976 issue.
It was obvious that David had already departed visually, musically and emotionally from the self-imposed world of Ziggy Stardust character into his acting journey with The Man Who Fell to Earth.
"The difference between film acting and stage acting is enormous. On stage you are in total control, whereas in a film the actors are instruments of the director. I think a stage performance is more of a ceremony and one plays the high priest. But in a film, you are evoking a spirit within yourself. You feel a tremendous responsibility of having the power to bring something to life. For example, Major Tom in 'Space Oddity.'"
##
In 2012 I interviewed Ken Scott, the engineer and co-producer on David Bowie's Aladdin Sane.
"'Jean Genie' had been recorded in New York," recalled Scott. "RCA needed a single, and I had nothing whatsoever to do with the recording and the initial mixing. It was put out as a single and then I remixed it for the album later. David enjoyed recording in the States and I got the phone call and he wanted to start the new album in New York. So, I flew over and worked on it. We cut a few tracks and I think only two of them ended up on the album.
"David had become more of this Ziggy character as we'd come to recognize what Ziggy was kind of thing. But still, sweetheart of a guy, ultimate professional in the studio. He was much more confident. He could plan things out but also do impulsive things," Ken reinforced.
"One of the things in looking back on this period that has fascinated me was that I didn't realize it until recently, was the way piano changed David's music. It occurred to me how a certain amount of David's transformation, you take Hunky Dory which had Rick Wakeman on it, who is a fantastic, a bit more classically-oriented pianist, 'Life on Mars,' very good at rock 'n' roll but his training was more classical. His piano on 'Life on Mars' is unbelievable," underscored Scott. "Then you go into Ziggy Stardust, with Bowie and Ronno playing on Ziggy, and it's really simplistic because they weren't pianists. Neither of them particularly awe-inspiring. So, the piano is very simple on Ziggy.
"But then you to Aladdin Sane and Mike Garson is on board and it completely changes the whole feel of it. Now how much of that is pre-planned by David to move it into a different direction and how much is their effect on the way that we recorded I don't know. Mike was at the Santa Monica Civic Auditorium '72 concert but pushed in the background. If you watch the '73 Hammersmith Odeon Ziggy movie he's not really shown.
"The Beatles kind of grew by using different instruments. Bowie changed and grew by using different people playing. It's bizarre. His use of keyboards really does sort of covers his growth. And how he changed.
"I regret very little of what I did during my entire career, but the mix on David's 'Watch That Man' is one of the things I do regret. Today I would have had the vocal up more. Back then, after doing different mixes with the vocal up more for both management and record company. It was back in the day, a straight stereo mix; I did it the way I felt it should be.
"Then I had complaints from the management so I went in and did another mix with the vocal up and they came back and agreed with me it was more powerful with the vocal down. Then the record company did the same thing. I went in and yet did another mix with the vocal up and they agreed with me. For whatever reason today, I don't like it with the vocal down. But there must have been good reason, because myself, management and record company agreed.
"I look at the harmonica on 'Cracked Actor.' Like most things, we tried 'Cracked Actor' with a straight harmonica, it sounded so weak, along with bass, drums and guitar. Then I remember we recorded a little more guitar on top. Then David wanted to put the harmonica on it. And he went down and started to play but it sounded so weak compared to the track. So, I said, 'Let's try putting it through Ronno's 100 watt Marshall amp' and just cranked it. And it's just so nasty. That's when everything started to really come to life. It all worked.
"David allowed me complete freedom. He never once said, 'I'd like it a bit more like this…' The only comment ever was going from Hunky Dory to Ziggy, that's he'd like it 'a bit more rock 'n' roll.' David understood collaboration.
"Look, the team of us, David, Ronno, Woody and Trevor were an incredible period. It really worked well. And with 'Panic in Detroit.' The background singers. David had and hopefully still has, this knack with coming up with different background parts than most people would.
"He was successful by then. He felt he could push the envelope a bit more. I think his influences were coming a little more from the modern situation. I think he was influenced by Bryan Ferry. Which became very apparent on Pin Ups. But he's moving more in that direction as music has changed around him, he's keeping ahead of it slightly."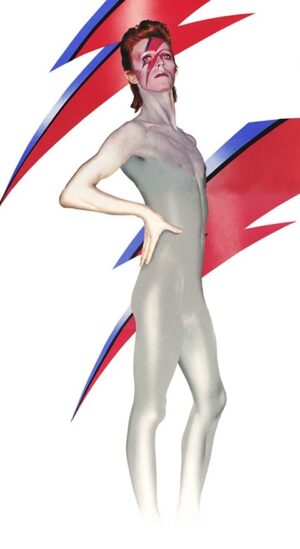 ##
Last decade I interviewed Mike Garson. I asked him about the Latin jazz influence on the "Aladdin Sane" track.
"I had worked with Eddie Palmieri," explained Garson, "plus, I worked opposite Larry Harlow, [American salsa musician] earlier in the Catskills with Dave Leibman. I showed Bowie some stuff. Anything that I had done prior to working with David I could do on his sessions or in concerts. On that Aladdin Sane album and songs like 'Aladdin Sane' and 'Time,' Ken Scott was very involved in the high frequencies and EQ. An extraordinary producer, engineer and mixer. I worked with him and David at Trident, where the Beatles did some [1968] recording. It was two chords, an A and G chord, and done in one take. 
"David's son, Duncan once admitted to me that he was petrified of my 'Aladdin Sane' piano solo and that they gave him nightmares," offered Mike.
"David was an explorer and was locked into his music. In the 1972-1974, I was with David he fired five different bands and I was the only one he kept. Because I was able to change styles and go from the English rock to the avant-garde to the soul and gospel stuff. And that was the only reason he kept me and that we were friends. But he saw that I could go with him as he was ever-changing. And he knew as a jazz musician I was always looking and searching. Because I carried the spirit of what an improviser was. Lennie Tristano really didn't allow me to play licks. I always had to play something fresh. On tour we would talk about a lot of things. Charles Mingus. Stravinsky. Alan Watts. Classical music.
"I had only known David two weeks and in his hotel suite we'd watch Frank Sinatra and Elvis Presley movies. He would do imitations of them and ask me how he was doing. He had that much respect for me which was shocking.
"In the late seventies or early eighties David said 'I'm going to die, you know, around 70,' of that nature. He said it to me like we're talking. He didn't question it. He didn't have fear about it. It was matter of fact. And virtually he planned his life that way.
"Now that I looked back and have spent time on it, I'm remembering and looking at my life with David one thousand times bigger. I grew up on Cole Porter, Rodgers and Hart, and realized David was a great songwriter."
##
During 2002-2023 I asked authors, musicians and deejays about Aladdin Sane.
"I didn't have any expectations for Aladdin Sane," volunteered keyboardist/author Kenneth Kubernik. "I was respectful of Bowie's songwriting and eye for self-promotion, too invested in being a jazz snob to buy into the Ziggy shtick. But, holy Cecil Taylor, was I knocked out by pianist Mike Garson's rococo assault on the title track. Nothing like a little avant dissonance with your Glam Rock. And, how could I not instantly connect this playful subversion of Brit Pop rectitude with the might Crimson's earlier flying trapeze of a single, 'Cat Food.'
"Was Bowie a secret prog-head? Did he delight in Keith Tippett's seismic attack on the keyboard over Greg Lake's yowling vocal and decide, 'Right, this'll take me straight to Top of the Pops. Apparently, yes!"
"Regarding Aladdin Sane," emphasized poet and deejay Dr. James Cushing, "It's not just the cover of 'Let's Spend the Night Together' or the mention of Jagger's eyes in 'Drive-In Saturday' or the Bo-Diddley beat of 'Panic in Detroit'; the whole album sounds Stonesy!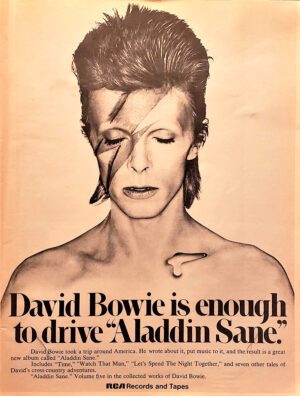 "I'm first struck by the loud guitar and buried vocal in 'Watch That Man' – as though his main reference were not Ziggy Stardust but Exile on Main Street and Sticky Fingers – but then the still-shocking Cecil Taylor-isms lifts the melancholy tune of the title song and we know we're not exactly on the same moonlight mile, but a territory where anything can happen.
"The idea of the album, as its creator explained, was Ziggy Goes to America. The songs are keyed to cities, (mostly) American, but Bowie's America sounds like the Stones' Exile on Main Street: a harsh but rich place where any dream/madness can be performed, any form of romantic yearning expressed, any self-transformation achieved."
"The most revolutionary thing about Bowie," suggests writer/novelist, Daniel Weizmann, "was never the costumes, the gender-bending shtick, the masks – all that was just the Trojan Horse he rode in on. Bowie's real gift was the vivid, intimate way he portrayed urban aloneness – the modern condition. Nobody has ever set alienation to pop music with such raw, open feeling.
"Aladdin Sane is an especially difficult record, because it's Bowie at his most alone, most alienated. The European Starman has made it to the Promised Land, but having gotten there, nothing is as it seems – he's lost in a kaleidoscopic American nightmare.
"The title of the LP was originally to be called A Lad Insane but it easily could have been called A Land Insane. Track for track, it's a relentless collage of American disconnection as seen through European eyes – violence in the streets, popcorn lust, death by quaaludes and red wine, time as a haunted silent movie. And at the album's center is 'Cracked Actor,' Bowie's ferocious noir masterpiece. The song traces the dark night of a Hollywood has-been who picks up a teenage prostitute and downward spirals into a sadistic torrent of rage and rape. All of Bowie's devils of isolation are present – fame, dissociative sex, artifice, and the definitive gaze–crashing into each other like a musical snuff film shot in a Hollywood house of mirrors.
"I ask you, how many other artists with or without platform shoes could handle material this volatile? With its rogue's gallery and dark wails from down the hall, Aladdin Sane is Bowie's ode to Kenneth Anger's Hollywood Babylon. It's the first pop record to confront the crumbling of 20th century myths, and it's an incredibly serious LP compared to its predecessor, dealing in pornographic revulsion ('Cracked Actor'), urban dread ('Panic in Detroit'), starstruck melancholy ('Drive-In Saturday'), and orgasmic death ('Time').
"The fact that Aladdin Sane was released less than a year after Ziggy Stardust is a mark of what a ballsy artist Bowie really is: Having achieved superstardom, he immediately set out to expose its underbelly. But once cartoon Ziggy gets there, he morphs into an eerie neo-realist character that cannot relax in its own skin. The London Kid with a Big Dream has set out for America only to land in a Hollywood of psycho innocents, raging autograph hands, motel wanderers, and pure alienation.
"In this sense, Aladdin Sane is the Beatles myth turned on its head, the Old World setting out for the New World to conquer it, only to get subsumed by horror," Weizmann summarizes.
##
"Aladdin Sane is one of my very favorite Bowie albums, and the first one I bought the day it was released," remembers author Jeff Gold, who helms the noted archive house, Record Mecca. "Even before that actually. Moby Disc Records in Van Nuys carried imports, and allowed you to put down a deposit to reserve forthcoming import albums, which in Bowie's case, came out before the US release. My brother and I each put a dollar down to reserve copies of the 'new Bowie album' and waited. I was on a camping trip a few weeks later, and called to check in with my brother.
"Excitedly he told me he'd gotten a call from the store and the Bowie album was in. I went back to my campsite, packed up my stuff, and immediately drove back to Los Angeles. I couldn't wait an extra day for that album. Happily, it was very much worth it, and I still have that UK copy."
##
"In 1970 I met David Bowie when I worked for Mercury doing FM radio promotion and had an office," reminisced SiriusXM deejay Rodney Bingenheimer. "At LAX I took Tom Ayres' Cadillac and picked up David Bowie. The first thing we did was get something to eat at Ollie Hammond's Steak House on La Cienega. We ordered hamburgers I paid cash and the label reimbursed me. We drove to Tom Ayres' house in West Hollywood. Gene Vincent came over and they met each other. I watched them record a version of Bowie's 'Hang On To Yourself' that later was on Ziggy Stardust.
"David was interested in getting another recording contract. I was sort of amazed that David knew all the record label terms like music publishing and about licensing master tapes. I discussed RCA Records with him and I introduced him to publicist Grelun Landon at the label. Afterwards, David and I walked up Sunset Boulevard to Wallichs Music City on Sunset and Vine. That intersection is in the lyric to 'Cracked Actor' which is on Aladdin Sane.
"David and I also went to the Whisky a Go Go but I forgot what group played. I took David to the Topanga Canyon Corral. David loved America. At the end of his trip to the United States, David said, 'When you come to England, look me up.' He handed me his phone number. I went to London in the summer of 1971 and David invited me to the Hunky Dory recording sessions at Trident. Amazing.
"In fall 1971 and all through 1972 at my E Club, next door to the Chateau Marmont, and later my Rodney Bingenheimer's English Disco, also on Sunset Boulevard, I spun a lot of Bowie.
"In fact, it was David at the Hunky Dory sessions that made the first suggestion that I have a club, to play records, record company white label acetates, UK imports and demos of English bands in 1971 and '72.
"After David and Mick Ronson produced Mott the Hoople's 'All the Young Dudes' in May '72 at Olympic Studios, David sent me an overnight package to the club with an acetate and I debuted the record and broke it on the dance floor," remarked Rodney.
"The night before his October '72 Santa Monica Civic Auditorium show, David visited my English Disco club which had a mirrored-in dance floor, and mimed to Elvis Presley records and Roxy Music's single, 'Virginia Plain,' his favorite song.
"The 1972 Santa Monica Civic Auditorium show totally blew my mind!
"In 1973 RCA Records held their press event viewing for the Bowie 1980 Floor Show at my English Disco."
##
"I was introduced rather late to Bowie's oeuvre," underlines Electro-pop musician and arranger, Julian Shah-Tayler. "I was classically trained in piano/organ/violin/trumpet and voice at Durham Cathedral Choir Boarding School, so had no real opportunity to check out 'pop' or 'rock' music and when I first heard 'Let's Dance' it sounded referential and bluesy and was not really my cup of tea, so I initially wrote off this Bowie fellow entirely. 
"I specialized in the Debussy/Satie world of classical piano and was waning in interest (and ability) there, so when I first heard the Aladdin Sane album (at that time, my curiosity had been sparked by the iconic cover, not a desire to follow the great man's music) the standout was the impeccable and irresistible piano by Mike Garson. I was suddenly, (between 'Time', 'Lady Grinning Soul' and 'Aladdin Sane') inspired to reinvent my entire style of playing in the vain attempt to capture some of that mercurial genius. I was floored by its otherworldly flow, its seemingly random atonal and rippling nature which beamed straight from the depths of some forbidden delicious alien cabaret. Through the doorway the piano opened in my preconceptions I noticed Bowie's effortlessly cool and idiosyncratic vocal stylings. Suddenly I am attempting to be both David and Mike in some kind of unholy merger. Thank God for Mike Garson and Aladdin Sane! I am a better musician for this album."
##
In 1973, the legendary filmmaker and documentarian D.A. Pennebaker directed the final Bowie Ziggy Stardust and The Spiders from Mars concert on July 3, 1973 at the Hammersmith Odeon in the UK. It was initially commissioned for an ABC-TV broadcast, now distributed as a DVD, Ziggy Stardust and the Spiders From Mars – The Motion Picture. Portions of this landmark event are seen in the 2002 Brett Morgen-directed David Bowie documentary, Moonage Daydream.
Over a two-decade period, I interviewed Pennebaker six times. His awe-inspiring catalog, which includes his 1965 celluloid portrait of Bob Dylan, Don't Look Back, can be viewed in the Coda Collection, an Amazon Prime Video service channel that focuses on music documentaries, concert films and archival footage.
In 2000 I asked Pennebaker about his revealing Bowie endeavor.
"I was just amazed at how anybody could produce that kind of electricity. We saw one concert that night. I saw him once and I shot some stuff 'cause I wanted to see if we needed to lift the lighting or anything. And the lighting I could see was really crucial to this. We couldn't fake it. I shot some stuff and we took it down that night to a lab and they processed it and we looked at it and I made a couple of changes, like the blues were too strong and I went over it with the lighting person. And the next night we did the whole concert and there were only three of us. We had a skeletal crew and a Brit we hired with a camera way back in the rafters to get a broad shot in case we ever needed it, but we never actually used it.
"RCA had supplied a real good 24-track machine so we had good sound. What he had was the whole theater was a backup for him. They all sang backup for him. That was amazing. I had never heard that before so I wanted that place to just be alive. You know, the girls singing along on 'Moonage Daydream.'
"But the dressing room was where you see him just sitting there, so that in the beginning you use a long lens, that's why I use a zoom, and you can stand far away and the sound person can be close and you can really get on stage physically. So, people know that he looks different from somebody else. There was a lot of kinetic energy around Bowie. He was like an orchestra leader.
"David Bowie and Bob Dylan have a lot of characteristics in common. But for both David and Bob they both went into their heads from time to time and disappeared and I always assumed it was some sort of music room.
"I was a fan of the Ziggy album and we used to play it all the time when I was mixing that film. I had it set up with a real Dolby and we showed it in this little room where the sound was fantastic and that was the sexiest film you ever saw in your life," marveled Pennebaker.
##
The impact and legacy of Aladdin Sane will continue on April 15, 2023 with the release on Harmony Records of Forget that I'm 50 – Aladdin Sane remade, remodeled by Julian Shah-Tayler aka The Singularity Music and friends. This is a full cover album tribute to Aladdin Sane that will be available on all platforms. It's a wonderful endeavor featuring Gene Loves Jezebel, Human Drama, Beck Black, Gene Micofsky, Natalie Wilde, Adamandevil, Fernando Perdomo, Jonathan Burkes, Darwin, Sumthing Strange and David Chatfield.
Multi-faceted talent Julian Shah-Taylor has just produced the first side of David J (Bauhaus/Love N Rockets) upcoming album. He is also deep into his new Bowie-centric podcast: #bowiephiles https://linktr.ee/julianshahtayler – all relevant socials links. Http://Thesingularitymusic.bandcamp.com
© 2023 Harvey Kubernik
Harvey Kubernik is the author of 20 books, including 2009's Canyon Of Dreams: The Magic And The Music Of Laurel Canyon and 2014's Turn Up The Radio! Rock, Pop and Roll In Los Angeles 1956-1972. Sterling/Barnes and Noble in 2018 published Harvey and Kenneth Kubernik's The Story Of The Band: From Big Pink To The Last Waltz. In 2021 they wrote Jimi Hendrix: Voodoo Child for Sterling/Barnes and Noble. Otherworld Cottage Industries in 2020 published Harvey's Docs That Rock, Music That Matters.
Kubernik's writings are in several book anthologies. Most notably, The Rolling Stone Book Of The Beats and Drinking With Bukowski. Harvey wrote the liner notes to the CD re-releases of Carole King's Tapestry, The Essential Carole King, Allen Ginsberg's Kaddish, Elvis Presley The '68 Comeback Special, the Ramones' End of the Century and Big Brother & the Holding Company Captured Live at The Monterey International Pop Festival.
In December 2021, Harvey Kubernik was interviewed and served as a consultant on the Ron Chapman-directed Revival69: The Concert That Rocked The World about the 1969 festival held in Toronto, Canada featuring the debut of the John Lennon and Yoko Ono Plastic Ono Band. Chapman interviewed Klaus Voorman, Shep Gordon, Alice Cooper, Robby Krieger, Danny Serrafine, promoter John Brower, Rodney Bingenheimer, and Geddy Lee of Rush. Pennebaker/Hegedus Films is executive producer. The movie was an official 2023 SWSW selection in Austin, Texas and screened March 12th and 16th at the Zach Theatre.
In 2023, Harvey, photographer Henry Diltz and authors Eddie Fiegel, Barney Hoskyns and Chris Campion were filmed by French director France Swimberge for her Mamas & Papas documentary. To be broadcast on the European arts television channel, Arte. Kubernik is consultant for the film.
During 2006 Harvey spoke at the special hearings initiated by The Library of Congress held in Hollywood, California, discussing archiving practices and audiotape preservation. In 2017 he appeared at the Rock & Roll Hall of Fame in Cleveland, Ohio, as part of their Distinguished Speakers Series. Kubernik's 1995 interview, Berry Gordy: A Conversation With Mr. Motown appears in The Pop, Rock & Soul Reader edited by David Brackett published in 2019 by Oxford University Press. He was filmed for the 2013 BBC-TV documentary on Bobby Womack Across 110th Street, directed by James Meycock. In 2019, Harvey was an on-screen interview subject for director Matt O'Casey on his BBC4-TV digital arts channel Christine McVie, Fleetwood Mac's Songbird.
---