Featured

News

By Jay Dobis     Erkin Koray, aka Erkin Baba, the father of Turkish Rock 'n Roll (he put together the first Turkish rock band (Erkin Koray ve Ritmcileri) in 1957 when he was a high school student

Featured

Articles

By Harvey Kubernik   On August 3, 1966, stand-up comedian, social critic, satirist, and philosopher Lenny Bruce was found dead at age 40 inside his Hollywood Hills home from an acute overdose of mor
Charles Bukowski 100 Years On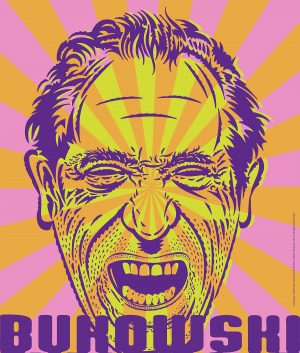 By Harvey Kubernik
AUGUST 16, 2020 marks the 100th birthday of short story writer, columnist, poet and novelist Charles Bukowski, born Heinrich Karl Bukowski in Andernach, Germany, who relocated with his parents to Los Angeles California at age three. His literary work and lifestyle has influenced numerous writers, actors, musicians, and songwriters. Especially Tom Waits, particularly on his song "Frank's Wild Years." In the late sixties Tom had been a devoted Bukowski fan and devoured his weekly Notes of a Dirty Old Man column in The Los Angeles Free Press.
The Arctic Monkeys referenced Bukowski in "She Looks Like Fun" on Tranquility Base Hotel & Casino. Richard Ashcroft of the band Verve called his debut solo album Alone With Everybody after a Bukowski's poem. Bands name-checked Bukowski in their albums over the decades: The Red Hot Chili Peppers' "Mellowship Slinky in B Major" off their Blood Sugar Sex Magik and the Boo Radleys' "Charles Bukowski is Dead" on Wake Up! Dave Alvin's Museum of the Heart mentions him in "Burning in Water Drowning in Flame." Modest Mouse and Kasabian acknowledge Bukowski in lyrics. There's even a Florida-based group Hot Water Music that took their moniker from his collection of stories of the same title. U2 on Zooropa paid tribute to him with "Dirty Day." During interviews, Ric Ocasek and Kurt Cobain hailed his literary efforts.
Bukowski was a classical music fan, who had little regard for rock music and basically anyone associated with it or attempting to employ his name or well-intended homage. His love for classical music is echoed by many who admire this genre, it is still cherished to this day with classical music players recreating famous sheet music (they can click here for more information) as well as mash-up different pieces to put their own spin on it. Who knows if Bukowski would like this type of classical mixing, but it certainly brings a modern-day feel to the genre.
His headstone at Green Hills Memorial Park on 27501 S Western Avenue in Rancho Palos Verdes, California reads "Don't Try."
On August 21, 2020 Real Gone Music a reissue record label dedicated to servicing collectors and the casual music fan celebrates Bukowski's birthday with Charles Bukowski Reads His Poetry, a limited 100th Birthday Vomit Vinyl Edition of his 1972 release on John Fahey's Takoma label, from September 14, 1972 at City Lights Poets Theater in San Francisco. John Van Hammersveld designed the original album cover graphics [above]. John created LP covers for the Rolling Stones, Beach Boys, Jefferson Airplane, Grateful Dead, PiL, Blondie, and the American edition of the Beatles' Magical Mystery Tour.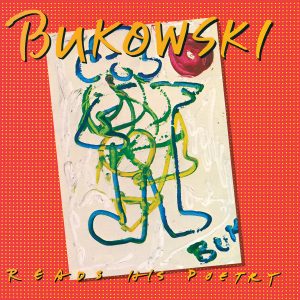 "We rented the Williams' Book Store in downtown San Pedro for two years," John told me in 2020. "Had shows there and met the community. It was once Bukowski's hang out. In 2009 it closed after 104 years," lamented the current San Pedro resident who drew the iconic Endless Summer poster.
Van Hamersveld recently created a print honoring Bukowski. Shepard Fairey, Jeff Ho and I were interviewed for the Chris Sibley & David Tourje-directed short documentary John Van Hamersveld: Crazy World Ain't It which had a world premiere in February 2019.
Daniel Weizmann edited the book Drinking With Bukowski Recollections Of The Poet Laureate of Skid Row published by Thunder's Mouth Press in 2006. Front cover illustration was by R. Crumb. I was invited to contribute.
A new documentary was released on various streaming services on August 7, 2020, You Never Had It – An Evening With Charles Bukowski, directed by Matteo Borgardt.
Time to tout Bukowski's 100th birthday with my non-edited memoir text assembled before Weizmann's book was published.
I'M PRODUCING STEEL, MAN
By Harvey Kubernik 2016.
MEN AND WOMEN occasionally ask me about the Doors and Charles Bukowski. I was fortunate to witness them both in live performances during 1968-1980.
Passionate fans and record collectors know Jim Morrison and Ray Manzarek are graduates of the UCLA Film School but pleasantly surprised finding out drummer John Densmore and guitarist Robby Krieger are natives of Los Angeles. However, the inquisitives are actually sometimes stunned when they discover Bukowski is a product of Los Angeles High School, the oldest public high school in the Southern California region. The same institution that gave us John Cage, Ray Bradbury, Mel Torme, Budd Schulberg, Anna May Wong, Piper Laurie, Dustin Hoffman, Marilyn McCoo, George Takei, Dick Walsh, Frederick Madison Roberts, and Leonard Slatkin.
I first read wordsmith Bukowski's weekly newspaper Notes of a Dirty Old Man column in The Los Angeles Free Press when I was at Fairfax High School 1966-1969 and later during college at San Diego State University. Bukowski's street life "documentation" of Hollywood and LA in Art Kunkin's The Los Angeles Free Press and John Bryan's Open City was raw and regional, warning me about the omnipresent perils of lust, liquid adulthood and betrayal in the neighborhood.
In Drinking With Bukowski Recollections Of The Poet Laureate of Skid Row I recommended to editor Weizmann the author of numerous biographies and cultural histories of the Beat Generation, the Beatles and sixties counterculture Barry Miles to participate in his Bukowski-centric vision.
In 1969 Miles was the label manager of the Beatles-owned Zapple Records, an Apple Records subsidiary run by Paul McCartney's friend Barry Miles. It was a budget division intended for spoken word and avant-garde recordings. Barry recorded William Burroughs, Richard Bautigan, and Allen Ginsberg for the label. During February 1969 Miles' Ampex 300 tape recorder and microphone captured Bukowski inside his East Hollywood apartment at 5125 De Longpre Avenue.
As it turned out, Miles had provided Bukowski a turning point in his career. "A few weeks after making the recording he gave his first poetry reading," Miles wrote in his "Bukowski on the Mic" chapter in the compilation. "A year later on January 2, 1970, at the age of forty-nine, he finally quit his job at the post office and devoted himself full time to writing. He couldn't get away from the post office, however; it became the subject of his first novel, called, unsurprisingly, Post Office, published by Black Sparrow in February 1971."
Bukowski's poems and stories were eventually republished in collected volumes by John Martin's Black Sparrow Press (now HarperCollins/Ecco Press).
I went to one of Bukowski's poetry readings in 1972 at the Papa Bach Bookstore in West Los Angeles. Charles was angry and combative with the audience of 60. Poet/actor Harry E Northup was there. I met the store's owner John Harris. I would work with both of them in the future.
I was seated near Bukowski in 1975 at a Rolling Stones' Inglewood Forum concert. He reviewed the show for Creem Magazine and I covered it for Melody Maker.
In 1976, I went over to the Free Press Hollywood Boulevard office for a party. Charles Bukowski was at this get-together. We were formally introduced. Charles suggested to a friend of mine to make a liquor store run across the street. Then Bukowski started to make a move like professional baseball player Maury Wills at Dodger Stadium stealing a base bag for the home team. I monitored Bukowski's actions like a slow-motion re-run of the Zapruder film. Charles approached a friend's wife who had a ring on her finger. He attempted some suggestive talk. She handled the awkward proposition, laughed, but was a bit shaken afterwards. The man and his wife, now a lawyer and author, split the scene.
I seem to remember I tapped Bukowski on the shoulder, uttering something like "Hey, man, that wasn't very nice."
"Shut up!" was his immediate response. Then the beer arrived.
I thought Bukowski was rude. I don't care if years later he would call it "research."
I have a fond memory of Bukowski's 1976 Troubadour club appearance on Santa Monica Boulevard. Louie Lista was the bartender, Paul Body the door man got one of his Bukoswki books autographed, and the club's manager, Robert Marchese, who previously was Richard Pryor's record producer, oversaw the engagement. Marchese asked Bukowski if he needed anything before the gig "A six-pack of Heineken beer." It was finished rather quickly. Bukowski met his future wife Linda Lee Beighle at this show.
Under that gruff exterior Bukowski was a person who seemed to have stage fright when describing the social, sexual, economic, cultural ambiance of Los Angeles to us.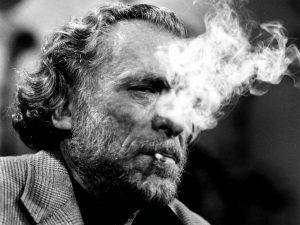 In 2000 I talked with singer/songwriter Stan Ridgway, formerly with Wall of Voodoo who witnessed Bukowski's Troubadour booking. Stan praised Charles' "direct writing style, the funniest, the way of turning a very bleak situation into something that he overcame."
Denny Bruce, the original drummer with the Mothers of Invention during their 1965 period was also in attendance. Denny is a record producer who did albums with Leo Kottke, John Fahey, John Hiatt and the Fabulous Thunderbirds. Bruce was co-owner of Takoma Records, a groundbreaking roots music independent label. Denny had met Bukowski a few times over the years, once at his apartment, and at a mid-'70s reading in Culver City at the Robert Frost Auditorium. They had a mutual friend, performer Bob Lind of "Elusive Butterfly" fame, whose parents had flown in from Denver for the occasion, who cringed when a passionate Bukowski berated the small audience for "not being good enough to hear this man's music."
In 1978, or '79, Denny's label released Charles Bukowski Reads His Poetry a live LP culled the San Francisco performance. When that LP was first available, a small press party was held on Sunset Boulevard, down the street from the Takoma/Chrysalis office at Scandia restaurant that served tasty Swedish meatballs. At the reception Bukowski got totally drunk, freaked out some of the restaurant patrons, and was tossed out of the establishment.
Excerpts of that same San Francisco appearance were utilized in the 1973 Taylor Hackford-directed and produced Bukowski documentary that was broadcast on KCET-TV the Los Angeles market Public Broadcasting System station. During 1971-1973 Hackford helmed several films at KCET including the Cat Stevens documentary Boboquivari and a Leon Russell live in- studio session Homewood.
In 2007 I spoke with Hackford at the Mods & Rockers Film Festival event at the Egyptian Theatre on Hollywood Blvd honoring the songwriting team of Mike Stoller and Jerry Leiber. Taylor mentioned that while on the plane ride to San Francisco for the Bukowski reading and taping, Bukowski asked him to select the poems to be read at the appearance. Hackford also disclosed that many years later he approached KCET about putting together a DVD of the unaired footage and previously not included performances, and learned the station had wiped the footage from their library.
In 1980 Denny Bruce arranged to produce another live Charles Bukowski taping in Redondo Beach at the Sweetwater Inn, a blues, rock and pop music venue and asked me to be involved as production coordinator. Bruce had done his homework and knew the Bukowski book catalog. He lent me some of the titles before we rolled the tape machines.
A few weeks before, Joe Wolberg at City Lights in San Francisco had mailed to Denny's home in Bel-Air the first treatment for the proposed film of Bar Fly, that director Barbet Schroeder was putting together with James Woods and Karen Black in the lead roles. I eagerly read the pages. When the movie was cast, it starred Faye Dunaway and Mickey Rourke. Fred Roos was the producer.
We jumped on the 405 Freeway and schlepped over to The Sweetwater in Denny's BMW. I was introduced to Barbet who was setting up a film camera to capture the proceedings. He was impressed I was aware of his 1969 directorial debut More which utilized the music of Pink Floyd. Barbet was delighted that I knew Don Hall, the music coordinator who had been a deejay years ago on local radio station KPPC-FM. Pink Floyd wrote the soundtrack for La Vallee, his 1972 movie that was issued as the LP Obscured by Clouds.
As a teenager Schroeder lived in France and studied at the Sorbonne in Paris. During dinner I told him about the Toho La Brea Theatre foreign movie art house on 857 S. La Brea Ave. in Los Angeles where his films along with other French New Wave directors like Jean-Luc Godard and Jacques Demy were screened until 1974.
Barbet howled when I gladly confessed "I wasn't into cinema with sub-titles. And the only reason I saw The Model Shop was because Spirit did the music."
I was given a full access pass and invited to take a view into Schroeder's camera lens as he blocked shots while I assisted Denny Bruce at the soundboard.
In 1985 Barbet produced a documentary The Bukowski Tapes. Four hours and fifty-two clips of Bukowski ranting and ruminating.
The anticipation of this particular Charles Bukowski poetry reading reminded me of The Last Waltz, a sonic and filmic event I reviewed for Melody Maker in November 1976. And, like Bob Dylan, circa 1966-73, Bukowski wasn't performing often around his hometown.
Ninety per cent of the crowd seemed to be students from Cal State University Long Beach. Eddie Call, then in the Marina Swingers band, was the bartender. Call and staff were instructed to serve Bukowski. Eddie later informed me there was no tip at the end of the night.
Writer Kirk Silsbee and his girlfriend, Cathie Gentile, attended. Now married, they had seen Bukowski read in '76 at Sweetwater, as did Michael Gira, Kirk's boon coon from the El Camino College Art Department. Gira was years away from forming his band Swans but he was seriously writing poetry while living in a Hermosa Beach garage and scamming art money grants.
"At the Sweetwater there was a young guy," Silsbee recalled, "opening for Bukowski. He looked like Jackson Browne, played the piano and sang those 'sensitive guy' songs that you used to hear in the '70s. At one point he asked for a white wine. Later, as Bukowski chugging his way through six-packs between poems and insults, he affected this sissified voice and said, 'Could I have a white wine please?' The place roared but the poor bastard asked for it."
I handled the Ampex 456 tape boxes, sorted out reels and tested microphones locations. Denny Bruce oversaw the recording operation like General George Patton and navigated the playing field like Hall of Fame footballer Jim Brown. It was apparent, that over the years, Bruce really wanted to do a proper recording with Bukowski. He'd been in discussion with Charles for a decade. At the Sweetwater club, Bukowski drank four bottles of wine out of a water tumbler.
There were a lot of geeks in the house. Guys with first edition books begging for autographs, frat rats shoving their own writings at Bukowski, "Check out my stuff on computer!" and a whole bunch of fan boys with ancient columns, now yellow with age, wanting Bukowski to personalize the newsprint with an autograph.
A bouncer at the Sweetwater entrance looked at me and confided, "Hey…I'm used to 'Blues queers' crowding the dressing room."
There were some very attractive women in the house, hugging, kissing, congratulating and fawning all over him.
One memorable moment occurred, as on cue from his own self-penned B-movie biopic, a drunken Bukowski turned to Denny and myself, pondering, "Why does all the cunt show up at age 54?"
Did we not admire his honesty, humor, observations and erotic reflections on the page and public stage?
Afterwards, Denny asked me to guard his master tapes and equipment as he and Bukowski went to another room with Richard the club's co-owner. I heard noises and a hassle occurred. We knew the payment fee was taken care of well before the booking. In fact, the wad bulged out of Bukowski's front pocket. Bukowski then pulled a penknife out and jabbed it right into the desk of the owner asking for his money, forgetting he'd already been paid. Everyone tried to calm him down and then Charles reached for a smaller knife and proclaimed, "I'm producing steel, man."
Bukowski's friend, Joe Wolberg managed to put him into a headlock and then took him away. There was a lot of static in the room and Bukowski's final words of the night were "the only reason you booked me into this clip joint was that you could hit on [his wife] Linda." He obviously loved her.
Before the first retail configuration of Hostage came out, Denny and I thought it would be a good idea for German film director, Wim Wenders, to write the liner notes for a projected German territory distribution. Wim was very receptive, invited me to the set of Hammett in 1981 that he was doing for Zoetrope Studios at 1040 N Las Palmas Avenue.
Wenders had been a music journalist and critic, liked the Germany-born Bukowski, and we both understood the market for a German audience that existed for his catalog. The liners didn't materialize, but in 1999 I bumped into Wenders backstage at a Tom Waits concert in Los Angeles at the Wiltern Theater. We were reintroduced and he mentioned he still had the original disc I sent him.
I remember when the first pressing was pressed, a vinyl-only Hostage issued in the mid-'80s produced by Denny Bruce. Poet/writer Kenneth Funsten did the liner notes for the album.
I mailed a copy to teen scribe Shredder aka Danny Weizmann, then a student at UC Santa Cruz, and living in a college dormitory. He played the Hostage LP at full blast one night with some friends, and was asked to leave the dorm the following morning.
Well, I always knew Hostage was a rock 'n' roll record.
I even had to talk to his mother over the telephone about the incident but also guaranteed her son would be a great writer. I suggested for him to transfer to UCLA for their Creative Writing program. He graduated with a BA in English Literature. He later wrote Hardcore California: A History of Punk and New Wave and is a voice in every one of my books since 2002.
"There were other great LA writers before Bukowski but he might be the first really great LA native," volunteered Weizmann. "For those of us who are from here, one of the pleasures of reading him is the way he represents local dimensions-it comes up in curious ways. For instance, a writer from the east might never mention the bowling alley off Hollywood Boulevard or a Safeway Supermarket, because they're too citizen-level, they don't evoke all the old cliché literary visions of Tinsel Town. But in one of his early columns, Bukowski writes about staggering by that bowling alley, hungover at dawn.
"First time I read it, I got goosebumps, because my late aunt Ethel used to take me to that empty low lit place where the diehards practiced alone, the old men lined up the bar, and the vending machines sold non-slip grip cream and mini sewing kits in little plastic eggs for a quarter. By making poetry and spirit out of the day-to-day world we lived in, Bukowski showed that everything could be dramatic, everything could have a spiritual resonance, and it follows that every soul in that world counts. In that way he's like Walt Whitman or Lou Reed, giving voice to the hidden and the ignored."
In a twenty-five-year period before Bukowski's death, I bumped into Bukowski a few times in the Southland.
In 1983 Bukowski and I chatted at the opening of director Ron Mann's Poetry In Motion documentary on Wilshire Blvd at The Four Star Theater in Los Angeles. Ed Sanders, Amiri Baraka, Allen Ginsberg, Diane Di Prima, Michael McClure and Tom Waits on the big screen. The same room I first saw A Hard Day's Night, The Graduate and where director John Cassavetes filmed portions of his Opening Night film. We reminisced about the downtown Central Los Angeles Public Library where he first discovered John Fante, and Los Angeles City College. Bukowski took a creative writing class many years before I received a few credits in their literature department.
Charles was caught off guard when I brought up Los Angeles High School. "I'm from Fairfax High School." "Kid, that's in West Hollywood… I lived in East Hollywood."
We definitely worked different sides of Western Avenue. I never drank and ate at El Cholo and Ole Sole Mio Pizza parlor. Bukowski cruised Stan's Books, and frequented local bars.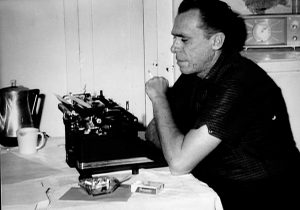 Once in late December 1985 after visiting the minutemen's D. Boon I encountered "Hank." Boon lived in the Point Fermin area, and the weekend just before he died in a car accident we did a show at the Lhasa Club in Hollywood. Boon and his band member Mike Watt directed me to a restaurant Seven Seas for a meal. The place was closed, so I schlepped over to Ports-of Call in San Pedro to eat some cioppino. I entered the vast parking lot, found a spot, and next to me was a black BMW and out popped Charles Bukowski. He had the Racing Form tip sheet in his hand and obviously on the way to the Hollywood Park Racetrack in Inglewood. It was daytime. Charles nodded, smiled, and said hello. Bukowski had sparkling blue eyes like Eva Marie Saint and Bob Dylan.
Charles then drove off to Hollywood Park. My friend, singer/songwriter Tom Johnson caught him at a betting window and called me that evening. In the seventies Tommy lived down the street from Bukowski on De Longpre Ave.
Only a couple of days before I was in the recording studio with poet John Thomas who told me a hilarious story about the time he and Bukowski got kicked off the airwaves for their "use of language" one night at radio station KPFK-FM in North Hollywood. Poet and broadcaster Paul Vangelisti worked at KPFK-FM as Cultural Affairs Director between 1974-1982 who published Anthology of LA Poets, co-edited with Bukowski and Neeli Cherkovski.
Charles Bukowski toiled on his Lazarus typewriter with a portable radio always tuned to KUSC-FM, the Los Angeles classical radio station.
I went to the October 30, 1993 U2 concert at Dodger Stadium in Los Angeles. Drummer Larry Mullen of the band did a stage dedication of "Dirty Old Town" to Bukowski. Bono had sent a car for Charles and his wife Linda to come to the show. Sean Penn, an acquaintance of Bukowski had made the arrangements by phone in Ireland.
Charles Bukowski died on March 9, 1994 in San Pedro, California at age 73 of Leukemia.
In late 1994 I produced a poetry reading in San Pedro at Vinegar Hill Books featuring Harry E. Northup and Holly Prado. Linda Lee Bukowski, his widow, came to our event. She smiled when I said I was keeping tabs on her and heard that Dave Alvin of the Blasters the day before had visited their San Pedro home.
During July 1995 Linda attended The MET Theater Rock 'n' Roll Literature Series I curated and helped produce in East Hollywood. A few blocks from 5125 De Longpre Ave. Dave Alvin, Kirk Silsbee, Paul Body, Daniel Weizmann, David Ritz, Lewis MacAdams and I read one evening. The three remaining members of the Doors reunited and performed "Peace Frog," "Love Me Two Times" and "Little Red Rooster."
I never realized how popular Charles Bukowski was in Europe and the UK. Paul Body told me in the last half of the eighties a television station in Paris signed off every night with Bukowski reading one of his poems on screen!
In 2006 the Huntington Library, Art Museum in San Marino California began acquiring Charles Bukowski's papers as a generous gift from his wife Linda. The library is very near the Santa Anita Race Track one of Bukowski's haunts.
During August 1985 I received a telephone call from record producer, musician, and songwriter, Andy Paley. I was on a Paley Brothers recording session at Gold Star in 1978 that Phil Spector produced, "Baby, Let's Stick Together." Phil Seymour, Rodney Bingenheimer and I provided handclaps on the studio date with members of the Wrecking Crew. It's out on The Paley Brothers: The Complete Recordings via Real Gone Music. Andy, his brother Jonathan, Rodney and I added some percussion and handclaps on the Spector-produced Ramones' End of the Century album. In 2002, it was reissued on CD and I penned the liner notes for the package.
Andy Paley produced the Dick Tracy soundtrack and had songs on Madonna's album I'm Breathless. In conversations with Madonna, she revealed to Andy that she was a huge fan of Charles Bukowski. Andy subsequently called me about getting a signed Charles Bukowski book for a wedding gift for her and soon-to-be husband Sean Penn. On my message machine, he said he'd later explain the request to me. So I called back, left a voice mail and told him to go over to the Baroque Book Store on Las Palmas Ave. in Hollywood owned by Red Stodolsky, a good friend of Bukowski, who carried rare autographed Bukowski books.
Andy left a very pleasant thank you on my machine after he had gone to the bookstore and bought an autographed copy of Ham on Rye. I thought "What a cool wedding present."
I didn't see or talk to Andy for nearly 20 years, but in 2003 I saw him at a birthday party for Rodney Bingenheimer.
"By the way…How did that Bukowski book wedding present ever work out?" I asked. "Well…let me tell you," Andy replied and sighed. "It was a wedding gift for Madonna and Sean Penn. And, months after the wedding I ran into Madonna in LA. 'Thanks for that Bukowski book. You know you created a monster. Sean is obsessed with Bukowski now and they're inseparable!'
"She was half-kidding but I know there was something there."
Harvey Kubernik
HARVEY KUBERNIK is the author of 19 books, including Canyon Of Dreams: The Magic And The Music Of Laurel Canyon and Turn Up The Radio! Rock, Pop and Roll In Los Angeles 1956-1972. Sterling/Barnes and Noble in 2018 published Harvey and Kenneth Kubernik's The Story Of The Band: From Big Pink To The Last Waltz. For 2021 they are writing and assembling a book on Jimi Hendrix for the same publisher.
Otherworld Cottage Industries in July published Kubernik's 520-page book, Docs That Rock, Music That Matters, featuring Kubernik interviews with DA Pennebaker, Albert Maysles, Murray Lerner, Morgan Neville, Michael Lindsay-Hogg, Andrew Loog Oldham, John Ridley, Curtis Hanson, Dick Clark, Travis Pike, Allan Arkush, and David Leaf, among others.
Kubernik's writings are in several book anthologies, including The Rolling Stone Book Of The Beats and Drinking With Bukowski. He was the project coordinator of the recording set The Jack Kerouac Collection.
During 2006 Harvey Kubernik spoke at the special hearings initiated by The Library of Congress that were held in Hollywood, California, discussing archiving practices and audiotape preservation.
In 2020 Harvey served as Consultant on Laurel Canyon: A Place In Time documentary directed by Alison Ellwood which debuted on May 2020 on the EPIX/MGM television channel.
Kubernik has just penned a back cover book jacket endorsement for author Michael Posner's book on Leonard Cohen that Simon & Schuster, Canada, will be publishing this fall 2020, Leonard Cohen, Untold Stories: The Early Years).
---