Featured

News

By Jay Dobis     Erkin Koray, aka Erkin Baba, the father of Turkish Rock 'n Roll (he put together the first Turkish rock band (Erkin Koray ve Ritmcileri) in 1957 when he was a high school student

Featured

Articles

By Harvey Kubernik   On August 3, 1966, stand-up comedian, social critic, satirist, and philosopher Lenny Bruce was found dead at age 40 inside his Hollywood Hills home from an acute overdose of mor
By Harvey Kubernik
Veteran music business legend Marshall Chess is the son of Leonard and nephew of Phil Chess, the dynamic duo who founded the monumental Chicago-based blues label.
After departing from Chess Records in 1969, Marshall formed and served as President of Rolling Stone Records for seven years. He helped create the Rolling Stones' famous tongue and lip logo and was involved as Executive Producer on seven Rolling Stone #1 albums during the 1970s.
Marshall Chess is prominently featured and interviewed in the new Born In Chicago blues documentary that will screen on November 21st in downtown Los Angeles at the Grammy Museum.
Directed by Bob Sarles and John Anderson, and narrated by Dan Aykroyd, Born In Chicago is a soulful documentary film that chronicles a uniquely musical passing of the torch. It's the story of first generation blues performers who had made their way to Chicago from the Mississippi Delta and their ardent and unexpected followers—middle class kids who followed the evocative music to smoky clubs deep in Chicago's ghettos. Passed down from musician to musician, the Chicago blues transcended the color lines of the 1960s as young, white Chicago music apprenticed themselves to legends such as Muddy Waters and Howlin' Wolf.
"The Chess brothers and their record labels were instrumental in popularizing the blues music of Chicago's South Side," emailed Born In Chicago co-director and co-producer Bob Sarles in summer 2022. Marshall Chess has kept that flame burning to the present day. His story about the Rolling Stones' visit to the Chess Records studio is a highly entertaining part of our documentary."
Marshall Chess was born in Chicago, Illinois on March 13, 1942, and was raised during the heyday of the independent record business. Leonard Chess had a piece of a record company named Aristocrat Records in 1947, and later in 1950 he brought his brother Phil into the fold and the brothers assumed sole ownership of the company and renamed it Chess Records. They also operated a club on the South side of Chicago, the Macomba Lounge.
Marshall "started" in the family business at age seven accompanying his father Leonard on radio station visits. For sixteen years Marshall worked with his dad and his uncle Phil, doing everything from pressing records, applying shrink wrap and loading trucks to producing over 100 Chess Records projects, eventually heading up the label as President after the GRT acquisition in 1969.
Over years the monumental Chess catalog has had various homes, including a 1975 sale to All Platinum Records, and eventually a couple of decades ago the Chess master tapes were purchased by MCA Records, now Universal Music Enterprises.
Chess Records showcased blues, rock 'n' roll, R&B, soul, jazz and comedy: Muddy Waters, Willie Dixon, Howlin' Wolf, Bo Diddley, Chuck Berry, Little Walter, Buddy Guy, Jimmy Rogers, Sonny Boy Williamson II and Little Milton. Maurice White and Charles Stepney both learned their craft at the label. [Chicago-based label International Anthem in September 2022 has just issued "Step on Step," a compilation of Stepney demos and experimental music.]  The label issued seminal efforts by Etta James, the Dells, Billy Stewart, and Fontella Bass. The Miracles, Four Tops, Bobby Charles and Dale Hawkins cut singles for Chess.
In addition, there was a jazz division with Gene Ammons, Ahmad Jamal and the Ramsey Lewis Trio. Argo, the jazz arm of Chess released material by Art Blakey & the Jazz Messengers, James Moody, Clark Terry, Zoot Sims, Kenny Burrell, the Art Farmer-Benny Golson Jazztet (with the debut recording of pianist McCoy Tyner), Ray Bryant, Roland Kirk, Oliver Nelson, Jack McDuff, Illinois Jacquet and John Klemmer.
In the late 1960s Marshall created his own record label Cadet Concept, a division of Chess Records. He created and produced the Rotary Connection, which became the springboard for vocalist Minnie Riperton's career. He signed John Klemmer and created a new format which was heralded as the first jazz fusion album, Blowin' Gold. Marshall also produced the blues albums Electric Mud and After the Rain. The Chess comedy division offered long players by Moms Mabley, George Kirby, Pigmeat Markham and Slappy White.
Marshall has produced three films. The Legend Of Bo Diddley, Ladies and Gentlemen, The Rolling Stones, and the rarely glimpsed 1972 Rolling Stones' Robert Frank-directed tour documentary Cocksucker Blues. Chess is also a revealing interview subject in Robert Greenfield's 2006 captivating book Exile On Main Street: A Season In Hell With The Rolling Stones.
In 2004, Marshall was featured in a movie project collaboration titled Godfathers and Son's directed by Marc Levin, for the PBS-TV series The Blues, produced by Martin Scorsese. Chess produced a hip-hop version of the classic Chess track "Mannish Boy" with rappers Chuck D and Common recording with members of the original Muddy Waters' Electric Mud band.
In 2008, Marshall concluded a DJ stint hosting a weekly blues music program on Sirius Satellite Radio. His Chess Records Hour debuted in November 2006 and aired for 81 shows.
During 2009, I interviewed Marshall Chess in West Hollywood, California at the Sunset Marquis Hotel, and in 2010 I spoke with him by telephone from his office in New York City. Chess spent a few hours with me discussing Chess Records, the label's legacy, his personal relationship with the company's artists, and working with the Rolling Stones.
Born In Chicago documentary trailer:
https://player.vimeo.com/video/579679761?h=77163e65b2
Can you explain how Chess Records worked? Can you even compare or contrast Leonard and Phil Chess? How could your uncle and father know so much about music, the blues, and bringing it to the world? They were Polish immigrants.
Because they were very bright people. They worked in black businesses. My dad had a liquor store. I sat around my uncle and asked, 'everyone always asks me about music, and how did Chess get into music.' And, my uncle's vision is this. That in Poland, in the small Jewish ghetto town, there was no music. Then some guy got a windup victrola. And the whole fuckin' village would stand underneath this guy's window when he played it. That was the first recorded music they heard. They come to America.
 My grandfather, who was here seven years prior in Chicago brings them. He had a scrap metal yard. Across the street from it, on the west side of Chicago, was a black gospel church. My uncle said that my dad and him were kids, and after work they would hear the bass drum and gospel singing with a piano, they would be fascinated. They would stand there and get punished for being late, 'cause they were listening to the black music. That's where it began to me.
 For some reason it affected them. And then, when my uncle went into the army, my dad, I think because he was an immigrant got him near Maxwell Street, the black neighborhood. No prejudice. That's just it. No blacks in Poland. You don't get raised being prejudiced in Europe. You hate Nazis, but no blacks to hate. So, they had no problem, and they saw that there was this giant influx of blacks in Chicago, and they had money, and they were working. And my dad started with a liquor store after he worked in a shoe shop. Berger's shoes. Then the liquor store, where he had a jukebox, and he was there 15-18 hours a day hearing blues. I watched the jukeboxes being serviced. They used to be controlled by gangsters of Chicago. They'd come and pick 'em up from us. The Italian gangsters.
Can you offer some reflections about the Chess studio?
We had fabulous engineers. Ron Malo and Malcolm Chism. They were the two best engineers. Ron came from Detroit. He had worked on Motown studios and he was a big part. Before Ron, we had these two Weiner brothers, who actually built the studio. It was a basic classic studio design, with the echo chamber in the basement, very small control room.
 One of the secrets of the Chess studio was not the studio but our mastering. We had a little mastering room with a lathe. Eventually we had a Neumann lathe. The first one was an American one. We did our own mastering and had these Electrovoice speakers on the wall.
 The great part about that room that when it sounded right in that mastering room it would pop off the radio. That's what it was all about. And the Rolling Stones, the Yardbirds, later Fleetwood Mac had to make visits there.
The Chess sonic delights are amazing.
The best explanation is, this may sound way out. It contains magic. The most apparent magic that we can see or experience is music. Let's face it. Music changes the way you feel. That's magical. Chess Records for some reason was a magnet for amazing artistry and all these magicians came to Chess. And we were able to capture it. And it's something that can be experienced through audio. The music has stood up without a cinematic aspect like video. And the method of recording.
As I grew older, and was a person of the hippie generation, and discovered things like meditation, psychedelic drugs, Buddhism. I realized what was happening in the early Chess studio was like a high Buddhist monk meditation manager. Because when you recorded in mono and two-track with 5 or 6 players and a singer there wasn't any correction possible. One of the main jobs as a producer was like a meditation manager master. He had to get the band locked together to go down. I remember when they were teaching me to produce, they always would say, "when the motherfucker fucks up you got to embarrass him and tell him to play that shit right. Over and over."
Vee-Jay Records was across the street from Chess in Chicago.
Ewart Abner was a good friend of mine. The Vee-Jay stuff came later. It was more on the edge of '60s. That led into the Impressions, Curtis Mayfield all that part of Chicago. The thing that this early music has is that it just has some fuckin' kind of magic in it. I think maybe it's the direct to two-rack recording of the period. I don't know what it is. Some kind of alchemy. A real esoteric alchemy. That's what drew the Stones to record in our studio. There's some alchemy in those early records that even carries over when you sample them. Jerry Butler and Dee Clark. Brilliant singers. Amazing. They all come from black church. Etta. Every one of them. This is the shit, man. All these motherfuckers learned from church, or the fuckin' cotton fields in Mississippi.
I love Chess Records. Because it was the greatest, happiest place in the world. You would love going there. You laughed all fuckin' day. The artists hung out there, no, not all the artists, but what we would call the family artists. Sonny Boy, Muddy Waters, Dells, Chuck Berry, Bo Diddley.
And Billy Stewart!
Billy Stewart shot the doorknob off at the studio if they didn't let him in quick enough. What was Billy Stewart mad about? 'I brought some fuckin' pepper stuffed crabs from Baltimore. You gotta taste them before they get ruined!' We were into eatin' and laughing. Maurice White is the drummer on Billy's 'Summertime.' I saw genius in him. He was the first black guy that ever had a Volkswagen. He was like the first of the switch from the Cadillac to the cool.
I'm proud and I'm thrilled, and helped historically continue the legacy of the Chess Records label. I'm not a classic blues fan, a blues collector, I am not into the anal aspect of what guitar strings Muddy used, or what harmonica did Little Walter play.
I only wanted to be around my family, and my father, who was a workaholic. It was a family business. They were immigrants and embraced that. For age 7 to age 12 or 13, my dad took me on the road, not because I wanted to be in the record business but because I wanted to be with my father. So, I got it really by osmosis, ya know. And that was my real reason for hanging out there.
In Hollywood at Fairfax High School, the Father and Sons album released with Muddy, Otis Spann, Sam Lay, Buddy Miles Paul Butterfield, Michael Bloomfield, and Donald "Duck" Dunn was the big hit in the school hallway with collectors and stoners. It's been reissued by Universal. The version of "Long Distance Call" is totally amazing!
Man, and live, you couldn't see it, Muddy did this dance on 'Got My Mojo Working' that was unreal! Like Nureyev. He put down his guitar and did a pirouette. The place went wild! You can hear it on the record. You can hear the crowd when that happens.
What sort of images flash in your head when you play the music of Chess Records?
I see them. My dad and uncle. Man, that's what goes through my head. Sonny Boy Williamson and Muddy Waters went to my Bar Mitzvah. A lot of black people were there which was a very unusual event back then in 1955.
The Chess recording artists were always writing about women problems and sex. That's all I ever heard from them when I was a kid. I saw some of these records being recorded. I sold them originally. I helped their initial exposure. On the SiriusXM radio program I brought more exposure.
But being around the blues, and all these records being made, and knowing the artists, I don't know, man, it just, ya know, got into me. It just became part of me. It's part of my life. I've never even considered it work. I appear and promote Chess and the blues in films and TV documentaries. I do as much as I can because I get a buzz out of it. I'm just amazed, man, that this music that we made in Chicago has become so historical
In the Chess stable as far as songwriters like, who, was your main man?
Chuck Berry was the best. He had a spiral notebook, a fuckin' school spiral book. I saw all those lyrics written out. Like poetry, man.
The earliest I saw Chuck Berry was 1969. He was having pickup bands even then.
A pick up band… In the mid to late 1950s he was just brilliant. Johnnie Johnson on piano. I don't remember much. The first session I remember in detail when he came out of jail was 'Nadine.' I was his road manager for six gigs. I brought him his clothes when he came right from the prison. My dad gave me $100.00 to take him down next to the Chicago Theater on State Street to buy him a new outfit. And then we went on tour. The first gig we did was in Flint, Michigan, with the Motown rhythm section backing him.
I never got to see that…
Chuck was great. But I always felt he was too greedy. He ruined the alchemy because those pickup bands, as good as they knew it, weren't locked, like if it would have been his own band. That's why in Keith's movie he had all those problems with Chuck. He wouldn't lock. And he lost it. He needed my father there. I don't know if I could even deal with it. My dad was the one. As for guitar playing, he invented that whole thing, ya know. And he sang and wrote the words, too.
Run down some of the other Chess artists. Howlin' Wolf. I loved it when he was on Jack Good's Shindig! television show in 1965 when the Rolling Stones were booked.
Howlin' Wolf…On stage very commanding, but off stage a very gentle, soft man. I remember him telling me he was learning how to read music. Did you know that? He went to school to learn how to read music so he could learn how to play the guitar. He wanted to learn notes. One time my dad had me bring him a thousand dollars to his house, and he opened like those tool boxes that you lift off the tray at the top. And it's stacked full of money. "What do you need this money for?" "I gotta go buy some special dogs to go huntin' on my farm." (laughs). He was a gentle man but ferocious. Big. He used to drink a lot. He was pretty much high a lot when he performed.
Muddy was the showman and a towering regal figure.
Muddy liked to drink. Muddy on stage and in the studio was the best. He was organized. He was a fuckin' leader. I always say this. People say 'what do you mean?' He was a fuckin' leader. Muddy was the reincarnation of a tribal chief, of a President, of a King. Such a powerful presence. I just loved him. And he treated me so good. He used to call me his white grandson. His wife Geneva used to send me fried chicken wrapped in foil. Muddy once wrote a poem to a girl for me that I gave when I was in high school. I always say this and people laugh but most of what I discussed with these guys was about sex. That was the main thing on their mind.
In the fifties and very early sixties there were clubs, during that early blues heyday of Muddy, and Wolf, they were places where people went primarily on weekends to find women. And women to find men and to party. And the music was very much party music. It was like a psychological influence on the people in these little clubs. And it was what these guys wanted to do. Drinkin' and make love.
It then began to die out as R&B and Motown happened. It's a period when I was in a few of those clubs that were hot and steamy and smelly and funky and the music was loud. Those were the clubs where Muddy Waters put the coke bottle in his pants and Wolf got down on his knees, howling, drinking whisky out of a bottle. Those were a whole different audience then when the white blues market discovered it.
Look at their lyrics. With the TV programs recently on Muddy. The American Masters documentary, it's all very gratifying. We always knew it. Gratification is the best word. Not for all of them. Muddy, Wolf, Chuck Berry. These are like Beethoven and Bach. They should be right up there.
Buddy Guy?
Buddy Guy brought me a real mojo from Mississippi that I used to wear when I was in high school that I used to wear when I was trying to get girls. This little pink bag I pinned to my under shirt.
Bo Diddley?
I have always considered Bo Diddley to be one of the most creative, innovative and original of all the Chess artists. From his custom guitars that he built himself to his constant searching for new sounds. He has influenced many recording artists with his originality. He was not afraid to take chances with his music. Chess Records was the perfect place to be as we to were not afraid to experiment with new sounds and ideas. During the 50's both Bo and Chess were always ready to push the envelope. Brilliant artist. A true original. Great artist. But he's a trip. The thing I remember about Bo, and here's my memory. I remember Bo with this long airport limousine broken down in front of 2120 S Michigan Avenue on his back repairing it himself in the street jacked up changing the rear end or something. On the curb. You know what I told Bo Diddley? "The reason you've never had another hit is because your creativity is tied up in bitterness. I said let that shit go and you can have a hit tomorrow. You're a fuckin' genius."
Willie Dixon?
Willie Dixon. Songwriter, producer, bass player. He'd get the bands together. I think he was a great songwriter and a great –promoter and a real hustler and he was a great guy. He was very important to the success of Chess and I will not take that away from him. He wasn't Chess at all. But he was an important part of Chess Records. Very important part of that blues era.
Etta James?
The Queen of Soul. They were calling her that before Aretha (Franklin). She's just great. She started singing in church. She's a real L.A. girl. A street girl. Johnny Otis broke her out on Modern, and then she had that hit "Roll with Me, Henry" that was later re-titled "Dance with Me, Henry."
In 1960 she came to Chess and our Argo label, and then another hit in '61 with "At Last." In 1967 came "Tell Mama." Both great records. They blew our minds. We loved good shit. We knew when it was good. (Laughs). We had black radio in our pocket. We were strong. Not only that, we had a radio station WVON. (Voice Of The Negro) which was part of it. E. Rodney Jones was our program director.
Little Walter? People are still talking about him.
He's the truest genius of all the Chess artists. Because he invented and perfected a new way to play the harmonica, and did it with tremendous creativity and talent. Very much like Hendrix with guitar. They're exactly alike. Miles Davis considered Walter a genius. Hendrix considered Walter a genius. I liked him as a person but he was always drunk. I never knew him when he wasn't fucked up. Smelling of liquor. But, yeah, I liked him. There was something 'sloppy drunk' about him that I liked. But he had a mean side to him, too. I saw him and my dad go at it with anger numerous times when he was drunk. He'd be a mean drunk. But we loved him. And my dad and my family loved him. We buried him.
You issued Electric Mud by Muddy Waters and have been defending it from the day of retail release.
Here's the true Electric Mud story. I produced it. I recorded it and promoted it. At that time, I was very aware and very on top of alternative FM radio. I drove across the United States, visiting FM DJ's like Tom Donahue and Bobby Mitchell in San Francisco. I'd meet all the DJ's at radio stations in Los Angeles like KMET-FM and KPPC-FM and meet all these people. And these guys would be smoking joints on the air and they'd take an album right from your arm and play it immediately five times on the air!
FM "Underground" radio gave airplay to blues recordings during 1967-1970
Those were the great days. I was part of the generation. When everyone took LSD to watch the Grateful Dead, I did. I've been at the Fillmore West sitting on the floor. What happened to me was that I was part of that sex, drugs and rock 'n' roll generation. And it blew my mind.
Bill Graham was the greatest for that for the blues artists of that era. B.B. King on the bills. FM radio was a Godsend for the blues. The big commercial AM stations would not play the records at all except some black stations. And I decided to repackage Chess to that market that was getting stoned and going deep. It was a big boost when the English groups covered the music earlier. On records and at their shows. We loved it and something we thought could never happen.
Muddy Waters and B.B. King really dug white people doin' their stuff. Sonny Boy was very much into white people doin' his stuff. So was Howlin' Wolf. I remember (Eric) Clapton gave him a fishing rod. Wolf was a real sportsman. He had fuckin' huntin' dogs that were a thousand dollars each. It blew our mind, of course it was a fantastic thing. We loved it. And we never thought that could happen. It was a total fantasy. But we first noticed it with the Muddy At Newport album came out. See, albums were not selling to black people. They didn't have record players. I can remember we got all these orders from Boston on the Muddy album and we knew it was white people buying it. College kids. The first things we noticed as the album market developed.
In 1984, you became a partner in the established blues rock publishing company, the Arc Music Group, which he began actively heading in 1992. You and the Arc Music team placed Chess Records-birthed recordings and music copyrights into major motion pictures, television shows, and TV commercials. You just oversaw the sale of Arc Music to Fuji Entertainment America.
I'm in shock and still haven't realized it. It was time. We've had people chasing us since 2001. We've just been waiting for the right buyer. It was the right price with the right respect for the catalogue.
© Harvey Kubernik 2010, 2022
HARVEY KUBERNIK is the author of 20 books, including Leonard Cohen: Everybody Knows published in 2014 and Neil Young Heart of Gold during 2015. Kubernik also authored 2009's Canyon Of Dreams: The Magic And The Music Of Laurel Canyon and 2014's Turn Up The Radio! Rock, Pop and Roll In Los Angeles 1956-1972. Sterling/Barnes and Noble in 2018 published Harvey and Kenneth Kubernik's The Story Of The Band: From Big Pink To The Last Waltz. In 2021 the duo wrote Jimi Hendrix: Voodoo Child for Sterling/Barnes and Noble.
Otherworld Cottage Industries in 2020 published Harvey's book, Docs That Rock, Music That Matters, featuring interviews with D.A. Pennebaker, Chris Hegedus, Albert Maysles, Murray Lerner, Morgan Neville, David Leaf, Dick Clark, Curtis Hanson and Michael Lindsay-Hogg.
Kubernik's writings are in several book anthologies, including The Rolling Stone Book Of The Beats and Drinking With Bukowski. Harvey wrote the liner note booklets to the CD re-releases of Carole King's Tapestry, The Essential Carole King, Allen Ginsberg's Kaddish, Elvis Presley The '68 Comeback Special, The Ramones' End of the Century and Big Brother & the Holding Company Captured Live at The Monterey International Pop Festival.
 In 2020, Harvey served as a consultant on the 2-part documentary Laurel Canyon: A Place in Time directed by Alison Ellwood that debuted on the M-G-M/EPIX cable television channel. During December 2021, Kubernik was an on-screen interview subject and received a consultant credit for the rock & roll revival music documentary currently in production about the story of the Toronto Canada 1969 festival featuring the fabled debut of the John Lennon and Yoko Ono Plastic Ono Band and an appearance by the Doors. Klaus Voorman, Geddy Lee of Rush, Alice Cooper, Shep Gordon, Rodney Bingenheimer, John Brower, and Robby Krieger of the Doors were filmed by director Ron Chapman).
---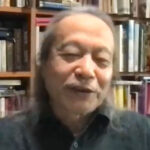 By Bill Furbee
Paintings and the outdoors have taken the place of a tour van and stages for improvisational icon Damo Suzuki. Spring is here and, today, Damo can probably be found in a nearby park, painting trees.
Damo and I first spoke in February of 2020-an interview to promote a scheduled performance at Chicago's Empty Bottle. Shortly after, however, venues around the world shuttered their doors in response to the spread of COVID-19. With his schedule suddenly silent, Damo happily agreed to a follow-up call just a month later. Thankfully, his amiable nature was still on tap.
"I don't have a job at the moment," he told me, then. "It's not possible to do anything. I canceled my US tour, I canceled my Italian tour … I don't know what's going to happen," he reported from his home in Cologne, Germany.
He paused to pour himself a Kölsch beer.
"But it's okay," he told me. "Maybe (this is) an opportunity to make something else." He reflected for a moment, then beamed a wide smile. "Cheers!" he said, lifting a frothy glass of beer to the camera on his computer monitor.
And now, we've spoken for the third time. Damo's still at home, and in no hurry to get back on the road. Vaccine requirements and contract tracing — measures that are helping to bring the virus under control, allowing concerts to take place again — aren't exactly conditions that Damo can get behind.
"At the moment, it's so much difficulty traveling," he says. "I don't like to make a test at the airport; I don't like to make anything that the system wants to have. Every country has its own directions-like if you eat or drink in a cafe, you sometimes have to have a vaccine passport, you must be vaccinated or you must have a test," he says.
"For me, it's a good time to have a break. So I treat it as my vacation, at the moment-for three years," Damo admits, with a chuckle.
"It's okay," he reasons. "I've traveled quite a lot already before."
Damo also has a lot of books at home-nearly 10,000, in fact. He's eager to share titles and authors that he's preoccupied with, while admitting, "fiction I can make with myself … my life is sometimes like fiction! Nonfiction is much more interesting at the moment."
Meanwhile, a number of his recorded performances are still being issued. While Damo would much rather perform than release recordings, he acknowledges that many of his collaborators are interested in releasing those performances. So, he mostly leaves that decision to them.
"I'm not so particular about making an LP or album," he stresses. "It's not (been my job) for a long time. I just like the live concert, and not always documenting. But some people who have performed with me, they like to release it. It's okay, they can make it. I don't say many things. Because they also have the right to make something as documentation. So I cannot say, 'oh it was not very good' or anything-it's not my task, it's not freedom. They just ask me, (and) 99% of the time I say 'okay.' But, if they have something like on the front cover I wouldn't like, if it's demonic or satanic, or something like that, then I really don't like to have it."
Worth noting that Damo's most celebrated band-psych-rock progenitors Can-has also been issuing a steady stream of reissues and rediscovered concert recordings of late. Damo, however, assures me that he's had no communication with management or any surviving members.
"No, no (input) at all, I don't have any contact with them," he says. "That was already a half century before, you know? So it's not that much things to talk about. I don't take too much time to think about things, past."
He adds: "I like to make music for the people who like this kind of music; I have never been interested in having a huge audience. It's not my thing."
Where does this leave Damo?
"I feel good!" Damo laughs, quick to point out that he now has time to exercise and observe nature. "If you're outside, you can get vitamin D, the sun," he says, "and it's not been so cold this winter."
As spring heralds in a season of new beginnings, Damo is happy to stay where he's at for the time being.
"I like to go outside with a sketchbook," he says, as our call wraps up. "And I like to paint trees. Spring," he says with a beaming smile, "is always good!"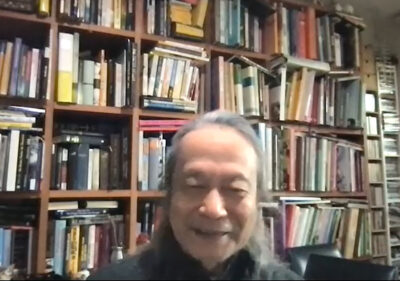 ---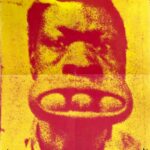 by Harvey Kubernik
"I think people make the mistake of putting too much information on a CD because you can afford to, time-wise. But Exile was a slow, slow thing. It wasn't as immediate as albums characteristically were in those days, 'cause there were two albums. I think another thing with Exile—now that I think about it. Yeah… It was a very 'Keith-spirited-by-Keith' album." – Chrissie Hynde to Harvey Kubernik 2004 interview.
I remember in June 1972 receiving an advance test pressing long LP player of the Jimmy Miller-produced Exile on Main Street from an Atlantic Records publicist at their Sunset Boulevard office. The Los Angeles-centric Exile on Main Street album package artwork and design were created by John Van Hamersveld who collaborated with photographer Norman Seef on the product graphics.
Earlier in '72, the Rolling Stones, record producer Jimmy Miller and engineer Andy Johns relocated to Hollywood after cutting the basic tracks for Exile on Main Street in the 16-room Villa Nelcotte in the South of France. Overdubbing and mixing sessions were subsequently done in Hollywood at the landmark Sunset Sound studios and mastered at Artisian Sound Recorders on the same street.
Sunset Sound was built by Alan Emig, who had come from Columbia Records. He was a well-known mixer there and designed a custom built console for Sunset Sound. Salvador "Tutti" Camarata, a trumpet player originally and an arranger, and did big band stuff in the 1940s and '50s had a friendship with Disney Studios and decided to build a recording studio to produce the Disney/Buena Vista records by Hayley Mills and Annette Funicello.
"The Sunset Sound room was very unique," volunteered Bruce Botnick engineer and co-producer of the Doors during 1966-1971 in a 2009 interview we conducted. "Tuti Camarata did something that nobody had done in this country. He built an isolation booth for the vocals. And later on I convinced him to take the mono disc mastering system and move it into the back behind what became Studio 2. And we turned that into a very large isolation booth which we used to put stings in. With the stings being in the large isolation booth the drums didn't suffer so we were able to make tighter and punchier rhythm tracks than any of the other studios in town were able to do. 'Cause everybody did everything live in those days. You did your vocals live. You did your strings and your brass live. And the rhythm section. And this was a big deal.
And then add to it the amazing echo chamber that Alan Emig designed. There was a good selection of microphones at Sunset Sound. It was all tubes, except for some Ribbon, RCA's and a few Dynamics, they were all tube microphones. U-47's, Sony."
---