Featured

News

By Jay Dobis     Erkin Koray, aka Erkin Baba, the father of Turkish Rock 'n Roll (he put together the first Turkish rock band (Erkin Koray ve Ritmcileri) in 1957 when he was a high school student

Featured

Articles

By Harvey Kubernik   To celebrate the 50th anniversary of The Roxy and its enduring relevance, the Grammy Museum announced a new exhibit, The Roxy: 50 Years On The Sunset Strip, which explores the
WILD ABOUT YOU!
WILD ABOUT YOU! The Sixties Beat Explosion in Australia and New Zealand by Ian D Marks and Ian McIntyre (Verse Chorus Press, US; 2010; 352 pages)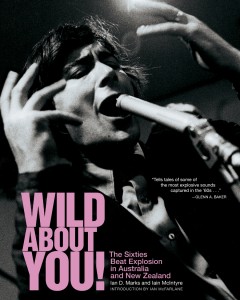 For decades I was fascinated by, but short on information about, the ephemeral Australian band the Black Diamonds, ever since I somehow snagged a copy of their mind-boggling, double-sided classic 45, "See the Way"/"I Want, Need, Love You" in an auction. Then last year I stumbled on a bootleg DVD containing actual videos of both songs, set amid crashing waves. And now there's an entire chapter on the small-town New South Wales band in this gem of a book. (Now if I could get hold of the Diamonds' second single…)
The book's subtitle pinpoints its subject matter, which it surveys in 35 chapters on 35 bands. First-hand recollections from band members are the rule, with expert authorial interjections to provide context, so you get not only a musical chronicle but a cultural immersion—even more valuable for readers who didn't grow up in '60s Oz or NZ and know little about the youth cults, official harassment, and showbiz exploitation that challenged the bands.
Not every antipodean '60s band of note is covered; omissions, such as Larry's Rebels or MPD Ltd, lean a little toward the pop side. A few of the acts in the book achieved homeland pop success—the Easybeats, the Twilights, the Masters Apprentices, Ray Columbus. But most of the others—the Throb, the Bitter Lemons, the Mystrys, and the Others themselves—struggled briefly, left a record or two, and dissolved.
This handsome paperback, replete with terrific photos, discographies, and listings for anthologies containing the records discussed, makes a fitting memorial for these undersung heroes and is indispensable for anyone with an interest in one of the planet's most exciting '60s scenes. (Ken Barnes)
From UGLY THINGS #32 (Fall/Winter 2011)
---