Featured

News

By Jay Dobis     Erkin Koray, aka Erkin Baba, the father of Turkish Rock 'n Roll (he put together the first Turkish rock band (Erkin Koray ve Ritmcileri) in 1957 when he was a high school student

Featured

Articles

By Harvey Kubernik   To celebrate the 50th anniversary of The Roxy and its enduring relevance, the Grammy Museum announced a new exhibit, The Roxy: 50 Years On The Sunset Strip, which explores the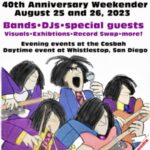 Come celebrate Ugly Things Magazine 40th birthday with us!
Mark your calendars, take your vitamins, polish your boots and drag a comb across your head. We have a special event planned August 25-26 to celebrate 40 years of Ugly Things magazine. Music and fun of all kinds, night and day, all weekend long at the Casbah and the Whistlestop in San Diego. Bands, DJs and special guests to be announced. Stay tuned!
Places to stay in San Diego
Little Italy/Downtown – close to The Casbah for the evening events are La Pensione and Porto Vista.
Hotel Circle (8 min from Casbah) – has a number of options for all budgets. Cool picks here are the Kings Inn (mid century) and the the Town & Country Resort (site of Tiki Oasis).
North/South Park – our daytime venue, the Whistlestop, is in South Park. Air BnBs are plenty in this area. Also check the Lafayette Hotel (Johnny Weissmuller pool).
---