Featured

News

By Jay Dobis     Erkin Koray, aka Erkin Baba, the father of Turkish Rock 'n Roll (he put together the first Turkish rock band (Erkin Koray ve Ritmcileri) in 1957 when he was a high school student

Featured

Articles

By Harvey Kubernik   To celebrate the 50th anniversary of The Roxy and its enduring relevance, the Grammy Museum announced a new exhibit, The Roxy: 50 Years On The Sunset Strip, which explores the
THE CRAMPS – File Under Sacred Music: Early Singles 1978-1981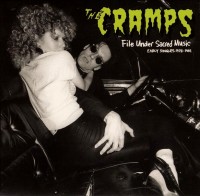 (Munster, Spain) 7" single boxset/CD
The Cramps may have swept to attention in the wake of the '70s punk rock wave, but they were of a different species entirely. This otherness is what makes the Cramps so special. By accident, design or mutated genetic disposition they were able to tap directly into the deep India-ink-black essence that lies at the core of all primal rock'n'roll. What they created with their best music and their live performances—that otherness—was something that existed out-of-time with the rest of the world—and certainly the rest of the music scene. The Cramps' unique vision spawned hundreds of imitators, hopping blindly, stupidly like so many fleas on the back of a big hairy dog. The wanna-fleas may have grokked the mad rockabilly pulse or the voodoo mystique, but the vital essence of it was beyond their understanding. Only the Cramps themselves fully grokked that secret, sacred magic.
If you'd forgotten or, god forbid, never knew just how great the Cramps were, this 10-single vinyl boxset (also available in the more boring CD format) will set you straight in a hurry. Some of the very best of their earliest primal goo-goo muck is here: "The Way I Walk," "Human Fly," "Mystery Plane," "Garbage Man," "TV Set," "Goo Goo Muck," "New Kind of Kick"—the list goes on. Six of these 10 discs are splendid repros of the original 1978-81 singles; four are new pairings with specially-designed cover art in keeping with the all-important original aesthetic. The vinyl box also includes a nifty envelope stuffed with picture postcards.
Liner notes by original Legion of the Cramped fanclub prez Lindsay Hutton seal the deal for this box of Uranium-infused rock'n'roll juice that'll provide thrills and chills for a million years to come. Sacred. (Mike Stax)
Review originally published in Ugly Things #33.
---