Featured

News

By Jay Dobis     Erkin Koray, aka Erkin Baba, the father of Turkish Rock 'n Roll (he put together the first Turkish rock band (Erkin Koray ve Ritmcileri) in 1957 when he was a high school student

Featured

Articles

By Harvey Kubernik   To celebrate the 50th anniversary of The Roxy and its enduring relevance, the Grammy Museum announced a new exhibit, The Roxy: 50 Years On The Sunset Strip, which explores the
Cleaning Up the Puke Stain: A Response to Rolling Stone's Punk Top 40 List
By Doug Sheppard
Given the sheer volume of stupidity on the Internet, most of it should be taken with a grain of salt. And then there's Rolling Stone's "40 Greatest Punk Albums of All Time."
Sure, you could laugh it off as the product of a magazine that's had a tenuous relationship with real rock 'n' roll-hence punk-throughout its history. Or you could just give Rolling Stone a pass based on the presence of David Fricke, whose command of music history and excellent writing are unparalleled. Or maybe the magazine could be excused based on its stellar political coverage-such as the 2008 exposé on John McCain.
At least that was my first reaction. But it soon became apparent that the punk top 40 was more like your best friend puking on your carpet during a party: Sure, it's funny when you're all carousing, but by the next day there's a smelly stain there. You gently admonish him in a text to get it off your chest, and, ideally, he apologizes for taking too many Jägermeister shots.
Rolling Stone definitely left a puke stain with this one. Putting aside the complaints about what specifically is or isn't on the list, the main issue is that most of the titles aren't even punk. It's the kind of rundown one would expect from a music theory professor, or perhaps on a "punk" compilation CD sold at Starbucks, but that bears little resemblance to the form.
Punk's DIY ethos inspired many musical genres-everything from punk offshoots to postpunk to power pop to modern strains of metal. Punk itself, however, can be defined as modern rock 'n' roll: fast, driving, angst-ridden rebellion with blazing guitar. The kind of music that makes you want to jump around the room, strain your veins singing along, clench your fist, grit your teeth and break shit up.
Or "Smash It Up," as the Damned once famously sang. Rolling Stone did at least get that right: the Damned "just didn't have that one perfect LP statement." They had two: Damned Damned Damned and Machine Gun Etiquette.
Actually, like many other great bands, the Damned didn't make the Rolling Stone list, which was apparently compiled by eight people-including Fricke, who I'm guessing had minimal input. In any event, lest it become a template for an impressionable teenager just discovering punk, I present a response in the form of a real Punk Rock Top 40-with emphasis on the rock. Yeah, it's only my opinion, and I'm not so pretentious to call it definitive. But you know how musical opinions are: You're always right and everyone else is an idiot.
The 40 are ranked in order, though after about 20 or so it got tougher to distinguish. Following my list, I commented on Rolling Stone's choices, which should also explain most of my exclusions.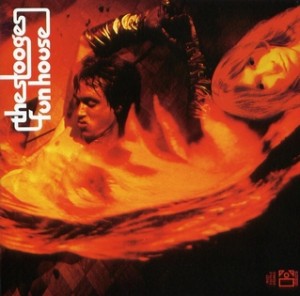 1. THE STOOGES – Fun House (1970)
The album that laid the groundwork for everything that followed, particularly in the guitar sound and the vocal delivery. Miles Davis called them "the real shit." Still sounds like rebellion 46 years later.
2. THE MC5 – High Time (1971)
Inspired the Stooges with their streetwise fusion of the British Invasion, R&B, blues and free jazz, and politically-charged lyrics that struck like lightning bolts. They fought the law and the law initially won, but their impact is still being felt today.
3. THE BUZZCOCKS – Singles Going Steady (1979)
Punk energy, pop hooks, teen angst and intelligence on one brilliant comp of eight of the greatest singles ever made.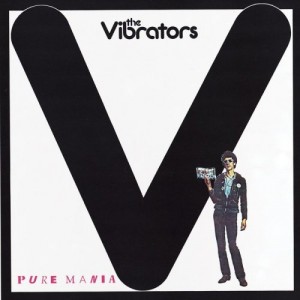 4. THE VIBRATORS – Pure Mania (1977)
Glam band reinvents itself as punk and produces an unrelentingly catchy, energetic album with S&M lurking beneath the surface.
5. RADIO BIRDMAN – Radios Appear (worldwide version) (1978)
Featuring a Michigan transplant on guitar, these Aussies wore their Detroit high-energy rock 'n' roll influences on their sleeves and combined them with the right dose of the 1960s, indigenous Australian rock, and Blue Öyster Cult. "New Race" alone leaves almost all competition in the dust.
6. THE DAMNED – Machine Gun Etiquette (1979)
Damned Damned Damned was power and rebellion; Machine Gun Etiquette is power, rebellion, pop hooks, experimentation and advanced lyrical themes in one terrific package.
7. IGGY AND THE STOOGES – Raw Power (1973)
You can't discuss punk rock without this album. The energy is rechanneled, reorganized with a new guitarist and revitalized.
8. THE HEARTBREAKERS – LAMF (1977)
Raunchy guitars and raunchy lyrics about sex and drugs over a swinging beat by one of the greatest rock drummers ever, Jerry Nolan, who also provided the beat for …
9. NEW YORK DOLLS – In Too Much Too Soon (1974)
As great as the debut was, it was damn-near ruined by Todd Rundgren's neutered production. With Shadow Morton at the helm, plus slightly superior material, this one gets the nod as the best representation of Johnny Thunders' jagged guitar lines and David Johansen's mock-Jagger vocals.
10. THE SEX PISTOLS – Spunk (1977)
Never Mind the Bollocks isn't bollocks, but it's edged out by its louder, rawer, nastier cousin featuring recordings by the real Pistols with Glen Matlock on bass.
11. THE AVENGERS – S/T (1983)
A simple, direct vision delivered via a sound and multifaceted lyrics that dug much deeper thanks in part to the creative vision of lead singer Penelope Houston. (There are several compilations of the Avengers' late '70s work, but the best by far is the 2012 reissue by Water Records.)
12. RICHARD HELL AND THE VOIDOIDS – Blank Generation (1977)
A provocateur poet, a Berklee-trained guitarist and a future Ramone stretched punk from minimalism into the avant-garde without ever falling into pretense, producing a sound that's an acquired taste worth acquiring-particularly on side 2, 17 minutes of the most intense rock 'n' roll ever recorded.
13. THE SAINTS – (I'm) Stranded (1977)
The roar of the Aussie underground that began independent of any US or UK punk influences in 1974. Kicking off with one of the 10 best punk songs ever recorded, "(I'm) Stranded," this non-stop rave-up of lust, aggression and buzzing guitars still packs a lethal punch.
14. THE MISFITS – Walk Among Us (1982)
Hooks, horror, speed, power and Glenn Danzig's resonant baritone make this one reward with repeated play. Suddenly bad sci-fi and cheap horror movies don't seem so nerdy after all on tunes like "I Turned Into a Martin," "Devil's Whorehouse," "Vampira" and the subtle "Mommy, Can I Go Out and Kill Tonight."
15. BLACK FLAG – Damaged (1981)
Black Flag took punk to another level in the '80s-adding a metal edge, velocity and themes of alienation and junk culture. Nothing better encapsulated that than this album.
16. THE PAGANS – The Pink Album (1983)
As opposed to art school rejects lamenting, high school nerds venting, or college kids waxing philosophically, the Pagans' punk was more than just music: They were ex-juvenile delinquents with a sound embodying all the grit, frustration and cultural diversity of living in Cleveland. The halting riff in "Nowhere to Run" kicks things off before the album accelerates without brakes, hitting everything in its path.
17. DOA – Hardcore '81 (1981)
DOA stood head and shoulders above the bulk of the '80s hardcore scene because they knew how to actually rock, not just play mindlessly fast. It didn't hurt that they had great tunes packed with politically-charged lyrics. Still a great band to this day.
18. FEAR – The Record (1982)
The album that took both offensiveness and musicianship (turns out they had real chops) to new extremes, then took that all to another extreme when they shocked the nation with a profanity-laced 1981 appearance on Saturday Night Live.
19. X-RAY SPEX – Germ Free Adolescents (1978)
Poly Styrene said she was a poser and didn't care – and she wasn't kidding, because her seemingly amateurish, off-key singing was an act by someone who in fact had formal vocal training. But it all works to make this album one of the most unique in the annals of UK punk, with Styrene's vocals complemented brilliantly by a avant-Stooges-like band with saxophone.
20. THE RAMONES – S/T (1976)
Even with the mostly mediocre music they made after 1980, even with their image splattered all over the place in posthumous nostalgia, even with "Blitzkrieg Bop" blaring from loudspeakers in palatial NFL palaces, it can't take away from the impact of this album. Without it, modern punk doesn't exist. But you've read that many times elsewhere.
21. REZILLOS – Can't Stand the Rezillos (1978)
This gets the punk-art combination right by using art not for pretentious self-expression, but to color the music with pop-culture references and the stage show with vibrant display.
22. NIRVANA – In Utero (1993)
Nevermind was a breath of fresh air in 1991, propelling a truly cutting-edge band to the big leagues for essentially the first time in America. But the followup is preferable for the barbs, bitterness and venom it aimed at a music industry expecting another Nevermind, which this certainly was not. Nirvana were true punks.
23. X – Los Angeles (1980)
With the contrapuntal vocals of John Doe and Exene Cervenka out front and the instrumental virtuosity of Doe, Billy Zoom and DJ Bonebrake, X built on a punk foundation with disparate styles and influences – nearly landing in postpunk territory, but instead moving the genre forward. Not to be confused with X from Australia (see #32).
24. L7 – Smell the Magic (1991)
Sometimes the best feminism is beating the boys at their own game, and L7's punk-cum-grunge kicks the collective asses of Soundgarden and Pearl Jam across the room with a brand of aggression summed up by the chorus of the first song: "Get out of my way or I'm gonna shove."
25. V.A. – Killed By Death Vol. 1 (1989)
The Nuggets of rare '70s punk singles comps and, like Nuggets is to garage punk, still the best. A non-stop aural assault of burnt speaker wires, blown-up amplifiers, bent microphone stands and razor-edged guitar romps expressed in songs like Mad's "I Hate Music," the Authorities' "I Hate Cops," Vox Pop's "Cab Driver, the Users' "I'm Sick of You" and other not-ready-for-People misanthropes.
26. STIFF LITTLE FINGERS – Inflammable Material (1979)
Named after a song on the Vibrators' Pure Mania (see #4), this Irish quartet gave punk an adrenaline shot just as the first wave wound down in 1979, throwing in equal doses of youthful aggression and politically-charged material like "Wasted Life," one of the most powerful antiwar anthems ever waxed.
27. THEE MICHELLE GUN ELEPHANT – Gear Blues (1998)
The non-sequitur name sums up the eclectic influences that led this Japanese foursome to their unique sound. Throw Blue Cheer, punk rock, modern metal and a small dose of traditional rock 'n' roll into a blender and you have this screaming tsunami that engulfs the listener with riffs galore and atmosphere.
28. DEAD KENNEDYS – Fresh Fruit for Rotting Vegetables (1980)
Politics, black humor, punk rebellion and an encyclopedic knowledge of underground culture fired up this landmark album, whose virtues have been extolled many times elsewhere. Has many of their best songs-"Let's Lynch the Landlord," "Police Truck," "California Über Alles"-but not their very best, "MTV Get Off the Air," a 1985 lambasting of the infamous corporate channel that promoted so much shitty music in that foul decade.
29. THE BOYS – S/T (1977)
Like the Vibrators, they were glam throwbacks-and, in fact, some members had been a part of glam legends the Hollywood Brats. Combine those roots with punk energy and you have an under-appreciated classic that should be mentioned alongside the UK heavyweights in more than just fanzines like this one.
30. THE GEARS – Rockin' At Ground Zero (1980)
Had the Gears' clip from The Decline of Western Civilization (now included on Shout Factory's excellent Blu-ray/DVD) been used in the film, they might not have slipped under so many radars. But those who've heard this album know better: It's not only filled with infectious punk rock energy and wit, but swings like rockabilly on tracks like "Elks Lodge Blues." Quite possibly the most underrated punk album of all-time.
31. THE DOGS – Fed Up (2000)
Lyrics like "nails for breakfast, spikes for lunch" sum up this Michigan-to-LA transplanted trio, who played on bills with the MC5 while still in the Bay State and carried the torch for Detroit punk when they moved to Southern California. Better late than never, this includes the cream of the late 1970s recordings by a band that didn't get to make a proper album until 30 years later.
32. X – X-Aspirations (1980)
Un-miked drums, bass strung with piano strings and wild rhythm guitar made this one of the few punk albums that embodied actual violence – or a "sledgehammer to the gut," as one writer put it. Not to be confused with X from Los Angeles (see #23).
33. SUICIDAL TENDENCIES – S/T (1983)
An album that effectively conveyed the boredom and conformity of suburban America and contrasted it with the excitement of skateboard culture and punk rock. Hardcore with a healthy infusion of fun. And yeah, they saw your mommy.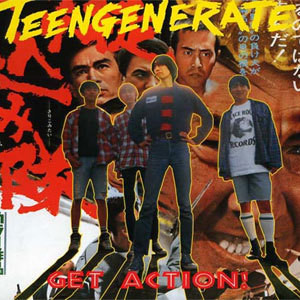 34. TEENGENERATE – Get Action (1994)
Japan's own A-bomb explodes with a sound merging the best of '60s garage and '70s punk with their own brand of raunch. Spinoffs like Firestarter and the Raydios are also recommended.
35. THE ADVERTS – Crossing the Red Sea With the Adverts (1978)
Although they weren't literally "One Chord Wonders," the Adverts worked well within their limits to create this lasting punk statement highlighted by the UK hit, "Gary Gilmore's Eyes."
36. THE BRIEFS – Hit After Hit (2000)
The Briefs are among the best modern punk bands for one reason: songs. And probably for another: incredibly energetic live shows where, as Rod Firestone of the Rubber City Rebels put it, "every member is doing something." No punk as religion here – just hooks galore from the school of the Buzzcocks. Hit After Hit indeed.
37. THE UP – Killer Up (1995)
Often described as the MC5's "little brother band," these radicals did in fact ascend to the White Panther Party's "total assault on the culture" throne when the Five fell out with John Sinclair. Rawer and blunter than their siblings, the Up lived and breathed the anti-establishment views they sang about. Only represented by two indie singles during their lifetime, this posthumous collection of 1970-1972 recordings sums up everything that made them punk to the core before there was a name for it. (A more recent UK reissue, Rising, includes four additional tracks, plus a bonus DVD with rare footage.)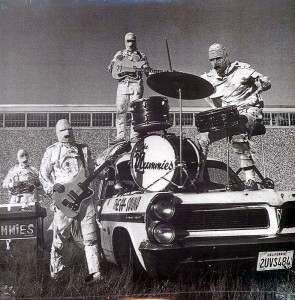 38. THE MUMMIES – Never Been Caught (1992)
They played crap instruments and recorded primitively. They told Sub Pop Records to "fuck off" when asked to move up to the legendary label at the height of its powers. They were ignored by every "hip" alternative zine. How much more punk can you get?
39. ZERO BOYS – Vicious Circle (1982)
A touchstone of the hardcore era, Vicious Circle was one indication of how punk had gone global, coming out of a city with limited rock history, Indianapolis. The Zero Boys belied that lack of tradition with a tight, explosive sound best exemplified by the eerily prophetic "Civilization's Dying."
40. DEAD BOYS – Young Loud & Snotty (1977)
A flawed album? Perhaps. But I can't imagine any punk list without "Sonic Reducer" and "Ain't Nothin' to Do," two anthems that sum up the cultural alienation/nihilism of the late '70s as well as anything in punk. The brutality of the Dead Boys' sound alone still delivers 39 years later.
Thoughts on the Rolling Stone's Picks
Defenders of the Rolling Stone list contend that punk shouldn't be defined, and that parallel movements should be included-a ridiculous argument that essentially renders the term "punk" meaningless. If anything is punk, then nothing is. Heck, when I first heard of punk in the late '70s, some obviously uninformed observers were lumping KISS in with the movement!
That's absurd, but so are more than a few of the bands Rolling Stone deems punk by inclusion. Sticking to a definition of punk that was agreed on years ago (see intro), I offer my thoughts on the Rolling Stone list's selections, offering "congratulations" in the few instances of overlap with my own. And lest anyone misunderstand, there are some great non-punk albums among Rolling Stone's 40-which I've also flagged.
40. DEAD KENNEDYS – Fresh Fruit for Rotting Vegetables (1980)
Congratulations.
39. DEVO – Q: Are We Not Men? A: We Are Devo! (1978)
Q: Do they have their own style? A: Yes! Q: Is it punk? A: Hell no!
38. WHITE LUNG – Deep Fantasy (2014)
Buck Biloxi and the Fucks, No Bails, Obnox, Heavy Lids and the Achtungs are better current bands.
37. BLINK-182 – Enema of the State (1999)
Does this even merit a response?
36. CRASS – Penis Envy (1981)
Nice political ranting, but not the 36th greatest punk album of all-time.
35. FUGAZI – 13 Songs (1989)
Math rock. Yawn.
34. JOY DIVISION – Unknown Pleasures (1979)
Good album but not punk.
33. THE SLITS – Cut (1979)
Not bad and not punk.
32. THE MISFITS – Walk Among Us (1982)
Congratulations.
31. YEAH YEAH YEAHS – Fever to Tell (2003)
Give 'em credit for trying to do something different-just not this much credit.
30. SONIC YOUTH – Evol (1986)
I never bought into their contrived, pseudo-avant-garde primitivism schtick, nor do I give a shit how many rock critic geek lists they've been on.
29. THE REPLACEMENTS – Sorry Ma, Forgot to Take Out the Trash (1981)
Another rock critic sacred cow that never moved me much, though they're OK.
28. THE GERMS – (GI) (1979)
Can't get past the awful "singing." Or the sub-Ramones music.
27. MINOR THREAT – Complete Discography (1989)
Keep hearing that they were innovative pioneers. Sure, if your idea of innovation is taking the Ramones' template, playing it faster, and adding a hefty dose of sexless, humorless lyrics. Not bad, but really-let's lay off the superlatives.
26. FLIPPER – Generic (1982)
The idea of playing slower as punk velocity increased was funny in 1982-sort of. But it's boring as hell when stretched out to an entire album, particularly one lacking a single memorable song. Generic indeed.
25. MISSION OF BURMA – Vs. (1982)
Not punk.
24. THE JAM – All Mod Cons (1978)
A good argument could be made for In the City. As for this one, even Small Faces outtakes and Creation B-sides are better.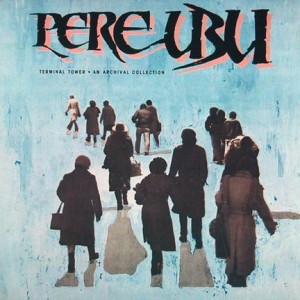 23. PERE UBU – Terminal Tower (1985)
If the Electric Eels, Mirrors, Dead Boys, Pagans, X _ X and Pere Ubu predecessors Rocket from the Tombs had never existed, this would be the greatest Cleveland punk album. But gotta include another rock critic darling, right?
22. BIKINI KILL – The Singles (1998)
"The highlight of this singles collection is 'Rebel Girl,' featuring riot foremother Joan Jett on guitar and vocals … ," says Rolling Stone.
Not sure I'd hold up the queen of banality, Joan Jett, as noteworthy. Her signature song is a cover, after all. Bikini Kill is equally unremarkable.
21. RICHARD HELL & THE VOIDOIDS – Blank Generation (1977)
Congratulations.
20. X-RAY SPEX – Germ Free Adolescents (1978)
Congratulations.
19. BAD BRAINS – S/T (1982)
Good album with one great song, "Pay to Cum."
18. GREEN DAY – Dookie (1994)
Unlike some purists, I had no problem with punk breaking in the States in the 1990s. My issue with these guys-whose hearts seem to be in the right place-is that they have no songs.
17. TELEVISION – Marquee Moon (1977)
Great album. Not punk.
16. DESCENDENTS – Milo Goes to College (1982)
Wouldn't make my top 40 but I respect the choice.
15. NEW YORK DOLLS – S/T (1973)
Congratulations-though In Too Much Too Soon is better.
14. SLEATER-KINNEY – Dig Me Out (1997)
Maybe when I'm as old as Robert Christgau and Greil Marcus-two of their biggest fans-I'll get it. For now, the only thing that connects with me is the cover tribute to The Kink Kontroversy. Oh, yeah, once again: not punk.
13. HÜSKER DÜ – Zen Arcade (1984)
Liked this in the '80s. Sounds a bit dated now.
12. PATTI SMITH – Horses (1975)
Loved her lyrical contributions to Blue Öyster Cult and her first single, but this never connected with me. And … you guessed it, not punk.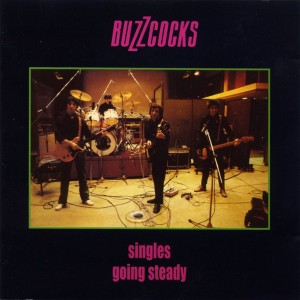 11. THE BUZZCOCKS – Singles Going Steady (1979)
Congratulations.
10. NIRVANA – Nevermind (1991)
Congratulations-though I prefer In Utero.
9. X – Los Angeles (1980)
Congratulations.
8. BLACK FLAG – Damaged (1981)
Congratulations.
7. MINUTEMEN – Double Nickels on the Dime (1984)
Wanted to like them more than I do. Certainly this is their best.
6. WIRE – Pink Flag (1977)
Other than "12XU" and "Mr. Suit," always found them annoying. Too art-damaged.
5. GANG OF FOUR – Entertainment! (1979)
Good album. Not punk.
4. THE STOOGES – Funhouse (1970)
Congratulations.
3. THE SEX PISTOLS – Never Mind the Bollocks Here's the Sex Pistols (1977)
Congratulations, but Spunk is better.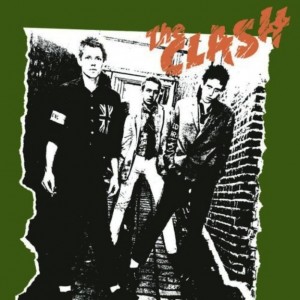 2. THE CLASH – S/T (1977)
Neither the Clash's self-mythologizing as "the only band that matters" nor the "their greatness is fact" mutterings of various writers were annoying at all.
All sarcasm aside, the Clash's reputation is like organized religion: So many people buy into it that you could become convinced based on that alone. But just as the flaws of religion are revealed with further examination, the Clash are laid bare as an overrated myth-albeit one with some merit. This is neither the greatest album of 1977 nor the greatest UK punk album, let alone a classic album. I know that's blasphemy, but I don't believe in Jesus, either.
1. THE RAMONES – S/T (1976)
Congratulations.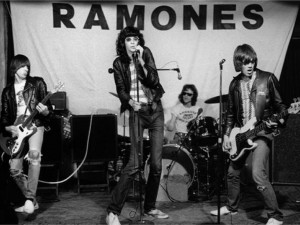 ---