Featured

News

By Harvey Robert Kubernik  This is not the platform or forum for me to display photos of myself with Charlie Watts or a post card he sent me from the road. However, I feel encouraged by musicia

Featured

Articles

By Harvey Kubernik The John F. Kennedy Center for the Performing Arts today announced last month that Motown founder, songwriter, producer, music publisher, and director Berry Gordy Jr.
Mike Stax talks to Ian McLagan about the new Small Faces box set
"Here come the nice / Looking so good / He makes me feel like no one else could…"
Here Come the Nice is the latest and largest installment in Charly's re-excavation of the Small Faces' back catalog. The bulky box—eleven and a half inches square by two-and-a-half inches deep—is adorned with a simple but stylish graphic based on Kenney Jones' familiar bass drum head and contains a veritable trove of niceties: a large format 72-page glossy hardcover book of essays, rare photos, and recording and recording session minutiae; a second, softcover book of lyrics, full-size reproductions of two huge posters, a foldout Immediate press-release for Ogdens' Nut Gone Flake, two large pictures from the "Itchycoo Park" photo shoot, five promotional postcards; a card autographed by Ian McLagan and Kenney Jones; four seven-inch vinyl records; and four CDs. It's a limited edition of just 3,000 copies.
Nice! But what about the music? Surely we've heard all of it before? After years of buying the Small Faces' material over and over again in different packages, why should Small Faces fans shell out big cash for this new box set?
That's the first question I ask Ian McLagan when I interview him by phone on January 20, 2014.
---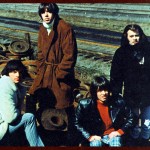 By Doug Sheppard
It's fitting that the Seeds have been retrospectively described as punk — as their history is nothing if not punk before punk. Their wildly contrasting attire of cowboys 'n' Indians 'n' Beethoven confounded audiences, their (for 1965 and 1966) outrageously long hair literally turned heads, and their primitive music made the most of members' limitations. A decade before Johnny Rotten's snarl set the tone for modern punk, Sky Saxon's snide snorting added a distinction that obliterated his previous teen idol failures.
But where the Seeds depart from their punk descendants is that they were reaching for the (pardon the expression) sky. Minimalistic as their sound may have been, they were serious artists doing their part to add brushstrokes to a rock 'n' roll canvas with plenty of unpainted room left. They were a popular band in their native LA, and proud of it – proud of the adulation, proud of their tight musicianship and proud that they scored a major hit with "Pushin' Too Hard" in '66. By practicing rigorously and mostly ignoring contemporaries, the Seeds forged their own sound.
Though they couldn't have known it at the time, they also chose a great record label to keep their legacy alive: GNP Crescendo. As the big fish in GNP's pond, they ensured themselves immortality. As albums by fellow '60s punks like Question Mark and the Mysterians, the Sonics, the Shadows of Knight and countless others became pricey and difficult to obtain through the dark pre-reissue days of the '70s and '80s, the Seeds catalog was always available — making them one of the first '60s garage bands that many fans discovered. Heck, long before outtakes albums became the norm, GNP even did one of those with Fallin' Off the Edge in 1977.
Ironically, in spite of their perpetual availability, Seeds albums never got the deluxe treatment that their once out-of-print colleagues received in the reissue era. All reissues of the first Seeds album used the inferior stereo mix, pressings of A Web of Sound from the 1970s and beyond used an awful alternate stereo mix that wasn't even on original stereo pressings, and the packaging left a lot to be desired. But all is forgiven now that the vaults have been opened to Ace Records and its garage archivist Alec Palao – resulting in proper mixes, remastered sound, bonus tracks, and extensive booklets with detailed liners, sessionography and many cool photos.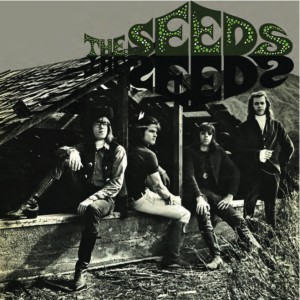 Availability alone doesn't account for why the Seeds are one of the most renowned '60s punk bands. They're also one of the best – and their debut album is as good a place as any to start a '60s garage education. With Sky's frustrated vocals, Rick Andridge's insistent ride-cymbal beat, a killer fuzz riff and tersely great solos by organist Darryl Hooper and guitarist Jan Savage, "Pushin' Too Hard" remains a crowning achievement in rock history – and it's not the only standout on the album. "No Escape," "Girl I Want You," "Nobody Spoil My Fun" and "Excuse, Excuse" sum up the band's burgeoning hedonism and Sky's affinity for the opposite sex, and the five-minute "Evil Hoodoo" dips their feet into the experimentalism of the extended groove.
"Evil Hoodoo" was in fact much longer in its original unedited form, and this reissue treats us to a 16-minute version (with an intercut section) that loses nothing in translation and is a highlight of the 10 bonus tracks (eight of which are previously unreleased). The two alternates of "Out of the Question," "Pushin' Too Hard" with an extra verse and "It's a Hard Life" with more of Savage's guitar savagery also make nice addenda. Best of all, the album's original — and far superior — mono mix is reissued for the first time ever here.
A Web of Sound gets similar treatment from Big Beat – expanding to two CDs to restore the album's original stereo and punchy mono mixes, adding seven previously unreleased bonus tracks and the complete A Full Spoon of Seedy Blues album (released as the Sky Saxon Blues Band). While Web has nothing on the level of "Pushin' Too Hard," it's nonetheless a step forward for the band's creativity with bottleneck guitar by Cooker providing counterpoint to Savage throughout — not to mention the brilliant "Mr. Farmer,' where Hooper overlays oboe-like Farfisa sounds over his trademark Wurlitzer piano. Punk like "Tripmaker" and "Just Let Go" provide further highlights on album culminating with one of the first extended jams on a rock album: the simple yet hypnotic "Up in Her Room." The latter reflects the album and the Seeds in general: repetitive and same-y sounding, yet effective because they deployed their sound so well.
An early take on "The Wind Blows Your Hair" is the best of the bonus tracks, while alternates of five album tracks also make for interesting (albeit not essential) listening. Though the original stereo mix is much better than the alternate stereo that afflicted 40 years worth of Web of Sound reissues (in all formats), the mono version (another first-ever reissue) is the keeper.
A Full Spoon of Seedy Blues is also represented in mono – but the mix is beside the point. Much as the members seem to take pride in their attempt at blues, the results are lackluster – and even guest spots from members of Muddy Waters' band and a new song written by Muddy himself for the Seeds (Did he give them one of his best? Let me guess …) can't rescue this mess. Tellingly, it's the only '60s Seeds album that Big Beat has no plans to reissue individually.
But with A Web of Sound finally reissued the way it was meant to be heard, it doesn't matter. Even better — Big Beat isn't finished with the Seeds yet, as an expanded remaster of Future just came out (it will be reviewed in UT#36), with Raw & Alive and a singles collection – not to mention a documentary film spearheaded by Palao and GNP's Neil Norman – soon to follow.
---
By Doug Sheppard
Like the authorities catching up to the protagonist in a biker exploitation film, time had caught up to Sky Saxon in 1970. Between Altamont, harder drugs and the frowning faces of war protestation, there was no room for the Seeds' idealism and – if analogies are in order – the times had indeed spoiled Sky's fun. Rock was now serious, like really serious, man — discovering all kinds of wimpy folk, phony roots, long solos and (thanks to Woodstock) corporate influences. Sky was Davy Crockett at the Alamo – or rather, a rocker past him prime getting laid a lot at his Malibu home. But it didn't mean he didn't have one last charge in him.
Calling on old keyboard sidekick Darryl Hooper, plus three new members, the re-sprouted Seeds departed GNP Crescendo for MGM and recorded two killer singles that sadly never made it past the promo stage, falling into permanent rarity status and never getting a legit reissue – until now, thanks to Sundazed and Record Store Day.
The Seeds' first MGM offering, "Bad Part of Town" b/w "Wish Me Up," paired a biting fuzz rocker with a more flowery, keyboard-dominated number that harked back to the band's later GNP material. It was the heavy influence of "Bad Part of Town" that would propel the even better followup, "Love in a Summer Basket" b/w "Did He Die."
In spite of its title, "Love In a Summer Basket" isn't so much a floral excursion as it is a tidal wave of loud fuzz guitar squalls crashing the shores of idealism as keyboards and flute weave in and out. Perfection. And if that trip isn't bad enough, then the war-torn flip of "Did He Die" – rumbling bass, screeching guitar distortion and all — blurs visions even more, as Sky lets the Vietnam anxiety out by screaming "He shot him in the head! He killed his bro-ther-ah-ah-ah-ah" without fear of pushing too hard.
But when MGM President Mike Curb purged his label of acts with drug influences (like the Seeds) just two days before its release, he denied the world what would undoubtedly have been the finest Seeds album yet. (The Seeds would go on to make one more great indie single the next year, "Shuckin' and Jiving" b/w "You Took Me By Surprise," two barnstorming rockers that up the heavy ante even more.)
This Sundazed gatefold double-single set not only replicates the sound of the originals thanks to use of master tapes, but also offers a great essay by Seeds scholar Jeff Jarema that finally reveals the names of the other musicians (outside of Saxon and Hooper) on the MGM sessions, plus some really cool vintage photos. File under "must have."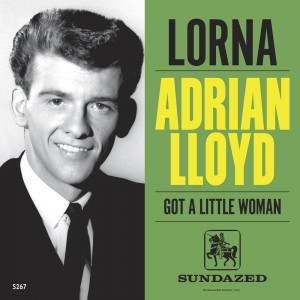 Speaking of screaming punks, Sundazed has unleashed another punk killer among its RSD releases, the lasciviously lustful "Lorna" by Adrian Lloyd. Busting and burning the surfboards he brandished in the Rumblers and the Sunsets, Lloyd unloads a torrent of tribal drums, snotty vocals and screams ("approximately 25," sez Jarema in the liners) for a rightly regarded classic getting its first reissue on a seven-inch. Possibly (and if so, justifiably) winded, Lloyd is a little more restrained on the B-side, "Got a Little Woman," a groovy rocker with "woah yeah" call-and-answer vocals that's pretty cool in its own right.
No discussion of screaming rock 'n' roll would be complete without the Trashmen, who rode it into the Top 10 with the infamous Rivingstoned rant "Surfin' Bird" in 1963. By 1966, the hits had dried up, the British had come, and a trip was about to be taken, but the Bird men defiantly stuck to rock 'n' roll — as evidenced by the live versions of "Mean Woman Blues" and "Big Boss Man" on this RSD single on Sundazed, which has done more than perhaps anyone else in spreading the Trashmen gospel.
SONY LEGACY
Sundazed head Bob Irwin's other employer, Legacy, also did some great releases for Record Store Day – the best unquestionably being the 180-gram vinyl reissues of the mono mixes of three vintage Miles Davis albums: 'Round About Midnight, Milestones and Someday My Prince Will Come. Housed in sharp reproductions of the original covers, the sound emanating from the grooves is nothing short of stunning – presenting the material with a clarity that almost feels like being in the studio with Miles, John Coltrane, Philly Joe Jones and (on Milestones) Cannonball Adderly.
Much has already been written about Miles' first and third Columbia offerings, 'Round About Midnight and Milestones, respectively, what with the all-star lineup and groundbreaking evolution of hard bop into modal jazz – not to mention classics like the rearranged version of Monk's " 'Round Midnight" on the former and the swinging title track of the latter. So that leaves the mono vs. stereo question and, to these ears, much as I enjoyed the stereo CD remasters, the more intimate sound of the mono mix is preferable.
Released on the heels of two landmarks, Kind of Blue and Sketches of Spain, Someday My Prince Will Come was bound to suffer in comparison. But it's a fine album in its own right, thanks to all of the Kind of Blue lineup save Adderly and Bill Evans — although here the mono mix is more of an alternative for collectors.
Legacy has also given us 10 inches of previously unreleased Sly and the Family Stone at their peak, including "Music Lover/I Want to Take You Higher/Music Lover" from the Isle of Wight Festival in 1970, the rare promo-only single version of "Higher," and a TV medley of "Sing a Simple Song/Hot Fun in the Summertime/Sex Machine/I Want to Take You Higher" from 1969. Nice to have, but the best news is the insert in this I Want to Take You Higher EP noting the upcoming release of a four-CD Sly box set with rarities and 18 previously unreleased tracks.
BELATED BLACK FRIDAY
Black Friday has become to Record Store Day what Labor Day is to Memorial Day – and spotlighted some worthy limited editions of its own the last time around, including a self-titled 12-inch four-song EP by Eric Burdon & the Greenhornes on Readymade. Old-meets-new affairs usually signify guest appearances on remakes, so I'm pleased to note that this is not only all new songs — but the best music that both Burdon and the Greenhornes have made in years. Hard rockers ("Black Dog," not the Zeppelin or even Timebox track), slow blues ("Out of My Mind") and flat-out rockers ("Can You Win") fire up a package that makes one wish for a full-length. Age can be detected in the old Animal's voice, incidentally, but like the bluesmen he's long idolized, it's fine seasoning, not wear.
Also worthy of investigation is Secret Stash's single by the Prophets of Peace, "P.O.P" b/w "46th Street Bump Time." From the same 1974 session that produced one side of their lone single (included on Twin Cities Funk & Soul, reviewed in the upcoming issue) comes this previously unreleased pairing of two fine Tower of Power-styled horn soul groovers: a vocal number on the top side and an instrumental on the flip. Limited to 500 copies.
---