Featured

News

By Bill Furbee WHEN I LAST SPOKE TO DAMO SUZUKI – the influential performer perhaps best known for his years spent as the singer of Krautrock godfathers Can – the world was in a diffe

Featured

Articles

By Doug Sheppard FIVE MONTHS BEFORE there were four dead in O-Hi-O, four were dead at a forlorn, neglected racetrack roughly 50 miles east of Oakland, California: one drowned, one stabbed
The Velvets' entry into the Golden Archive Series that MGM ran for a mere 12 months starting in 1970 is a curious one. A series more known for packages filled with quantifiable hits by name pop, country, and jazz artists was a strange place for perhaps—along with the Mothers of Invention (also, oddly, profiled in the series)—the most idiosyncratic combo on their roster at the time. In 1970 most people hadn't wrapped their heads around the Velvets—though, their immediate influence was starting to swell in pockets around the globe—and their label clearly understood them no better. Was MGM attempting to re-package both groups for the pop marketplace?
Oddly sequenced, the set reads like either suits determining the most radio-friendly tracks from their first three LPs, or same enlisting a common-man intern not familiar with the group to choose their most palatable sides, with the brutality excised from their grand blend of beauty and brutality. Yet "Heroin" and "White Light/White Heat" are strangely tossed in the mix throwing things askew. You can't fault the tracks chosen, as they're all catalog classics, though focusing on the more spiritually searching, and messy love elements, with a side-order of chemical struggles and darker edges. However, some minor sequence tweaks—either for flow, or to create a narrative out of shifting perspectives—would've bolstered the impact of the set greatly upon initial release. From a fiscal POV I understand, but it's an absolute shame so little of their '67-'68 material is represented—three tracks from The Velvet Underground & Nico, two from White Light/White Heat, and the other five from their recent, decidedly more pop-slanted 1969 S/T album.
Opening with a triple-play of hushed brilliance concerning internal struggles of existence and coupling ("Candy Says, "Sunday Morning," and "Femme Fatale") grabs the ears firmly, but a sharp shift to the pulsing, in-the-red, abrasive noise-fest "White Light/White Heat," is too forceful a move. Their thuggish simplicity and vocal drone is represented in "Here She Comes Now," and too the sweet Tin Pan Alley pop side with Moe at the mic on "After Hours." On the whole a good variety is displayed. While there's a marked step from the total aural and moral destruction of their earlier sides beloved by rock'n'roll trufans, VU were never really something you could easily place in a 'commercial' box even during their attempts at sweetness—there was always one finger raised in your peripheral.
All in all, this is a good entryway into the wonder of VU sans all the dangerous tangles and barbs, but with some retrospective knowledge perhaps a CD is the choice here so you can create your own ultimate playlist. (Jeremy Cargill)
---
Mike Stax talks to Ian McLagan about the new Small Faces box set
"Here come the nice / Looking so good / He makes me feel like no one else could…"
Here Come the Nice is the latest and largest installment in Charly's re-excavation of the Small Faces' back catalog. The bulky box—eleven and a half inches square by two-and-a-half inches deep—is adorned with a simple but stylish graphic based on Kenney Jones' familiar bass drum head and contains a veritable trove of niceties: a large format 72-page glossy hardcover book of essays, rare photos, and recording and recording session minutiae; a second, softcover book of lyrics, full-size reproductions of two huge posters, a foldout Immediate press-release for Ogdens' Nut Gone Flake, two large pictures from the "Itchycoo Park" photo shoot, five promotional postcards; a card autographed by Ian McLagan and Kenney Jones; four seven-inch vinyl records; and four CDs. It's a limited edition of just 3,000 copies.
Nice! But what about the music? Surely we've heard all of it before? After years of buying the Small Faces' material over and over again in different packages, why should Small Faces fans shell out big cash for this new box set?
That's the first question I ask Ian McLagan when I interview him by phone on January 20, 2014.
---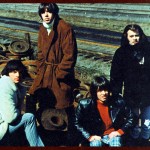 By Doug Sheppard
It's fitting that the Seeds have been retrospectively described as punk — as their history is nothing if not punk before punk. Their wildly contrasting attire of cowboys 'n' Indians 'n' Beethoven confounded audiences, their (for 1965 and 1966) outrageously long hair literally turned heads, and their primitive music made the most of members' limitations. A decade before Johnny Rotten's snarl set the tone for modern punk, Sky Saxon's snide snorting added a distinction that obliterated his previous teen idol failures.
But where the Seeds depart from their punk descendants is that they were reaching for the (pardon the expression) sky. Minimalistic as their sound may have been, they were serious artists doing their part to add brushstrokes to a rock 'n' roll canvas with plenty of unpainted room left. They were a popular band in their native LA, and proud of it – proud of the adulation, proud of their tight musicianship and proud that they scored a major hit with "Pushin' Too Hard" in '66. By practicing rigorously and mostly ignoring contemporaries, the Seeds forged their own sound.
Though they couldn't have known it at the time, they also chose a great record label to keep their legacy alive: GNP Crescendo. As the big fish in GNP's pond, they ensured themselves immortality. As albums by fellow '60s punks like Question Mark and the Mysterians, the Sonics, the Shadows of Knight and countless others became pricey and difficult to obtain through the dark pre-reissue days of the '70s and '80s, the Seeds catalog was always available — making them one of the first '60s garage bands that many fans discovered. Heck, long before outtakes albums became the norm, GNP even did one of those with Fallin' Off the Edge in 1977.
Ironically, in spite of their perpetual availability, Seeds albums never got the deluxe treatment that their once out-of-print colleagues received in the reissue era. All reissues of the first Seeds album used the inferior stereo mix, pressings of A Web of Sound from the 1970s and beyond used an awful alternate stereo mix that wasn't even on original stereo pressings, and the packaging left a lot to be desired. But all is forgiven now that the vaults have been opened to Ace Records and its garage archivist Alec Palao – resulting in proper mixes, remastered sound, bonus tracks, and extensive booklets with detailed liners, sessionography and many cool photos.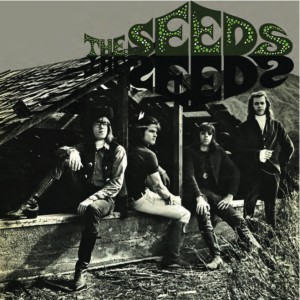 Availability alone doesn't account for why the Seeds are one of the most renowned '60s punk bands. They're also one of the best – and their debut album is as good a place as any to start a '60s garage education. With Sky's frustrated vocals, Rick Andridge's insistent ride-cymbal beat, a killer fuzz riff and tersely great solos by organist Darryl Hooper and guitarist Jan Savage, "Pushin' Too Hard" remains a crowning achievement in rock history – and it's not the only standout on the album. "No Escape," "Girl I Want You," "Nobody Spoil My Fun" and "Excuse, Excuse" sum up the band's burgeoning hedonism and Sky's affinity for the opposite sex, and the five-minute "Evil Hoodoo" dips their feet into the experimentalism of the extended groove.
"Evil Hoodoo" was in fact much longer in its original unedited form, and this reissue treats us to a 16-minute version (with an intercut section) that loses nothing in translation and is a highlight of the 10 bonus tracks (eight of which are previously unreleased). The two alternates of "Out of the Question," "Pushin' Too Hard" with an extra verse and "It's a Hard Life" with more of Savage's guitar savagery also make nice addenda. Best of all, the album's original — and far superior — mono mix is reissued for the first time ever here.
A Web of Sound gets similar treatment from Big Beat – expanding to two CDs to restore the album's original stereo and punchy mono mixes, adding seven previously unreleased bonus tracks and the complete A Full Spoon of Seedy Blues album (released as the Sky Saxon Blues Band). While Web has nothing on the level of "Pushin' Too Hard," it's nonetheless a step forward for the band's creativity with bottleneck guitar by Cooker providing counterpoint to Savage throughout — not to mention the brilliant "Mr. Farmer,' where Hooper overlays oboe-like Farfisa sounds over his trademark Wurlitzer piano. Punk like "Tripmaker" and "Just Let Go" provide further highlights on album culminating with one of the first extended jams on a rock album: the simple yet hypnotic "Up in Her Room." The latter reflects the album and the Seeds in general: repetitive and same-y sounding, yet effective because they deployed their sound so well.
An early take on "The Wind Blows Your Hair" is the best of the bonus tracks, while alternates of five album tracks also make for interesting (albeit not essential) listening. Though the original stereo mix is much better than the alternate stereo that afflicted 40 years worth of Web of Sound reissues (in all formats), the mono version (another first-ever reissue) is the keeper.
A Full Spoon of Seedy Blues is also represented in mono – but the mix is beside the point. Much as the members seem to take pride in their attempt at blues, the results are lackluster – and even guest spots from members of Muddy Waters' band and a new song written by Muddy himself for the Seeds (Did he give them one of his best? Let me guess …) can't rescue this mess. Tellingly, it's the only '60s Seeds album that Big Beat has no plans to reissue individually.
But with A Web of Sound finally reissued the way it was meant to be heard, it doesn't matter. Even better — Big Beat isn't finished with the Seeds yet, as an expanded remaster of Future just came out (it will be reviewed in UT#36), with Raw & Alive and a singles collection – not to mention a documentary film spearheaded by Palao and GNP's Neil Norman – soon to follow.
---