Featured

News

By Harvey Robert Kubernik  This is not the platform or forum for me to display photos of myself with Charlie Watts or a post card he sent me from the road. However, I feel encouraged by musicia

Featured

Articles

By Harvey Kubernik The John F. Kennedy Center for the Performing Arts today announced last month that Motown founder, songwriter, producer, music publisher, and director Berry Gordy Jr.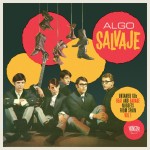 As the year drew to its close, we asked our writers to submit a list of their personal favorite reissues and such for 2014. Against all odds, some of them managed to fight through the fog and fug of the holidays and complete the assignment. Here's what they came up with…
Mike Stax (Editor)
Favorite single artist reissues:
The Bonniwell Music Machine – S/T (Big Beat) 2-CD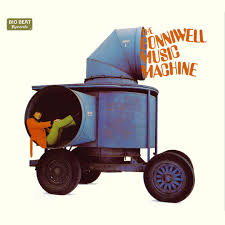 The definitive collection of the second-phase Music Machine. The Bonniwell Music Machine album expanded to include all of the contemporaneous non-LP singles, along with a trove of demos, outtakes and alternate mixes. Expertly compiled and annotated by Alec Palao, who also was responsible for…
The Seeds – Singles A's & B's 1965-1970 (Big Beat/GNP-Crescendo) CD
Big Beat's comprehensive reissue series of the Seeds' catalog concludes with this great collection of all of the band's singles, from 1965's plaintive "Can't See to Make You Mine" to 1970's gut-wrenching "Did He Die." Alec Palao's detailed liner notes spanning this entire series also serve as the ultimate Seeds biography, shining light on every facet of their story, including special attention to all of their recording sessions.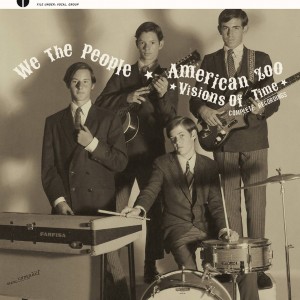 We the People/American Zoo – Visions of Time (Guerssen, Spain) LP/CD/DL
Not to be confused with the well-known Florida band, this edition of We the People were based in LA and released a handful of singles under that name and as American Zoo. We the People/American Zoo resided in that shadow-shrouded corner of the '60s garage band universe where brooding teenagers spent long, solitary hours listening to Byrds and Bob Dylan records and were duly moved to write somber, soul-searching minor key songs with titles like "Feelings of My Emptiness," "Back Street Thoughts" and "Who Am I?" It's an intoxicating recipe when it's done right, and American Zoo did it right. A class package from the Guerssen label including informative liners by Gray Newell.
---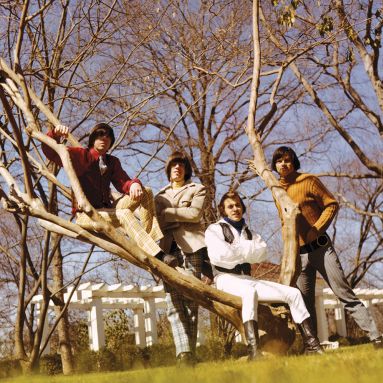 By Doug Sheppard
To capitalize on their hit single and to keep up with their contemporaries, the Seeds entered the sessions for their third album with aspirations of a more sophisticated sound. It was a great plan, but two things stood in the way: their own limitations and the overconfidence of leader/vocalist Sky Saxon.
Saxon's inflated sense of self-importance only complicated the band's limits, but 1967's resulting Future album came off more as a mixed bag than an embarrassment. Between an overdubbed tuba on "Two Fingers Pointing on You" and "March of the Flower Children" (with Sky's inane spoken-word intro) and weak material like "Painted Doll" (crappy ballad) and "Where Is the Entrance Way to Play" (forced profundity), Future has its share of awkward moments. The overdubbed harp may be added to that list, but not on "Flower Lady and Her Assistant" — a darker textured number where the objective doesn't seem as unrealistic — and the obligatory long track "Fallin' ," where an "Evil Hoodoo" vibe portends a bad trip. The resurrected B-side "Out of the Question" and "Pushin' Too Hard" soundalike "A Thousand Shadows" are the best of the lot — probably because they're the only two that recall the Seeds' original sound.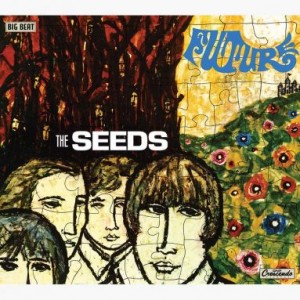 Ironically, three of the best tracks from the session — "Chocolate River," "Sad and Alone" and "The Wind Blows Your Hair" — were left off the album, but appear (plus alternate versions) here. "Rides Too Long" — the original version of "A Thousand Shadows" under a different title — is another highlight of this expanded edition, as are early versions of "Gypsy Plays His Drums" and "Satisfy You," not to mention less adorned versions (the mono "Travel With Your Mind" is the best mix) of a few album tracks. On paper, the full-length version of "900 Million People Daily All Making Love" has the potential to be another — but 10 minutes of it is a tad too much, and some of these songs (see previous paragraph) will never sound good, no matter what the mix.
---
The Velvets' entry into the Golden Archive Series that MGM ran for a mere 12 months starting in 1970 is a curious one. A series more known for packages filled with quantifiable hits by name pop, country, and jazz artists was a strange place for perhaps—along with the Mothers of Invention (also, oddly, profiled in the series)—the most idiosyncratic combo on their roster at the time. In 1970 most people hadn't wrapped their heads around the Velvets—though, their immediate influence was starting to swell in pockets around the globe—and their label clearly understood them no better. Was MGM attempting to re-package both groups for the pop marketplace?
Oddly sequenced, the set reads like either suits determining the most radio-friendly tracks from their first three LPs, or same enlisting a common-man intern not familiar with the group to choose their most palatable sides, with the brutality excised from their grand blend of beauty and brutality. Yet "Heroin" and "White Light/White Heat" are strangely tossed in the mix throwing things askew. You can't fault the tracks chosen, as they're all catalog classics, though focusing on the more spiritually searching, and messy love elements, with a side-order of chemical struggles and darker edges. However, some minor sequence tweaks—either for flow, or to create a narrative out of shifting perspectives—would've bolstered the impact of the set greatly upon initial release. From a fiscal POV I understand, but it's an absolute shame so little of their '67-'68 material is represented—three tracks from The Velvet Underground & Nico, two from White Light/White Heat, and the other five from their recent, decidedly more pop-slanted 1969 S/T album.
Opening with a triple-play of hushed brilliance concerning internal struggles of existence and coupling ("Candy Says, "Sunday Morning," and "Femme Fatale") grabs the ears firmly, but a sharp shift to the pulsing, in-the-red, abrasive noise-fest "White Light/White Heat," is too forceful a move. Their thuggish simplicity and vocal drone is represented in "Here She Comes Now," and too the sweet Tin Pan Alley pop side with Moe at the mic on "After Hours." On the whole a good variety is displayed. While there's a marked step from the total aural and moral destruction of their earlier sides beloved by rock'n'roll trufans, VU were never really something you could easily place in a 'commercial' box even during their attempts at sweetness—there was always one finger raised in your peripheral.
All in all, this is a good entryway into the wonder of VU sans all the dangerous tangles and barbs, but with some retrospective knowledge perhaps a CD is the choice here so you can create your own ultimate playlist. (Jeremy Cargill)
---